Free Printable Mandalorian Valentine's Day Cards

Got Mandalorian fans? These free printable Mandalorian Valentine's Day cards are fantastic ways to help them celebrate the holiday with friends and loved ones.
Check out these adorable cards for kids of all ages and get your set of 8 free Valentine's Day cards today!
Our Star Wars Fans Are Going Crazy Over Mandalorian!
Is your home all abuzz about the Disney+ series, Mandalorian? My Star Wars geeks have been talking non-stop about this popular science fiction show.
My six boys are just gaga over Mandalorian. (I'm including hubby in this count. He's the ring leader of their Star Wars obsession.) Although I've only been able to watch bits and pieces of the series, I've learned all about the characters and plot.
So far, our favorite is The Child a.k.a. Baby Yoda. I mean, who can resist this cuteness?!?
If only I could learn to do that magical hand thing and get this house cleaned up…
Since my boys have been so excited about this new Star Wars series, I thought I make a little something to help us all celebrate Valentine's Day 🙂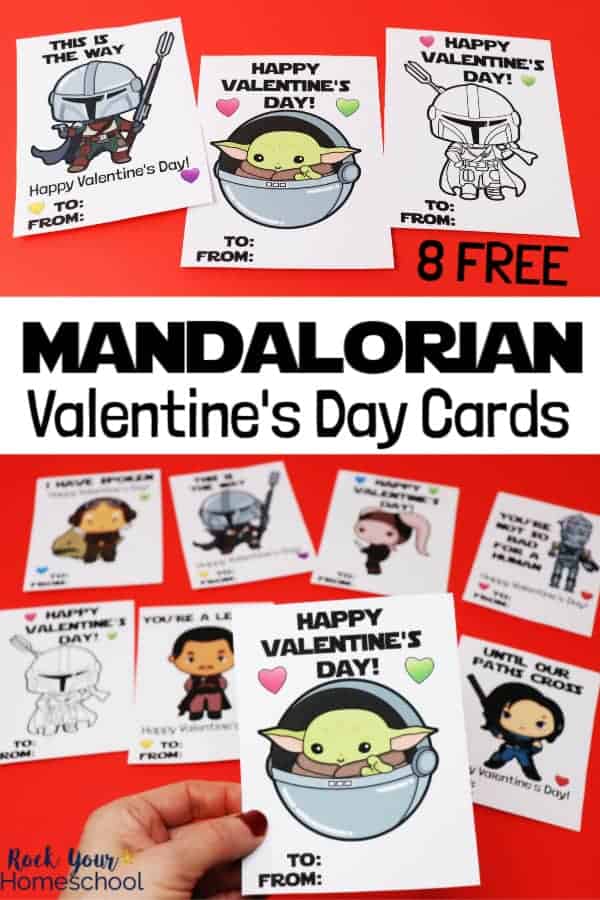 Love-ly Way to Get Your Mandalorian Fans Excited About Valentine's Day
Celebrating Valentine's Day in our all-boy home can be challenging. My boys balk at anything pink or lovey-dovey. I have to put on my creative hat when thinking up ways to get my boys on board with this holiday featuring love and romance.
I've found that using a theme that captures their interest usually does the trick. In years past, Valentine's Day themes for my boys have included soccer, Harry Potter, and Pokemon.
This year, our February 14 theme will be Mandalorian! Well, it will probably be a Star Wars extravaganza. But, we will have these fun Mandalorian Valentine's Day cards to use and enjoy 🙂
My three younger boys (Smily, Bear, and Xman) helped me with the process of creating these cards. I love getting their input on the characters and hearing their suggestions for what each card should say.
They will be using these cards as part of our Valentine's Day poetry teatime card exchange and to give to friends. Ssh! There's even a plan to send these Mandalorian Valentine's Day cards to relatives 😉
Make It An Extra Special Holiday with Free Mandalorian Valentine's Day Cards
Get your free printable set of Mandalorian Valentine's Day cards for your kids. These printable cards are fantastic for:
Classroom card exchanges
Valentine's Day parties
Tucking into take-home folders for students
Homeschool Co-op
Library event
Neighborhood party
Family Fun
Of course, these Valentine's Day cards aren't just for kids! If you're a Star Wars fan (or know someone special who is), then you'll want to snatch up these printable cards in a jiffy.
This pack includes 8 cards featuring these adorable Mandalorian characters:
Mandalorian
Baby Yoda
Cara Dune
Kuiil
Greef Karga
Xi'an
IG-11
Mandalorian (black and white version for your child or their friend to color)
You may print as many copies of these Mandalorian Valentine's Day cards as you need for your family or class. If you have a friend or co-worker who you think would jump at the chance to enjoy this type of holiday fun with their kids, I ask that you please share the link to this post. Your sharing is so very appreciated!
When you subscribe and join the Rock Your Homeschool community, you'll receive this printable set in a PDF file in an email, along with a password to open the Subscriber's Library to all RYHS freebies.
Plus, you'll get emails with creative and easy ways to make life and learning fun 🙂
(Psst! Current RYHS members just need to access the Subscriber Freebies page and enter the password in your welcome email. If you have any questions or problems, just email Amy at rockyourhomeschool@gmail.com)
Get your FREE Mandalorian Valentine's Day cards by tapping HERE or on the image below.
Celebrating Valentine's Day with kids? Then, you'll want to grab these other amazing free printable activities to make the holiday special:
Free Valentine's Day Mazes
Wishing you a wonderful Valentine's Day full of love! (Well, if you've got boys like me, then I wish you a special day full of bear hugs and Nerf gun battles 😉 )