Free Soccer Cootie Catcher for Easy Fun with Kids
This free soccer cootie catcher is a super fun activity for kids of all ages.
If you have a kid who loves soccer, you'll want to grab this easy-to-use and free printable soccer cootie catcher for kids.
Find out more about this free printable soccer activity and how you can get your free set today!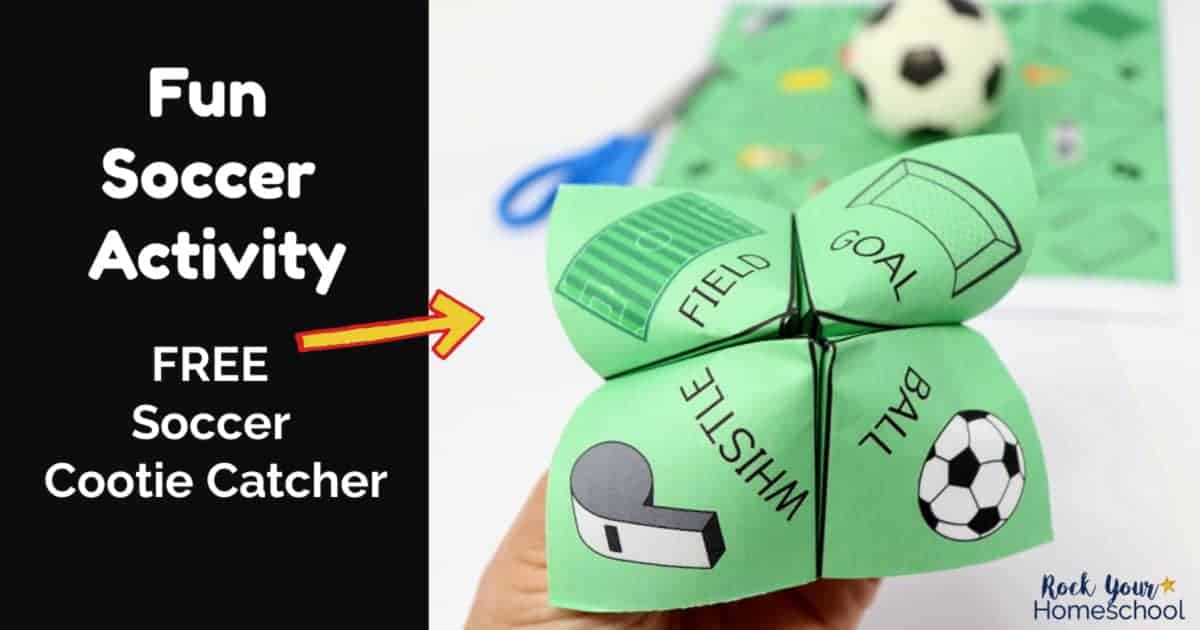 Ideas for Using This Free Soccer Activity for Fun with Kids
If you know kids who love soccer, then you know how much they appreciate anything soccer-related. From soccer gift ideas to every day fun, soccer activities will be a hit.
This free printable cootie catcher has a soccer theme with fun challenges and questions. It's perfect for:
Your special soccer player
Your soccer team (Are you a soccer coach? Soccer mom? Soccer dad?)
Classroom fun
Party fun, especially with a soccer theme
Party favor
Rainy day fun
Family fun
Boredom buster
Just because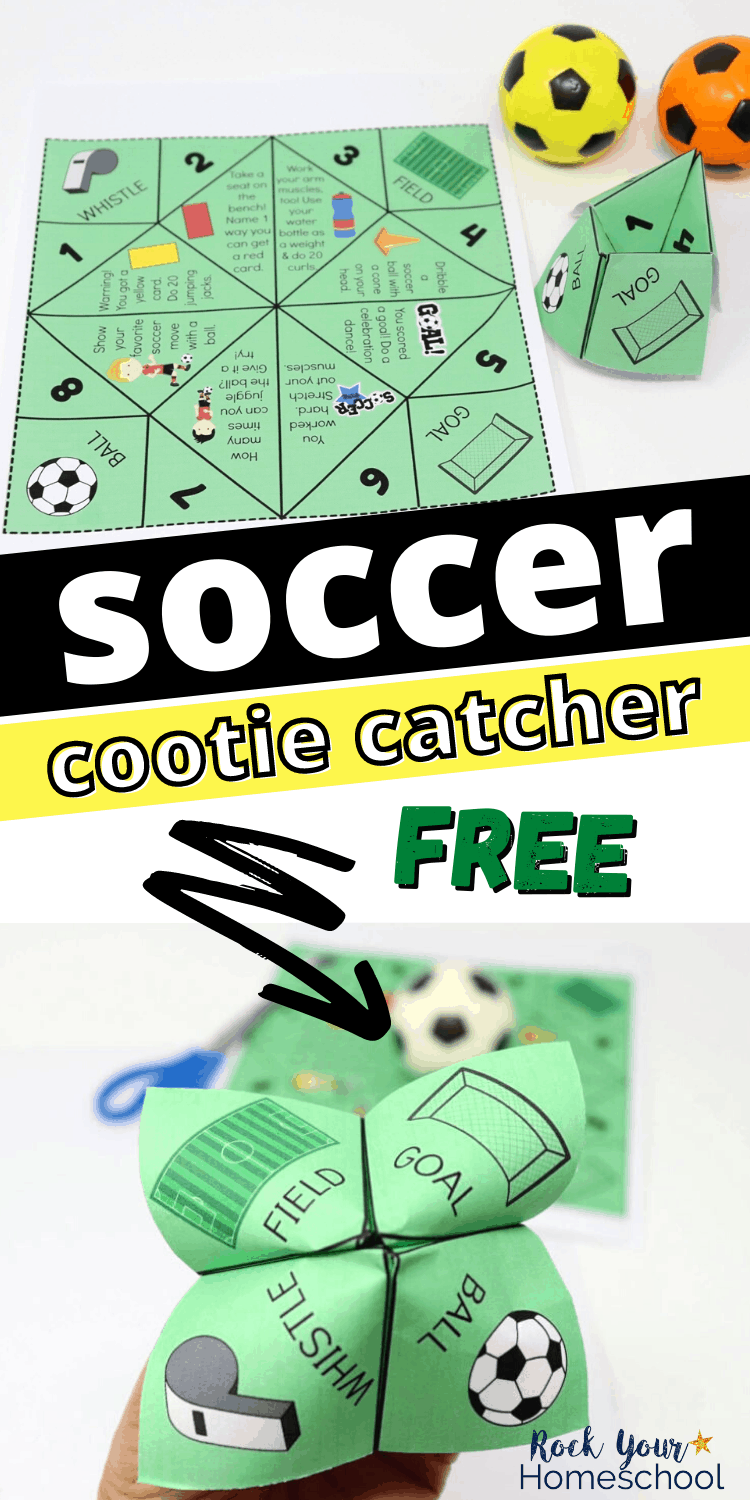 Some of the ideas suggest using a soccer ball. If you're indoors, I recommend using a soft ball or a balloon as a replacement.
And feel free to customize these suggestions! Your kids may have awesome ideas for making these prompts even better 🙂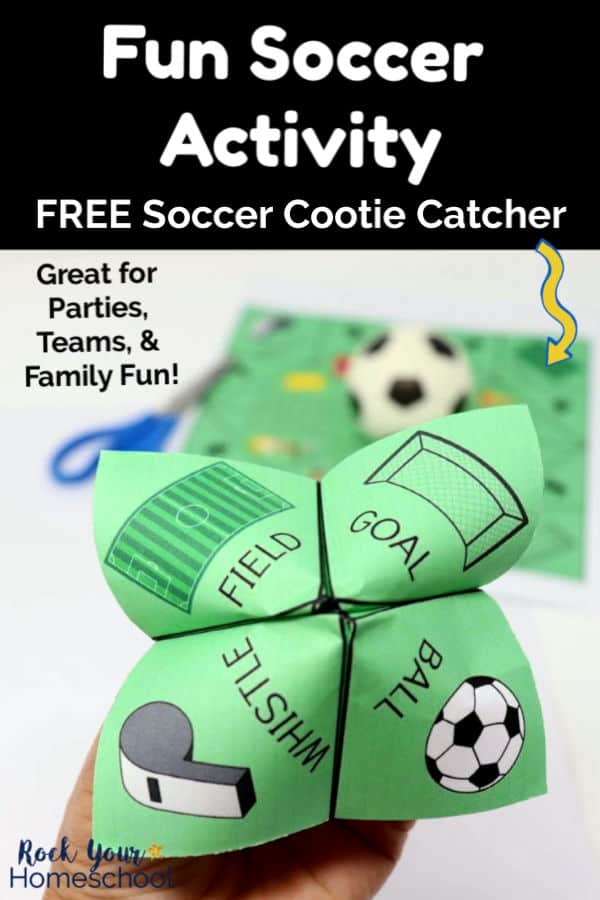 Simple Instructions for Assembling & Using Your Cootie Catcher
Cootie catchers are wonderful ways to have interactive fun with kids.
With special themes and topics of interest, you'll be able to engage your kids and connect as you share giggles.
Not sure how to put this thing together? It's really not that hard!
Just follow these steps and you'll quickly be on your way to enjoying this fun soccer activity 🙂
Print your soccer-themed cootie catcher.

Use scissors to cut along the dotted lines of the cootie catcher.

Fold the cootie catcher in half along one of the center lines. Open and repeat with the other center line.

Open up cootie catcher and place print down. Fold one corner in to meet the center. Repeat with all corners. You will end up having four corners meet in the center, forming a square.


Flip over the cootie catcher. Fold corners into the center with numbers pointed in.

Fold the square in half with numbers touching each other. Unfold and repeat with the other side.

Note that the original corners will now gently pull out. Insert pointer finger behind one slot and thumb behind the other on the same side.
(In this picture, I have my left pointer finger behind FIELD and left thumb behind WHISTLE.) Insert right pointer finger behind GOAL and right thumb behind BALL. (You may switch this up at any point. Just giving an example 😉 )



Push your fingers and thumbs up to meet the other in the center. Gently manipulate cootie catcher in and out.

Now it's time for some fun! The participant picks one of the soccer-themed objects/words (GOAL, BALL, FIELD, or WHISTLE). For each letter of the chosen word, manipulate the cootie catcher.

Four numbers will appear on the inside of the cootie catcher. The participant selects one number. Manipulate the cootie catcher that number of times.

Again, four numbers will appear. The participant selects one number. You open the cootie catcher and then the participant must answer the question or perform challenge.

Repeat and have fun!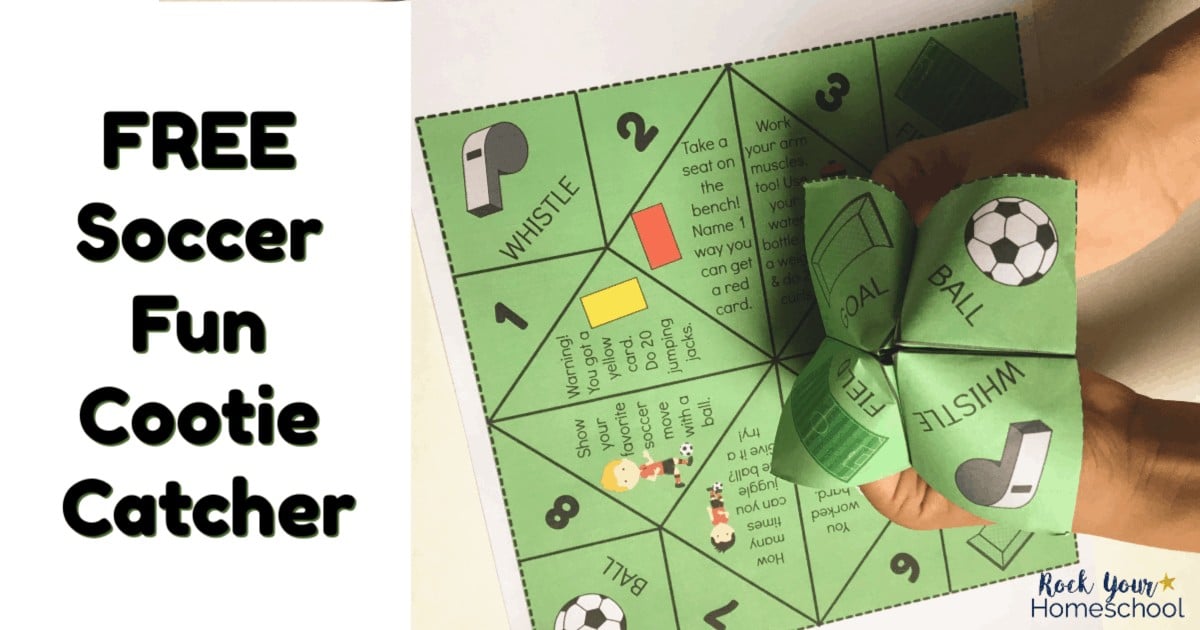 Get Your Free Soccer Cootie Catcher!
You can get started with interactive fun with this soccer cootie catcher today!
You'll get one printable page of soccer cootie catcher fun.
You can print as many copies of this soccer-themed cootie catcher as you need!
If you have a friend, fellow coach, or special soccer person that you think would love to use this activity with kids, please share the link to this post. Thank you for your cooperation and sharing!
When you subscribe and join the Rock Your Homeschool community, you'll receive these printable in a PDF in an email, along with a super-secret password that opens the Subscriber's Library to all RYHS freebies.
Also, you'll receive email updates with ways to creative and easy ways make life and learning fun for all.
(Psst! Current RYHS members just need to access the Subscriber Freebies page and enter the password in your welcome email. If you have any problems or questions, please email rockyourhomeschool@gmail.com)
Get your FREE soccer cootie catcher HERE or by tapping on the image below. Wishing you tons of soccer fun!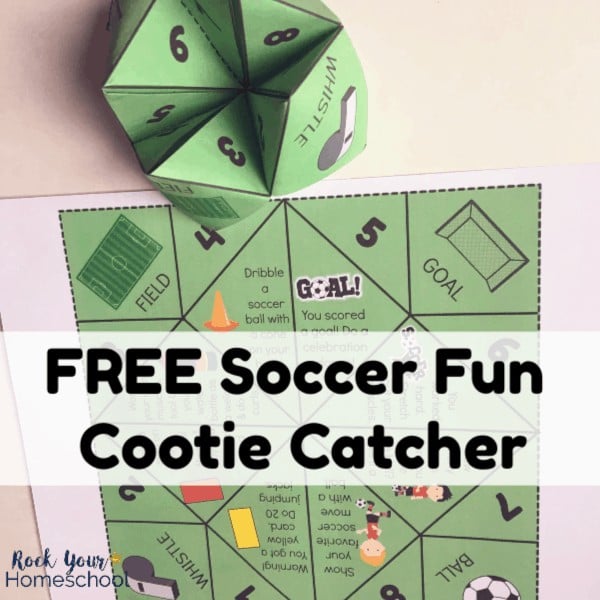 What type of additional skills or questions would your soccer fan like on this cootie catcher? 

Also, would you like another sport to be featured in a cootie catcher for more interactive fun?
Drop your ideas in the comments below!