Snowflake Poetry Craft for Winter Haiku Fun with Kids
This snowflake poetry craft is an excellent way to have winter haiku fun with kids.
With a combination of hands-on and writing fun, this activity is fantastic for seasonal learning fun. Discover creative ways to enjoy this activity in your classroom, homeschool, or family for poetry teatime fun plus get your free printable pack today!
Why This Snowflake Poetry Craft Is Awesome for Winter Haiku Fun
My boys and I have mixed feelings about winter.
We love the crisp, cold air. And how clear the morning sky shines.
Plus, all the fabulous opportunities to play in the snow! We live near Pittsburgh, Pennsylvania, pretty close to a snow belt. All that snow means lots of time to build snowmen, go sledding, and have massive snowball fights.
But, we don't care for frigid temperatures and ice that keep us trapped indoors and create cabin fever. So, we look for new ways to keep the winter fun going despite all that yuck.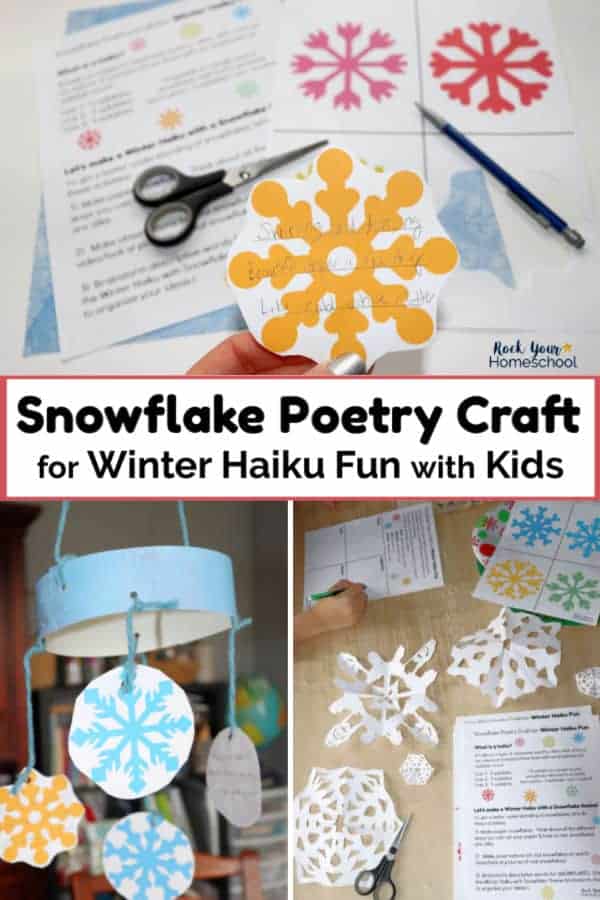 This year, we're focusing on a creative way to make that winter fun as fantastic as possible. And that focus is on such a tiny thing.
A snowflake.
Well, lots of snowflakes 😉 All working together to create a winter wonderland!
To honor the snowflake, the boys and I decided to add a Snowflake Poetry Craft for Winter Haiku Fun to our Poetry Teatime-Holiday Edition celebration. We've been chatting and learning about snowflakes through fun activities, so this craft seemed like a perfect addition 🙂
Get Your FREE Snowflake Poetry Craft for Winter Haiku Fun Printable Pack
Haikus are such wonderful ways to add fun to your poetry time.
The simplistic format of haikus makes you pause, focus, and think about the beauties of the season. So many terrific treasures to unearth and delight in!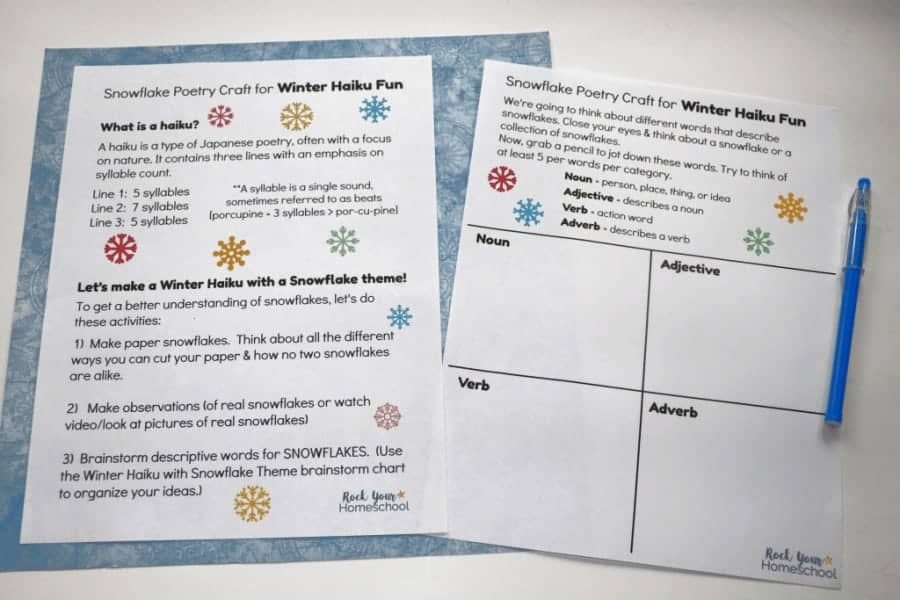 This free printable activity pack has 6 pages and includes:
What is a haiku? & Activity Ideas
Snowflake Poetry Craft for Winter Haiku Fun Brainstorm Sheet
Guide for writing Snowflake Haiku rough draft & final product
2 pages of Colorful Snowflakes to write final Snowflake Haikus (8 total snowflakes)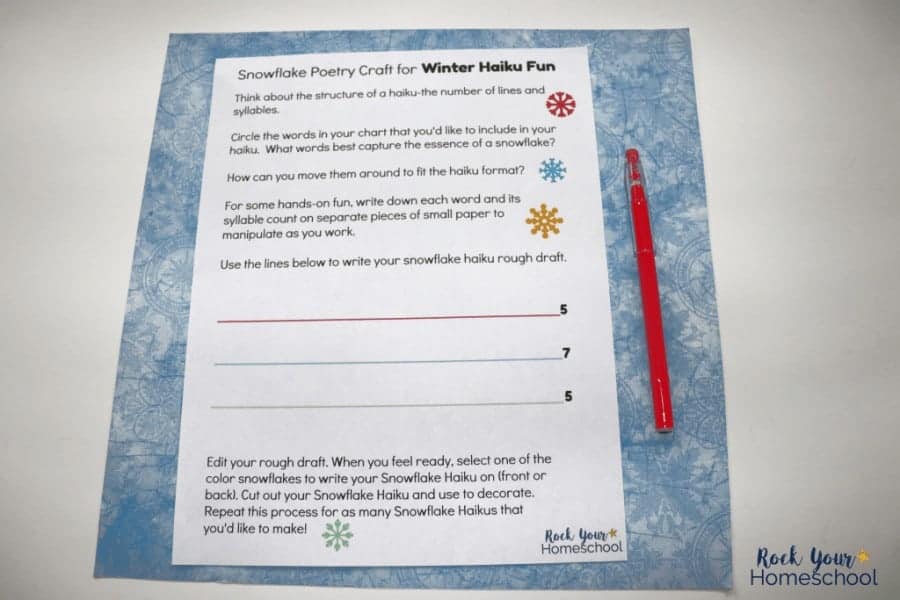 The activity pack suggests that you either make natural observations of snowflakes or watch videos/look at photographs of snowflakes.
You might not have snow on the day of this poetry activity (due to weather or where you live) so scroll down in this post of 50+ Amazing Snowflake Activities for Winter Fun with Kids for recommended videos and books with gorgeous photography.
I encourage you to get creative with this snowflake poetry activity!
You can follow the directions OR get creative and do what feels right. Go for it!
Maybe use those DIY paper snowflakes to record your haikus on? Or glue them on to different colors of construction paper and write the haikus on the back?
Make a collection of snowflake haikus, poke a hole in the top, and create a beautiful Snowflake Haiku mobile.
When you join the Rock Your Homeschool community, you'll receive this printable in a PDF file in an email, along with a super-secret password that opens the library to all RYHS freebies.
In addition to your freebies, you'll be added to our email list and I'll update you with creative and easy ways to make learning and life fun.
(Psst! Current RYHS members just need to access the Subscriber Freebies page and enter the password in your welcome email. If you have any questions or problems, please email Amy at rockyourhomeschool@gmail.com)
TAP HERE or on the image below to subscribe and get started with these free Snowflake Poetry Craft for Winter Haiku Fun!!
What are some other creative ways to display your Snowflake Poetry Craft for Winter Haiku Fun?
Have you tried poetry teatime with your kids? It is absolutely one of our favorite activities!
In fact, I love it so much that I've partnered with Dachelle from Hide the Chocolate, to bring you Poetry Teatime~Holiday Edition.
If you're new to poetry teatime, or just need a bit of help to get it going, this resource is perfect! We present you with simple yet creative ways to make poetry teatime happen with your kids. And to make it even more special, we're focusing on special holidays or seasons each month to celebrate 🙂