Free Star Wars-Inspired Calendar for 2019 Planning Fun
Have fun planning 2019 with this free Star Wars-Inspired Calendar! With a simple layout featuring your favorite Star Wars characters, you'll actually enjoy planning all those appointments, activities, and more.
Awesome Way to Get Your Star Wars Fans On Board with Planning!
How do you get your family members who fight a schedule with greater force than The Resistance to actually pay attention to your plans?
You use a calendar with characters and themes they like. Well, obsess over is a better way to describe it 😉
Like, the vocabulary just naturally seeps into their conversation and you get used to hearing debates on such topics as "Who's the evilest Star Wars character ever?" and "Which Star Wars movie do you most wish you could be in?" and "Name your Top 3 Star Wars weapons and how you'd use each".
That's why I created this Star Wars-Inspired Calendar for 2019. Because this busy homeschool mom of five boys needs all the help she can get in grabbing the attention of her sci-fi loving crew.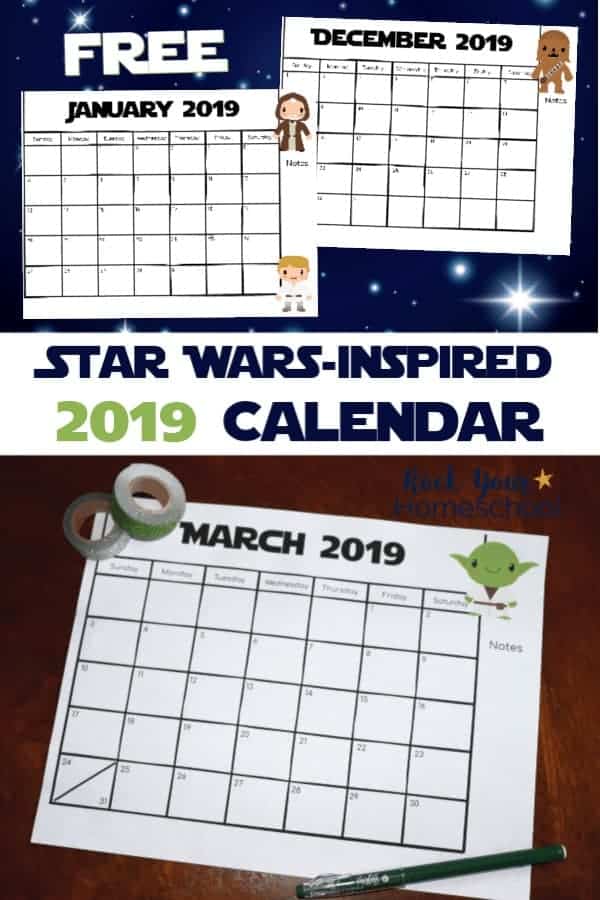 My Hopes for Using This Star Wars-Inspired Calendar for 2019
As much as I love planning, life with five boys complicates the process. A lot.
More days than not, we have more activities on our agenda than hours in the day. At least it feels that way.
Homeschooling. Competitive soccer. May the 4th Be With You Day.
And don't forget all the family activities and appointment.
I'm a planner girl. I've always loved making lists, jotting down reminders, and planning out projects.
My boys and hubby, on the other hand, would rather smell Jabba the Hutt's armpit than refer to a calendar.
After a mommy freak out over being late for an orthodontist appointment, I had a sit down with my crew when I explained that everyone needed to be on board with our family plans.
Several moans and groans later, we came to a compromise. They agreed to use calendars with themes that they liked. I started looking.
I couldn't find exactly what our family needed. Space to jot down a few events and appointments per day plus a large note area for monthly reminders and details.
So, I made our own calendars. In addition to Harry Potter- and Dr. Seuss-Inspired calendars (because I have a few age groups to satisfy), I created this free Star Wars-Inspired Calendar for 2019.
We'll use these printable monthly calendar pages on our refrigerator, in my homeschool planner, and in my office. With this assortment to choose from, I figure everyone will be happy and "on the same page" (pun intended).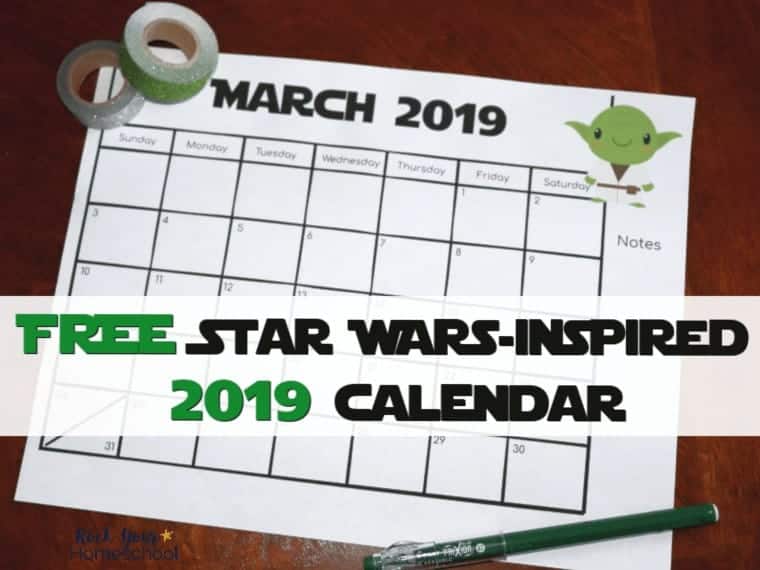 Get Your Free Star Wars-Inspired Calendar for 2019!
This free printable pack of Star Wars-Inspired Calendar for 2019 includes a simplistic layout featuring your favorite Star Wars characters for 12 months. The monthly pages will print on standard-size paper (8 1/2″ x 11″) so you can pop into your binder. There's plenty of room to jot down appointments, events, and reminders.
Here are a few fun ways you can also use this calendar:
In your classroom to write down and look forward to fun events
At the library to plan storytime and other fun activities
In your homeschool
As a family calendar for appointments, practices, reminders, and more!
Cute Star Wars characters are featured in each month, including:
January ~ Obi-Wan Kenobi & Luke Skywalker
February ~ Princess Leia & Han Solo
March ~ Yoda
April ~ Poe Dameron
May ~ Rey & Finn
June ~ Boba Fett & Storm Trooper
July ~ Ewok & Jawa
August ~ Kylo Ren
September ~ C-3PO & R2-D2
October ~ Darth Vader & Emperor Palpatine
November ~BB-8
December ~ Chewbacca
When you join the Rock Your Homeschool community, you'll receive this printable in a PDF download in an email, along with a super secret password that opens the vault to all RYHS freebies. In addition to your freebies, you will be a weekly email with ways to rock your homeschool plus instant downloads to all new freebies.
(Psst! Current RYHS members just need to access the Subscriber Freebies page and enter the password in your welcome email. Or get the instant download in the email the week of this post)
Click HERE or on the image below to subscribe and get started with this free Star Wars-Inspired Calendar for 2019!
Do you have kids or family who resist using a calendar?
How can this Star Wars-Inspired Calendar help?