Free Thanksgiving Color By Shapes for Easy Holiday Fun
Add this simple Thanksgiving Color By Shapes activity to your collection of holiday fun for kids.
This free printable coloring page is a fantastic way to get kids excited about Thanksgiving (and give them something to enjoy as they wait).
Learn more about this free Thanksgiving printable activity for kids and how to your Color By Shapes featuring a cute turkey today!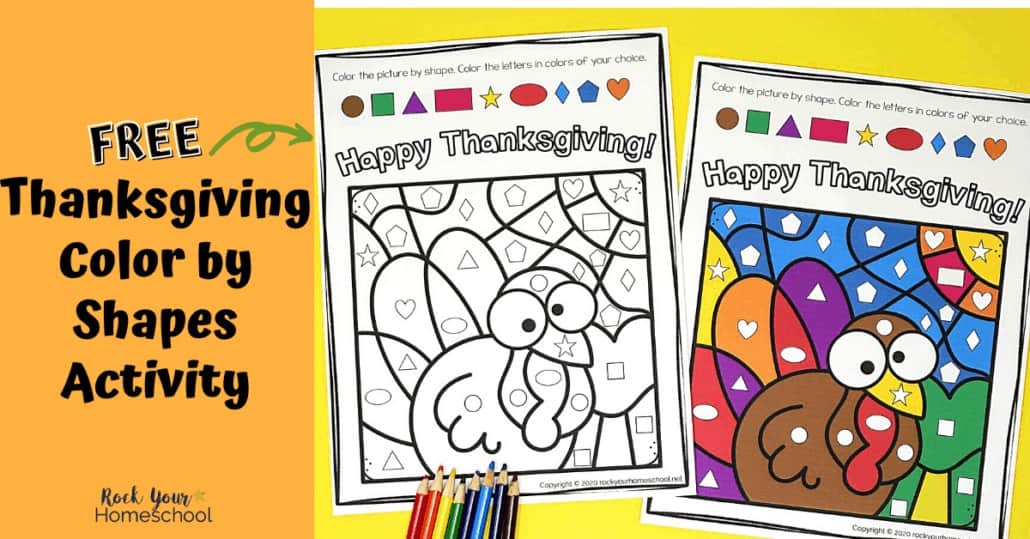 Keep Thanksgiving Fun with Kids Simple!
There are so many things going on around Thanksgiving. Instead of adding to all the holiday hustle-and-bustle, keep it simple and fun for your kids.
You probably feel like you have a gazillion things on your to-do list. Holiday prep can be tough!
It's easy to feel stressed out and like you're running around in circles, trying it get it all done.
But, you want to make sure your kids enjoy a memorable holiday experience.
How do you add fun holiday activities without feeling like you're piling more stuff on your to-do list?
Skip over-complicated and expensive activities. Keep it simple, frugal, and quick. Print-and-go activities are perfect for this time of year!
Your kids will be excited to have holiday-themed activities. And you'll be glad that you're providing screen-free ways to celebrate the holiday!
This free Thanksgiving Color By Shapes activity should be at the top of your fun holiday list. Just add this printable to our other Thanksgiving Fun resources and you'll be set for simple holiday fun with your kids 🙂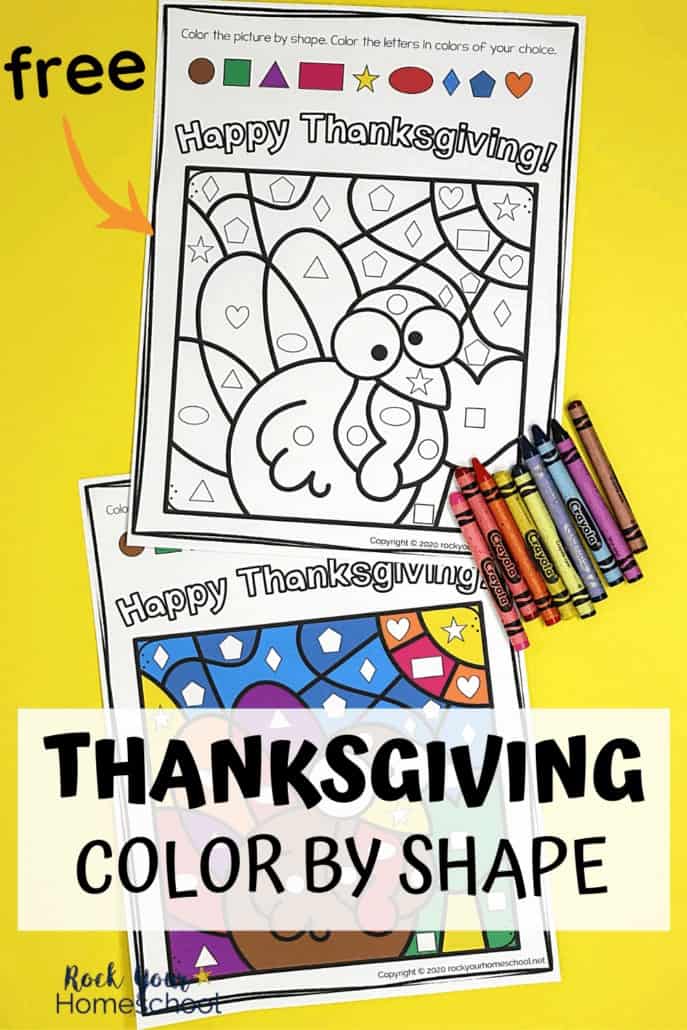 Easy Ways to Extend The Fun with This Thanksgiving Color By Shapes Activity
You can just print-and-go with this Thanksgiving Color By Shapes activity.
Once you print out this page, you will need crayons, color pencils, or markers for your kids to complete this holiday activity.
Crayola Twistables Crayons Coloring Set, Kids Indoor Activities At Home, 50 Count
Crayola Back To School Supplies, Grades 3-5, Ages 7, 8, 9, 10 (Amazon Exclusive), Multicolor
Crayola Crayons, School Supplies, Assorted Colors, 16 Count, Crayon Size 3-5/8
Crayola 68-4012 Colored Pencils, 12-Count, Pack of 2, Assorted Colors
Sargent Art Premium Coloring Pencils, Pack of 50 Assorted Colors, 22-7251
Crayola Erasable Colored Pencils, 10 Count, School Supplies
Crayola Broad Line Markers, Classic Colors 10 Each (Pack of 6)
Crayola 50ct Washable Super Tips Markers 50 Color Variety
Crayola Silly Scents Scented Markers, Washable Markers, 12Count, Gift for Kids, Assorted
If you'd like to boost the learning fun with this Thanksgiving printable, you can:
Encourage your kids to spell the color words. For example, write "orange" under the color. If you have a young learner, you can do this step for them.
Print out extra copies and have your kids create their own Color By Shapes key. Think outside the box! Maybe they'd like a pink turkey?
Use the back of this Thanksgiving page to draw a holiday scene.
Or your kids can practice writing Thanksgiving words, like pilgrim, blessing, and cornucopia.
Get Your Free Thanksgiving Color By Shapes Activity
WooHoo! Your kids will have a blast with this Thanksgiving Color By Shapes fun.
This free PDF (printable) set includes 1 coloring activity and 1 answer key.
You can certainly print out as many copies of this Thanksgiving activity that you need for your kids, classroom, or community event. If you have a co-worker or friend who might enjoy this printable with their kids, please share the link to this post (and not the download link). I truly appreciate your cooperation and sharing!
**If you have questions about using for distance learning, email Amy at [email protected]
To get this free Thanksgiving Color By Shapes activity, all you need to do is subscribe to Rock Your Homeschool. You'll receive an email with a PDF download, along with a password to open the Subscriber's Library to all RYHS freebies.
Plus, you'll get emails with ideas, resources, and encouragement to make life and learning fun.
(Psst! Current RYHS members just need to access the Subscriber Freebies page and enter the password in your welcome email. Or get the instant download in the email the week of this post.)
Get your FREE Thanksgiving Color By Shapes activity by clicking HERE or on the image below.
Wishing you tons of Thanksgiving fun & memories with your kids!