Free Thanksgiving Toilet Paper Roll Figures for Holiday Fun
If you're looking for an easy yet fun holiday activity for your kids, these Thanksgiving Toilet Paper Roll Figures will be a perfect addition to your celebration.
This free set allows you to recycle all those empty toilet paper rolls into cute figures your kids can use for creative play, games, and more.
Check out these free Thanksgiving printables for kids and get your printable pack today!
Super Simple & Frugal Thanksgiving Fun for Kids
Thanksgiving is one of those holidays that it's nice to have a few fun activities tucked away to keep your kids busy and happy.
There's usually so much to do. Cleaning and preparing for guests. Shopping for ingredients and goodies. And, of course, there's all the kitchen work!
Even if you're kids help with some of the work, you might have moments when it would be amazing to have them enjoying a screen-free activity.
Or maybe you'd just like to have a collection of fun Thanksgiving things to do with your kids?
In the past 18 years as a mom, I've learned how helpful it can be to have a stash of holiday fun activities at the ready. If your kids are like mine, the holidays create a whirlwind of excitement and energy. I like to channel all that enthusiasm into positive activities whenever I can 😉
Since my boys have had a blast with our other toilet paper roll figures (like these Star Wars, Harry Potter, and Halloween ones), I knew Thanksgiving-themed ones would be a hit.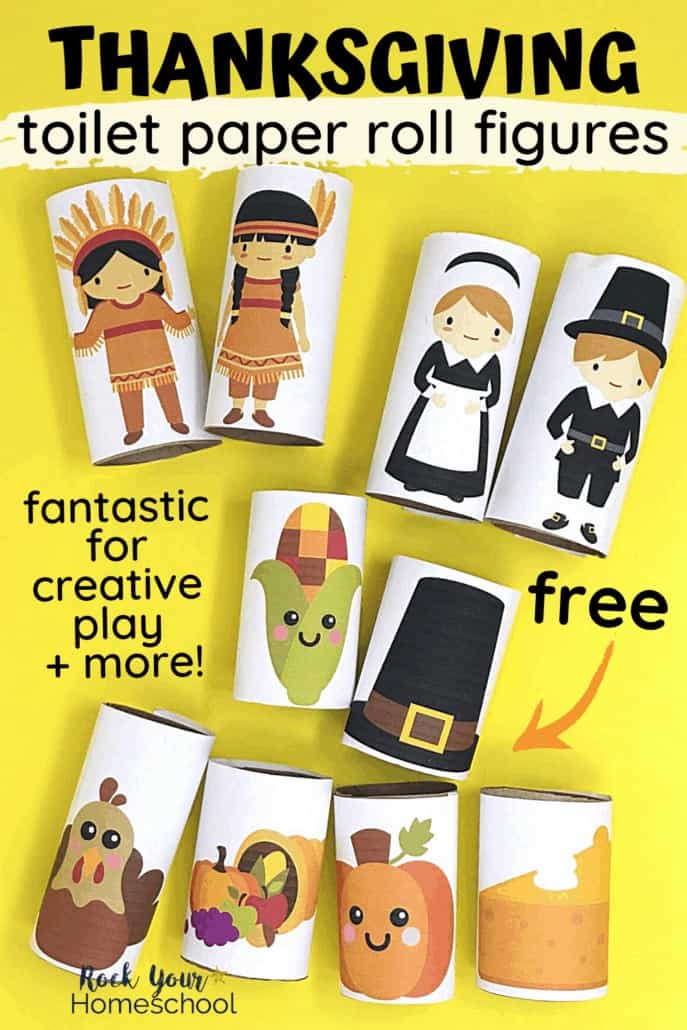 How to Make These Thanksgiving Toilet Paper Roll Figures
These adorable Thanksgiving figures are incredibly easy to make. They are like a wrap for an empty toilet paper roll.
For this free printable set, you'll need:
empty toilet paper or paper towel rolls (I used a combination of both. I find that you can cut down one paper towel roll for use with multiple figures.)
scissors
glue
free Thanksgiving Toilet Paper Roll Figures set
paper bag (optional for storage)
To assemble your figures, simply:
Print out this set.
Cut along the black line that separates figures.
You will probably need to trim down the top and bottom of the figures to best fit the cardboard tube.
Turn Thanksgiving figure wrap over (with the blank side facing up) and position paper roll.
Glue both ends of Thanksgiving figure wrap. Again, you may need to trim one end to make sure there's no overlap.
Press one glued-side onto the paper roll. Firmly wrap the paper around the cardboard tube and press other glued-side to down.
Let dry.
Repeat process with the remaining Thanksgiving figures.
30 Pack Craft Rolls – Round Cardboard Tubes – Cardboard Tubes for Crafts – Craft Tubes – Paper Tube for Crafts – 1.57 x 3.9 Inches – Brown
Fiskars 5 Inch Pointed-tip Kids Scissors 3 Pack, Warm
Elmer's 488126 School Permanent Glue Sticks 0.21 Oz. 8/Pack (E1591/E1560)
Kraft Paper Gift Bags Bulk with Handles 8 X 4.5 X 10.5 [100Pcs]. Ideal for Shopping, Packaging, Retail, Party, Craft, Gifts, Wedding, Recycled, Business, Goody and Merchandise Bag (Brown, 100 Bags)
Fun Ideas for Using These Free Thanksgiving Printables
You can use these Thanksgiving toilet paper roll figures in so many ways! Think outside the box and let your imagination go. Your kids will probably come up with a bunch of ways to have holiday fun with these activities 🙂
A few ideas that my boys will be doing include:
Creative play:  For use during brain breaks leading up to the holiday or while reading Thanksgiving books.
Bowling:  Play a creative game of 10-pin Thanksgiving bowling. Set these toilet paper roll figures up as bowling pins. Use a soft ball to try and knock them down.
Make a tower:  Challenge your kids to stack these figures into a tower. How high can they make it?
Thanksgiving toilet paper roll figures scavenger hunt:  Hide the characters around a room or your home. Send your kids on a Thanksgiving hunt!
Placecard settings:  Transform these Thanksgiving toilet paper roll figures into cute placecard holders. Add a slit to the top of the figure to insert card with name. Or just jot down the person's name on a blank space.
Create puppet show characters:  Cut out and glue onto woodcraft sticks for a fun puppet show. Great for read-aloud time!
Use for holiday decor:  Cut out and make a poster or Thanksgiving-themed art to showcase during your holiday celebration.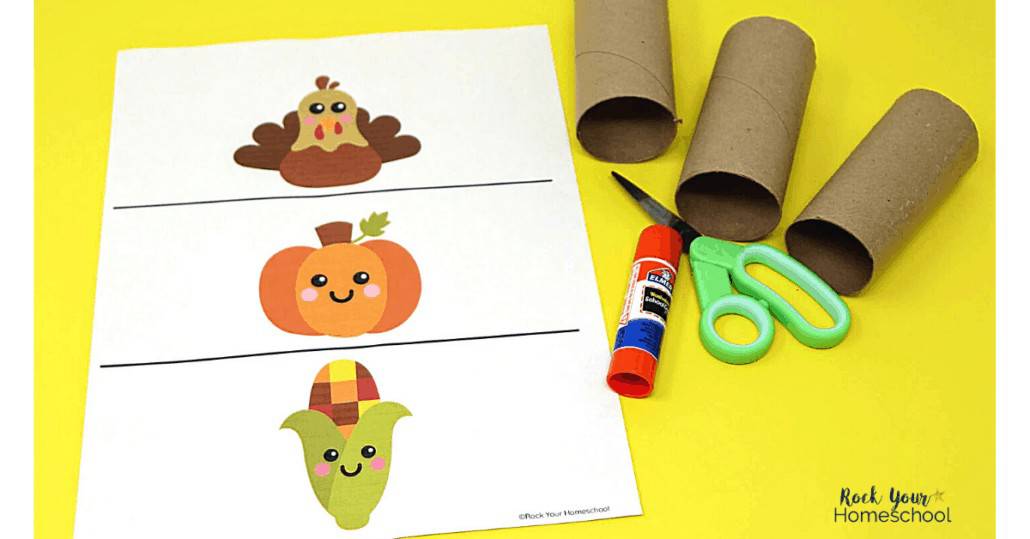 Get Your Free Thanksgiving Toilet Paper Roll Figures
Excited to add these cute characters to your Thanksgiving celebration with kids?
This free PDF (printable) set includes 4 pages with 10 Thanksgiving toilet paper roll figures.
turkey
pumpkin
cornucopia
boy Pilgrim
girl Pilgrim
boy Indian
girl Indian
Pilgrim hat
maize
slice of pumpkin pie
Print out as many copies as you need for use with your kids, classroom, or community event. If you have a friend or co-worker who'd like to use these free Thanksgiving printables, please share the link to this post (and not the download link). Thanks for your cooperation and sharing!
**If you have questions about using for distance learning, email Amy at [email protected]
To get this free set of Thanksgiving Toilet Paper Roll Figures, all you need to do is subscribe to Rock Your Homeschool. You'll receive an email with a PDF download, along with a password to open the Subscriber's Library to all RYHS freebies.
Plus, you'll get emails with ideas, resources, and encouragement to make life and learning fun.
(Psst! Current RYHS members just need to access the Subscriber Freebies page and enter the password in your welcome email. Or get the instant download in the email the week of this post.)
Get your FREE Thanksgiving Toilet Paper Roll Figures by clicking HERE or on the image below.
My boys and I would love to see pictures of your kids using these Thanksgiving activities. Please tag @rockyourhomeschool and share your experiences!