50 States of America Printable Activities Set for Geography Fun
This 50 states printable activities set is fantastic for geography fun.
Your kids will have a blast as they learn and record facts and interesting things about the states in America.
Get creative ideas for enjoying these free printable geography activities with your kids and how to boost the learning fun!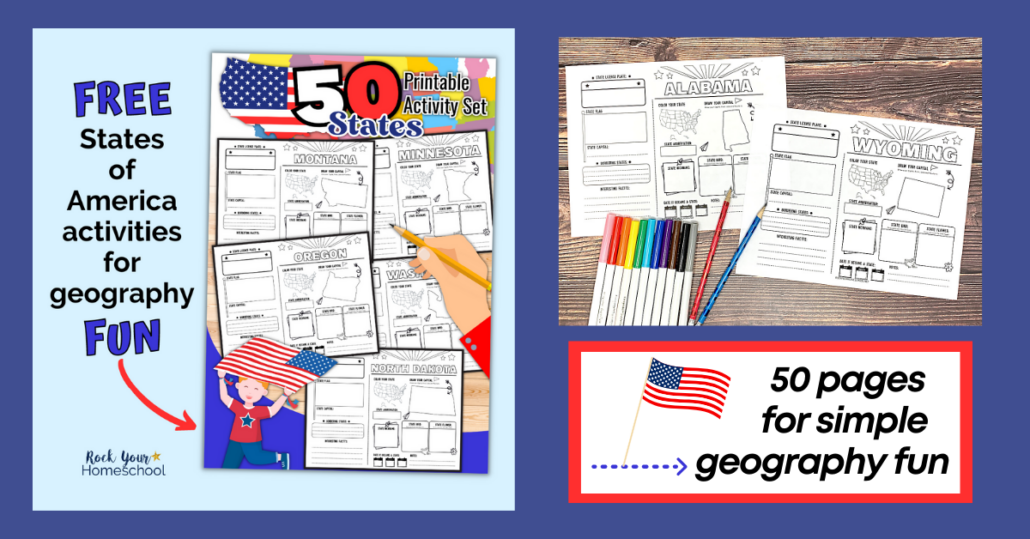 Spark Curiosity of the 50 States of America for Your Kids
If you're looking for a simple, fun, and FREE way to help your kids learn more about each of the 50 States in the America, you'll love this set of printable activities!
Geography has been one of those homeschool subjects that my boys and I have touched upon but never really dove into.
And that's actually my fault 😳
I've never been that into geography. I didn't have much exposure to it in public school. And when I did, it didn't seem to stick (I still have to think really hard about which capital goes to which state).
Plus, I'd focus on core subjects (like math, language arts, history, and science), leaving homeschool enrichment up in that air (which never works well for our homeschool – I need to have it written down as a reminder in my planner).
And geography isn't even really enrichment! It's part of social studies/history.
So, I'm taken the blame on this oversight 😉
Luckily, my boys love geography – and want to explore it more. This year, we're taking a tour of America and part of those learning adventures includes these free 50 states printable activities 🇺🇸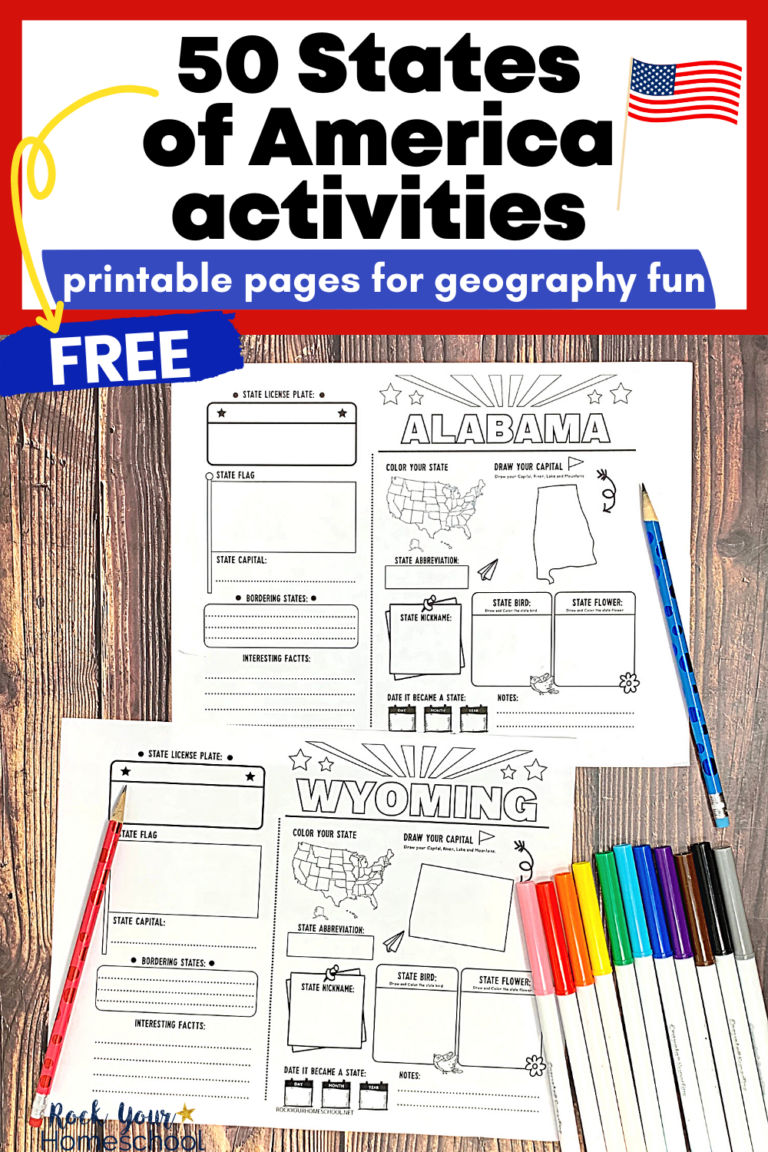 What You'll Find in this Free Set of 50 States Printable Activities
This pack of 50 states printable activities (in PDF format) includes 50 pages (plus a terms of use page).
The layout of each page for the US states includes:
State name in open font (meaning your student can color or doodle in each letter to decorate)
State license plate – add colors, designs, numbers, motto, etc.
State flag – draw and color
Bordering states
Interesting facts
Color your state – find and color the state on a map of America
Draw your capital – add details to the state like the capital, rivers, lakes, landmarks, and mountains
State abbreviation
State nickname
State bird
State flower
Date it became a state – 3 boxes for the day, month, and year
Notes – any other fun facts or information your kids would like to record about this state (including unique features, time zones, square miles, and more key facts)
Alabama
Alaska
Arizona
Arkansas
California
Colorado
Connecticut
Delaware
Florida
Georgia
Hawaii
Idaho
Illinois
Indiana
Iowa
Kansas
Kentucky
Louisiana
Maine
Maryland
Massachusetts
Michigan
Minnesota
Mississippi
Missouri
Montana
Nebraska
Nevada
New Hampshire
New Jersey
New Mexico
New York
North Carolina
North Dakota
Ohio
Oklahoma
Oregon
Pennsylvania
Rhode Island
South Carolina
South Dakota
Tennessee
Texas
Utah
Vermont
Virginia
Washington
West Virginia
Wisconsin
Wyoming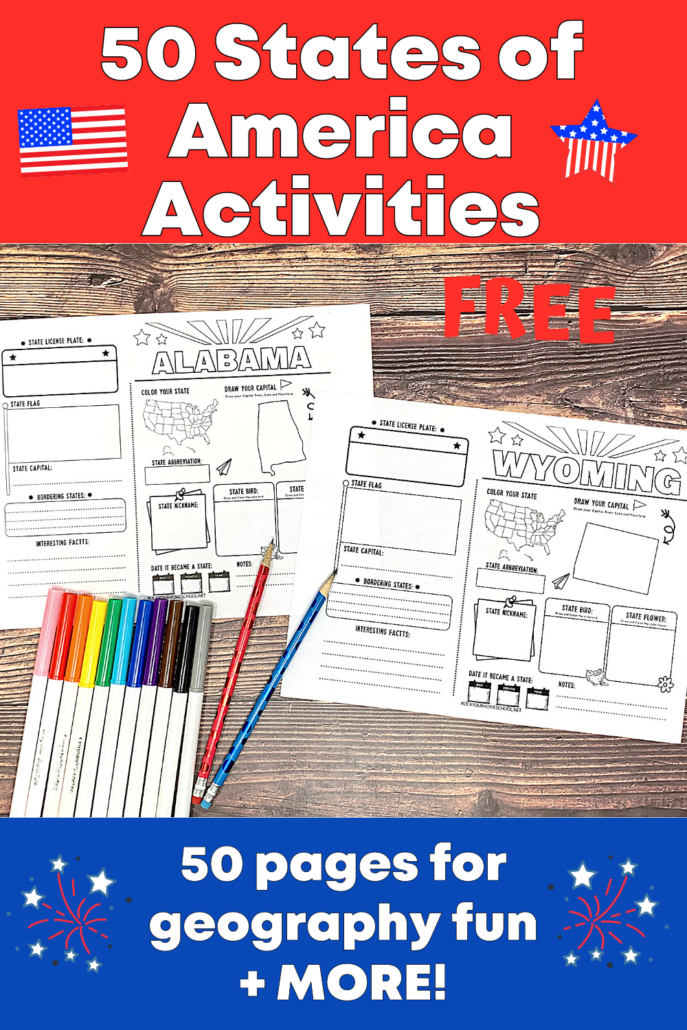 Creative Ways to Extend the Learning Fun with These Geography Printables
To make the most of these special geography fun activities, I have a few suggestions for you and your kids:
Provide a variety of coloring and writing tools like
Print on white printer paper or cardstock (if you'd like extra durability)
Make a binder to store and for a special keepsake and reference tool
Pick how often you'll work on a state page – daily, once a week, other choice (like 3 days a week)
Talk about the different states that you've visited – and ones that you'd like to add to your bucket list
Encourage your students to use the back of a state worksheet or two to place the names of the states in alphabetical order
Recommended Resources to Boost the Learning Fun with These Free 50 States Printable Activities
You can easily boost the geography learning fun about the 50 states of the United States of America with these resources. As always, I suggest searching your shelves and local library to see what gems you can find.
This year, my youngest boy and I are enjoying U.S. Geography Through Literature Pack K-3 from Beautiful Feet Books. Such a fantastic mix of books, hands-on activities, and more for learning all about the 50 states – review coming soon!
Here are more of our favorite ways to explore the 50 states:
Fifty States: Every Question Answered
The 50 States: Explore the U.S.A. with 50 fact-filled maps!
Don't Know Much About the 50 States
Game Zone Great States Geography Board Game
Imagimake: Mapology USA with Capitals- Learn USA States Along with Their Capitals and Fun Facts- Fun Jigsaw Puzzle- Educational Toy for Kids Above 5 Years
Melissa & Doug USA Map Wooden Puzzle (45 pcs)
Melissa & Doug USA Map Floor Puzzle (51 pcs, 2 x 3 feet), Multi
Learning Resources Magnetic U.S. Map Puzzle – 44 Pieces, Ages 4+ Fun Puzzles for Kids, US Map, Geography for Kids, Kindergartner Learning Toys
Professor Noggin's Geography of the United States – A Educational Trivia Based Card Game For Kids
Get Your Free 50 States Printable Activities Pack
High five! You're on your way to enjoying extra special learning fun with your kids!
This set of FREE worksheets of 50 states printable activities includes 50 pages (plus 1 terms of use page).
You may print as many copies of these states printable activities as you'd like to enjoy with your kids. If you have a friend or co-worker who might like to boost their geography fun, please share this post. I truly appreciate your sharing!
To get this free set of 50 states worksheets, simply subscribe to Rock Your Homeschool.
You'll receive an email with a PDF file, along with a password to open the Subscriber's Library to all RYHS free printables.
Plus, you'll get emails with ideas, resources, and encouragement to make life and learning fun 🙂
(Psst! Current RYHS members just need to access the Subscriber Freebies page and enter the password in your welcome email. If you have any problems or questions, please email Amy at rockyourhomeschool@gmail.com)
Get your FREE 50 States Printable Activities pack by tapping HERE or on the image below.
Do you have another fun way to use this great resource of printable worksheets as part of your US geography lesson?
Wishing you tons of learning fun adventures!
More Fun (& Free) Ways to Make Geography Fun