7 Continents of the World: Printable Activities for Geography Fun (Free)
These 7 continents printable activities are awesome ways to make geography fun.
You'll love having these simple yet creative ways to make learning about the seven continents of the world engaging. Plus, your kids can put together a super cool (and custom) reference set that's all about the continents!
Find out more about these free geography printable activities and get your set today 🌎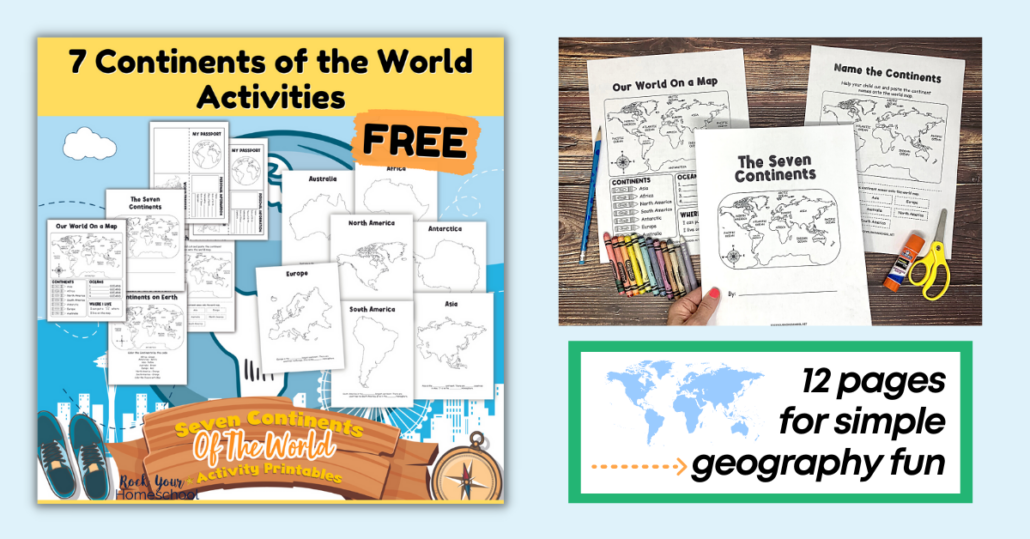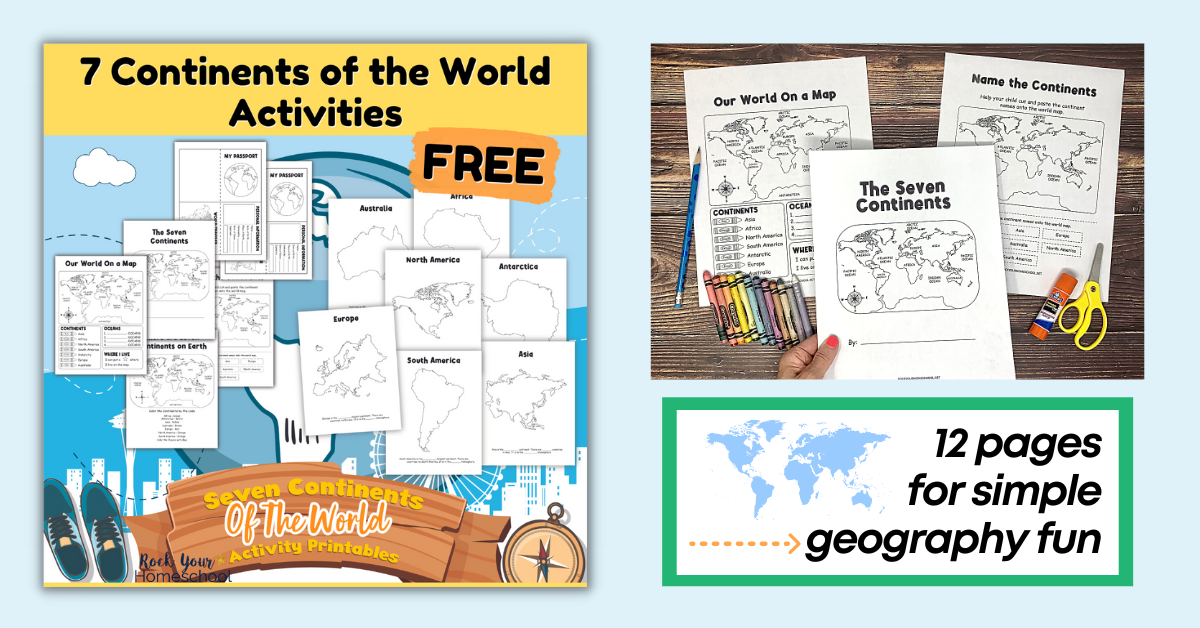 Special Ways to Enjoy 7 Continents Learning Fun
Want to help your kids learn all about and practice the seven continents of the world?
Well, you'll LOVE these free printable activities for making geography (and social studies) engaging and fun!
Learning about the seven continents can be such an exciting thing for kids. My boys have always loved discovering different areas of the world and where they are in relation to where we live.
When you think about it, it really IS cool to explore and investigate the variety of land masses on Earth.
I'll be honest…I'm not that great at geography 😳 It was quickly glanced over in my classes. So, I'm on a mission to help my boys (and myself) take a deeper dive into topics like the seven continents and U.S. geography with all of its 50 states. After years of homeschooling, I've discovered the importance of learning geography.
I'm sharing with you the free set of 7 continents printables that I'm using with my boys. I hope you find this pack helpful in your learning adventures and that you're able to (re)discover the joy of geography with your kids!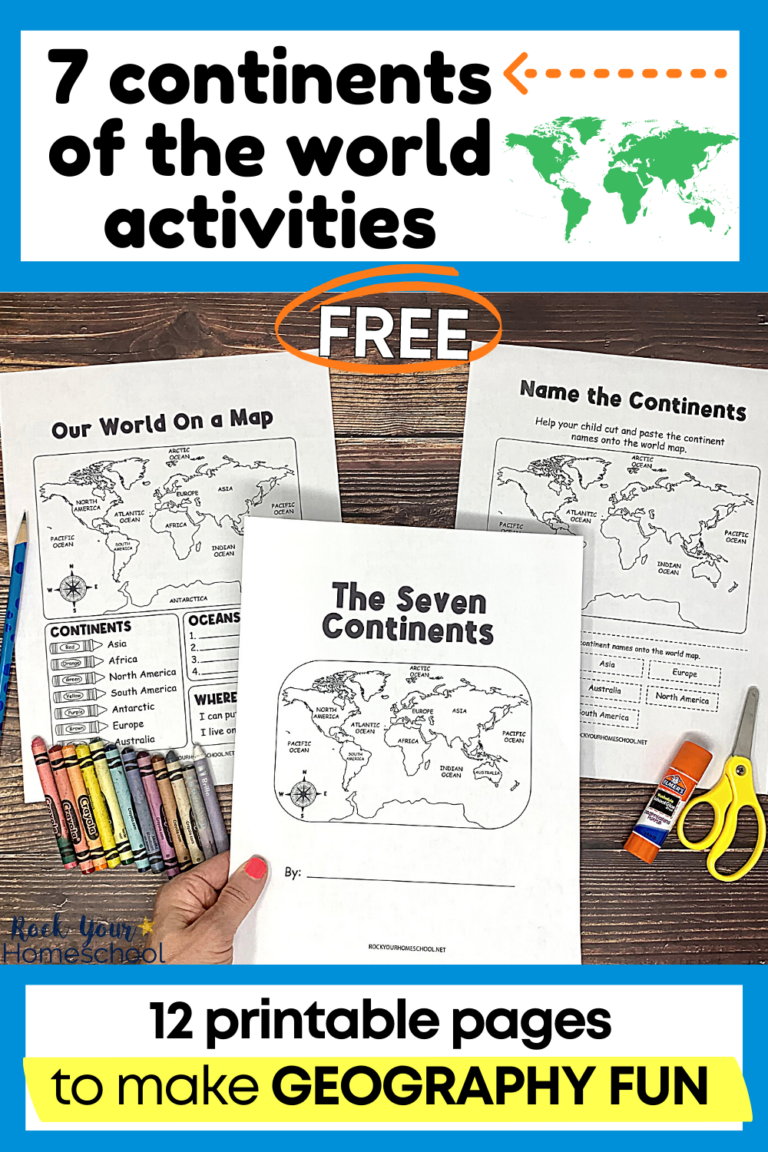 What You'll Find in This Free Set of 7 Continents Printable Activities
These free printable worksheets (PDF) pack has 12 pages to make learning about the 7 continents fun.
The activities are black-and-white so more affordable to print (especially if you're using with a large group or class).
You'll find geography activities about the 7 continents that include:
Cover: The Seven Continents (with world map and compass rose) and By: ______ to write name
There are Seven Continents on Earth: Your kids will color the continents and oceans by code
Our World on a Map: Another continents color by code activity, area to write down names of oceans, and placing star where you live
Name the Continents: Cut-and-paste activity for your students to label the name of the continents
7 pages of coloring and working with the continents (optional: and customizing according to level with fill-in-the-blank — for example, you can add labels for countries, cities, landmarks, etc.)

Africa:

the second largest continent
has 54 countries
is in both Northern and Southern Hemispheres

Antarctica:

is located around the South Pole
is in the Southern Hemisphere

Asia:

the largest continent
has 48 countries
is in the Northern Hemisphere

Australia:

the smallest continent
in the Southern Hemisphere

Europe:

the sixth largest continent
has 44 countries
in the Northern Hemisphere

North America:

the third largest continent
has 23 countries
in the Northern Hemisphere

South America:

the fourth largest continent
has 12 countries
mostly in the Southern Hemisphere

My Passport: 2 pages for your child to make a mini-book with personal information (Name, Date of Birth, Place of Birth, Nationality, Date of Issue, Signature) and World Traveler map to identify where they have traveled
Super Cool Ideas for Boosting the Learning Fun with These Geography Printables
I'm so pumped up that you want to make geography fun for your kids, too!
Here are my ideas for making these 7 continents worksheet pack extra fun – and I'd love to read your ideas in the comments area below 😊
Encourage your students to customize these geography activities. Let them add doodles and notes, even quotes. Such a fun way to extend the learning fun!
Slow down and take your time. Read over the pages and chat about the continents. Do you have travel experiences to share? What questions do your kids have about the 7 continents?
Provide a variety of writing and coloring utensils. Completing these types of geography activities is extra special when you can pick what you want your completed work to look like.
Go through your personal library and look for books based on one (or more) of the continents. You can also do a search at your local library for books to explore other continents.
Add interesting facts about the continents to the back of each printable worksheet. Another fun activity for world geography is to write the names of continents in alphabetical order.
You can laminate the activity sheets (or place in dry erase sleeves). Use dry erase markers to write on. You can also enjoy as continent play dough mats.
Use any of the recommended resources below to extend your learning fun 🎉
Crayola Mini Twistables Crayons, Fun Effects, Coloring Set, School Supplies, 24 Count
Crayola Ultimate Crayon Collection, Portable Coloring Set, Assorted Colors, 152 Count, Gift for Kids Age 3 Plus
Crayola Confetti Crayons, Multi Color Crayons, Kids Coloring Supplies, 24 Count (Pack of 1)
Crayola Colored Pencil Set, School Supplies, Assorted Colors, 36 Count, Long
Crayola Twistables Erasable Colored Pencils, Assorted Colors, 12 Count (Pack of 1), Gift for Kids
Crayola Super Tips Marker Set, Washable Markers, Assorted Colors, Art Set for Kids, 100 Count
Recommended Resources to Use with This Free 7 Continents Printable Activities Set
Counting The Continents (Little World Geography)
Teacher Created Resources Continents Set (9899)
The Seven Continents (Rookie Read-About Geography: Continents: Previous Editions)
Continents: What You Need to Know (Fact Files)
The World Game – Fun Geography Board Game – Educational Game for Kids & Adults – Cool Learning Gift Idea for Teenage Boys & Girls
Geography of the World: The Essential Family Guide to Geography and Culture
Wizdar 4" World Globe for Kids Learning, Educational Rotating World Map Globes Mini Size Decorative Earth Children Globe for Classroom Geography Teaching, Desk & Office Decoration-4 inch
Get Your Free 7 Continents Printable Activities Pack
WooHoo! Here's a great way to make geography super fun for your kids!
This free worksheets set of 7 continents printable activities pack includes 13 pages (with cover and terms of use).
You may print as many copies of these 7 continent activities as you'd like to enjoy with your kids. If you have a friend or co-worker who might like to boost their geography fun, please share this post. I truly appreciate your sharing!
To get this free set of 7 continents printable activities, simply subscribe to Rock Your Homeschool.
You'll receive an email with a PDF file, along with a password to open the Subscriber's Library to all RYHS free printables.
Plus, you'll get emails with ideas, resources, and encouragement to make life and learning fun 🙂
(Psst! Current RYHS members just need to access the Subscriber Freebies page and enter the password in your welcome email. If you have any problems or questions, please email Amy at rockyourhomeschool@gmail.com)
Get your FREE 7 Continents Printable Activities pack by tapping HERE or on the image below.
Don't forget to share in the comments area at the bottom of this post your ideas on how to creatively use these geography printables for learning fun!
More Fun (& Free) Ways to Make Learning Fun