Super Mario Pixel Coloring Pages for Extra Special Fun (12 Free)
These Super Mario pixel coloring pages are awesome ways to give your kids extra fun activities.
If you have Super Mario fans, they'll have a blast as they color and reveal these video game characters.
My boys are having so much fun with these printable coloring activities – and I hope your kids do, too. Find out more and get your free pack with 12 pages for Super Mario fun today!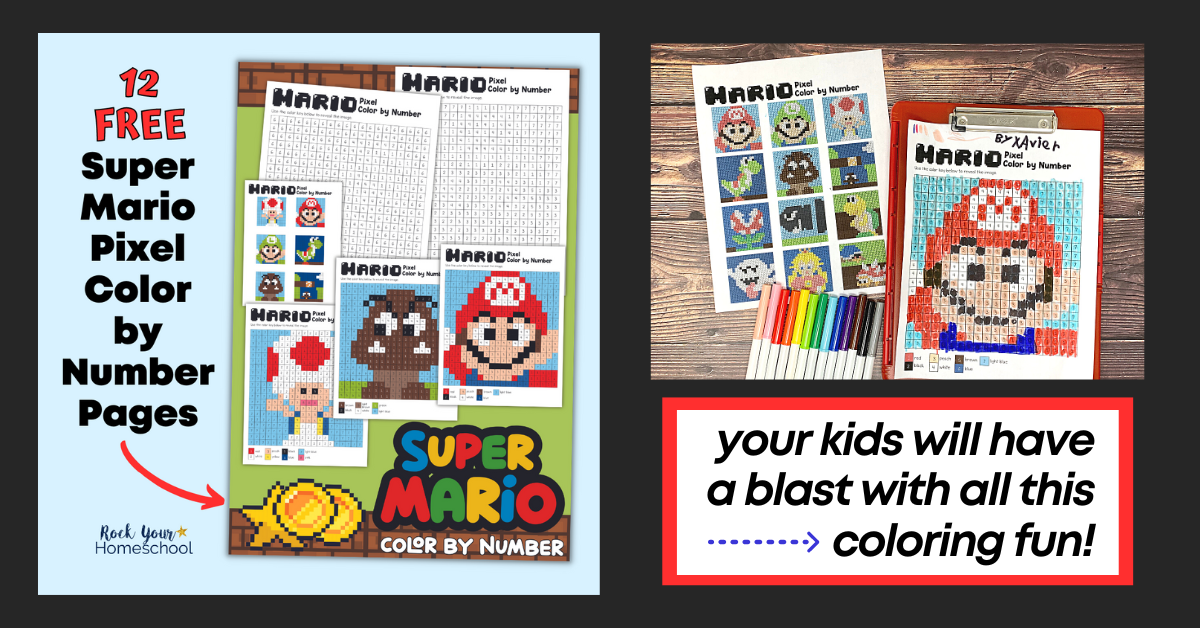 Super Mario + Pixel Coloring = Tons of Fun!
One of my favorite things to do is to find new ways to help my boys enjoy things that they're interested in. To see their faces light up when I show them what I've found or made warms my mama heart!
Over the years, my boys have had all sorts of interests. Sometimes, those interests are based on books (like Dr. Seuss and Harry Potter). Or movies (like Star Wars).
Other times, those interests are based on things we've learned about in our homeschool (like the solar system, rocks and minerals, and Greek gods and goddesses).
And now that my boys are older, interests are often based on video games. Like Super Mario 🍄
The boys have had a blast with our Super Mario cootie catcher and printable activities pack (plus our new Super Mario perler bead patterns!). Naturally, I wanted to give them some more fun things to do with these themes 😊
When the boys saw these Super Mario Pixel coloring pages, they were ecstatic and couldn't wait to get started. I've already printed out multiple copies so they could make more!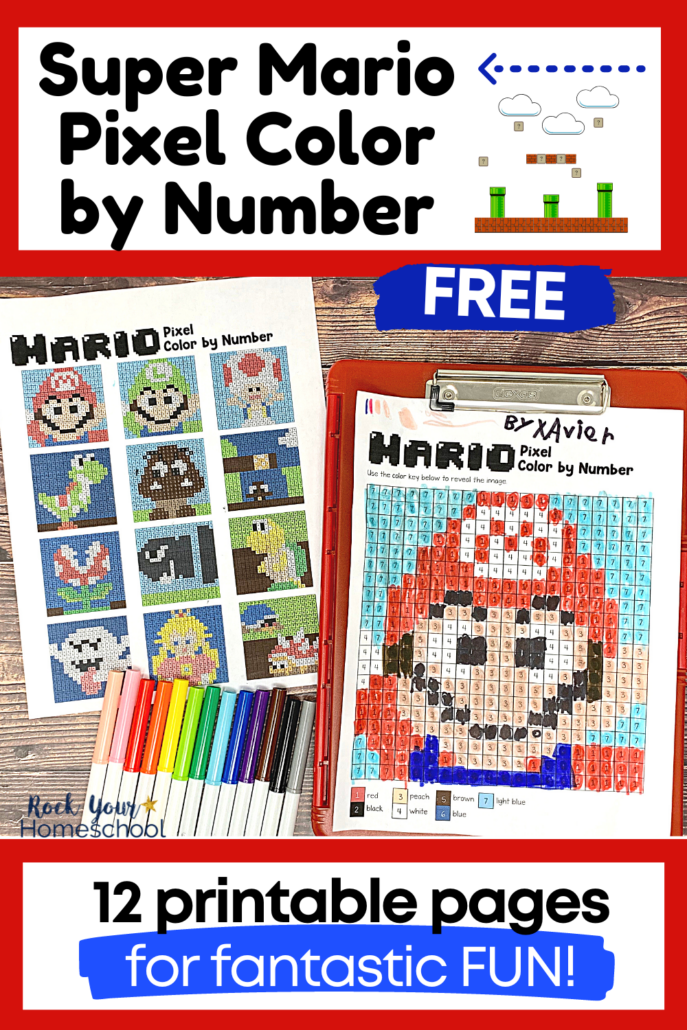 What You'll Find in This Super Mario Pixel Coloring Pages
This free pack of Super Mario pixel coloring pages has 12 printable (PDF) pages + answer key.
You'll find these Super Mario characters and themes:
Mario
Luigi
Toad
Yoshi
Goomba
Game scene with Goomba
Piranha Plant
Bullet Bill
Koopa Troopa
Boo
Princess Peach
Spikes
Tips & Tricks for Enjoying These Coloring Activities with Kids
I like to have a list to look out when I need inspiration to make printable activities more fun. When I'm in the thick of it with my boys, sometimes I blank.
Here are a few of my ideas (I'd love to hear your ideas, too!):
Make sure to have a variety of coloring tools for your kids to use. My boys love to color with:

Big box of crayons
Fine-tip markers
Color pencils
Encourage your kids to think outside the box. If you don't have the exact colors as the ones suggested in the legend at the bottom of the page, no worries! Pick a color as close to it as you can. (OR just make your own legend!)
Print extra copies of each of these Super Mario pixel coloring pages. Your kids may want to make multiple creations and you'll be ready 😉
Take it slow. Your kids don't have to finish a page in one sitting. In fact, it might be more fun to extend the coloring fun over a few days.
Play music or an audiobook in the background as you color. This tip is one of our favorite ways to enjoy coloring activities together.
Think about all the different situations you can enjoy these Super Mario pixel coloring pages, like:

Rainy day fun
Boredom busters
Crayola Ultimate Crayon Collection, Portable Coloring Set, Assorted Colors, 152 Count, Gift for Kids Age 3 Plus
Crayola TRTAZ11A Crayon Set, 3-5/8
Crayola 071662574086 Twistables Pencils, Assorted Colors 12 Ea (Pack of 3)
Crayola Super Tips Markers, Washable Markers, Gift, 50 Count
Crayola 68-4012 Colored Pencils, 12-Count, Pack of 2, Assorted Colors
Get Your Free Set of Super Mario Pixel Coloring Pages
WooHoo! You're on your way to having sensational fun with these Super Mario coloring activities.
This free pack includes 12 Super Mario pixel coloring pages in PDF (printable) form.
You can totally print as many of these coloring activities as you need for your personal use, family, class, homeschool co-op, or community event. If you have a friend or co-worker who might like to have some Super Mario fun, I ask that you please share this post with them. Thanks so much for your cooperation!
To get this free set of Super Mario pixel coloring pages, simply subscribe to Rock Your Homeschool.
You'll receive an email with a PDF file, along with a password to open the Subscriber's Library to all RYHS freebies.
Plus, you'll get emails with ideas, resources, and encouragement to make life and learning fun 🙂
(Psst! Current RYHS members just need to access the Subscriber Freebies page and enter the password in your welcome email. If you have any problems or questions, please email Amy at rockyourhomeschool@gmail.com)
Get your FREE Super Mario Pixel Coloring Pages by tapping HERE or on the image below.
Wishing you tons of Super Mario coloring fun!
If You Like This Super Mario Set, You'll Love…