Free Printable Recipe Book for Kids for Creative Learning Fun
This free printable recipe book for kids is a super fun way to boost learning and more.
Your kids will have a blast learning about kitchen safety, meal planning, recording favorite recipes, and more.
Learn all about this 19 page set of recipe book fun for kid and how to get your pack today!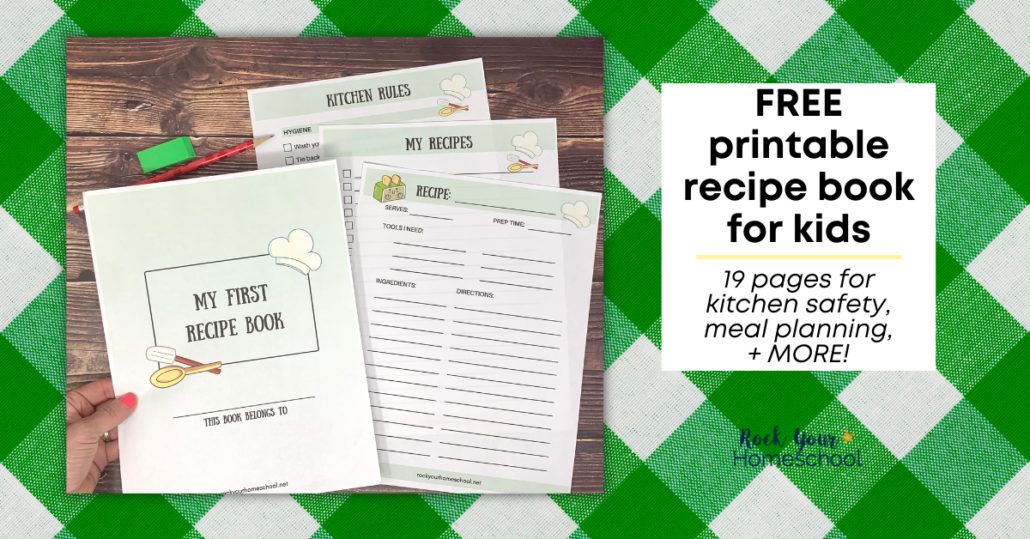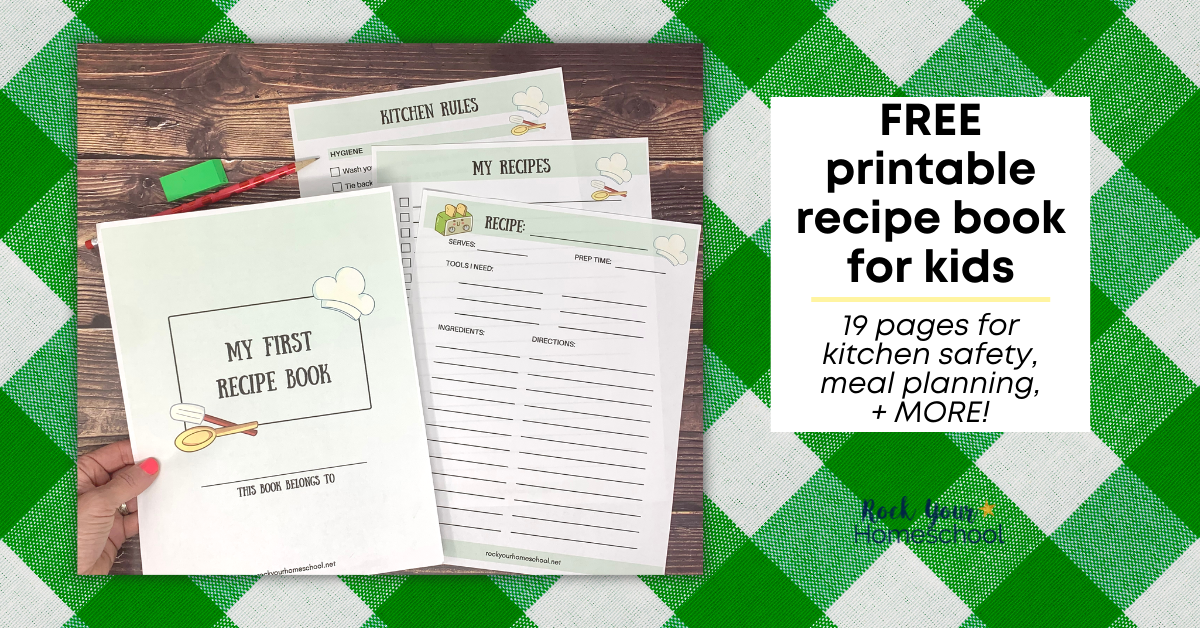 Easily Boost Kitchen Learning Fun for Kids
Need a simple yet fun way to help your kids learn more about kitchen safety and rules?
This free printable recipe book is perfect for those activities with young cooks AND making a special keepsake. It can be a great way (plus a lot of fun) to spend time with the whole family or one-on-one with your kids.
You'll be glad to have these pages to guide you as you also chat with your kids about meal planning and prep, school lunch ideas, and favorites.
I've loved using this printable recipe book for kids with my younger boys. It's been a fantastic way to also add writing practice and research skills to our homechool adventures.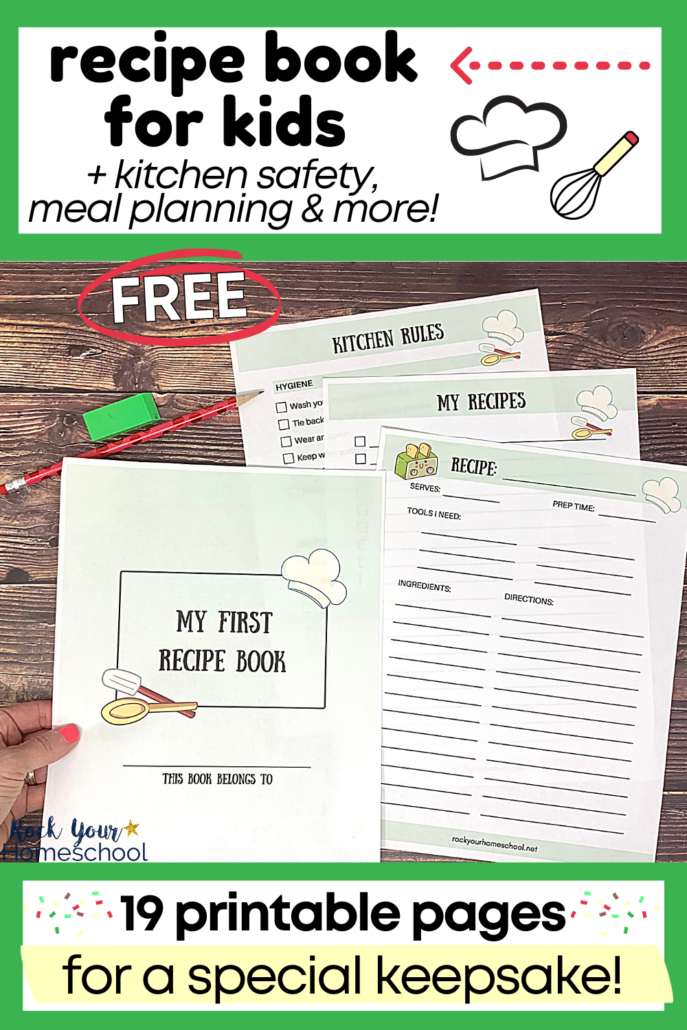 What You'll Find in This Free Printable Recipe Book for Kids Pack
The recipe book includes a variety of ways to learn about safely working in the kitchen, record recipes, meal plan, and more.
This pack has 19 pages including:
Cover: My First Recipe Book with blank line for your child to write their name
Kitchen Rules: with checklist sections for hygiene and safety
Cooking Utensils: use as a teaching tool and poster (stick it on the refrigerator!) with cute kitchen tools and their names
My Recipes: blank checklist that your child can use to make a table of contents for their recipe book
Breakfast: divider page with adorable boy, chef's hat, and cooking utensils
Breakfast Recipe: with cute toaster and chef's hat
Lunch: divider page with two children, chef's hat, and cooking utensils
Lunch Recipe: with cute soup bowl, ladle, and chef's hat
Dinner: divider page with adorable girl, chef's hat, and cooking utensils
Dinner Recipe: with 3 cute soup bowls and chef's hat
Desserts: divider page with girl holding muffins, cooking utensils, and chef's hat
Desserts Recipe: with measuring scale, cupcake, and chef's hat
Fruits & Veggies: divider page with boy chopping carrot and cute strawberry, lemon, and cherries
My Favorite Fruits & Veggies: checklists for your kids to jot down their favorites (and add new ones to try!)
Snacks: divider page with burgers, chips, soda, and lemonade
My Favorite: blank checklists for your kids to add categories and jot down their favorites
This Week's Menu: planning page with vertical list of days, week of: ____, and grocery checklist
School Lunch Ideas: perfect place to brainstorm lunch, snacks, fruits, and veggies
School Lunch Planner: weekly planner page for Monday – Friday for lunch, snacks, and fruits & veggies plus notes section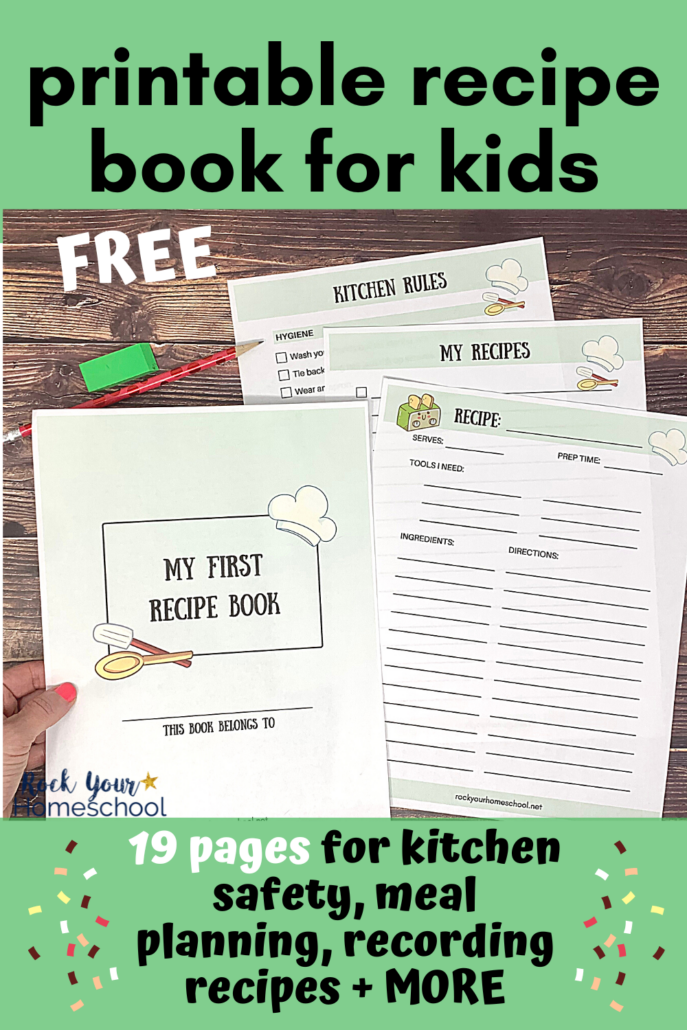 Smart Ideas for Using This Free Set with Your Kids
I recommend printing multiple copies of each of the recipe pages. Also, I suggest making additional copies of Kitchen Rules and Cooking Utensils.
If you'd like to turn this recipe book into something to enjoy now and in the future, here are a few ideas:
Laminate the pages and use a 3-hole punch on the left side. Add to binder.
OR add to clear sheet protectors with 3-holes and add to binder. You can place pages back-to-back.
Encourage your kids to add notes or doodles help them follow recipes
Add dates – it's a fun thing to look back on when the recipes were recorded
Include where your child found the recipe – family member, book, site, etc.
If your child makes the recipe, take a picture and add to the recipe page
Brainstorm different pages that you can add to your recipe book – like special ingredients, delicious recipes, holiday favorites, party food and drinks
Scotch® Self-Sealing Laminating Pouches LS854-10G, Gloss Finish, Letter Size (Pack of 10)
Cardinal Economy 3 Ring Binder, 1 Inch, Presentation View, White, Holds 225 Sheets, Nonstick, PVC Free, 4 Pack of Binders (79510)
Amazon Basics Sheet Protectors, 3 holes, 200 Pack
Ticonderoga Noir Black Wood-Cased #2 Pencils, Holographic Design, 12 Count
Ticonderoga X13910 Striped Wood-Cased Pencils, 2 HB Soft, Pre-Sharpened, 10 Count, Assorted Colors
Pilot Frixion ColorSticks Erasable Gel Ink Pens, Fine Point (0.7mm), Assorted, 10 Count (32454)
Teach the Fundamentals of Cooking: Free Printable Recipe Book for Kids
This recipe book is fantastic is that it touches on the basics of cooking before you get started.
It's easy to forget what children need to learn when working around food, such as rolling up their sleeves, putting their hair up, and washing their hands. This recipe book offers quick, helpful reminders (with printable tools to reference) that will keep children on track.
You'll also find important safety tips that children need to know, such as staying away from hot surfaces, asking for help when it's needed, and paying close attention to what they're doing, whether mixing, cutting, or doing anything else.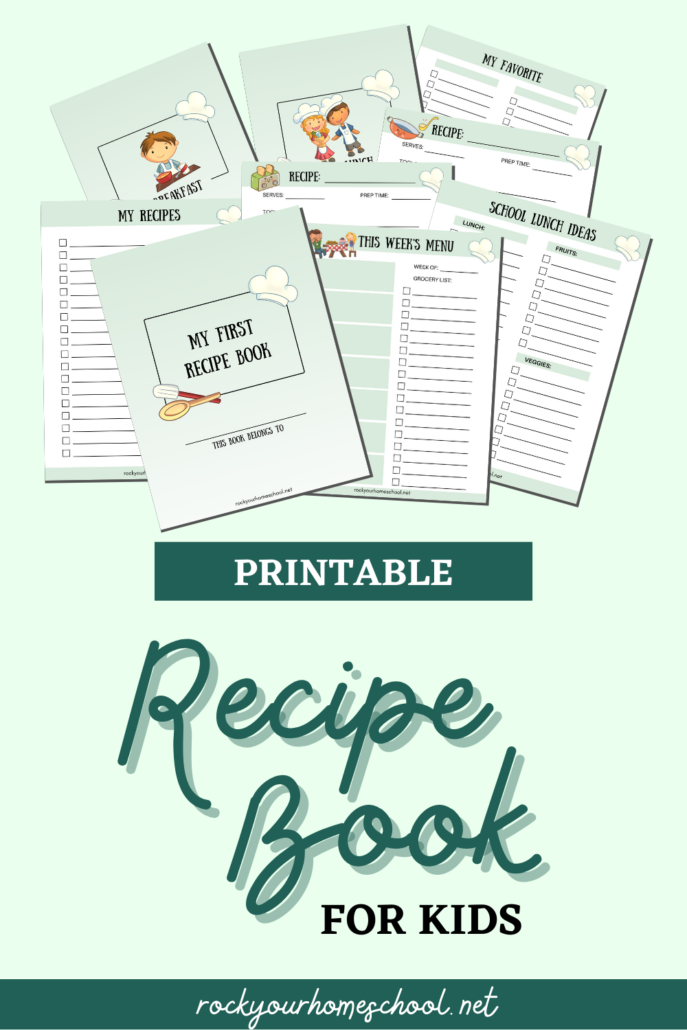 Create and Try Different Recipes as a Family
You'll also find that this printable recipe book for kids provides slots for all different kinds of recipes, including breakfasts, desserts, and dinners.
You can start to teach your children how to make basic meals before moving on to some of the more complicated, time-consuming meals.
Not sure what to start with? No worries!
First, think of a simple breakfast meal that you feel is easy to get the hang of, such as scrambled eggs with a special seasoning or peanut butter toast with sliced fruit on top.
Once you've come up with a recipe you know your children will enjoy preparing, gather the ingredients and tools needed to get the job done. Better yet, get your kids involved and demonstrate efficient meal prep skills.
Jot down the recipe's details and work together to have your children prepare these simple dishes.
Start small and you'll eventually have little ones who know how to cook a variety of dishes! 
Also, do a search for:
tasty recipes
simple recipes
easy recipes
recipes with easy-to-follow instructions
recipes with step-by-step instructions
kid-friendly recipes
recipes with simple ingredients
recipes for kids of all ages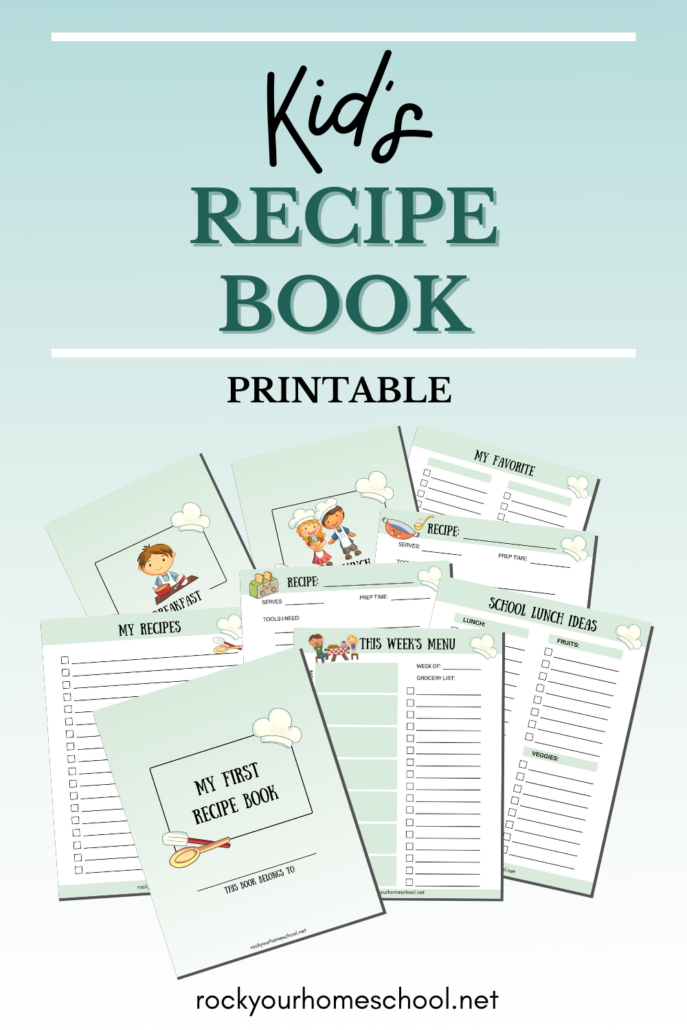 Focus on Promoting Good Health and Nutrition
In addition to gaining hands-on experience with cooking and baking, your kids will benefit from learning about good health and nutrition.
If you want your children to eat fresh, flavorful food, incorporate healthy recipes into the cooking sessions. Children are often more willing to try new things, including vegetables, when they've had a part in preparing them.
Even the pickiest eaters will feel more inclined to try something if they know they've offered a helping hand in creating the wholesome meal. Getting your kids involved in the kitchen is an excellent idea because it could improve their diets, helping them eat more fruits, vegetables, and whole foods that are good for their overall health and wellness.
Create Weekly Menus
Other fantastic skills that your kids will get to learn and practice is menu and meal planning. Your kids will have the opportunity to make a grocery list based on what they've planned.
To boost the learning for this type of activity, encourage your kids to research prices for the items on the grocery list. You can also look for coupons for extra savings.
Then, have your kids add up the estimated cost. After you've completed your grocery shopping, your kids can compare their estimated cost to the actual total.
Make Fond Memories in the Kitchen
While this free printable recipe book for kids is great for teaching safety tips and meal planning, it also allows you to bond with your children and make incredible memories that can last a lifetime.
Time in the kitchen can lead to amazing conversations. And even lead to going down rabbit trails, like looking up where certain foods come from, ingredient substitutions, and more.
When your children get older and prepare food for their own families, they'll think back to when you taught them how to make different things at home.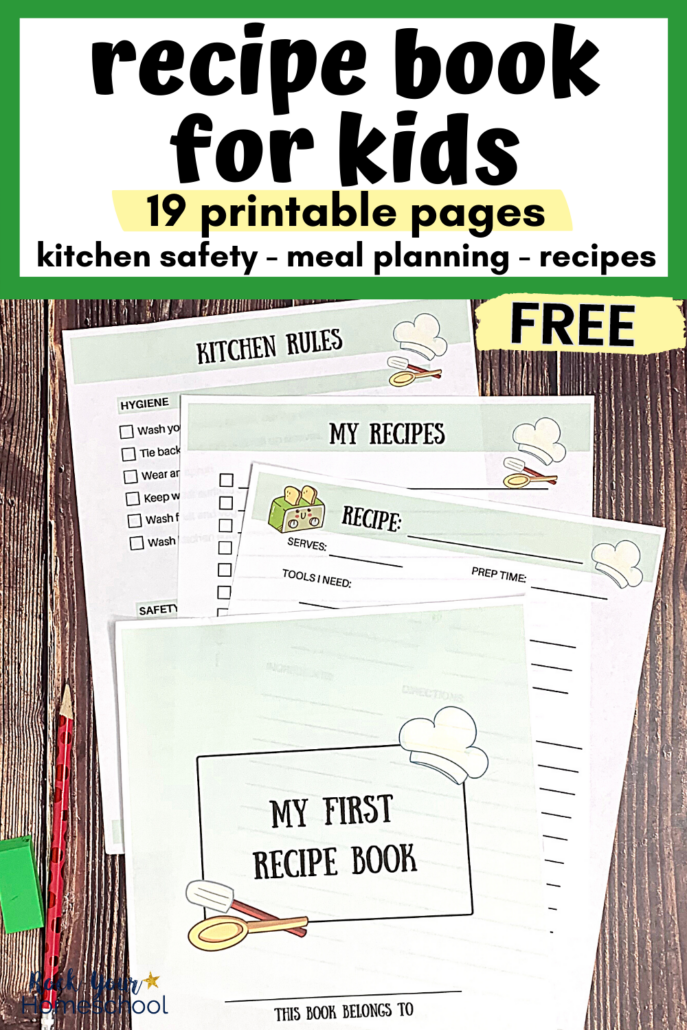 Using This Recipe Book to Preserve Family Treasures
I never realized how much a recipe book can spark fond memories and lead to an amazing family keepsake.
Recently, my nana passed away at the age of 96. My nana was an incredibly important person in my life.
As a child (and through my teen years), I spent summer vacations and holidays with my grandparents. During these special times together, my nana and I would do so many wonderful things together. Some of my fondest memories are from our times in her kitchen.
Nana taught me how to safely chop veggies, sift flour, and make the most delicious mac-n-cheese (her secret: crumple potato chips and add to the top then a few fresh tomato slices). She also passed along hand-written recipes that I now treasure.
When my boys and I pull out one of nana's recipes with her unique mix of print and cursive, I can't help but smile. And share some memory of her and our time together.
My boys eat it all up and it's been an amazing way for me to celebrate this outstanding woman with my family.
My mom also has written her recipes down for me – and I will for my boys. One of my goals with this printable recipe book is to continue the tradition 😊
Get Your Free Printable Recipe Book for Kids
High five! You're on your way to enjoying special learning fun with your kids (and making a special keepsake)!
This free pack includes 19 printable (PDF) pages including cute cover.
Print as many of these recipe books for kids as you need for your personal use, family, class, homeschool co-op, or community event. If you have a friend or co-worker who'd enjoy to have this sort of learning fun, I ask that you please share this post with them. Thank you so much!
To get this free pack of printable recipe book for kids, simply subscribe to Rock Your Homeschool.
You'll receive an email with this PDF file, along with a password to open the Subscriber's Library to all RYHS freebies.
AND you'll get emails with ideas, resources, and encouragement to make life and learning fun 🙂
(Ooh! Current RYHS members just need to access the Subscriber Freebies page and enter the password in your welcome email. If you have any problems or questions, please email Amy at [email protected])
Get your FREE pack of printable recipe book for kids by tapping HERE or on the image below.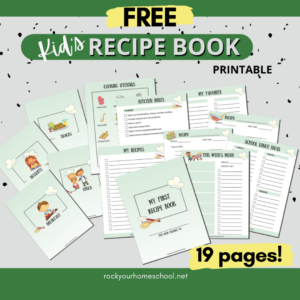 Which of these printables do you think your little chefs will like the best for making their own recipe book? If you've got a great idea (or have some savory recipes to share) for young chefs, please share in the comments area at the bottom of this post.
Wishing you so much fun with this free printable recipe book for kids!
More Fun (& Free) Ways to Make Special Keepsakes with Your Kids