Free Back to Homeschool Conversation Starters to Easily Make It Fun
Get your year off to an awesome start with these 2 free activities for Back to Homeschool Conversation Starters!
These printables are fabulous ways to get kids talking and excited about your homeschool adventures.
Find out more about fun ideas for using these two different styles of conversation starters for kids and get your free printable activities today 🙂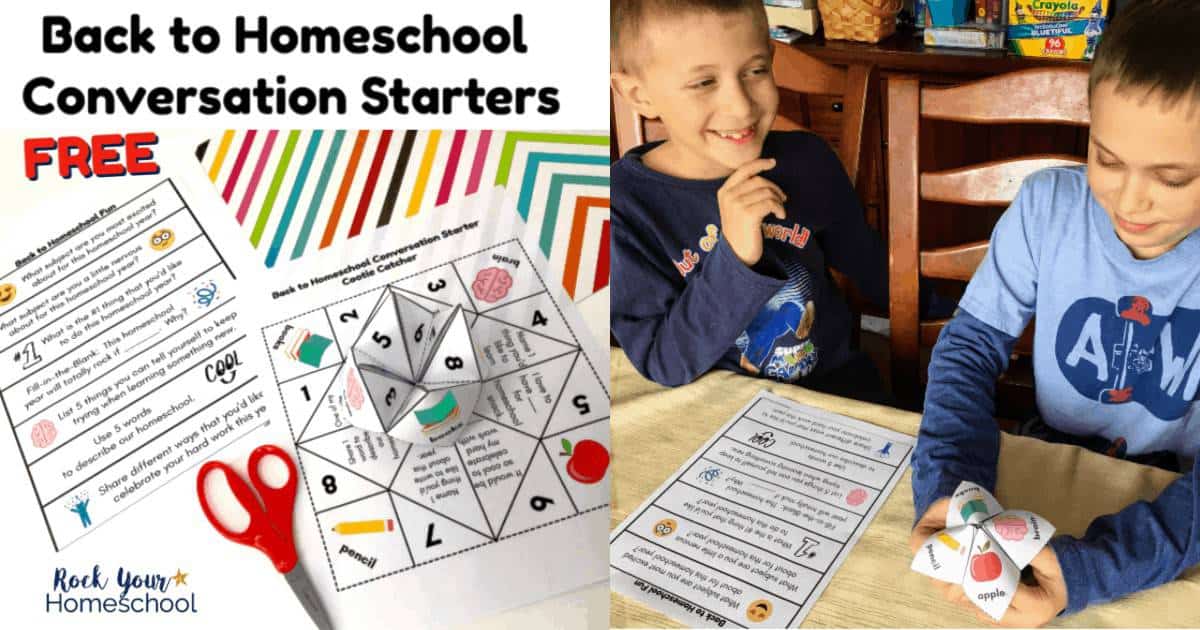 Easy & Focused Fun Activities to Start Your Year Off Right!
The start of a new homeschool year can bring on a whole slew of thoughts and emotions. For kids and parents 😉
Excitement over new curriculum and supplies. Anxiety about going up a level in lessons.
Dread if you're a teenager (or parent of a teenager). I'm kidding. Sorta 😉
And these thoughts and feelings can pop up whether you follow a more traditional schedule (from about August to June) or year-round homeschooling. Because advancing to new and different levels is change. And change isn't always easy.
Unfortunately, many homeschool families rush into the new year with gusto but little discussion over the upcoming year. And while all that energy and enthusiasm is wonderful, the amazing opportunity to talk about thoughts and feelings over starting Algebra or learning how to read is lost. The homeschool year may start off okay but later run into some snags because these things were overlooked.
Instead of bottling up those thoughts and feelings, enjoy these fun and focused activities with your kids! These conversation starters have prompts with back to homeschool/first day fun themes to get you chatting about the upcoming homeschool year and more.
You'll get insight into what's going on with your kids plus be able to share your own thoughts and feelings. Great way to model self-expression!
Get Your Free Back to Homeschool Conversation Starters
This free printable pack of Conversation Starters with Back to Homeschool themes contains two versions:
1 printable page with back to homeschool prompts
1 printable page to make your own Back to Homeschool Conversation Starters Cootie Catcher (hands-on and interactive fun!)
Here's a video tutorial to show you how to make a Back to Homeschool Conversation Starter Cootie Catcher:
You can print out as many copies as you need. If you have a friend who you think would enjoy this free printable activity, please share the link to this post with them
When you click on the image below to subscribe and join the Rock Your Homeschool community, you'll receive this printable pack in a PDF download in an email, along with a super-secret password that opens the library to all RYHS freebies.
In addition to your freebies, you'll be added to our email list and I'll update you with ways to make life and learning fun 🙂
(Psst! Current RYHS members just need to access the Subscriber Freebies page and enter the password in your welcome email. Or get the instant download in the email the week of this post)
Click HERE or on the image below to subscribe and get started with these free Back to Homeschool Conversation Starters!
How will these activities for Back to Homeschool Conversation Starters
help you enjoy this special time with your kids?