Fun & Free First Day of Homeschool Scavenger Hunt
Celebrate the start of a new year with this
fun and free First Day of Homeschool Scavenger Hunt
!
Awesome activity to get kids excited about your upcoming homeschool year.
Get creative ideas plus this free scavenger hunt printable to enjoy with your kids.

Fantastic Ideas for Enjoying First Day of Homeschool Scavenger Hunt Fun
The first day of your new homeschool year sets the tone for your homeschooling adventures. Will your year be ho-hum or filled with learning fun?
Instead of starting your homeschool year with a boring peek into your curriculum and materials, make it fun with a First Day of Homeschool Scavenger Hunt 🙂
This activity is awesome whether it's your first year of homeschooling or you've been doing it for years. Kids love getting new homeschool supplies and resources. A scavenger hunt to find those materials adds a touch of excitement and mystery to the day!
Many homeschoolers begin a new year in August or September, following a more traditional school schedule. But, you can enjoy this type of scavenger hunt fun any time of year.
Look for back-to-school or office supply sales to stock up. Or, if you're like me and have a busy schedule, shop online for great deals and have your new homeschool supplies shipped right to your door!
Psst! Need some help figuring out homeschool supplies to get? Here's a printable list of materials that we use to rock our homeschool 🙂
Oh! And want to surprise your kids with some fun homeschool supplies? Check out these awesome suggestions!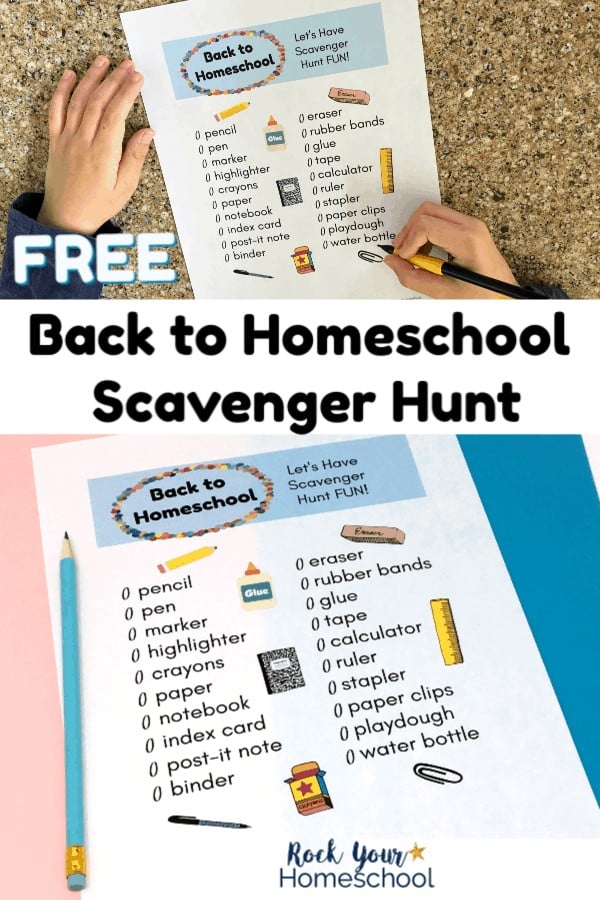 Get Your Free First Day of Homeschool Scavenger Hunt Printable
Once you have your new homeschool supplies, prepare for some awesome fun with a scavenger hunt of supplies. Here are a few tips to help you enjoy a successful scavenger hunt:
Label and/or color coordinate per child your new homeschool supplies. This step will reduce bickering over the supplies.
Print out enough copies of the First Day of Homeschool Scavenger Hunt printable for each child.
Add the color and/or name to the top of each scavenger hunt printable.
On your First Day of Homeschool Eve (and after your kids are in bed), hide your new homeschool supplies.
Determine a good time for your homeschool to do this scavenger hunt. Would it be best to have some fun first thing in the morning? Or do you think it would be a great motivator and reward to look forward to at the end of your homeschool day?
Announce the fun to your kids!
Review your rules and expectations for this scavenger hunt fun.
Prior to the start of your scavenger hunt, designate an area for each child to put their new homeschool supplies.
When the scavenger hunt is over, ooh and aah over the new supplies.
Then, demonstrate how each supply is to be used and where to store.
Please feel to customize this free First Day of Homeschool Scavenger Hunt printable. You can add your own stickers or include more items on the back of your printable. The goal of the activity is to get your kids excited about your new homeschool year!
You can print out as many copies as you need. If you have a friend who you think would enjoy this free printable activity, please share the link to this post with them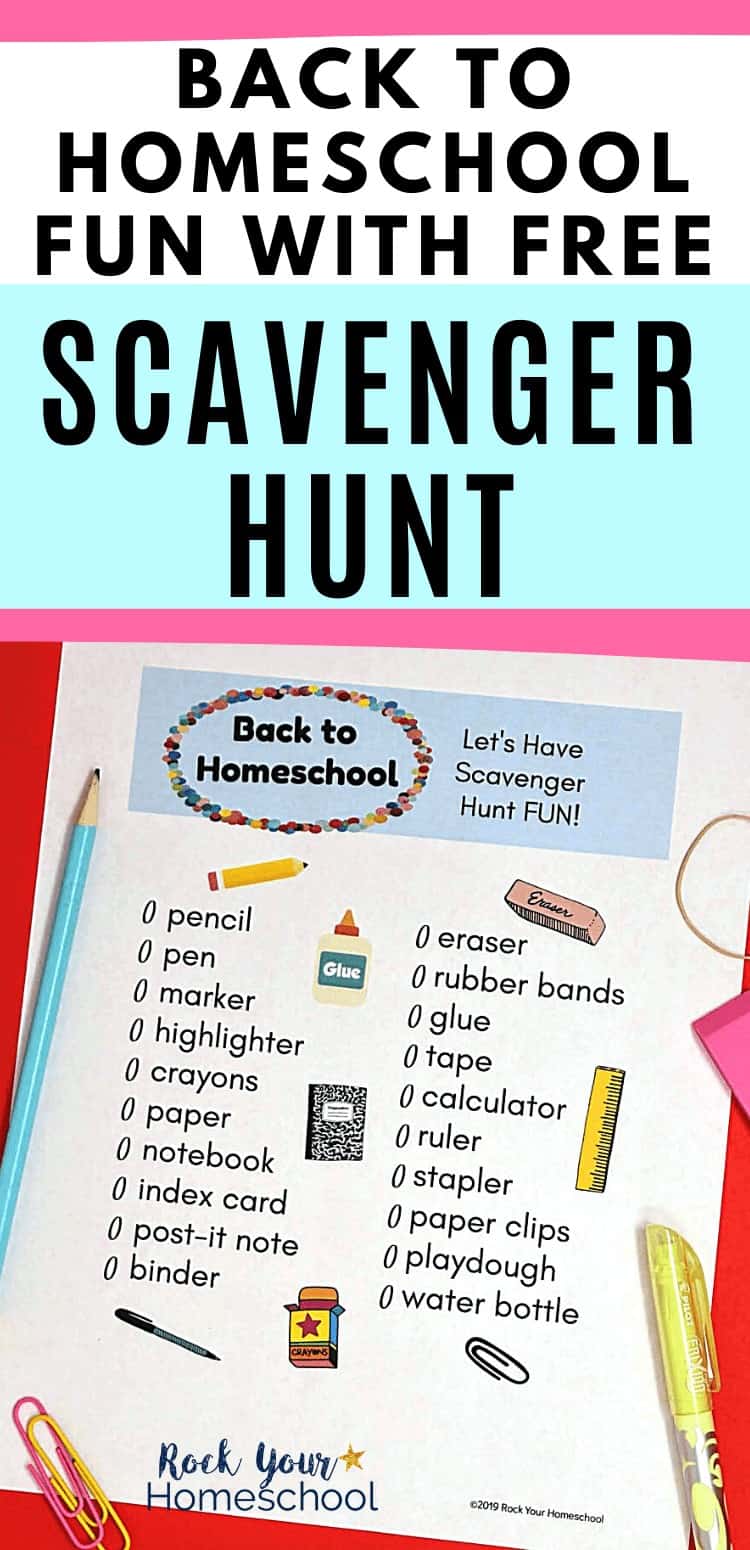 When you click on the image below to subscribe and join the Rock Your Homeschool community, you'll receive this printable in a PDF download in an email, along with a super-secret password that opens the library to all RYHS freebies.
In addition to your freebies, you'll be added to our email list and I'll update you with ways to make life and learning fun 🙂
(Psst! Current RYHS members just need to access the Subscriber Freebies page and enter the password in your welcome email. Or get the instant download in the email the week of this post)
Click HERE or on the image below to subscribe and get started with these free First Day of Homeschool Scavenger Hunt printables!
How will this Back to Homeschool Scavenger Hunt help you enjoy a memorable First Day of Homeschool with your kids?
If you enjoy scavenger hunts with your kids, check out this fantastic one that encourages nature study! My friend, Christy of Homeschooling in Progress, has this free nature scavenger hunt + tips for getting started with nature study.