Free First Day of Homeschool Printables for Fun Keepsakes
Enjoy an easy yet fun activity with these free First Day of Homeschool Printables!
These templates allow kids to record their hopes and goals for the year, as well as personal favorites. Great memory keeper and a wonderful addition to your homeschool portfolio!
You would like to make the first day of homeschool special, right?
It's an awesome time to create memories with your children as you prepare for your new homeschooling adventures. This free first day of homeschool printables set is a fabulous way to get your kids thinking about your new homeschool year and make a fun keepsake.
Fun & Easy Activities to Make Back to Homeschool Special
The first day of homeschool can feel like a whirlwind.
You feel like you have a lot of things to go over with your children. And there's a mix of excitement with a touch of nerves that makes it easy to forget to slow down and make the most of the moment.
Or maybe taking it slow isn't an issue but you want a quick and easy way to talk with your kids about the upcoming homeschool year AND preserve their thoughts and feelings?
You want to enjoy what matters most and not get lost in your to-do list. I totally get it. These first day of homeschool printables are fantastic resources for helping you do just that so you can look back on your first day with a smile 🙂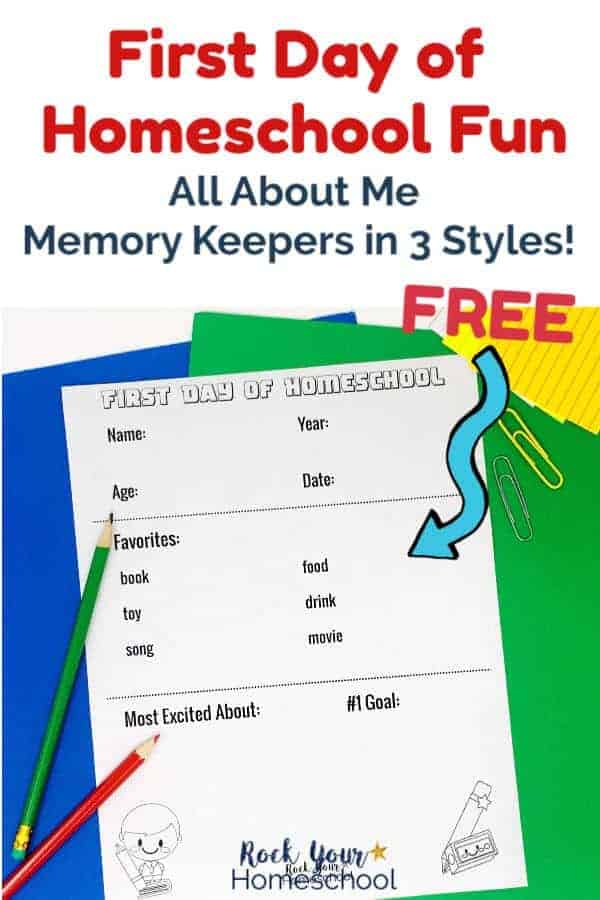 My five boys and I love to look back on and chat about fun keepsakes, like these first day of homeschool printables. They enjoy seeing what their handwriting was like, what their favorite book or food was, and what they were looking forward to the most this school year.
We chat about how some of these things have stayed the same or have changed. Great conversation starters!
In addition to having this activity to enjoy on our first day of homeschool, I add these papers to our homeschool portfolio. We live in Pennsylvania where homeschool portfolio evaluations are required. These simple sheets are fantastic ways to start off our portfolios!
Get Your Free First Day of Homeschool Printables
To add to our 25 Fun Back-to-Homeschool First Day Ideas, I created these free first day of homeschool printables to use with my boys and to share with your family 🙂
There are three cute styles: boy, girl, and neutral.
These printables are in black and white so your child can color and customize.
Crayons, color pencils, and markers work well. Kwik Stix are quick-drying tempera paint sticks that are also great ways to decorate and make these memory keepers special.
To get these 3 FREE First Day of Homeschool All About Me Activities, all you need to do is subscribe to Rock Your Homeschool.
When you join the Rock Your Homeschool community, you'll receive this printable PDF file in an email, along with a super-secret password that opens the vault to all RYHS freebies.
In addition to your freebies, you get a weekly email with ways to make life and learning fun.
(Psst! Current RYHS members just need to access the Subscriber Freebies page and enter the password in your welcome email.)
Get your FREE First Day of Homeschool printable activities pack by tapping HERE or on the image below.
I'd love to know what type of fun activities you have planned for your first day of homeschool!
Please share your ideas and plans in the comments below!
More Fantastic Ways to Enjoy First Day of School at Home Fun!
If you like these First Day of Homeschool Printables, you'll love our other Back to Homeschool resources!
You can find them all in our FREE 5 Days of Back to Homeschool Fun Activities with 49 pages of tips, ideas, and resources.
Here are a few of the fun activities:
Free Back to Homeschool Bingo Game
Free Back to Homeschool Conversation Starters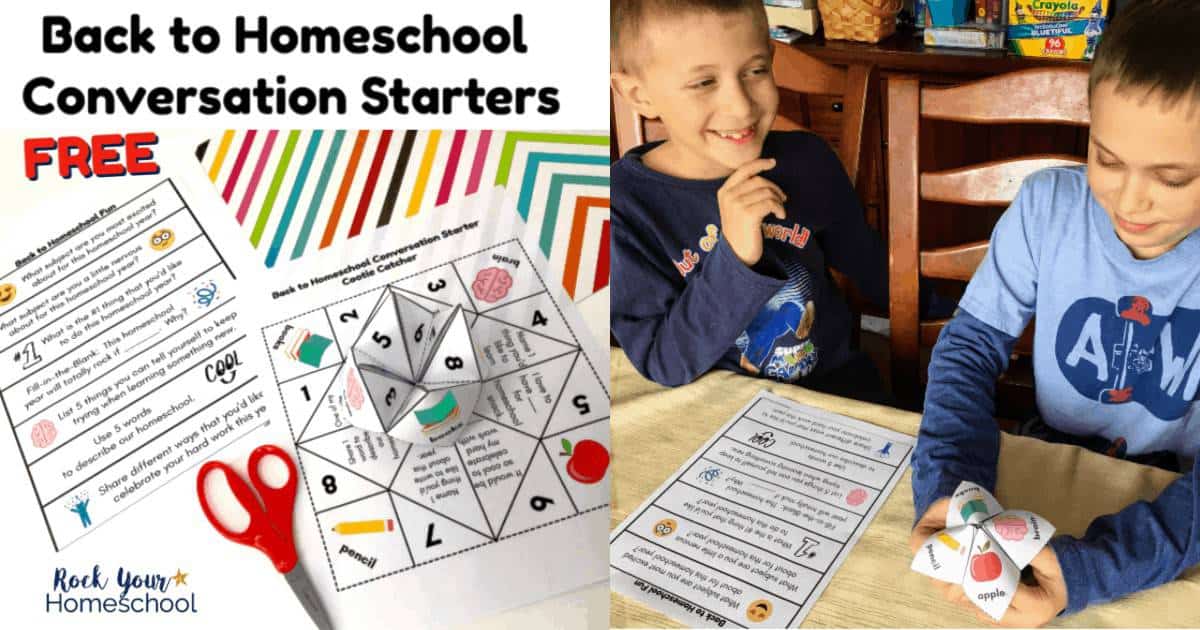 Free Back to Homeschool Scavenger Hunt