Christmas Jokes for Kids: 8 Free Crack the Code Activities for Holiday Fun
Christmas jokes for kids are simple ways to boost your holiday fun.
Turn those jokes into crack the code activities that your children get to solve and you take that holiday fun to the next level!
Find out more about these 8 free printable pages of Christmas jokes for decoding fun and get your set today!
Easily Add the Happy to Your Holidays with Kids
If you're looking for super simple ways to take your holiday season to the next level, you've got to try these Christmas jokes for kids activities. Santa jokes are the best!
In our home, there's such a big build-up to Christmas. My boys get so excited with all the decor, songs, baking, and other festive activities. And they sure do get all gaga, goofy, and giddy!
Although my boys are getting older, I still use some of my tried and true strategies to combat the Christmas sillies. We will turn up the Christmas tunes and have a dance party. And go outside and run laps around our house (that's one of my year-round tricks 😉). And, of course, these jokes are great for kids of all ages at Christmas dinner.
But, I wanted an easy, print-and-go way to deal with the Christmas sillies to use in our homeschool. A seated brain break with a twist of holiday challenge – like these printable Christmas jokes for kids with crack the code activities!
Learn More About These Christmas Jokes for Kids Activities
This free printable pack has 8 pages featuring funny jokes with crack the code activities.
Each page has a decoder that matches letters of the alphabet to numbers.
There are 32 kid-friendly jokes in a variety of black-and-white holiday-themed shapes that your kids can color after solving the code.
Themes for these silly jokes (okay, might be cheesy Christmas jokes) include:
Elves
Santa Claus
Snowman
Gingerbread man
North Pole
And MORE!
Creative Ways to Enjoy These Fun Christmas Activities
Here are a few ways to make the most of your Christmas season fun with kids as you use these free printables of Christmas jokes for kids.
Before you begin, go over the directions that are located on the top of each page. Basically, your child will read each joke then use the decoder to find the answer.
I recommend having a variety of writing and coloring tools for your kids to select. We like to use:
Christmas pencils
color pencils
erasable pens (here are our favorite!)
fine-tip markers
crayons
Kwik Stix (or other tempera paint sticks) – especially the gold and silver for holiday effects
Use the back of the pages and create your own holiday-themed jokes. (Here are some more Christmas jokes if you need a bit of inspiration). Your children can use the decoder found on the front of the page to make their answers. Then, challenge each other!
Christmas Wood Pencils Party Favors for Kids with Christmas Erasers Novelty Holiday Eraser for Kids Bulk Fun Erasers for Students Bulk School Prize Gift – 24PCS
Crayola Erasable Colored Pencils, Kids At Home Activities, 24 Count, Assorted., Long
Crayola Twistables Colored Pencils, Gift for Kids, 12ct
PILOT FriXion Fineliner Erasable Marker Pens, Fine Point, Assorted Color Inks, 12 Count-Pack (11452)
PILOT FriXion ColorSticks Erasable Gel Ink Stick Pens, Fine Point, Assorted Color Inks, 16-Pack (10367)
Crayola Ultra Clean Fine Line Washable Markers, Kids Markers For School, Back To School Gifts, 40 Count
64 Crayons Per Box, Classic Colors, Built In Sharpener, Crayons For Kids, School Crayons, Assorted Colors – 64 Crayons Per Box – 1 Box
Crayola Twistables Crayons Coloring Set, Twist Up Crayons for Kids, 10 Count
The Pencil Grip Kwik Stix Solid Tempera Paints, Thin Stix Paint Pens, Super Quick Drying, 6 Neon, 6 Metalix & 12 Classic Vibrant Colors – 24 Pack – TPG-620
Get Your Free Christmas Jokes for Kids (Crack the Code) Activities Pack
Ho ho ho! You're going to have a blast with these funny Christmas jokes for kids activity pack.
This free pack of Christmas Jokes for Kids (with crack the code activities) has 8 printable (PDF) pages.
You can most certainly print as many of these coloring pages as you need for your personal use, family, class, homeschool co-op, or community event. If you have a friend or co-worker who'd enjoy to have this type of holiday fun, I ask that you please share this post with them. Thanks so much for your cooperation!
To get this free set of Christmas Jokes for Kids activity pack, simply subscribe to Rock Your Homeschool.
You'll receive an email with a PDF file, along with a password to open the Subscriber's Library to all RYHS freebies.
Plus, you'll get emails with ideas, resources, and encouragement to make life and learning fun 🙂
(Psst! Current RYHS members just need to access the Subscriber Freebies page and enter the password in your welcome email. If you have any problems or questions, please email Amy at rockyourhomeschool@gmail.com)
Get your FREE Christmas Jokes for Kids (with Crack the Code Activities) Pack by tapping HERE or on the image below.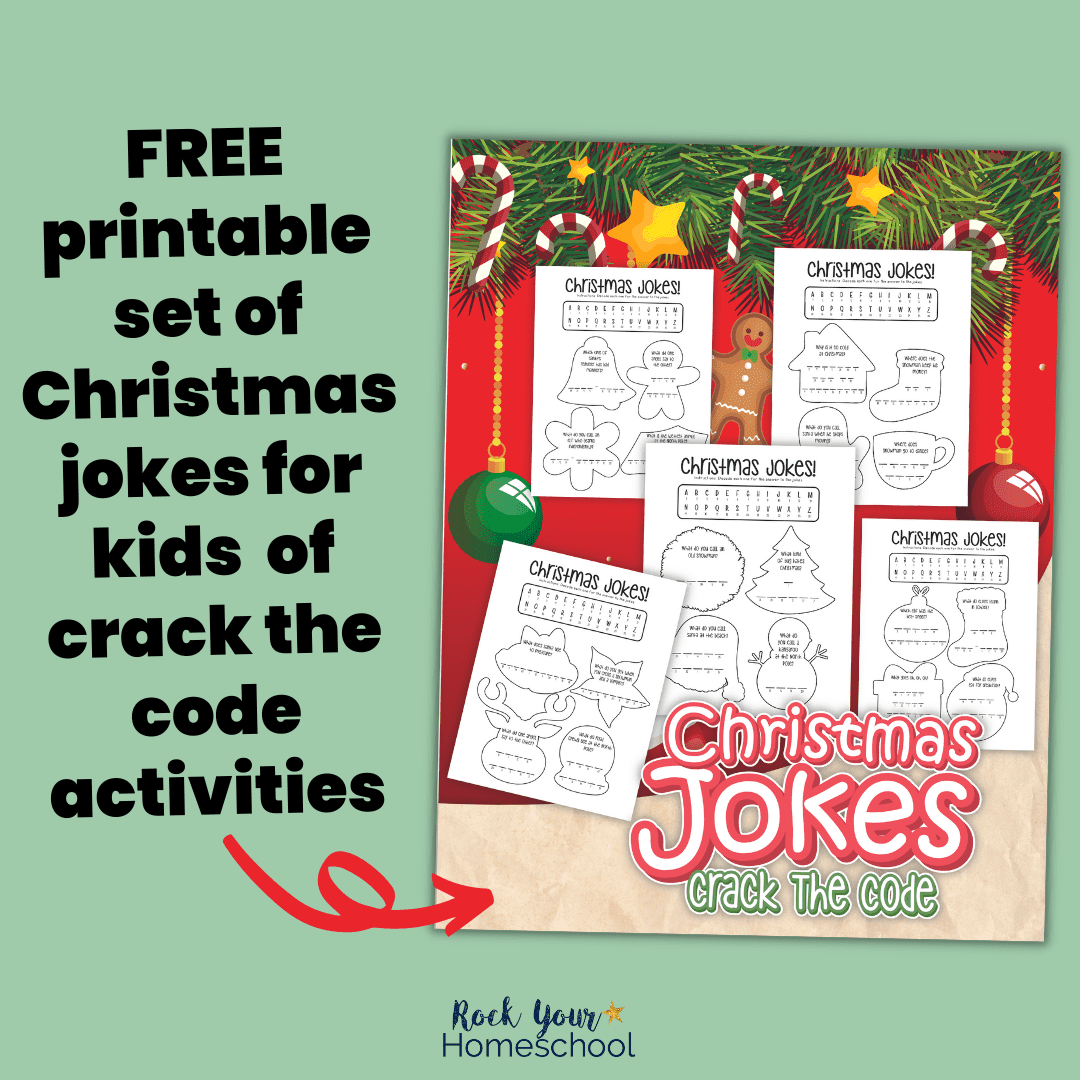 Wishing you a Merry Christmas and sending you tons of happy holiday vibes!
More Fun & Free Christmas Activities for Kids