Fun & Free Printables for Cinco de Mayo for Kids
Make Cinco de Mayo for kids a fiesta of learning fun!
These free printable activities and coloring pages are fantastic ways to celebrate this fun holiday on the fifth of May.
Find out more and get your printable pack today for your fiesta 🪅
Awesome Ways to Make Cinco de Mayo for Kids Fun
When my boys and I were chatting about fun holidays to celebrate in our homeschool, Cinco de Mayo came up. We've read about this celebration before but never did any activities or crafts. So, this Mexican holiday got added to our list!
Professor's birthday is May 3, only two days before the official celebration of Cinco de Mayo (May 5th). The boys and I decided that we'll just extend the party a bit longer this year 😉
To make our celebration special, the boys and I will be reading some books, doing a craft or two, and watching a video. Plus, I created free Cinco de Mayo printables (coloring pages and word puzzles) for bonus learning fun (scroll to the bottom of the post to find out how to get your free printable pack!).
Great Books for Your Cinco de Mayo Celebration
Enjoy reading about Cinco de Mayo with these incredible books. Check to see if your local library has them on their shelves or get a copy for your personal library.
Cinco De Mayo (Rookie Read-About Holidays) (Rookie Read-About Holidays: Previous Editions)
Chicks and Salsa
Celebrate Cinco de Mayo – Celebramos Cinco de Mayo: A Bilingual Book for Kids in English and Spanish (Around the World by Magic Spells for Teachers LLC)
Cinco de Mayo (Holidays in Rhythm and Rhyme)
Celebrating Cinco De Mayo: Fiesta Time! (Learn to Read Read to Learn Holiday Series)
Cinco De Mouse-O! (Adventures of Mouse)
Cinco de Mayo Book for Beginner Readers Storytime Edition: Celebrate Mexican History with this Read Aloud Picture book for Toddlers Preschool Kindergarten and First Grade
I Spy Cinco De Mayo Book for Kids ABC Edition: Fun & Interactive Picture Book for Toddlers, Preschool Boys & Girls 2-5 Year Olds | Mexican Guessing … (Cinco De Mayo Great Gift Idea for Kids)
Fun Crafts, Games, & Party Decor to Celebrate Cinco de Mayo
You can easily boost the fun of your special celebration with crafts, games, and party decor like these suggestions:
Joy Bang Happy Storm Fiesta Party Games Fiesta Bingo Games for Kids 24 Players Cinco de Mayo Party Favors Bingo Cards for Mexican Birthday Party Supplies
Inflatable Cactus Ring Toss Party Games – Cinco de Mayo Party/Mexican Fiesta Birthday Baby Shower/Llama/Pool Party Supplies Favors Summer Party Toys Floats
Fiesta CINCO DE MAYO Bingo Cards and Markers, PERFQU Mexican Themed Party Fiesta Bingo Game, Let's Fiesta Bar Bingo Cards and Markers, Cinco De Mayo Party Supplies
Big Dot of Happiness Let's Fiesta – Mexican Fiesta Party Game Scratch Off Cards – 22 Count
Fiesta Party Stickers Cinco De Mayo Festival Mexican Decorations 200Pcs Per Roll
Mandala Crafts Fiesta Party Decoration Hanging Paper Fan Set for Mexican Themed Party Cinco de Mayo Birthday Taco Night Pack of 12
Haooryx 36Pcs Make Your Own Fiesta Stickers Sheet, Make a Face Stickers Game Mexican Fiesta Cinco De Mayo Taco Sticker Mix and Match Cactus Sticker for Kids Birthday Party Favor Gift Art Craft Rewards
Cinco De Mayo Craft Kit Fiesta Kids Sewing Toys Children Needlework Decors Cinco De Mayo Themed Knitted Felt Set for Boys and Girls Educational Beginners
WATINC 60 pcs Mexican Fiesta Scratch Cards Art Set for Kids and Adults, Cinco De Mayo Party Decorations Favor, DIY Magic Colorful Art Craft Kit, Scratch Paper Ornaments for Birthday Party
Straws for Mexican Fiesta Party Favors – Plastic Drinking Straws for Cinco De Mayo Party Supplies, 24pcs Straws for Mexican Fiesta Themed Birthday Party
21PCS Cinco de Mayo Fiesta Necklaces Bead- Mexican Birthday Party Favors Supplies Decorations
Moon Boat 35PCS Fiesta Paper Fan Party Decorations Set – Cinco De Mayo Pom Poms,Pennant,Garland String,Banner,Hanging Swirls Decor Supplies
Cinco De Mayo Party Decorations Fiesta Taco Bar Party Decor 6 pcs Colorful Honeycomb Table Centerpiece for Mexican Theme Baby Shower Graduation Birthday Anniversary Celebration
Mexican Party Decoration Kit, Mexico Fiesta Banner, Fiesta Pennant Banners for Cinco De Mayo Mexican Fiesta Carnival Party Decor
3 pcs Mini Donkey Pinatas 4
Donkey Pinata for Fiesta, Kids Birthday Party, Cinco De Mayo Decorations, 12.5 x 15 x 4.7 In
Small Rainbow Star Pinata for Cinco De Mayo, Kid's Birthday Party (12.6 In)
How to Make Paper Rosettes and Senoritas for El Cinco de Mayo (Denna's Ideas): Make your own Cinco de Mayo decorations with these hands-on activities.
Ojo De Dios or God's Eye Craft: (Persia Lou) Another great craft that you can use for decor.
Cinco de Mayo Fun (We Have Aars): Cute idea for making DIY sombrero and maracas.
Cinco de Mayo Chilli Craft for Kids: (Fun Handprint Art Blog) Have some fun making a chili pepper with your feet!
Learn More About This Special Day with Videos
A great way to learn more about Cinco de Mayo with these cool videos.
Get Your Free Printable Coloring Pages & Word Puzzles for Cinco de Mayo for Kids
Celebrate Cinco de Mayo with your kids using this free printable pack of activities & coloring pages.
Includes two Cinco de Mayo coloring pages + four word puzzles (with answer keys).
I love having these types of easy-to-use, open-and-go activities on hand. These sorts of free printables are also fantastic for when we're homeschooling-on-the-go or when I need to keep a sibling busy while helping a brother with homeschool work.
You can use these free printable Cinco de Mayo printable pages to:
learn and practice Cinco de Mayo vocabulary
enjoy a Cinco de Mayo word search
boost a Cinco de Mayo unit study or Cinco de Mayo theme
chat about Mexican culture in the United States (and beyond)
spark interest in the history of Cinco de Mayo and the leadership of General Ignacio Zaragoza
These Cinco de Mayo printable activities are wonderful for:
Parties
Classroom Fun
Library Events
Homeschool Co-Op
Homeschool Fun
Family Fun (older children and younger children)
When you tap on the image below to subscribe and join the Rock Your Homeschool community, you'll receive this printable pack for a fun way to boost your Cinco de Mayo celebration in a PDF file in an email, along with a super-secret password that opens the library to all RYHS freebies.
In addition to your freebies, you'll be added to our email list and I'll update you with ways to have easy fun with kids plus instant downloads to all new freebies.
(Psst! Current RYHS members just need to access the Subscriber Freebies page and enter the password in your welcome email. Please email Amy at [email protected] with any questions or problems.)
TAP HERE or on the image below to subscribe and get started with these free printable activities for Cinco de Mayo!
How will you use these Cinco de Mayo activities to celebrate with kids of all ages?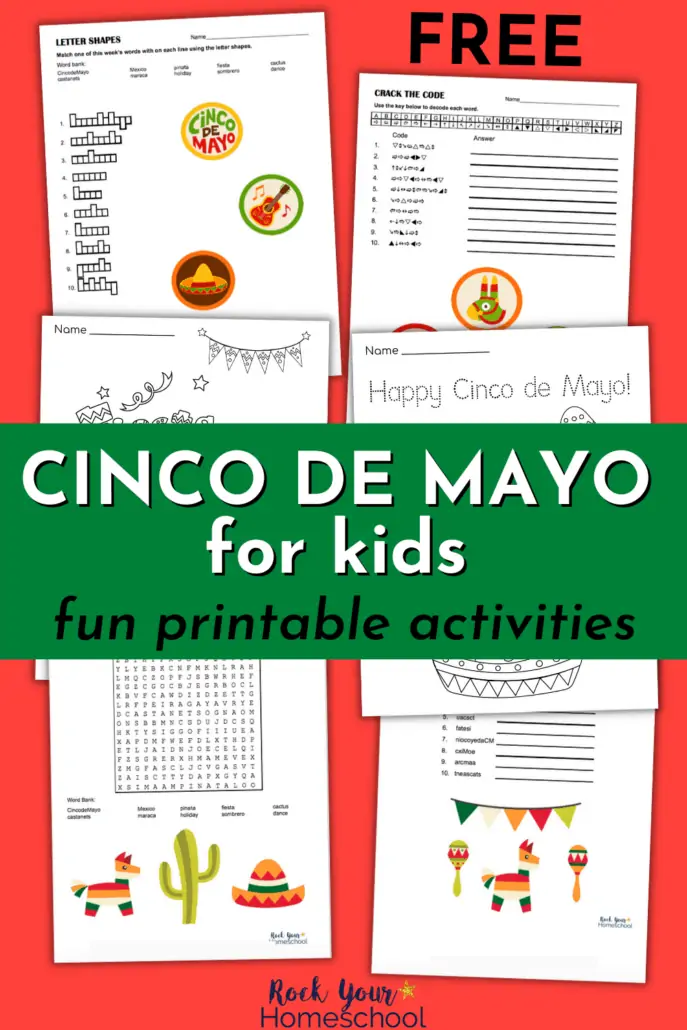 More Fun & Free Ways to Celebrate Cinco de Mayo