10 Free Printable Dr. Seuss Connect The Dots for Simple Fun with Kids
These Dr. Seuss connect the dots activities are perfect for simple fun with kids.
These printable pages featuring popular Dr. Seuss characters are fantastic ways to extend the learning fun with these books and more.
Find out more about this set of free printable connect the dots and get your pack today for Dr. Seuss fun!
Connect The Dots Activities Are Awesome Additions to Your Fun Collection
When you need a few extra ways to boost your fun activities collection for kids, connect the dots pages are always a hit.
With these print-and-go activities, all you need is a pencil (or other writing tool) and maybe some crayons to color in your work. Then, you're all set to watch a picture develop as you connect the dots in the correct number order.
My boys LOVE to work on printable connect the dots during our homeschool morning time read-aloud. Other times that your kids might like to work on activities like these Dr. Seuss connect the dots are:
Celebrating Dr. Seuss Day (March 2)
Rainy day fun
Early finishers (for kids who get done their seatwork early)
Indoor recess
Homeschooling on-the-go (great printable pages to pop onto a clipboard!)
Quiet activities (in school, during sibling nap time, library)
Since my boys have really been into connect the dots lately, I decided to added this set to our Dr. Seuss fun collection (and share with you!).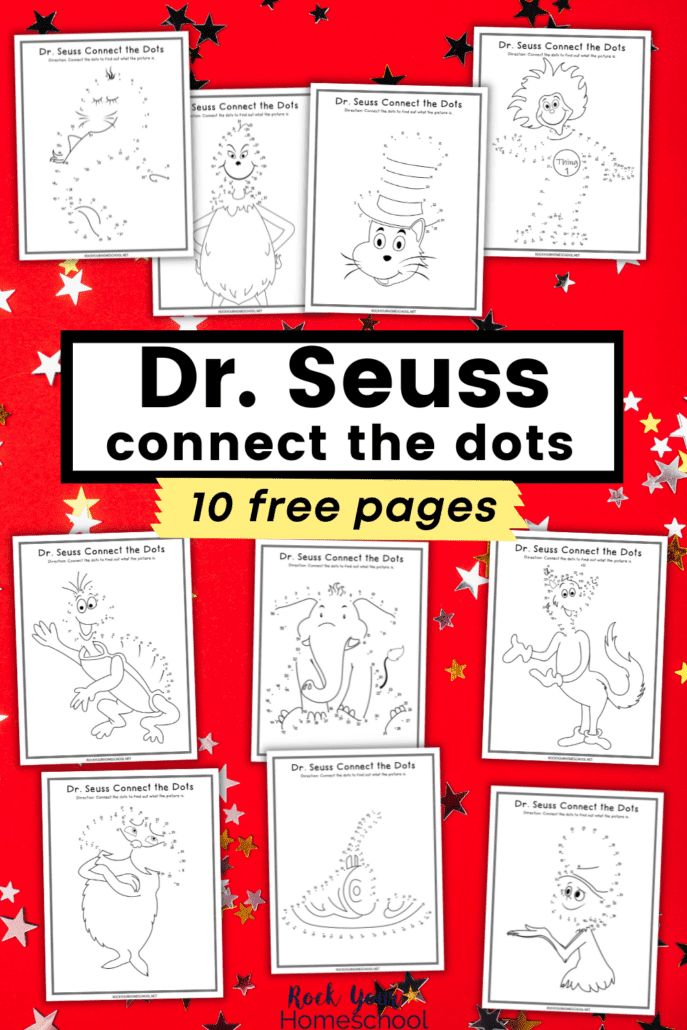 Learn More About These Dr. Seuss Connect The Dots Pages
This free printable set of Dr. Seuss connect the dots pages features characters from some of his most popular books, including:
The Lorax
Horton the Elephant
The Cat in the Hat
Fish
Thing 1
The Grinch
Fox in Socks
Yertle the Turtle
Sam I Am
Green Eggs and Ham
Creative Ideas for Enjoying These Dr. Seuss Activities for Kids
Think that connect the dots sounds boring? Nah! There are a variety of ways that you can boost the fun with these simple activities.
First, you'll need some type of writing tool. Pencil or erasable pen work well. Dr. Seuss-themed ones are super cool picks.
Also, I recommend having a variety of coloring tools, like crayons, color pencils, and markers. Your kids will have a blast coloring in their work.
If you think your students might like to work on these pages again and again (or you're working with a group), consider laminating or placing in dry erase sleeve pockets. Your kids can use a dry erase marker and then wipe off to use again.
It can be fun to have your kids guess what the final product will be. Guesses can be written on the back of the page.
You can use these Dr. Seuss connect the dots pages in random order. Or wait until you've read a book and then enjoy.
Pair these activities with some of our other free Dr. Seuss-Inspired printable activities and ideas that go with these books, like:
Raymond Geddes Dr. Seuss 3D Character Ink Pens (Pack of 12)
Raymond Geddes Dr. Seuss Pencils (Pack of 72)
Raymond Geddes 66865 Dr. Seuss Number 2 Pencils With Giant Pencil Top Erasers (Pack of 36)
Raymond Geddes Dr. Seuss Rainbow Pencils for Kids (Pack of 24)
Raymond Geddes 69384 Dr. Seuss Truffula Tree Pen Set (Pack of 12)
Dr. Seuss Green Eggs and Ham Pencils 6ct.
Crayola Glitter Crayons, Back To School Supplies, 24Count, Multi
Crayola Twistables Crayons Coloring Set, Kids Craft Supplies, Gift, 50 Count
Crayola Ultimate Crayon Collection, Portable Coloring Set, Assorted Colors, 152 Count, Gift for Kids Age 3 Plus
Crayola Twistables Colored Pencil Set, School Supplies, Coloring Gift,50 Count
Deli 36 Pack Colored Pencils with Built-in Sharpener in Tube Cap, Vibrant Color Presharpened Pencils for School Kids Teachers, Soft Core Art Drawing Pencils for Coloring, Sketching, and Painting
Crayola Ultra Clean Washable Markers, Fine Line Marker Set, Gift for Kids, 40 Count
Crayola Silly Scents Scented Markers, Washable Markers, 12 Count, Gift for Kids
6 Pack Dry Erase Pockets Sleeves, 10 x 13 inches, Assorted Colors
Get Your Free Dr. Seuss Connect the Dots Set
High five! You're on your way to having wonderful Dr. Seuss fun with your kids!
This free printable Dr. Seuss connect the dots pack includes 10 PDF pages.
Please print as many copies of this connect the dots printables as you need to enjoy with your kids, family, classroom, homeschool co-op, library, or other special event. If you have a friend or co-worker who might like using these activities, I'd love it if you'd share it with them!
To get this free printable Dr. Seuss connect the dots activity set, simply subscribe to Rock Your Homeschool.
You'll receive an email with a PDF file, along with a password to open the Subscriber's Library to all RYHS freebies.
Plus, you'll get emails with ideas, resources, and encouragement to make life and learning fun 🙂
(Psst! Current RYHS members just need to access the Subscriber Freebies page and enter the password in your welcome email. If you have any problems or questions, please email Amy at rockyourhomeschool@gmail.com)
Get your FREE printable Dr. Seuss Connect the Dots set by tapping HERE or on the image below.
More Fun (& Free) Dr. Seuss Activities for Kids