Why You Need to Make a Homeschool Fun Toolbox
When you look back on your homeschool day or week, do you ever wonder where the time went? And what exactly you accomplished?
Sure, you went through your homeschool plans and checked off the appropriate boxes when work was completed? Your kids might not have gotten everything done but you can see that work was done.
Why does it feel like something is missing? You did your read alouds and even art! Despite all that hard work and time, you still feel like you forgot to do something important with your kids.
Fun.
Happy moments that turn into memories.
Special times that you can look back on and chuckle.
Because you and I both know that your kids are going to remember the homeschool fun times when mom built a huge paper chain to celebrate each homeschool day for a year. Or used a homeschool fun calendar to celebrate fun days.
Will they remember that one Wednesday when you gave them a math test? Or gave them a spelling quiz?
Maybe.
But, they will be much more likely to recall those homeschool moments when tied with a homeschool fun tool!

What is a Homeschool Fun Toolbox?
A homeschool fun toolbox has easy ways for you to add fun to your homeschool day. With the right materials and a bit of preparation, you will be able to boost your homeschool day when you need to:
take a homeschool brain break
use a homeschool learning fun tool
motivate your kids to complete work
reward your kids for jobs well done
Your homeschool fun toolbox is simply a place to store materials to use when needed. These tools can be used in a variety of ways with different ages, stages, and genders.
The homeschool fun tools are not complicated. In fact, many materials can be found in your home or at your local dollar store. No need for spending tons of money for homeschool fun!
[bctt tweet="Connect with Your Kids! #Free Guide to Make a #Homeschool Fun Toolbox #ihsnet" username="rockyourhs"]
A homeschool fun toolbox is also there when your brain isn't. Do you ever draw a blank when trying to think about what creative and positive approach you could use right now to inspire and encourage your kids? Maybe you are distracted with little ones or don't feel like you are a "fun" mom.
Homeschool Fun Toolbox to the rescue! No more wondering what to do to keep the kids focused or what to use for a brain break or how to make time to connect with your kids during a fun activity.
Fun doesn't always spontaneously happen. You have to plan for homeschool fun. If you don't have a homeschool fun plan in place, you may not have the right materials, enough time, or ideas to make it happen.
Don't let homeschool fun opportunities pass you by.  Build your Homeschool Fun Toolbox and be prepared to unleash your homeschool super mom powers.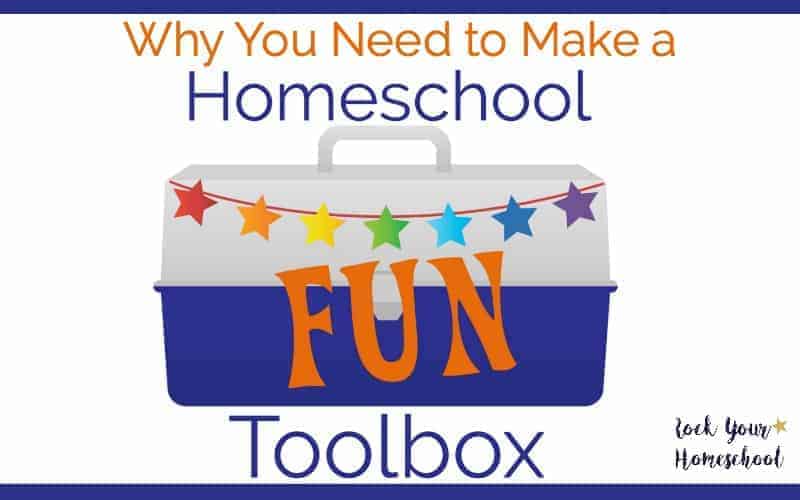 How to Easily Build Your Homeschool Fun Toolbox
Get your free printable pack to create a Homeschool Fun Toolbox that can work for you. This quick-start guide contains easy ways to boost learning and make special memories.
You will learn how to:
create an actual Homeschool Fun Toolbox to store and organize your supplies
7 tips with helpful reminders to make the most out of your homeschool fun
7 frugal materials that you have at home or you can find at a local dollar store
links to homeschool fun tools
Bonus:  free printable DIY paper dice template!
Let's get you set up for homeschool fun today! With a bit of preparation and these creative tools, you will be ready to enjoy those precious moments with your kids. You CAN be a fun homeschool mom!
Click HERE or on the image below to subscribe to Rock Your Homeschool and get your free quick-start guide to building a homeschool fun toolbox. You will also receive access to all RYHS freebies plus weekly email updates.
Leave a comment below on how this homeschool fun toolbox will help you!