Fantastic & Fun Homeschool Supplies Your Kids Will Love
If you're looking for an easy way to get your kids motivated and add some fun to learning at home, you'll love these fantastic homeschool supplies. Your kids will have a blast using special resources and materials to use for their homeschool work. And you'll enjoy keeping your kids focused and excited about homeschooling.
Check out these fun homeschool supplies recommendations and discover awesome ways to boost your homeschooling adventures!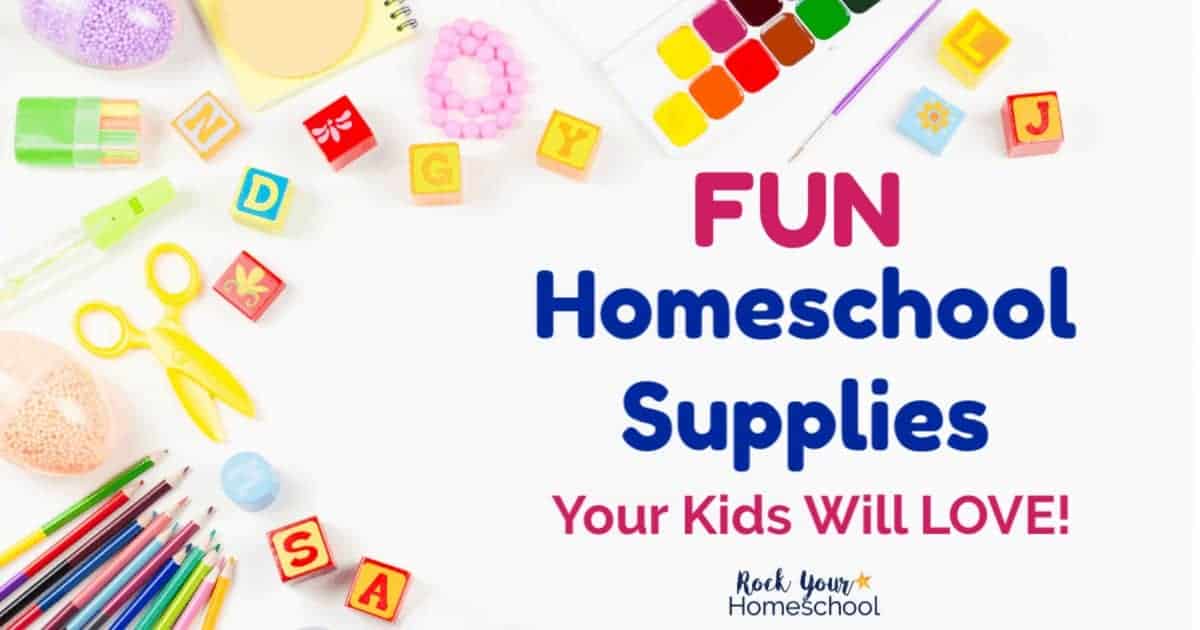 How Fun Homeschool Supplies Can Help Take the Stress Out of Learning
Once you have the basics (need ideas? check out our free printable Homeschool Supplies List) for homeschooling, you may find that you have a bit of room in your budget to get some extras. Or perhaps you're looking for different ways to motivate your kids and improve focus?
Fun homeschool supplies are excellent and easy ways to capture attention and encourage kids to complete work. When my boys use a Star Wars notebook or a Harry Potter pencil, their faces light up and they are ready to do this homeschool thing.
There's something special about using a homeschool supply that makes you smile. Think about when you were in school or even now. Do you have a special coffee mug or favorite pen that just makes life a little better?
That's what fun homeschool supplies do for our kids. Because even though they are learning at home, our kids still deserve special motivators and rewards for their hard work 🙂
I remember when I was in public school. Bic 4-Color ballpoint pens were the rage. I got one from my parents as a reward for a great report card. When my teacher allowed me to use that pen for special assignments, I felt like I was on top of the world.
Just think how your kids will feel when they have a special homeschool supply like that!
How to Pick Fun Homeschool Supplies for Your Kids
The easiest way to select supplies that your kids will love is to just ask them. I'm sure they'll have a few opinions to share 😉
If you'd like to surprise your kids, my suggestion is to look for supplies and materials based on their interests.
For example, if you have kids who love soccer, then stock up on pencils, stickers, and erasers with soccer themes. (Oh, and I bet they'd love our free soccer cootie catcher!)
Or maybe you have kids who geek out over video games? Search for homeschool supplies with themes from their favorite game. (Got kids who love Super Mario? They'll love these free printable activities.)
Another option is to go with a color theme. Get supplies for each child in their favorite color.
And seasonal or holiday themes are always a hit!

Fun Homeschool Supplies That Kids Love!
A few of my friends helped me compile this list of fun homeschool supplies for kids. Check it out and then please let us know what you'd add to this list in the comments area below 🙂
Fun Writing Utensils for Your Homeschool
pencils
pencil or pen toppers
pens
erasers
pencil boxes
pencil pouches
markers
color pencils
window markers: great for reminders and practicing sight words and facts
gel pens
pencil sharpeners
Haawooky 30 Pcs Colorful Flexible Pencils Magic Bendy Soft Pencil with Eraser Writing Gift for Kids Children School Fun Equipment
Emoji Pencils – 24 pc
Fun Express Stackable Plastic Bear Pencils (12 Count)
Color Changing Mood Pencil with Eraser, Set of 24, Assorted Colors
Scentco Graphite Smencils 10-Pack of HB #2 Scented Pencils
Super Secret Surprise Sack Triple Fidget Pencil Topper Pack (36 pc) with 1
Super Secret Surprise Sack 50+ pc Amazing Pencil Topper Variety Pack (30 Eraser Pencil Toppers and 25 Fun Fidget Pencil Toppers) with 1 (TM)
U Brands Cactus Design Ballpoint Pen, Black Ink (2127U06-48)
Hicarer 16 Pack Multicolor Pens 8-in-1 Retractable Ballpoint Pens 8 Colors Transparent Barrel Ballpoint Pen for Office School Supplies Students Children Gift
Marabou Pens (1dz)
Inkology Bug Eye Pens, 6.25 x 1.5 x 1.5 Inches Each, 12 Pack, Assorted Colors, 171-3
Axe Sickle 30 pcs Non-Toxic Pencil Erasers, Removable Assembly Zoo Animal Erasers for Party Favors, Fun Games Prizes,Kids Puzzle Toys.
OHill Pack of 46 Pencil Erasers Assorted Food Cake Dessert Puzzle Erasers for Birthday Party Supplies Favors, School Classroom Rewards and Novelty Toys
Superhero Erasers – 24 pcs
Super Z Outlet Colorful Puzzle Erasers Miniature Pencil Erasers Children Party Favors, Classroom Student Prize Packs, Brain Teasers
Fun Express Rubber Brain-Shaped Erasers | 24 Count | Great for Themed Birthday Parties, Halloween Trick-or-Treating, School or Classroom, Prizes & Favors
Oasis Supply Scented Cupcake Erasers Toy (24 Piece)
ZIPIT Monster Pencil Case Special Edition, Black & Gold
ZIPIT Beast Box Hard Shell Pencil/Storage Box, Pink
Cool Baseball Boys Dinosaur Pencil Case – Large Capacity Hardtop Pencil Box with Compartments – Colored Pencil Holder School Supply Organizer for Kids Girls Toddlers Children (Green)
YOUSHARES 120 Slots Pencil Case – PU Leather Handy Large Multi-Layer Zipper Pen Bag with Handle Strap for Prismacolor Watercolor Pencils, Crayola Colored Pencils, Marco Pens and Cosmetic Brush (Pink)
Scentco Cutie Fruities Scented Pencil Pouch – School, Office, Travel Cases – Watermelon & Grape
Twigs And Branches Fun Pencils- 10 Wooden Log Pencils In Assorted Bright And Vibrant Colors – Amazing Kids Students Gift Party Favor, Great Fun To Write With! By Mega Stationers
Crayola Glitter Markers, 6 Count
Mr. Sketch Scented Stix Markers, Fine Tip, Assorted Colors, 10-Count
Crayola 5 Count Washable Triple Tip Markers
ALEX Toys Young Artist Studio Color Changing Markers
Crayola Twistables Silly Scents Colored Pencils, 12 Non-Toxic, Scented, Twist-Up Pencils Great for Adult Coloring Books or Kids 3 & Up, 12 Classic Colors in Fun Scents Like Cotton Candy & Green Apple
Crayola Metallic Markers, 8 Count
Ooly Tutti Frutti Gel Pens – Set of 6
Color Gel Pens – Gel Pens for Kids – Coloring Pens – Gel Pens Set – Pen Sets for Girls – Pen Art Set – Artist Gel Pens – Drawing Pens for Kids – Draw Pens – 36 Gel Pen – Arts Pens
Crayola Take Note Washable Gel Pens, Assorted Colors, School Supplies, .7Mm Medium Line, 6Count
Scentco Glitter Gel Smens 4-Pack of Gourmet Scented Pens
Crayola; Washable Window Markers; Art Tools; 8 Different Colors; Bright, Bold Colors; Works on All Glass Surfaces
Liquid Chalkboard Window Chalk Markers -12 Pack Erasable Pens Great for Chalkboards & Glass – Non Toxic Safe & Easy to Use Washable Marker Neon Bright Vibrant Colors Pen for Kids and Adult
Faber-Castell Cute Pencil Sharpeners for kids friendly design, Twin hole sharpener for graphite pencils, colored pencils, crayons – 3 assorted design
Brick Party Pencil Sharpeners – 12 ct
Feeko Pencil Sharpener, 10 Pack Manual Pencil Sharpener for Kids Children Cute Hedgehog Shaped Design Handheld Pencil Sharpeners for Colored Pencils Random Color
Sticky Stuff
stickers
glitter glue
Modge Podge
velcro dots
washi tape
Emoji Jumbo Stickers | 960 Most Popular Emoticons | Larger In Size | Cool, Educational and Fun
Fun Express Superhero Sticker Roll – 200 pieces
TREND enterprises, Inc. T-83917 Fun Friends Stinky Stickers Variety Pack, 240/Pack
Carson Dellosa Colorful Owl Motivators Motivational Stickers (168144)
Foam Glitter Stickers Self Adhesive, Mini Heart and Stars Shapes for Kid's Arts Craft Supplies Greeting Cards Home Decoration (150 Pieces)
Elmer's 638458774473 Washable Glitter Glue, 6 oz Bottles-6 Colors, Green/Pink/Purple/Red/Yellow/Blue
6 color glitter glue set 20 milliliter bottles – classic colors – green, gold, red, silver, blue, and purple
Crayola 25-count Washable Glitter Glue Pouch (25 Count)
Elmer's 3D Washable Glitter Glue Pens, 31 Rainbow and Glitter Colors (E198)
Crayola All That Glitters Art Case Art Gift for Kids 5 & Up, Includes Glitter Crayons, Marker, Glue, Chalk, Paper & Stickers in A Convenient Travel Case, Over 50 Pieces – 04-6887
Mod Podge CS11303 Waterbase Sealer, Glue and Finish,Matte,32 Ounce
Miracle Market 600 Pcs (300 Pairs) of Colorful Hook and Loop Self Adhesive Fastener Dots | Sticky Back ¾" (20 mm) Diameter Heavy Duty Circles | Best for Home, Office, Classroom and Crafts | 6 Color
21 Rolls Foil Washi Tape – Gold & Colored Metallic Washi Tape – 15mm Wide DIY Craft Masking Tape by leebee
Cute Washi Tape Set with 3 sizes | 15mm 8mm and 3mm Wide Skinny and Thin | Decorative Holiday Craft Tape | Colorful Tape | Floral Japanese Pastel Seasonal Art | Bujo Supplies | Scrapbook Tape 21 Rolls
Ninico 30 Rolls Washi Tape Set – 10mm Wide, Colorful Flower Style Design, Decorative Masking Tape for DIY Craft Scrapbooking Gift Wrapping
Hands-On Materials
dice
playing cards
Wikki Stix: young learners can form into letters and numbers and all ages can use for creative fun
playdough
clay
pom poms
pipe cleaners
sequins
feathers
stamps with stamp pad
pony beads
perler beads
googly eyes
Super Z Outlet Assorted Colorful Dice in White, Red, Green for Board Games, Activity, Casino Theme, Party Favors, Toy Gifts (18 Pack)
Learning Resources Foam Dice: Dot Dice, 6-Sided Dice, Ages 3+
Wikki Stix
WikkiStix Traveler Playset
Play-Doh Sparkle Compound Collection
Play-Doh Starter Set
Crayola Air-Dry Clay, White, 5 Pound Resealable Bucket Natural Clay for Kids, No Baking, Dries Hard, Easy to Paint, A Smoother, Simpler, Less-Sticky Alternative to Traditional Ceramics
ALEX Art 24 Rainbow Modeling Clays, Multi
Caydo 1400 Pieces 5 Sizes Multicolor Pom Poms Assorted Pompoms with 4 Sizes Wiggle Googly Eyes for DIY, Crafts and Decorations
500Pcs Pipe Cleaners Craft Set,Including 100 Pcs Chenille Stems 200 Pcs Pom Poms Craft 200 Pcs Wiggle Googly Eyes Self Adhesive,Assorted Colors and Assorted Sizes for DIY Art Craft
Creativity Street Hot Colors Pom Pons, 0.5-Inch, 100-Pack (AC8114-02)
Creativity Street Acrylic Non-Toxic Pom Pon Classroom Pack, Assorted Size, Assorted Color, Pack of 1200
Caydo 200 Pcs Random Colors Pipe Cleaners Chenille Stem 6 mm x 12 Inch, Smooth Processing at Both Ends, Safe and Humanized Design
Honbay 100 Gram Mixed Sequins and Spangles Craft Supplies, Assorted Shapes, Color and Sizes
Creativity Street Turkey Plumage Feathers, Assorted Bright Hues, 0.5-oz. (AC4500-01)
Pony Beads Multi Color 9mm 1000 Pcs in Bag
The Beadery Giant Crayon Bead Box, Pony Beads with Smooth Surface Craft Assortment Colors (6X 9mm/18colors/1800 Beads)
Perler Beads Stripes And Pearls Assorted Fuse Beads Tray For Kids Crafts, 4000 pcs
Creative Arts by Creative Arts by Charles Leonard Wiggle Eyes, Peel'n Stick, Black, Assorted Sizes, 100/Bag (64530)
Melissa & Doug Wooden Favorite Things Stamp Set (Arts & Crafts, Sturdy Wooden Storage Box, Washable Ink, 26 Pieces, 10.45" H x 8.25" W x 1.6" L)
Rhode Island Novelty Assorted Stampers | 50 Pc Kids Stamp Assortment
Melissa & Doug Happy Handles Wooden Stamp Set: 6 Stamps and 6-Color Stamp Pad
Bicycle Poker Size Standard Index Playing Cards [Colors May Vary: Red, Blue or Black]
Hoyle Kid's 6 in 1 Fun Pack- Card Games (Artwork May Vary)
Ideas for Storing & Organizing Your Fun Homeschool Supplies
I recommend finding a place to store and organize your fun homeschool supplies once you get them. This step will prevent overwhelm and mess 😉
You can get creative and use what you have around the house. My boys and I have fun decorating and labeling empty cardboard boxes, shoe boxes, and glass jars. For smaller items, plastic zipper bags are great for storage.
Recycle cardboard or shoe boxes (decorate, label)
Glass jars
Empty (& clean) coffee tins
Plastic bins
Plastic pencil boxes
Zipper bags
Shelf
Cabinet
What fun homeschool supplies do you think your kids will love the most?
And don't forget to share your ideas and recommendations in the comments area below!