11 Free Super Mario Printable Activities for Fantastic Fun for Kids
These free Super Mario Printables for Learning Fun are perfect for kids of all ages who love these video games and characters.
You'll find a variety of activities based on these video games and characters. Awesome for interest-led learning and more!
Learn more about these 11 Super Mario activities. And how to get your free set today.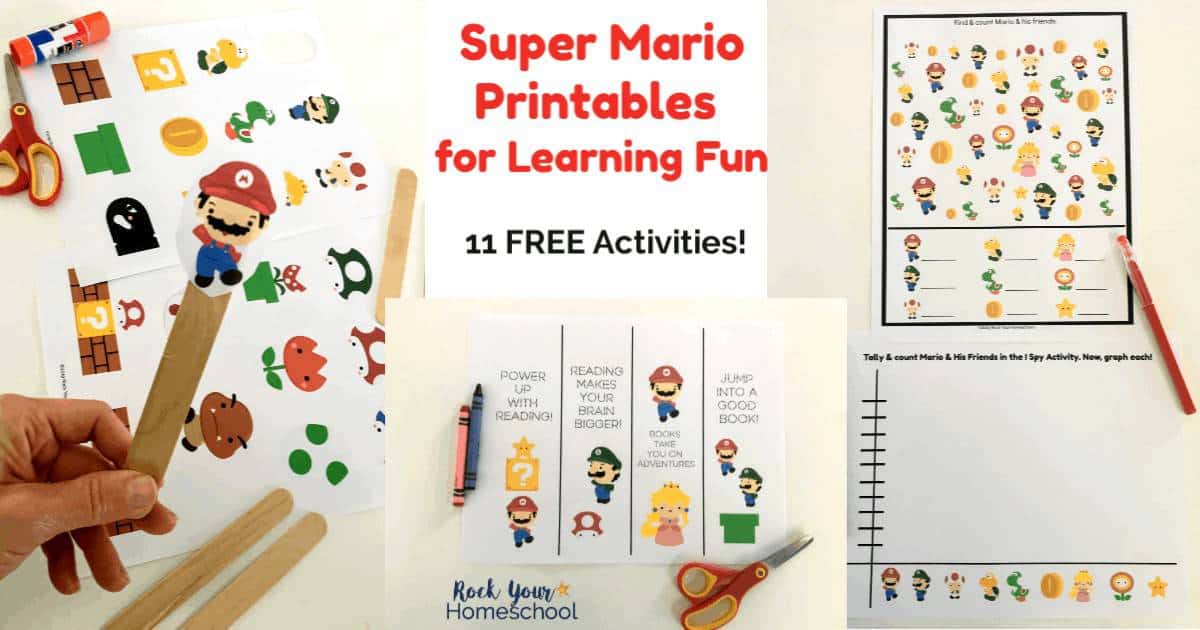 A Video Game & Characters ALL My Boys Love
My five boys and I don't always see eye-to-eye on video games. They LOVE video games like Super Mario. I've never been a video game gal.
When I was young, my friends and I played outside and dug foxholes. True story! There was an empty lot in our neighborhood and we thought a foxhole was a cool idea. So many adventures there!
My family had gaming devices. I just wasn't into it. All the colorful, moving graphics and music would make my head spin and stomach hurt.
My boys, however, don't seem afflicted by these video game aversions.
The boys range in ages from 7-18. Naturally, their interests in video games vary.
All of my boys, however, LOVE Super Mario Brothers! They're massive fans of anything Super Mario! Mario Kart has been a huge favorite, too.
For Christmas, the boys got a Nintendo Switch™ and their favorite game is Super Smash Bros Ultimate. And they have so much fun playing it together!
I love hearing them play the game. Those laughs and shouts are precious treasures for a mom 🙂

Super Mario Printables (Free) for Fun Activities
I've discovered that interest-led activities (like our Star Wars and Harry Potter-Inspired fun) are the best way to capture my boys' attention.
To extend the learning fun with these fantastic video games, I made these Super Mario Printable activities.
I find that building on interests is a great way to engage my boys in our homeschool adventures. In other words, why fight it? 😉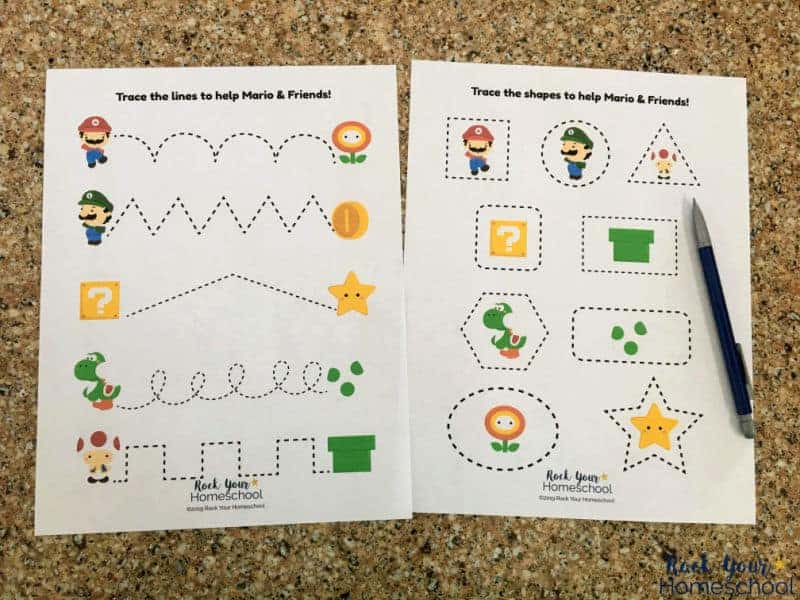 This free pack of Super Mario Printables features adorable characters and items from the games.
Some of those cute characters in these free printables are:
Mario
Luigi
Princess Peach
Yoshi
Yoshi Eggs
Toad
Goomba
Koopa Troopas
Super Star
Bowser
You can print on regular white printer paper. Another great idea is to print on white or color cardstock for durabiliy.
This free set (perfect for Mario Day activities!) includes 11 pages with:
2 pages of tracing activities (variety of lines and shapes)
1 page of simple mazes (Your kids can use crayons, markers, pencils, color pencils, Kwik Stix, playdough, or just their fingers to complete the mazes.)
3 pages of Mario maze printables for your kids to help Mario & Friends
1 page of bookmarks (4) featuring Super Mario Brothers characters and fun reading phrases to trace
1 page of Mario & Friends I Spy Activity (+ 1 page of answer sheet)
1 page for Graphing Fun based on the I Spy Activity
2 pages of Super Mario Brothers characters and items for playtime or DIY game fun (also, perfect for party favors, like a label on a treat bag)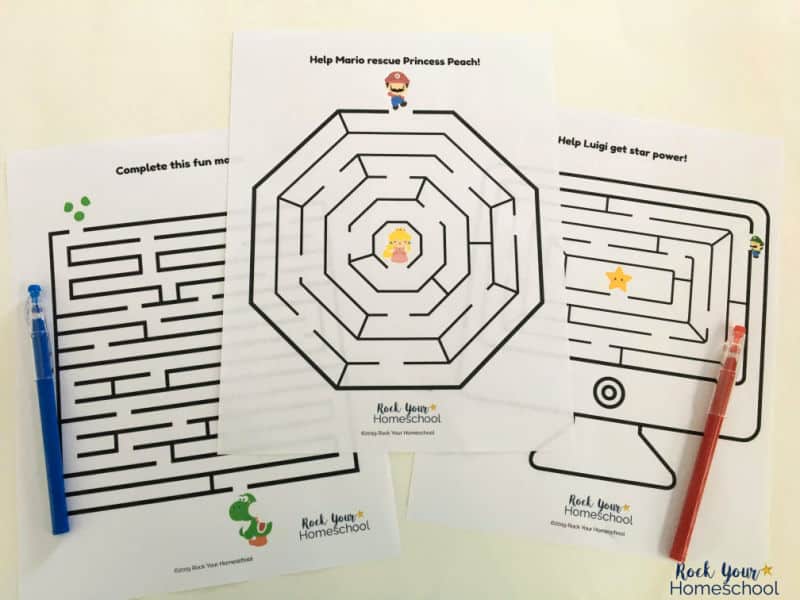 Get Your Super Mario Printables for Learning Fun with Kids
These free Super Mario Printables are fabulous activities full of fun for:
Super Mario Day (March 10)
Super Mario Party
Printable Decorations (cut out the small characters and make posters also great for party decorations!)
Printable candy toppers (cut out the small characters and put on lollipops or other candies)
Cupcake toppers (cut out the characters and glue onto toothpicks)
Classroom
Library
Family
Homeschool
Rainy Day Activities
Creative play and DIY toys
Any time you'd like to enjoy easy fun with kids 🙂
You can print out as many copies as you need for personal use, classroom, homeschool, or co-op. If you know someone who you think would love these printables based on Super Mario games, please share the link to this post with them – thanks so much for sharing!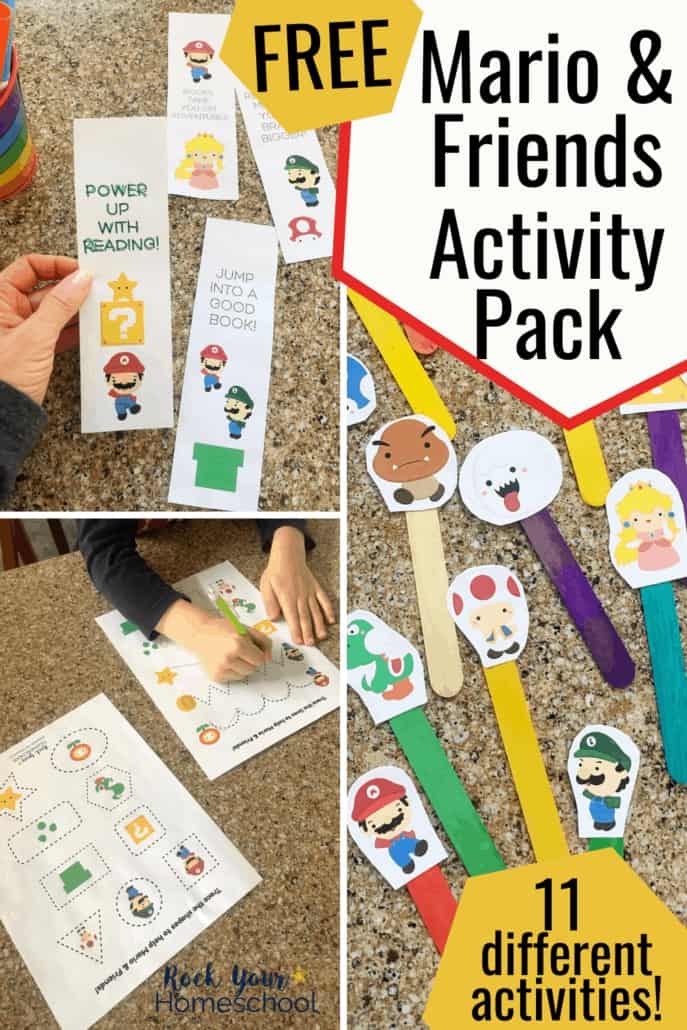 When you join the Rock Your Homeschool community, you'll receive this printable pack in a PDF pack in an email. Plus, you'll get a secret password that opens the library to all RYHS freebies.
In addition to your freebies, you'll be added to our email list and I'll update you with easy and creative ways to make life and learning fun for all!
(Psst! Current RYHS members just need to access the Subscriber Freebies page and enter the password in your welcome email. If you have any problems or questions, please email rockyourhomeschool@gmail.com)
Get your FREE set of Super Mario Printable Activities HERE or by tapping on the image. Make sure to grab this set for your next birthday party or other special event. Wishing you a lot of fun with Super Mario and friends!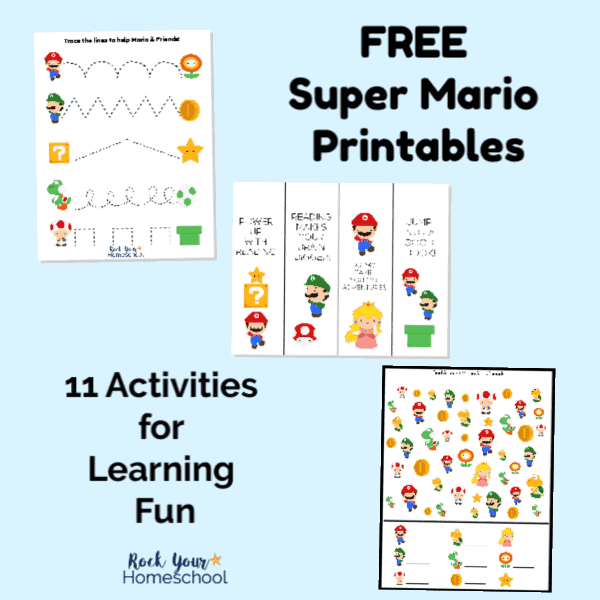 How do you extend the learning fun with your kids' interests? How will these Super Mario Printables help? If you have another fun way to use these free Super Mario activities, I'd love to know! Share in the comments 🙂
More Fun & Free Super Mario Printable Activities
If you like these free Super Mario printable activities, you'll LOVE these resources: