Fantastic Ways to Enjoy These Fun Printable Summer Games with Kids (3 Free)
Printable summer games are simple yet fun ways to boost this special time with your kids.
If you're looking for easy ways to keep your kids busy (and happy) this summer, you'll love these printable challenges featuring tic-tac-toe games.
Find out more about these 3 creative summer games and get your free printable set today!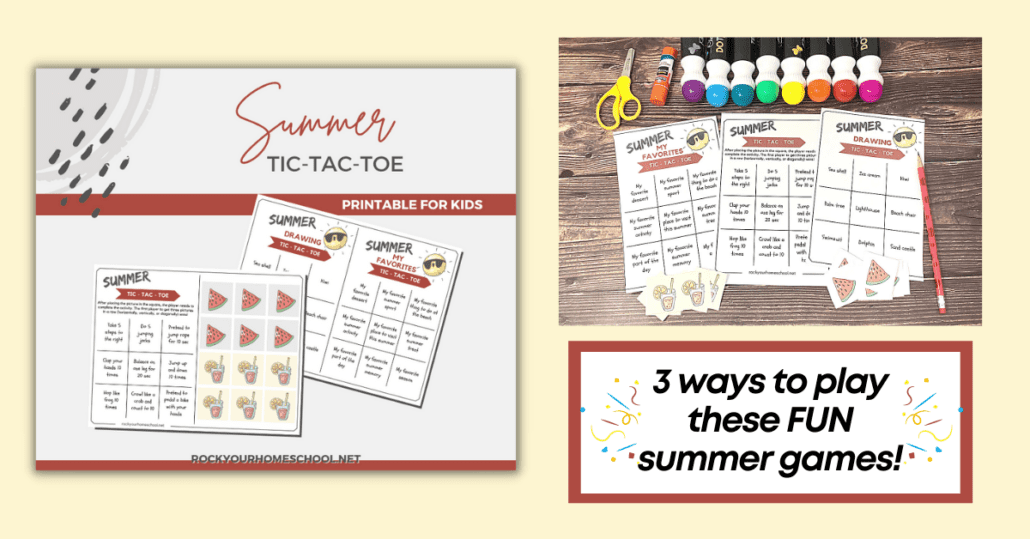 Summer Fun with Kids CAN Be Simple!
I LOVE summer!
The extra light, heat, and time with my boys is awesome.
But, I know not everyone feels that way 😉
Since we homeschool, I'm used to being around my boys A LOT. And finding different ways to keep them busy (and happy) so I can get some precious time to myself.
That's why I make (and share) so many ways to enjoy fun activities with kids!
Because I know how important it is to have simple yet intriguing ways to engage with your kids (especially when you need to work from home, take care of little ones, or just maintain some type of order in your house).
Maybe you find yourself in one (or more) of these situations:
Extended time off from a structured school routine
Heading out on a road trip
Stuck inside due to unbearable and dangerous heat and humidity
Needing to keep older kids busy while younger kids nap or have quiet time
Looking for seasonal brain breaks
Want fun ways to enjoy the season
In addition to our other summer fun freebies (scroll to the bottom of this post for a few highlights), I'm adding these 3 free printable Summer games to our collection of awesomeness (and maintaining mom's sanity).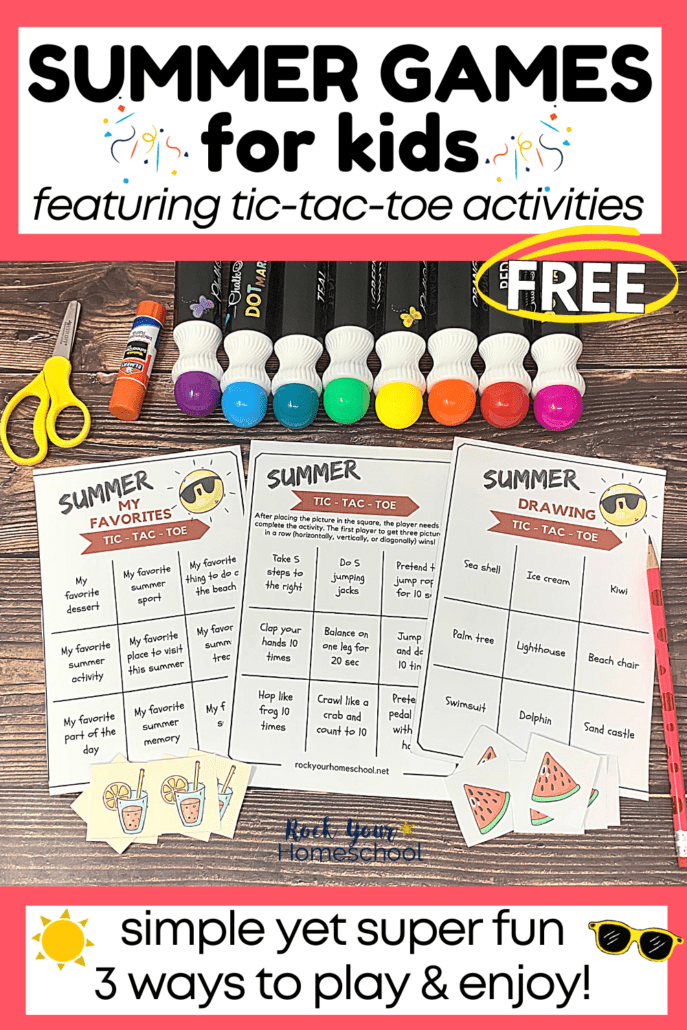 Learn More About These 3 Free Printable Summer Games
These free printable Summer games are on three pages.
I recommend printing these pages on white card stock. OR print on regular printer paper and laminate OR place in dry erase sleeves.
Instructions are provided on the first page. Your kids can cut out the 2 styles of objects (watermelon slices or cool drinks) and use as markers. Get creative ideas for other options by scrolling down to the next section.
You'll find 3 different tic-tac-toe style games in this set:
Activity Prompts
Drawing Prompts
My Favorites (conversation starters)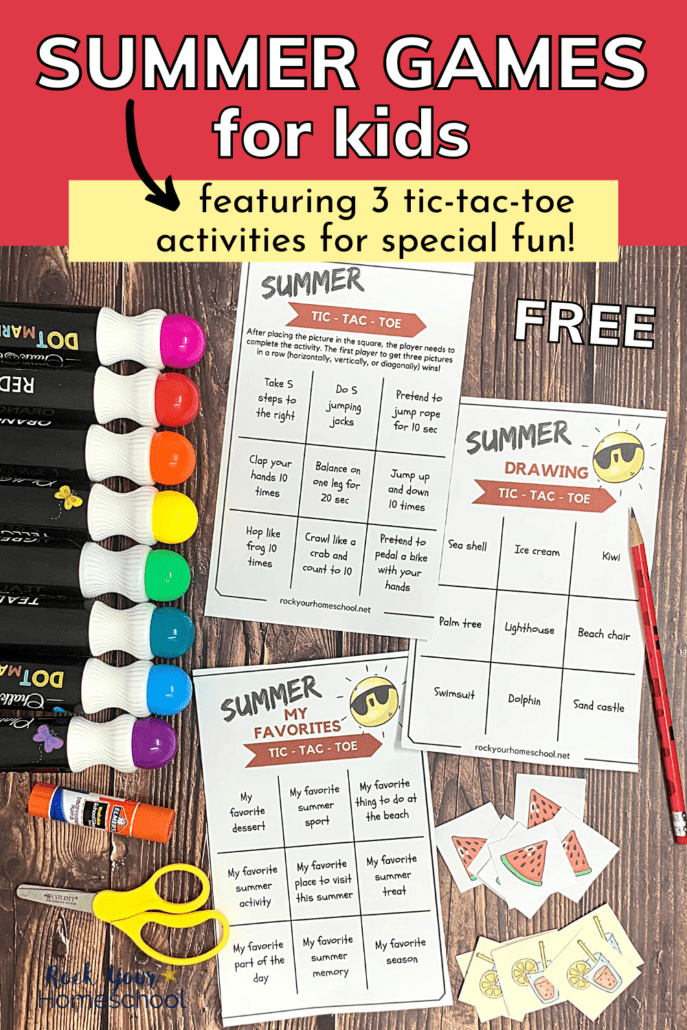 Incredible Ideas for Enjoying These Summer Games with Your Kids
When it's too hot outside (or the weather is yucky), these 3 printable games are perfect.
You can also totally enjoy these games when you travel. Pull out the activity tic-tac-toe game at rest stops. The drawing prompts are fantastic when you have a clipboard, paper, and pencils. And use "My Favorites" for fun conversation starters.
These printable games are also wonderful for fun summer brain breaks (especially if you year-round homeschool like us).
Use these printables for inspiration to make your own custom Summer tic-tac-toe games.
Oh, and don't forget to print extra copies to play with family and friends!
Other fun ways to enjoy these free printable summer games is to use other things to mark your tic-tac-toe games, like dot-a-dot markers and stickers.
Neenah Paper Exact Index, 110-Pounds, 8.5 x 11 Inches, 250 Sheets, White, 94 Brightness (WAU40411)
Fiskars 194230 Back to School Supplies, Kids Scissors Softgrip Blunt-tip, 5 Inch, 3 Pack, Floral/Lighting
Chalkola Washable Dot Markers for Toddlers – 8 Shimmer Dot Paint Markers for kids & Free 40 Page Dot Markers Activity Book, Non toxic Bingo Daubers for Kids – Fun Preschool Learning Kids Art Supplies
Mr. Pen- Clip Boards, Plastic Clipboards, Black Clipboard, Letter Size, Clipboards Plastic, Paper Clips, Nursing Clipboard, Paper Clip Holder, Writing Board, Document Holder
Amazon Basics Plastic Clipboards, Assorted Color , Pack of 6
Sooez Clipboard with Storage, High Capacity Nursing Clipboards with Pen Holder, Heavy Duty Plastic Storage Clipboard with Low Profile Clip, Clipboard Folder Side-Opening, Smooth Writing for Office
Get Your Free Printable Summer Games for Special Fun with Kids
High five! You're so close to enjoy simple yet extra fun activities with your kids this summer.
This free printable set of Summer Tic-Tac-Toe Games (+ 2 different markers) includes 3 PDF pages.
Print as many of these summer games as you need for your personal use, family, class, homeschool co-op, or community event. If you have a friend or co-worker who'd enjoy to have this sort of summer fun, I ask that you please share this post with them. Thank you so much!
To get this free pack of printable Summer Games for kids, simply subscribe to Rock Your Homeschool.
You'll receive an email with this PDF file, along with a password to open the Subscriber's Library to all RYHS freebies.
AND you'll get emails with ideas, resources, and encouragement to make life and learning fun 🙂
(Ooh! Current RYHS members just need to access the Subscriber Freebies page and enter the password in your welcome email. If you have any problems or questions, please email Amy at rockyourhomeschool@gmail.com)
Get your FREE printable Summer games featuring tic-tac-toe activities by tapping HERE or on the image below.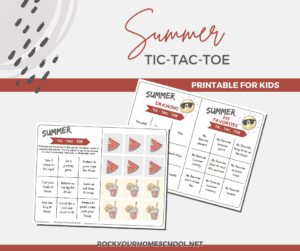 Wishing you and your kids tons of Summer fun with your kids!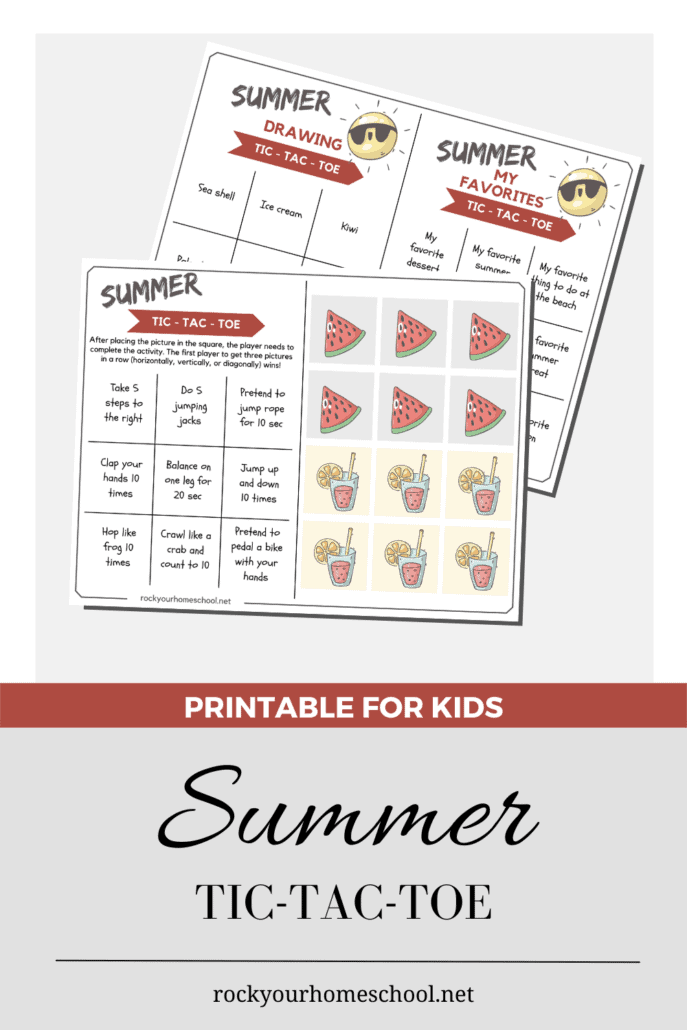 More Fun & Free Summer Printables for Kids