Summer Fun for Kids: Easy Ways to Make Every Day Special (UPDATED 2021)
Be proactive and get ready for summer fun for kids!
This free printable pack has easy ways to make every day special. So, you'll be prepared with awesome activities and ideas for enjoying summer with your kids (instead of hearing, "I'm bored!" and "There's nothing to do!").
You want to spend your time with your kids, not hours planning out fun activities. These calendars, lists, and templates take that work off your shoulders so you can be all set for summer fun.
Find out more about these plans for summer fun goodies that your kids will love and get your free pack today!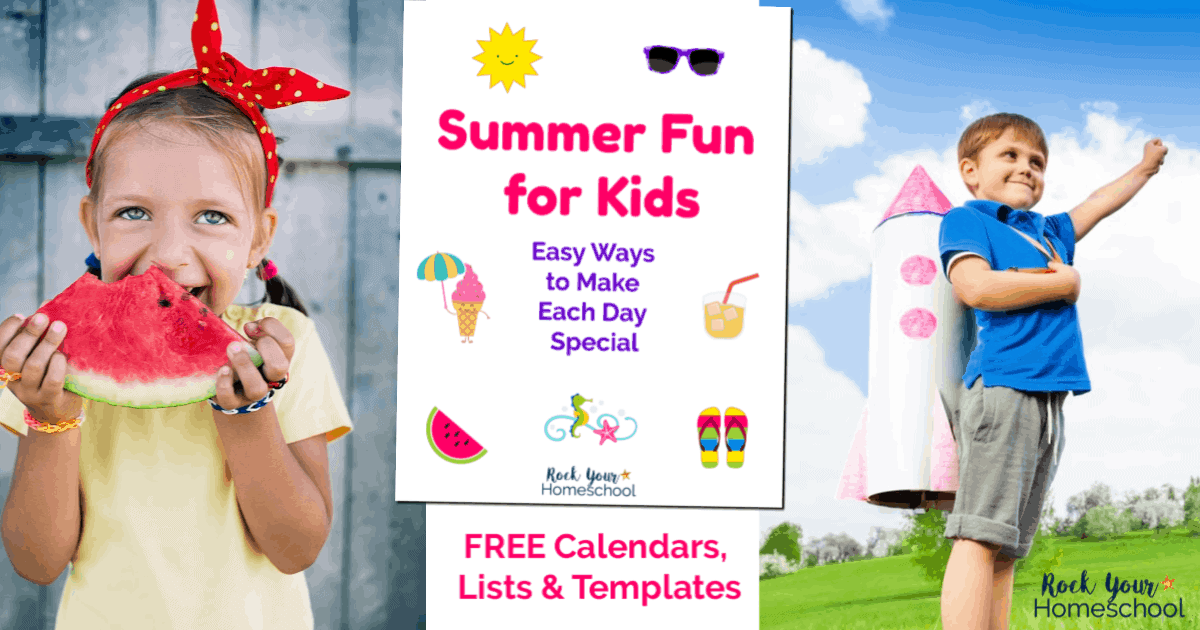 Easy Ways to Celebrate Special Summer Days
I'm so excited to make this summer extra special with my boys!
In the past, I've planned fun summer activities to enjoy in our homeschool. We had a blast with the summer-themed challenges, crafts, and more. But, after a few summers of enjoying those activities, the boys and I are ready for some new fun.
When I asked what they'd like to do for summer fun, my boys requested revisiting our fun holiday celebrations. Since we had such great times with these fun days, I agreed that a creative summer twist would be perfect.
AND as a busy mom, I know that I need to plan and prepare for this type of summer fun.
Sure, spontaneous fun does happen around here. Five boys equal a whole lot of goofy times!
But, in order to make sure we celebrate those special days, I need a plan and list of materials. Otherwise, all that fun will slip through the cracks.
So, I've created an entire summer's worth of fun plans to go with special fun holidays!! I poured through lists of fun days and selected kid-appropriate themes. Also, I made sure that our Summer Fun for Kids is:
Easy to do
Frugal or free
Taps into different interests
Includes a variety of suggested activities to pick and choose
Inspires exploration and creativity
Get tips on how to use these Summer Fun for Kids for resources and your FREE printable pack at the end of this post 🙂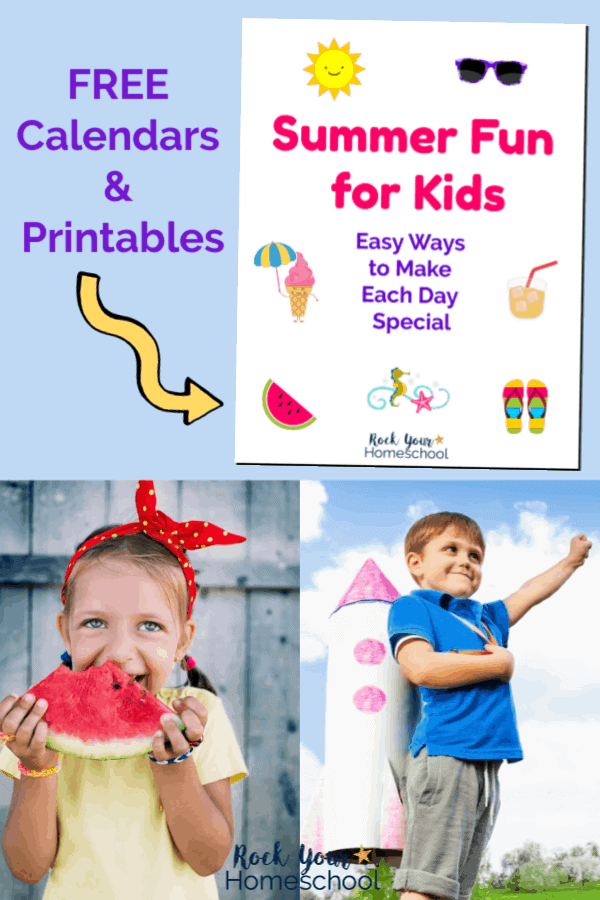 Suggested Resources & Materials for Summer Fun for Kids
Want a sneak peek at some of the materials we'll be using for Summer Fun for Kids? I suggest having these recommended products on hand for easy fun at home with kids.
Any of these fun homeschool supplies will be awesome for your summer fun activities!
You can find many of them in your home, at a dollar store, or if you're like me and need as easy as possible, online:
Crayola Ultimate Crayon Collection, 152 Pieces, Coloring Supplies, Styles May Vary, Gift
Crayola Silly Scents Twistables Crayons, Sweet Scented Crayons, 12 Count
Con-Tact Brand Covering Self-Adhesive Semi-Transparent Privacy Film and Contact Paper, 18" x 20′, Clear Matte Shelf Liner 18×20
Creative Hobbies Rainbow Color Tissue Paper Bonus Pack, 20
SunWorks Construction Paper, 10 Assorted Colors, 9
Duncan Imperial Yo Yo , Assorted colors, Pack of 1
Play-Doh Rainbow Starter Pack 16oz
Crayola Model Magic, Deluxe Craft Pack, Clay Alternative, Gift for Kids, 14 Single Packs
75-Count Value Pack Paper Dinner Plates, White
Crayola Washable Watercolor Paint, 16 Colors (Pack of 3)
Parker Jotter Originals Ballpoint Pen Collection, Medium Point, Black Ink, 4 Count
Caydo 200 Pcs Random Colors Pipe Cleaners Chenille Stem 6 mm x 12 Inch, Smooth Processing at Both Ends, Safe and Humanized Design
Fujifilm QuickSnap Flash 400 Disposable 35mm Camera + Quality Photo Microfiber Cloth (3 Pack)
Bicycle Poker Size Standard Index Playing Cards (2-Pack) [Colors May Vary: Red, Blue or Black] – Mrd2p
ALEX Toys Artist Studio 48 Chalk Pastels
Crayola Washable Kids' Paint, Includes Glitter Paint, 12Count, Amazon Exclusive, Gift
BagDream Brown Paper Lunch Bags Bread Bags #12 7×4.5×13.75
Mini Tape Measure 6FT/2M By HEIKIO, Metric and Inch Scale, Sturdy Mark for Easily Reading- Portable Measuring Tape H17003
Honey-Can-Do Round Wooden Clothespins, 100 Pack
Neenah Creative Collection Classics Specialty Cardstock Starter Kit, 8.5 X 11 Inches, 72 Count (46407-01)
You do NOT need all of these materials! I encourage you to make substitutions and customize with what you have whenever possible.
Fun at home with kids doesn't have to cost a ton of money. And I include links to free stuff in the calendars!)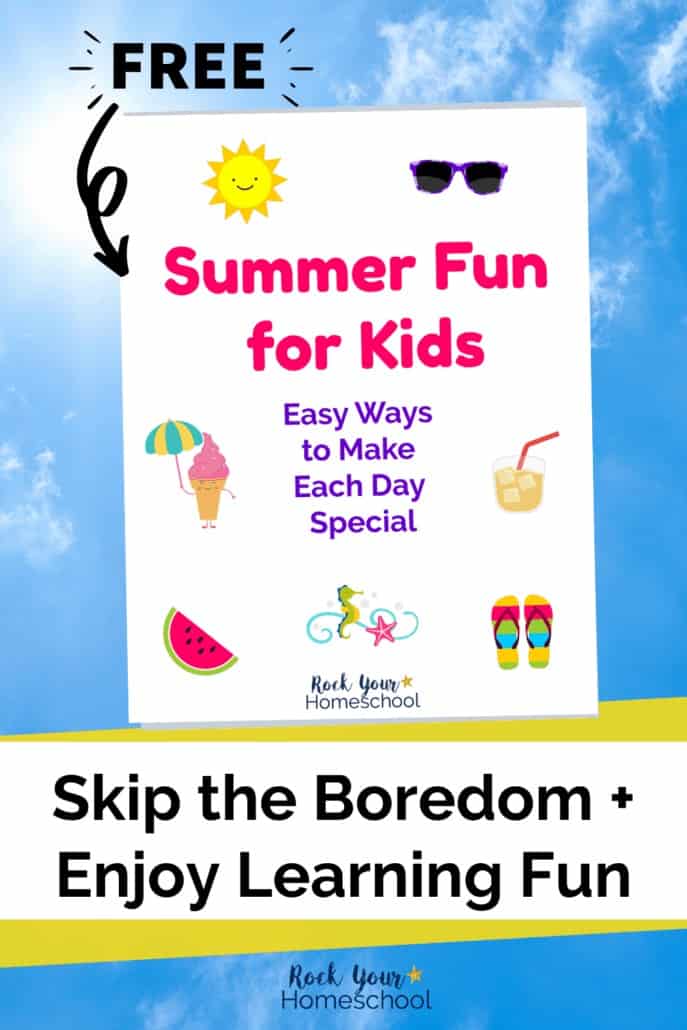 Get Your Free Printable Pack of Summer Fun for Kids
You're on your way to having a super fun summer with your kids!
You'll have a blast with creative activities for fun days like Roller Coaster Day, Relaxation Day, and Harry Potter Day. There are sooo many awesome fun days to celebrate!!
Here are a few tips to help you make the most of this time:
Each day, chat with your kids about the fun day. Do they know about it? Surprised? Intrigued?
Talk about the suggested activities and pick one (or do all three!).
Brainstorm different ways to celebrate this special summer fun day.
Set aside about one hour at the beginning of your week to glance over the summer fun plans. Do you have all the suggested materials?
As you look over the plans, consider your schedule for the week. Be realistic about doing any or all of the plans. It's better to pick just one and truly enjoy it than to try to cram it all in and be a frazzled mess!
Get your kids on board with prep and clean-up! Although the occasional summer fun day surprise is totally awesome, your kids will feel more a part of the experience when they chip in.
Consider different times of day (or night) to enjoy these summer fun activities for kids.
On that note, consider different locations for enjoying these activities 🙂
Let your kids decorate the calendars with stickers or doodles
You can print out as many copies as you need. If you have a friend who you think would love to enjoy summer fun with kids, please share this post with them 
When you tap on the image below to subscribe and join the Rock Your Homeschool community, you'll receive this printable pack in a PDF download in an email, along with a super-secret password that opens the library to all RYHS freebies.
In addition to your freebies, you'll be added to our email list and I'll update you with ways to make life and learning fun.
(Psst! Current RYHS members just need to access the Subscriber Freebies page and enter the password in your welcome email. If you have any questions, please email Amy at rockyourhomeschool@gmail.com)
TAP HERE or on the image below to subscribe and get ready for Summer Fun for Kids!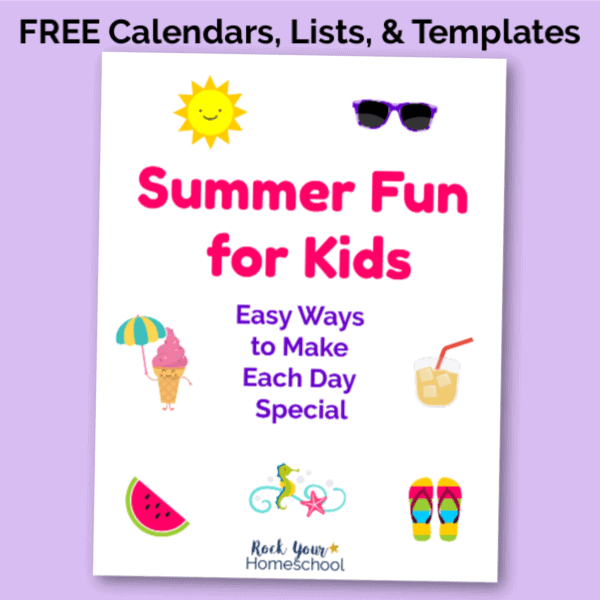 What are your favorite fun activities to do with your kids in the summer?
How will this free printable pack help you make that fun happen?