Free Fun Summer Activities for Kids Planner Pack to Make It Rock
This free fun summer activities for kids (+ planner pack) are sensational ways to get ready to make it special.
Your kids will have a blast with these creative coloring pages, lists, and customizable schedules.
Check out these summer fun activities and get your FREE pack today!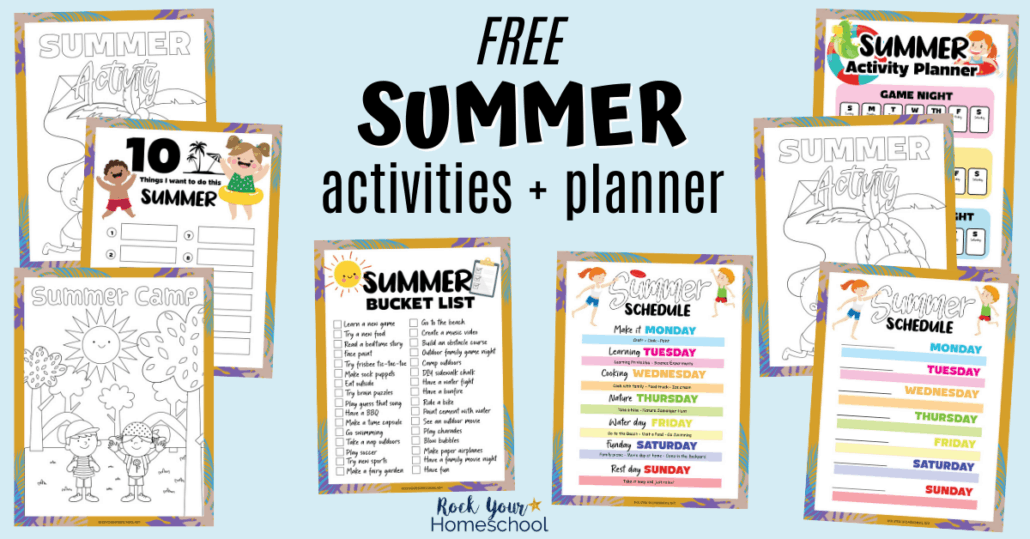 Help Your Kids Get Ready for Sensational Summer Fun
Want to make this summer extra special for your kids? I'm sure you do!
But, I bet you don't want to have do it all by yourself 😉
Instead of spending hours gathering ideas and making plans that you hope your kids will enjoy, why not get them involved?
When your kids work with you on making special plans for summer fun activities, they feel a sense of ownership. Plus, your kids' faces will light up when you all work together to incorporate everyone's interests.
So, make those summer fun plans a cool collaboration! You (and your kids) will be so glad that you did 😊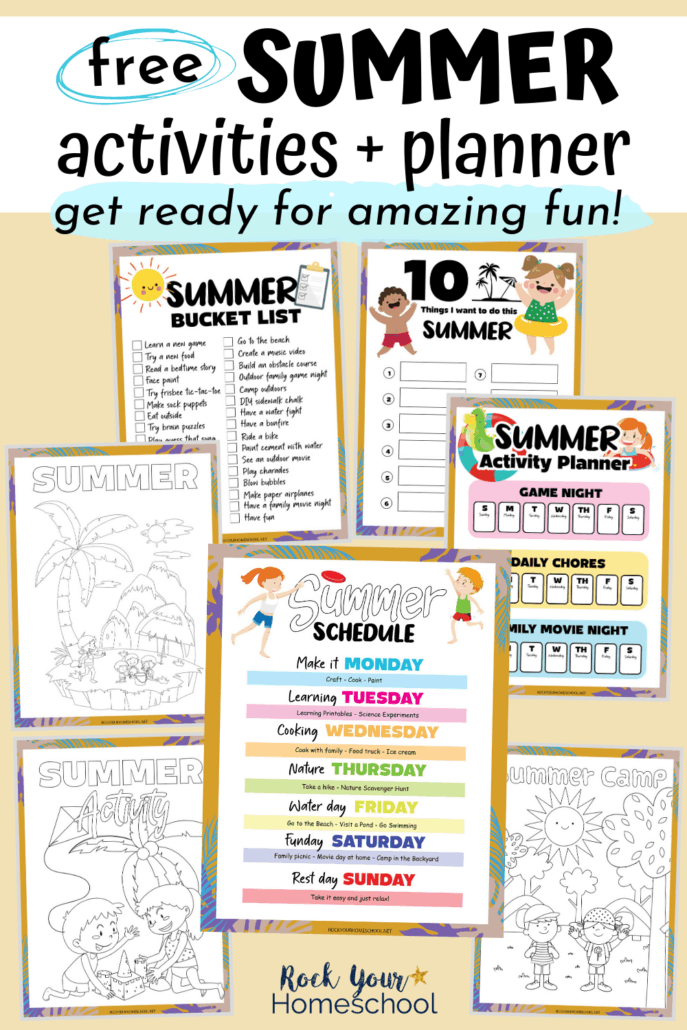 Ideas for Planning Your Fun Summer Activities for Kids
If you've never sat down with your kids for a planning session, here are a few tips and tricks to make it enjoyable for all:
1. Begin with simple expectations
Jot down a few things that you'd like to cover when you're making your summer fun plans with your kids. Three to four ideas are probably best. You don't want to overwhelm or confuse your kids with too many details.
Review with your kids that only one person speaks at a time. This reminder is fantastic for teaching respect and conversation skills.
You know your kids best. Maybe they usually have 53 ideas and want to blurt out all of them at once?
Or perhaps they freeze and need some time to think about it all and come back later to fill you in on their ideas?
Plan accordingly and just roll with it.
*These free packs of Rock Your Homeschool Summer Fun and Summer Fun Days for Kids are full of creative and easy ways to have fun with your kids (if you need a bit of inspiration).
2. Start with a few ideas then build
Go into your planning session with a list of fun summer themes and activities. A bit of research prior to your planning can go a long way.
Share that inspiration with your kids. See what creative ideas they have for expanding on those themes. And ask if they have other themes that they'd like to include.
3. Have a bit of structure but leave plenty of room to go with the flow
Many people associate "fun" with doing whatever you want when you want.
That's not always very fun.
It can be helpful (especially for kids) to know what to expect and how to prepare for it.
When you have a bit of structure to your summer fun plans, you also have things to look forward to.
4. Leave a week or two of your summer open (no plans)
I encourage you to leave at least one or two weeks of your summer fun plans open.
You may think of a super cool theme that you want to add.
Or you may have the opportunity to travel or go on a field trip.
Or maybe you want to extend the fun you're having from one week to the next?
Building in that space is a nice buffer to keep your summer fun plans relaxed.
5. Mix fun into your planning
Planning doesn't have to be boring!
Between chats about summer fun themes, give your kids some summer-themed coloring pages.
Create a summer fun bucket list (or highlight ideas on the one included in this free fun summer activities for kids pack).
Go outside and do your summer fun planning in the fresh air.
What types of fun activities do your families enjoy together? Include them (if appropriate) in your planning session.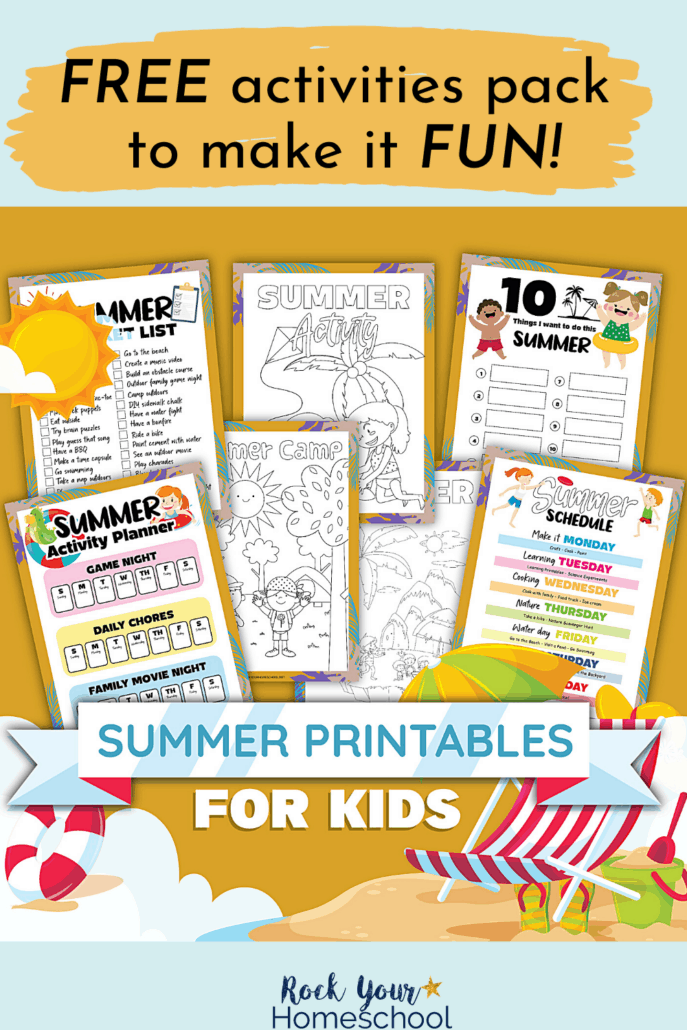 Get Your FREE Fun Summer Activities for Kids Pack
WooHoo! You're on your way to planning and enjoying special fun with your kids this summer.
This FREE pack includes 8 pages to make your summer fun rock, including:
You can print as many copies of these fun summer activities for kids as you need for your family, co-op, library or event. If you have a friend or co-worker who might like to use these activities, please share the link to this post (and not the download). Thanks so much for your cooperation and sharing!
To get this FREE Fun Summer Activities for Kids Pack, all you need to do is subscribe to Rock Your Homeschool.
You'll receive an email with a PDF download, along with a password to open the Subscriber's Library to all RYHS freebies.
Plus, you'll get emails with ideas, resources, and encouragement to make life and learning fun 🙂
(Psst! Current RYHS members just need to access the Subscriber Freebies page and enter the password in your welcome email.)
Get your FREE Fun Summer Activities for Kids Pack by clicking HERE or on the image below.