Simple Ways to Enjoy Summer Poetry for Kids
Summer is the perfect time to enjoy poetry with kids.
You may find yourself with more time to savor special works. Perhaps the heat has driven you indoors and you need a quiet activity? Or maybe you find this time of year the best to bring a stack of books and yummy treats outdoors for a poetry reading?
Embrace the beauties and wonders of summer with your kids using poetry. Use these suggestions to begin (or continue) the marvelous practice of poetry teatime with kids. And grab your free printable pack featuring a Summer Poetry for Kids activity!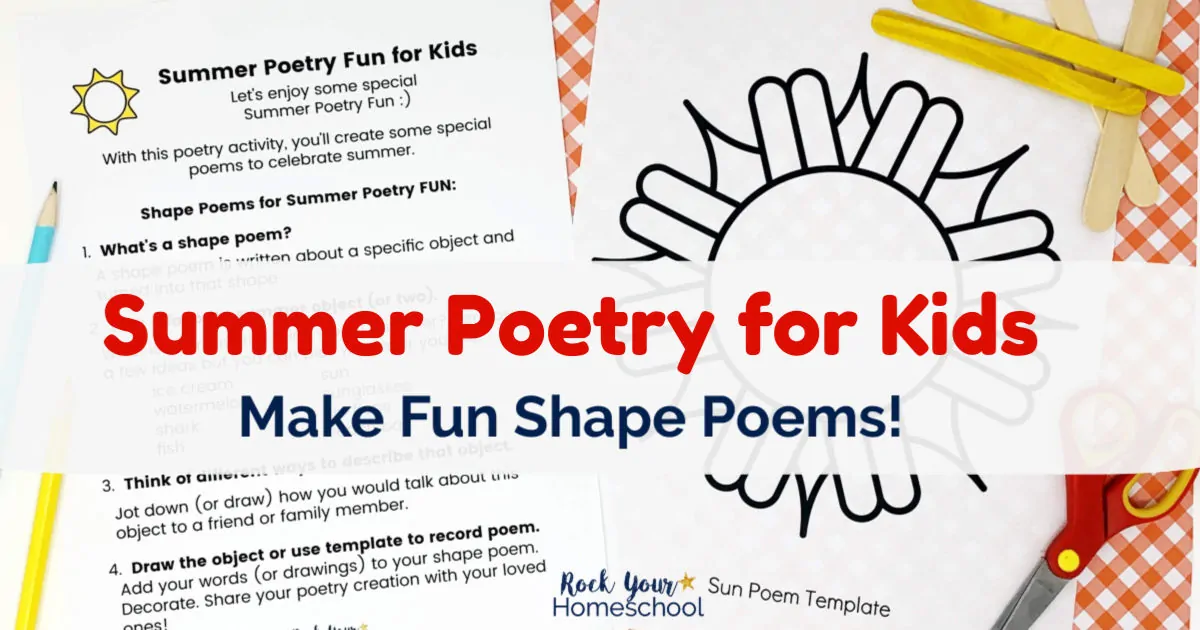 Don't Write Off Poetry for Your Kids!
You never know when your kids will surprise you.
As a #boymom, I assumed that my boys wouldn't be into poetry. That they'd think it was too lovey-dovey or hard to understand.
I'll admit that sometimes I even have a hard time grasping what a poem means! 
The amazing Julie Bogart of Brave Writer showed me that families CAN enjoy poetry together. Your poetry experience doesn't have to be all fancy and froo-froo. It can be a time of connection and exploration of new ideas, old favorites, conversations, and yummy treats 🙂
So, I collected some poetry for kids books and whipped up a batch of brownies. I remember being nervous to announce our first poetry teatime. Would my boys cooperate and pay attention? Or would it turn into a mayhem of mess and moans?
To my utter shock (and delight), my boys absolutely adored our first poetry teatime. And even begged for more!
Now, I look for new ways to enjoy poetry activities with my kids. The boys have gone beyond listening to and reading poems. They've come to appreciate the creative outlet and freedom of writing poems.
So, we look forward to seasonal and fun holiday poetry activities to extend the learning fun with our poetry teatimes.
Easy Ways to Enjoy Summer Poems with Your Kids
My best advice for when you begin your summer poetry activity is to keep it simple. Adults have a tendency to overthink and complicate activities. Your kids don't need perfect or fancy. They just want a special time with you 🙂
Other ways that I keep poetry activities stressfree with my five boys include:
Have all materials ready to go.
Make sure you have enough materials for all participants. 
Print off enough copies for all participants and a few extras just in case 😉
Remind your kids that your poetry experience is all about being creative and expressing self. Leave perfection at the door!
Leave buffer time for your activity. There's nothing worse than trying to rush a creative project!
If you find that you're running out of time, give your kids a 5 or 10-minute warning. Let them know that you'll be returning to the project as soon as possible.
If your kids need more time, work with them to jot down ideas to pick up during their next session. They can review notes and feel less frustration that way.
Some families or classes find it helpful for the adult to participate and demonstrate while the activity is going on. Other families or classes prefer to have the adult prepare a demo prior to the event so the adult can provide help when needed. Think about how your family or class operates best and give that option a try.
Get Your Free Summer Poetry for Kids Activity Pack
Ready for some Summer Poetry Fun? Grab your free printable pack of Summer Poetry for Kids to create special shape poems. In this pack, you'll find:
1 page of introduction to shape poems & tips for activity
6 pages of shape poem templates

Shark
Fish
Glass of lemonade
Watermelon slice
Ice cream cone
Sun
Your kids can use these templates to practice writing their shape poem and for final templates. 
When you look closely at the templates, you may notice that some of the shapes look like popsicle sticks (woodcraft sticks). Your kids can take this poetry activity to the next level with a hands-on project of popsicle stick shape poems!
You can print out as many copies as you need. If you know someone who you think would love these Summer Poetry Teatime Fun activities, please share the link to this post with them 
When you click on the image below to subscribe and join the Rock Your Homeschool community, you'll receive this printable pack in a PDF download in an email, along with a super-secret password that opens the library to all RYHS freebies.
In addition to your freebies, you'll be added to our email list and I'll update you with ways to make learning and life fun!
(Psst! Current RYHS members just need to access the Subscriber Freebies page and enter the password in your welcome email. Or get the instant download in the email the week of this post)
Click HERE or on the image below to subscribe and get your Free Summer Poetry for Kids Activities!
How will you enjoy these Summer Poetry Fun activities with your kids?
Have you tried Poetry Teatime with your kids?
Poetry teatime is such a delightful experience that you can enjoy with your kids. It might seem overwhelming but you can create a relaxed atmosphere where you can all learn and grow together.
In fact, I love it so much that I've partnered with my dear friend, Dachelle from Hide the Chocolate, to bring you Poetry Teatime~Holiday Edition.
If you're new to poetry teatime, or just need a bit of help to get it going, this resource is perfect! We present you with simple yet creative ways to make poetry teatime happen with your kids. And to make it even more special, we're focusing on special holidays or seasons each month to celebrate