This Teatime Planner has been extremely helpful for me to schedule and organize successful teatimes.  Poetry teatime is one of the highlights of our week.  This special time has now branched into other subject areas to extend the learning fun and engagement.
I created the Teatime Planner because I found myself unprepared for several teatimes.  I had no special treat nor plan of attack.  With 5 boys, our busy homeschool thrives on preparedness!
Sure, grabbing the nearest snack and opening to random poems worked.  I shared a few of our favorite poetry book titles over at iHomeschool Network blog.  My boys enjoyed listening to and discussing the wide variety of poems.
But, I felt a disconnect, an awkwardness that did not sit well.
I knew that we could rock our homeschool teatime.  I believed we could incorporate our enthusiastic love of learning into a more complete experience.  In order to make that happen, I would need to get organized.
The planner world has been a delightful way for me to have a creative outlet while benefiting my family.  Piecing together ideas and activities, I have been more productive, focused, and happy.  I was going to make a Teatime Planner, by Jove!
Teatime Planner
My boys eagerly anticipate our Poetry Teatime events.  I thought it would be fun to have them contribute their ideas and hopes for themed teatimes.
I placed our Teatime Planner (you can get your free download below) on a clipboard.  After a few poems were read and discussed, we started brainstorming the types of poems to explore, as well as themes and fun extras.
Nature study and science have been two hot topics in our homeschool.  I was not surprised when Bear, our budding entymologist, requested insects.  Professor and Smiley have been doing a bit of bird watching and asked to hear poems about birds.  Captain, our pet manager (puppy, cockatiel, Betta fish, and crested gecko), agreed that reading poems about animals would be cool.  Bear also requested Nursery Rhymes, one of his forever favorite themes.
I jotted down their ideas.  Later, I went through a few of our poetry books and recorded their pages for quick reference.  (Always helpful with out toddler tornado, Xman!)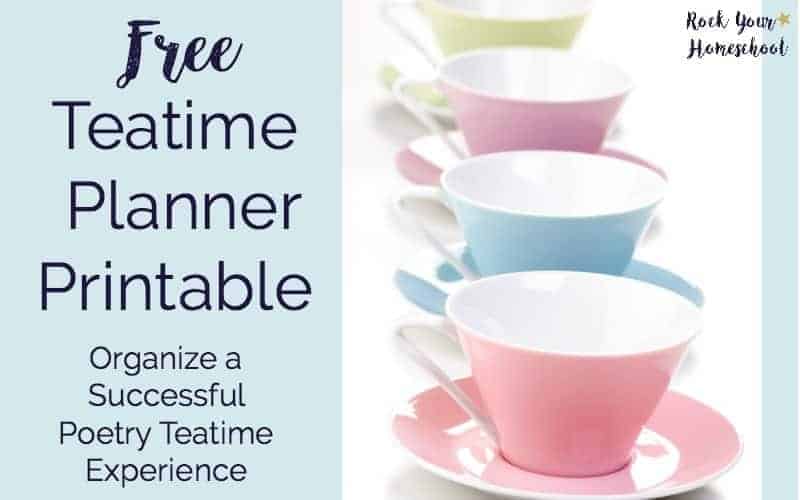 Excellent Resource To Add To Your Teatime Planner
Our family has been so blessed by the work of Julie Bogart and her Brave Writer team.  I feel like I have finally found peace in my homeschooling approach.  We have used The Wand and The Arrow  (updated:  We love it all!) with brilliant success and satisfaction.
I did a happy dance when I found out that Julie and Brave Writer writing coach, Nancy Graham, collaborated to bring us Poetry Teatime Companion: A Brave Writer Sampler of British and American Poems.  This resource is #1 in our poetry resource section!
To get your FREE download of our Teatime Planner, subscribe to Rock Your Homeschool!  This simple planner is in black and white.  I like to add my own decorations through coloring or stickers (when time permits).
What do you do to ensure successful Homeschool Teatimes?
This post is part of an iHomeschool Network link-up.
Click on image below to find more great resources for homeschool planners.