Easily extend the learning fun with The Wizard of Oz! This free printable pack contains fun activities for your kids to enjoy. Find out more and get started with Wizard of Oz fun today.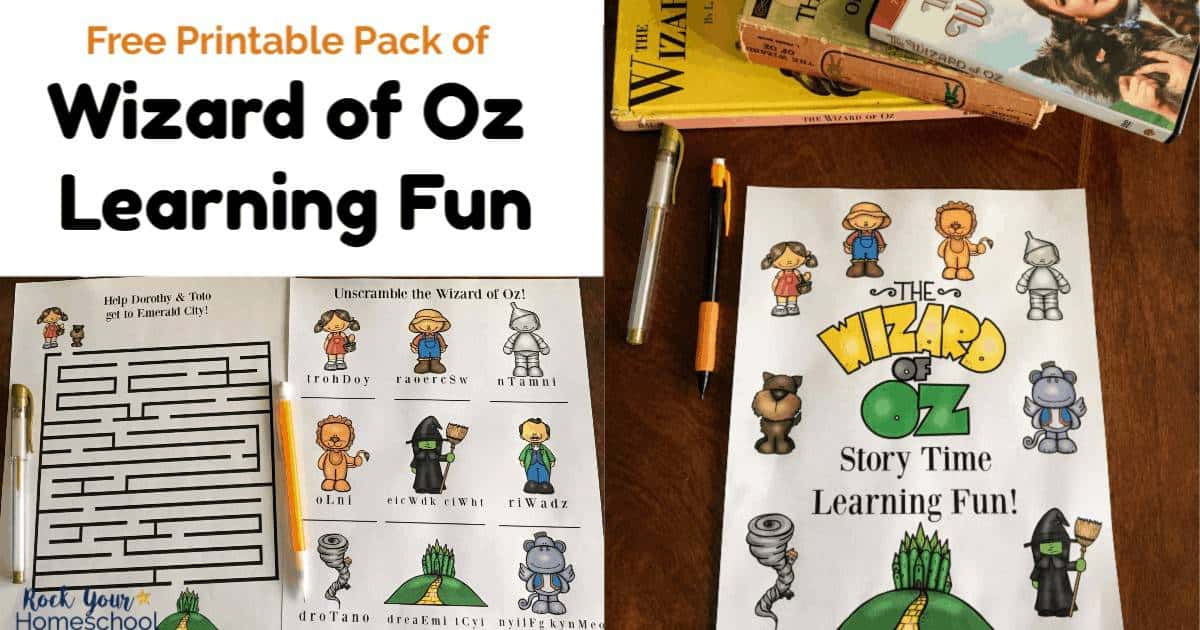 Why We Plan to Enjoy The Wizard of Oz
The Wizard of Oz is a timeless treasure.  My first love of this tale came at an early age when I happened to catch the replay of the movie on T.V.  As I grew older, I read the book and continued to revisit this movie. I knew that I'd enjoy sharing this gem with my children.
One day while browsing our local library's resale shop, I was lucky to discover a double book (The Wizard of Oz on one end and The Jungle Book on the flip side) for only ten cents!  Two classics for a dime!  That book (along with three other similar styles) was quickly deposited into my bag.
I placed this book on one of our bookshelves with the thought of using it for a read-aloud very soon.  Well, like most things on my absent-minded professor-like desk and bookcases, it got buried under papers, "treasures", and other books.
A few months later, my boys and I were chatting one day about favorite books that were turned into movies.  Naturally, I brought up The Wizard of Oz.  
The boys reminded me that we still hadn't read the book nor watched the movie. Oh my stars! I couldn't let such a lapse in our learning transpire any longer!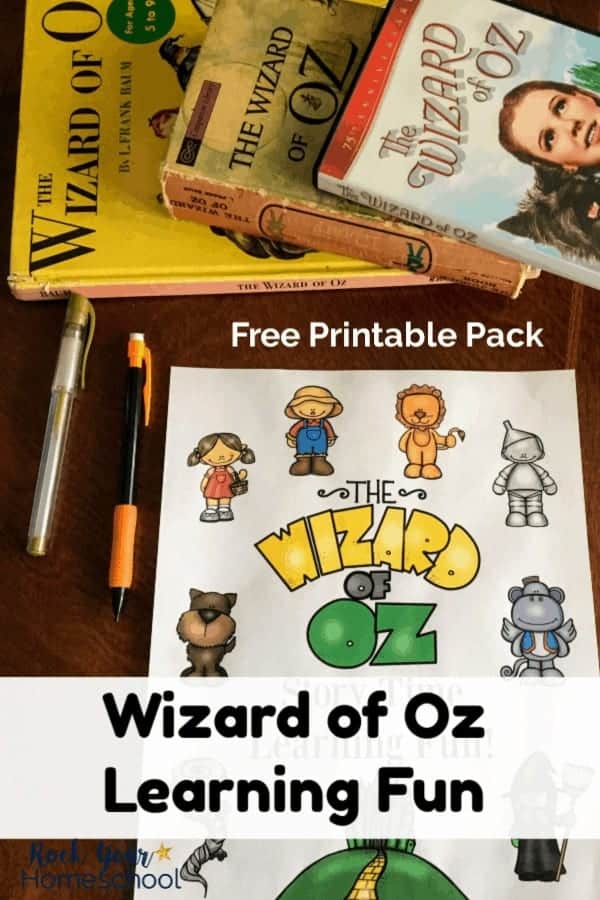 Learning Fun With The Wizard of Oz
I added The Wizard of Oz to the top of our read-aloud list.  As soon as we finished our prior read aloud, we cracked open our book (a bit musty but well-loved) and dug in.  The boys and I soon became lost in the story, following Dorothy and her pals as they learn about each other and themselves.
I created this printable pack for Wizard of Oz Learning Fun to help us extend our time with this wonderful story and its characters.
In this free printable pack, you'll find:
1 page of characters & objects from the story.  We use these as part of our read-aloud time by cutting each out and gluing to popsicle sticks.  Other options include laminating and adding velcro or magnets to use for storytime boards.
1 page of Wizard of Oz Word Scramble
4 pages of coloring fun. There are four blocks per page that can be used to form a mini-book.
1 page for a fun Wizard of Oz maze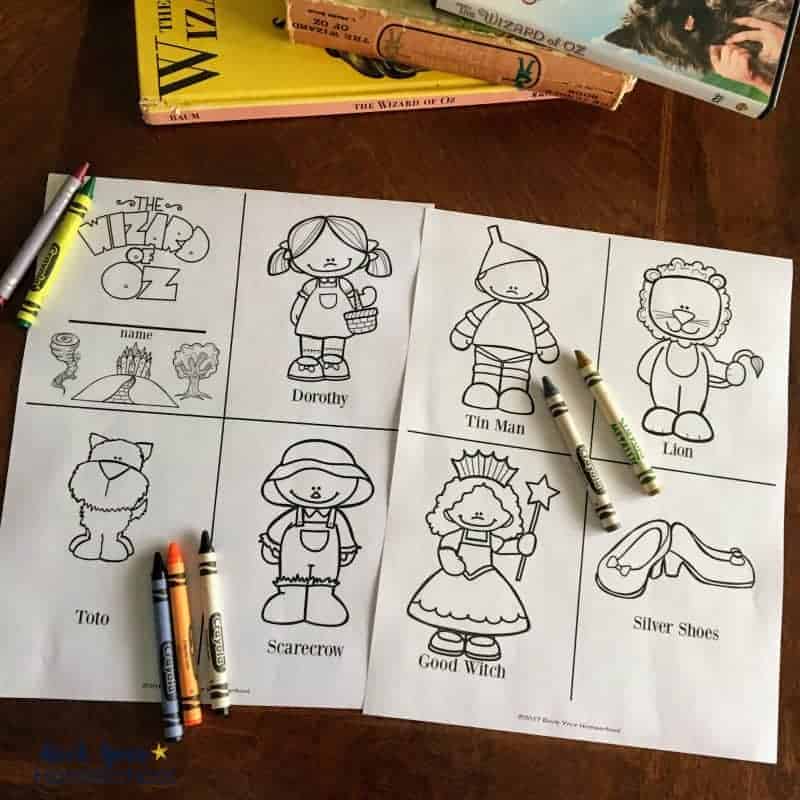 These printable activities are fabulous for:
Classroom Fun
Library Events
Homeschool Co-Op
Homeschool Fun
Family Fun
Wizard of Oz-themed party
You can print out as many copies as you need. If you have a friend or co-worker who you think would enjoy this free printable activity, please share the link to this post with them 🙂
When you join the Rock Your Homeschool community, you'll receive this printable pack in a PDF download in an email, along with a super-secret password that opens the library to all RYHS freebies.
In addition to your freebies, you'll be added to our email list and I'll update you with ways to make life and learning fun.
(Psst!  Current RYHS members just need to access the Subscriber Freebies page and enter the password in your welcome email.  Or get the instant download in the email the week of this post)
Click HERE or on the image below to subscribe and get started with this free Wizard of Oz Learning Fun pack  -OR- you can purchase it at Teachers Pay Teachers HERE!
What are other ways that you like to extend the learning fun with The Wizard of Oz with your kids?
Let me know in the comments area below 🙂