Free Star Wars-Inspired Bingo Game for Fantastic Fun
Have a blast with this Star Wars-Inspired Bingo Game!
This free printable pack has all you need for a fun S-P-A-C-E game with your Star Wars fans.
You'll love having this bingo game for your Star Wars party, rainy day fun, or anytime you want to enjoy an easy activity with your family and friend. Get your free set today!
Stellar Star Wars Fun for All Ages
If you have family and friends who love #allthingsStarWars, you're going to want to check out this bingo game.
My hubby and boys are Star Wars geeks (I say that with the utmost love!).
They love to sit around and chat about nittty-gritty Star Wars details. I enjoy watching the movies but they dive deep. They get such a kick out of challenging each other with trivia questions and talking about characters, weapons, and plots.
Over the years, I've shared a variety of resources with Star Wars themes (especially to celebrate Star Wars Day). The looks of surprise and delight on my Star Wars fans' faces is so worth it 🙂
In case you haven't had a chance to grab these free printables, take a look on our Star Wars-Inspired Fun page:
As I was going through our resources, I couldn't believe that I hadn't made a bingo game yet. Bingo is one of our favorite interactive games for our homeschool and family. I was super excited to share this new Star Wars-Inspired activity with my boys.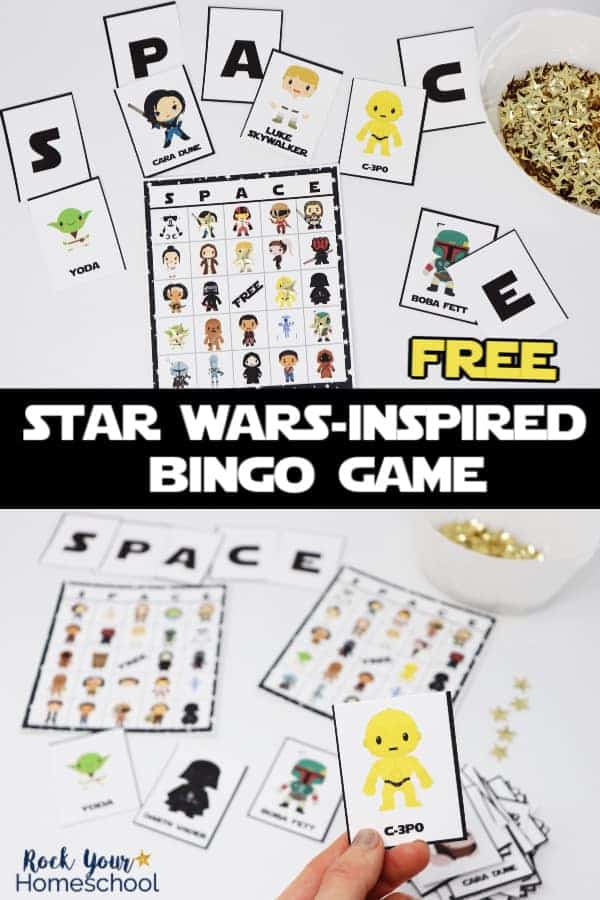 Easy Ways to Boost the Fun with This Star Wars-Inspired Bingo Game
My #1 tip for getting the most out of this Star Wars-Inspired bingo game is to print it out on white cardstock paper. This type of paper makes the game durable and easier to use.
If you really want to make this game durable, laminate the pages after you print on cardstock. Your new bingo game will last a long time this way 🙂 (Don't have a laminator? No worries! You can use self-sealing laminating pouches to get the job done.)
You can add a few simple extras that supercharge the fun with this printable game. Here are a few ideas:
Use fun bingo markers. I found a pack of gold stars at our local dollar store. Mini-erasers, candy pieces, and coins are other cool ways to mark your bingo card.
If you laminate your bingo cards, use stickers or small pieces of washi tape that you can peel off and use again.
Have small prizes for your winners. These awards can have Star Wars themes or be DIY coupons for extra screentime or board game fun.
Play music with Star Wars themes in the background.
Amp up the fun with Star Wars trivia questions between calls or games.
Enjoy a yummy Star Wars-themed snack as you play the game.
Disney Star Wars Stampers Party Favors 10 Pcs Set
Lucas Films Star Wars Puzzle Erasers Set Includes 4 Puzzle Erasers
Star Wars Stickers Party Favors ~ Set of 2 Sticker Packs ~ Bundle Includes 18 Sheets over 350 Stickers plus Star Wars Tattoos -Darth Vader, Storm troopers, Chewbacca
Star Wars Reward Stickers – 295 Stickers!
M&M'S Milk Chocolate Candy, 38-Ounce Party Size Bag
SKITTLES Original Fruity Candy 54-Ounce Party Size Bag
Smarties Original: 5 Ounce
Reese's Pieces, Peanut Butter Candy, 48 Ounce
By The Cup Chocolate Gold Coins 2 Pounds
Light Saber Pencils Party Favors, Set for Kids 24 pack of Red and Blue Pencils with 3D Top Gifts Supplies for Star Wars Fan Boys Girls Teen Tween Adult
Star Wars Pencils 12 Count
Star Wars BIC Mechanical Pencil, Medium Point (0.7 mm), 4-Count
Star Wars Birthday Party Favor Bundle includes Loot Bags, Pencils, Tattoos, Stickers, Bounce Balls
Get Your Free Star Wars-Inspired Bingo Game for All Ages
Ready for some Star Wars-Inspired Bingo fun?
This free printable pack contains 24 bingo cards, 22 calling cards, and 3 each of S-P-A-C-E cards.
Includes these Star Wars characters on different cards (Psst! You can print out an extra set for a fun way to enjoy a cool memory game):
Mandalorian
Cara Dune
Greef Karga
Xi'an
Kuill
IG-11
Baby Yoda
Darth Maul
Qui-Gon Jinn
Rey
Finn
Zorii Bliss
Jannah
Han Solo
Chewbacca
Luke Skywalker
Princess Leia
Darth Vader
C-3PO
Obi-Wan Kenobi
Jawa
Boba Fett
Stormtrooper
Ewok
Palpatine
Poe Dameron
Kylo Ren
BB-8
Yoda
R2-D2
These unique bingo cards have a free space and only have images-no words. Also, the characters are cute (not scary!) so this bingo game works well  for all ages. (The calling cards do have the names of the characters.)
You can play this Star Wars Bingo Game however you please. Here are the directions that our family uses:
Print all cards on white cardstock.
Laminate all cards.
Cut out all cards.
Determine what bingo markers to use for the game.
Pick one bingo caller (the person who picks cards and calls out the character and letter.)
Separate cards into two piles. One pile has the character cards. The other pile of cards contains the letters.
Bingo caller selects one card from each pile. For example, the combination of "Baby Yoda" and "S" may be called.
If a player has this match, bingo marker is placed.
Repeat steps 7 and 8 until S-P-A-C-E (or bingo) is completed.
The first one to make S-P-A-C-E (bingo) is the winner!
Feel free to print out as many copies of this Star Wars-themed bingo game that you need for personal use to enjoy with your family, class, homeschool co-op, and friends. If you know of a co-worker who you think would have fun with this game with their Star Wars fans, please share this post. Thanks so much 🙂

When you join the Rock Your Homeschool community, you'll receive this printable activity in a PDF file in an email, in addition to a password to unlock the freebies in our Subscriber's Library.
You'll also get emails with ideas and encouragement to with creative and easy ways to make learning life and fun.
Already a RYHS subscriber? You just need to access the Subscriber Freebies page and enter the password in your welcome email. If you have any questions, please contact Amy at rockyourhomeschool@gmail.com)
Get your FREE Star Wars-Inspired Bingo Game by tapping HERE or on the image below to subscribe and get your printable activity!