Memorial Day Word Search for a Fun Holiday Activity for Kids (Free)
This free printable Memorial Day word search is an amazing way to enjoy super holiday fun with kids.
This simple activity can be used in a variety of ways to boost your celebration as you have learning fun.
Get creative ideas for using this free printable word search with Memorial Day themes so you can make the most of this special day with your kids.
An Easy Way to Enjoy Memorial Day with Kids
If you're looking for a print-and-go way to celebrate Memorial Day with kids, this free word search is a wonderful choice. It's an easy and excellent way to boost your holiday celebration.
Memorial Day (the last Monday of May in the United States) is a magnificent time of year. The days are longer and the weather is usually warm. If you're still in school (or homeschool), you typically get long holiday weekend.
Over the years, I've had each of my boys ask me about Memorial Day – what it is and why we celebrate it as a national holiday. When my youngest recently asked me about this holiday, I knew that I wanted a simple printable activity, like a word search, to kick off our conversation and learning fun.
That's why I've created and shared this free printable Memorial Day word search!
Learn All About This Memorial Day Word Search
This free printable Memorial Day word search includes 3 pages. The first page in the pack is the word search activity and the middle page is the answer key. The last page contains terms of use.
The list of words (20) with Memorial Days themes that your kids will search for include:
Celebration
Barbecue
Ceremony
National
Military
Freedom
Liberty
Stripes
Patriot
Holiday
America
Service
Parade
Banner
Brave
Glory
Stars
Honor
Flag
Hero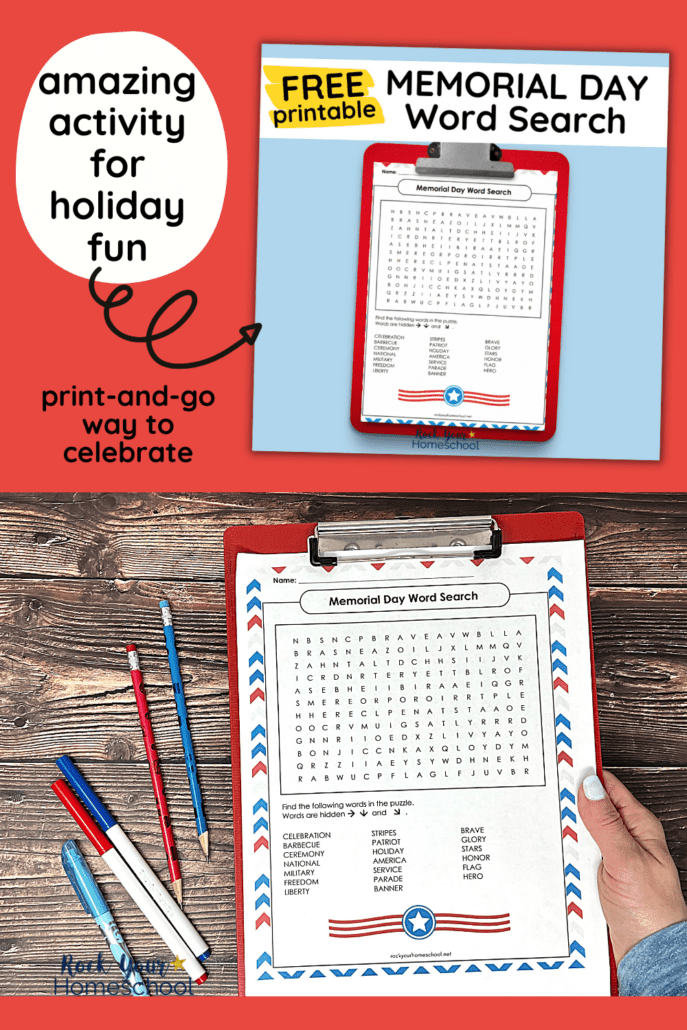 Fun Ideas for Taking This Word Search for Kids to the Next Level
Think these free Memorial Day word search printables look boring? Well, good news! You can boost the learning fun of these activities with these ideas:
Make fun writing tools available for your kids to use to complete this Memorial Day worksheet. Erasable pens, highlighters, and color pencils are big hits in our home.
Have some holiday-themed spelling fun! Use the 20 words as spelling words for the week.
While you're having all that spelling fun, your kids can use a dictionary and get in some vocabulary practice by writing down the definitions, too.
Turn over the word search and use the back of the printable page to write sentences, doodle, and other DIY challenges (like crack the code, trivia, and more).
You can also use the back of the paper to add different words that are part of Memorial Day vocabulary words.
Add some patriotic coloring pages to your celebration.
Remarkable Resources for Learning About Memorial Day with Your Kids
Take your Memorial Day learning fun to the next level with books and videos.
You can either use these resources before or after using your word search. Do they like to have an activity to get them excited for more learning? Or do they prefer reading and watching a video before doing an activity? Not sure? No worries! Pick a way and go for it. Then, learn from those experiences and apply it to your next printable activity fun 😉
Here are a few books that are amazing for learning about Memorial Day with kids:
A Day for Rememberin': Inspired by the True Events of the First Memorial Day
Memorial Day (Let's Celebrate)
Memorial Day (Holidays in Rhythm and Rhyme)
Why Do We Celebrate Memorial Day? (Celebrating U.S. Holidays)
What is Memorial Day – Children's Book on Memorial Day, Observe and Celebrate Holidays, Learn about Veterans, Memorial Day for Kids: Armed Forces for Kids, Summer Reading
Get Your Free Printable Memorial Word Search
High five! Your kids will have a blast this Memorial Day fun activity! It's a great way to help your kids learn about the meaning of Memorial Day.
This free printable Memorial Day word search puzzle includes 3 pages (activity, answer key, and terms of use page) in PDF format.
You can print as many of these worksheets as you need for your personal use, family, class, homeschool co-op, or community event. If you have a friend or co-worker who might like to use this type of Memorial Day activity with kids, I merely ask that you please share this post with them. Thanks so much for your cooperation!
To get this free printable Memorial Day word search worksheet, subscribe to Rock Your Homeschool with your email address.
You'll receive an email with a PDF file, along with a password to open the Subscriber's Library to all Rock Your Homeschool freebies.
Plus, you'll get emails with ideas, resources, and encouragement to make life and learning fun 🙂
(If you're a current RYHS member, you just need to access the Subscriber Freebies page and enter the password in your welcome email. If you have any problems or questions, please email Amy at rockyourhomeschool@gmail.com)
Get your FREE Memorial Day Word Search by tapping HERE or on the image below.
Wishing you a Happy Memorial Day! What other types of Memorial Day activities will you be enjoying with your kids? I love to hear about fun ways others are celebrating this important holiday 🇺🇸
More Fun & Free Printable Word Searches for Kids