Free Dictionary Fun Activities that Kids Will Love
Enjoy dictionary fun with your kids! This free printable pack for dictionary fun is fantastic for print-and-go learning fun.
Find out how to use these free printables in your homeschool, classroom, and family. Teach your kids valuable dictionary skills that can help them improve their reading and writing. Most importantly, connect with your kids as you enjoy these dictionary challenges.
Did you know that October 16 is National Dictionary Day?  This free printable pack of dictionary activities for kids is a great way to celebrate this special fun day-or have learning fun any day!
Great Ways to Use These Free Dictionary Printable Activities
Enjoy these dictionary activities for kids in your homeschool, class, or family. You can use them to boost learning or just have a great time with these challenges.
For homeschool or classroom use, consider adding these activities to your morning time. You could choose to do these activities on October 16 (National Dictionary Day) or any day of the year that you want to help kids enjoy exploring their dictionaries.
In your family, set aside time in the morning or evening for these dictionary printables. You could spread these activities out over a few days or chunk them into a dictionary fun extravaganza.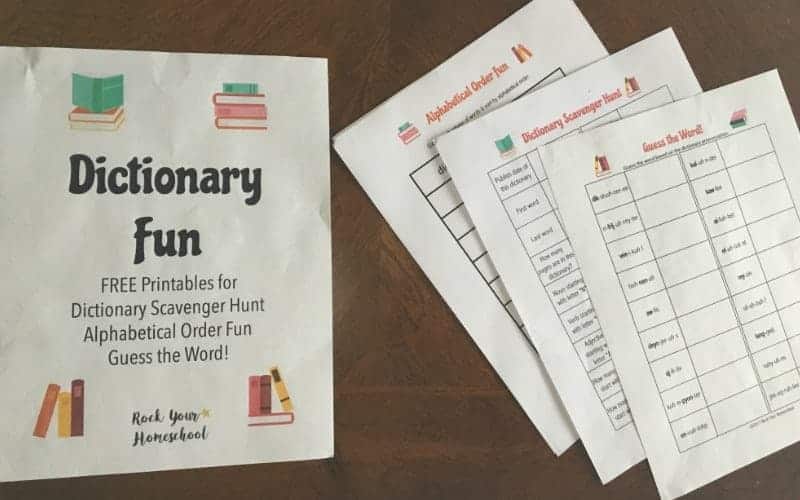 Free Printables for Dictionary Activities for Kids
This free printable pack of dictionary activities includes:
Dictionary Scavenger Hunt
Alphabetical Order Fun (one easy page, one page that is more challenging)
Guess the Word! (based on pronunciation guide-with an answer sheet)
These learning fun dictionary printables could be used on an individual basis or in small groups.
To get your free printable pack of these dictionary activities, simply subscribe to Rock Your Homeschool community.
You will receive this printable pack in a PDF file in an email, along with a super-secret password that opens the vault to all RYHS freebies.
In addition to your freebies, you'll get emails with easy and creative ways to make life and learning fun 🙂
(Psst! Current RYHS members just need to access the Subscriber Freebies page and enter the password in your welcome email. Or get the instant download in the email the week of this post.)
Tap HERE or on the image below to subscribe and get started with dictionary activities that kids will love!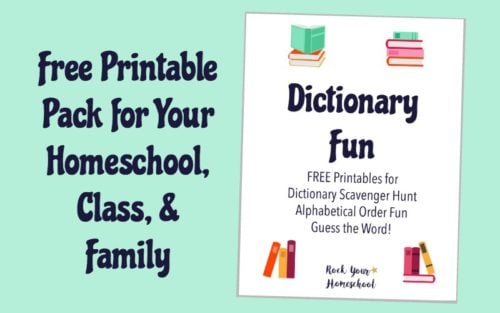 What are some other ways you like to enjoy Dictionary Fun with your Kids?
Share your ideas in the comments area below 🙂