Free 4th of July Coloring Pages for Easy Holiday Fun with Kids
Make your holiday celebration fun with kids using these free 4th of July Coloring Pages!
Check out these ideas on using these coloring activities and grab your instant download (click & print).
Easy Patriotic Fun for Kids!
If you're looking for an easy way to make this patriotic holiday special, these free coloring pages with Fourth of July themes will help you have a blast with kids! Wonderful activities to keep the kiddos busy while all that BBQing and celebrating are going on 😉
My boys are super excited to have these super cool coloring pages in their arsenal of summer activities. They love making special "creations" to use for our family holiday celebrations.
So, we get out the Kwik Stix, crayons, and markers. And look out! The chitter-chatter echoes throughout our dining room/homeschool area as they are immersed in a serious discussion on what colors to select and how they will use these art supplies to make "magic happen". Smiley can be a bit dramatic when it comes to anything art;)

4th of July Coloring Pages for Easy Holiday Fun
These free coloring pages activities with Fourth of July themes are awesome ways to involve your kids in holiday prep and celebration.
If your kids are like mine, they're bouncing off the walls in pre-holiday excitement.
I've found that it can be extremely helpful to have some easy activities on hand to channel all that energy.
*Oh, and if you like these 4th of July coloring pages, you've got to check out this FREE 4th of July Word Search!
My boys came up with some fun ways you can use these coloring pages to boost your 4th of July celebration:
coloring fun
posters for DIY holiday decor
cut out and glue onto large wood craft sticks
cut out and glue onto cards for friends & family
color and tape onto your brother's back to be goofy That's Smiley's idea. He advises "extreme caution" with that one.
play patriotic music in the background
use creative coloring utensils (like Kwik Stix, watercolor paints, etc.)
add stickers or washi tape to your coloring pages

Get Your FREE 4th of July Coloring Pages!
To get your free printable pack of coloring page activities with Fourth of July themes, click on the image below for your instant download.
Includes 2 full coloring sheets + 7 half sheet (total of 16 coloring options!).
Want more fabulous ways to keep the fun going with our kids? Subscribe to Rock Your Homeschool! You'll receive weekly emails with ways to boost your homeschool, instant downloads to all new freebies, and a super-secret password to unlock all RYHS freebies.
How will you use these 4th of July Coloring Pages to celebrate the holiday with kids?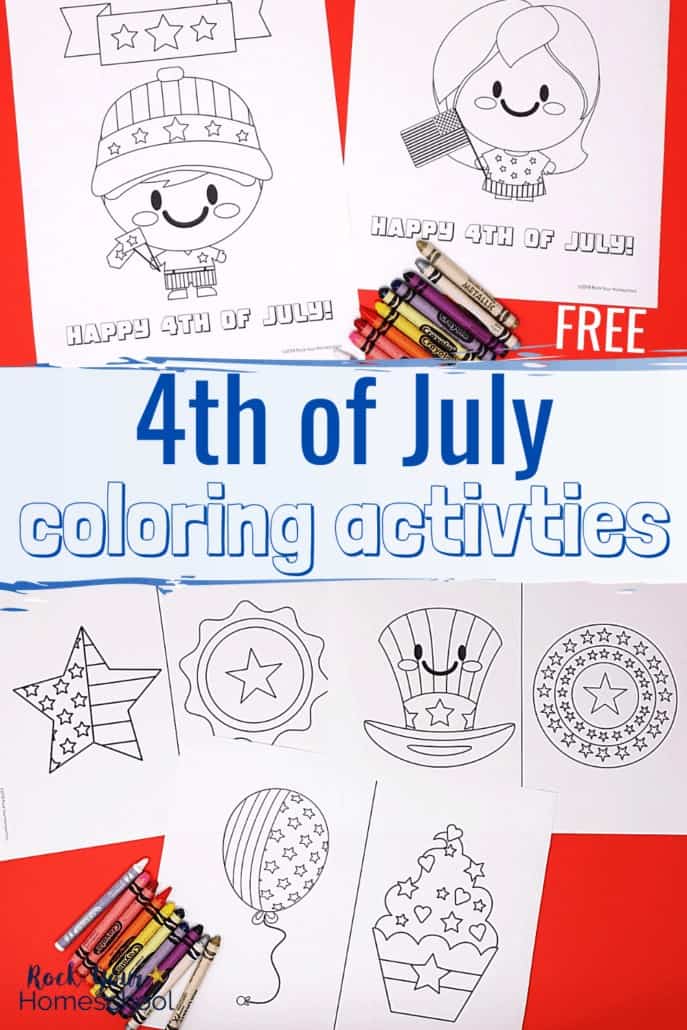 Add 4th of July Coloring Pages to This Fun Mini-Unit Study
Oh, and please check out our NEW Fourth of July Fun Mini-Unit Study! I wanted to have an extra special celebration this year with my boys. After so much extra time at home, I'm trying to pump up our holiday fun.
This Fourth of July Fun Mini-Unit Study can be completed in one day or over a week with a relaxed approach. It includes:
An introduction to fun mini-unit studies
Fourth of July facts, symbols, & fun mini-unit study checklists
Customizable Fourth of July Fun Mini-Unit Study planning page
Recommended resources
A special Fourth of July Poetry Teatime (including suggested holiday poems, decorations, snacks, and drinks)
Fourth of July Writing/Drawing Prompts
Fourth of July Vocabulary + Spelling
Fourth of July Copywork
Fun Project for Fourth of July
Recording page of your Fourth of July activities (for portfolio or memory book)
2 types of triangle-shaped banners for DIY holiday decor