Father's Day Word Search for a Fun Activity for Kids (Free)
This Father's Day word search is a fantastic print-and-go way to help your kids celebrate this special day.
This simple activity can be used in so many ways to boost your celebration and have learning fun.
Get incredible ideas for using this free printable word search with Father's Day themes and find out how to get your activity today!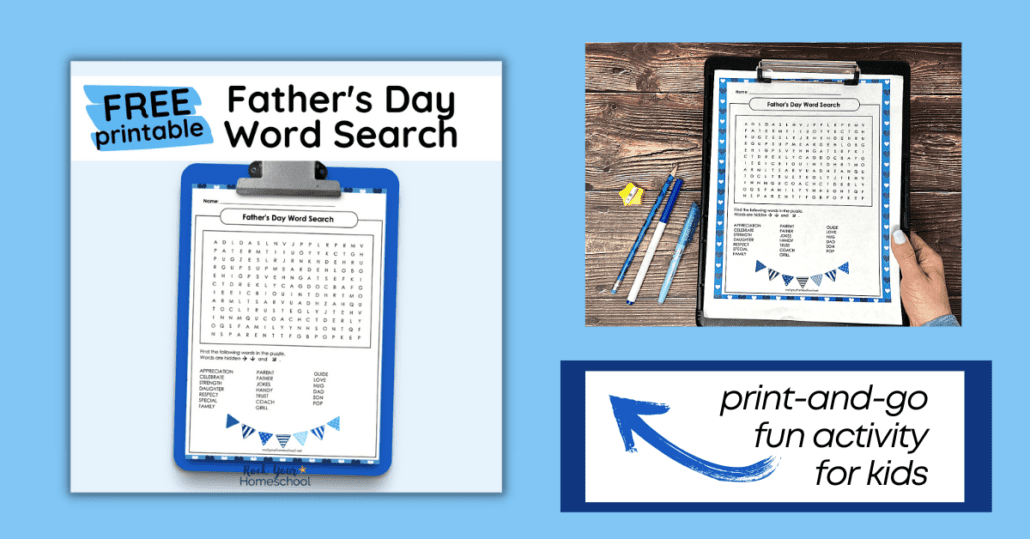 Fun Way for Your Kids Celebrate Father's Day
Looking for a simple, print-and-go way to enjoy Father's Day with kids? This free word search is a perfect pick. It's an easy activity that can truly boost your holiday celebration.
Father's Day (the third Sunday in the month of June) has an interesting history. And if your kids are like my boys, they have quite a few questions about how it came about and why we celebrate it today.
Over the years, my boys and I have celebrated Father's Day in a variety of ways (like with a poetry teatime and fun 3D cards).
This year, I wanted to add to our Father's Day fun so I created and shared this free printable Father's Day word search !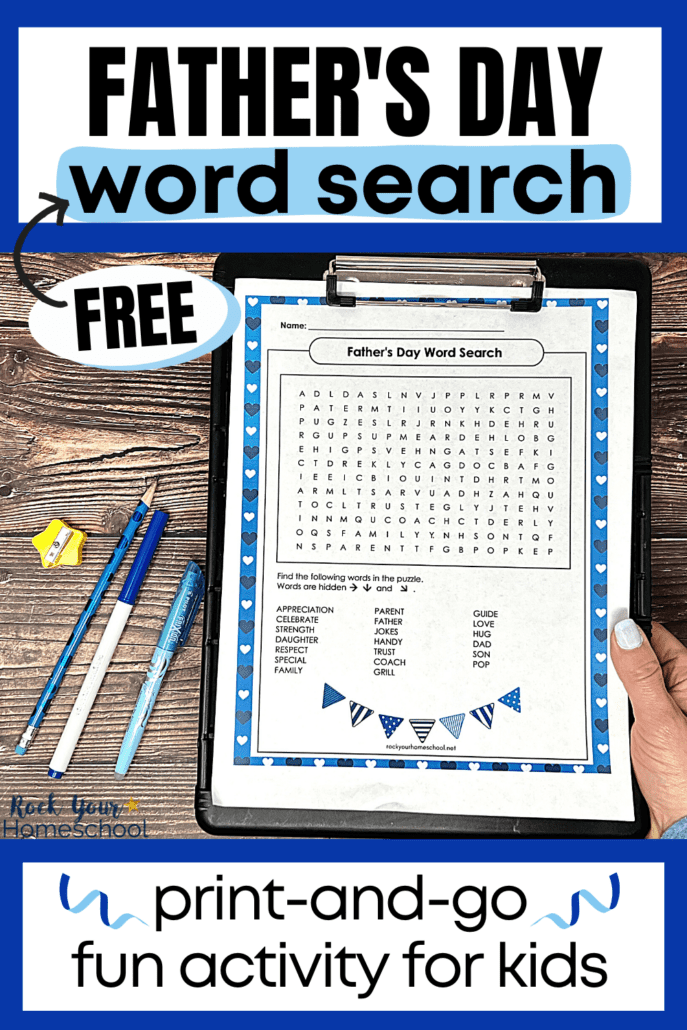 Learn All About This Father's Day Word Search
This free printable Father's Day word search includes 3 pages. The first page in this printable pack is the word search activity and the middle page is the answer key. The last page contains terms of use.
The word list (20) with Father's Day themes that your kids will search for and find include:
Appreciation
Celebrate
Strength
Daughter
Respect
Special
Family
Parent
Father
Jokes
Handy
Trust
Coach
Grill
Guide
Love
Hug
Dad
Son
Pop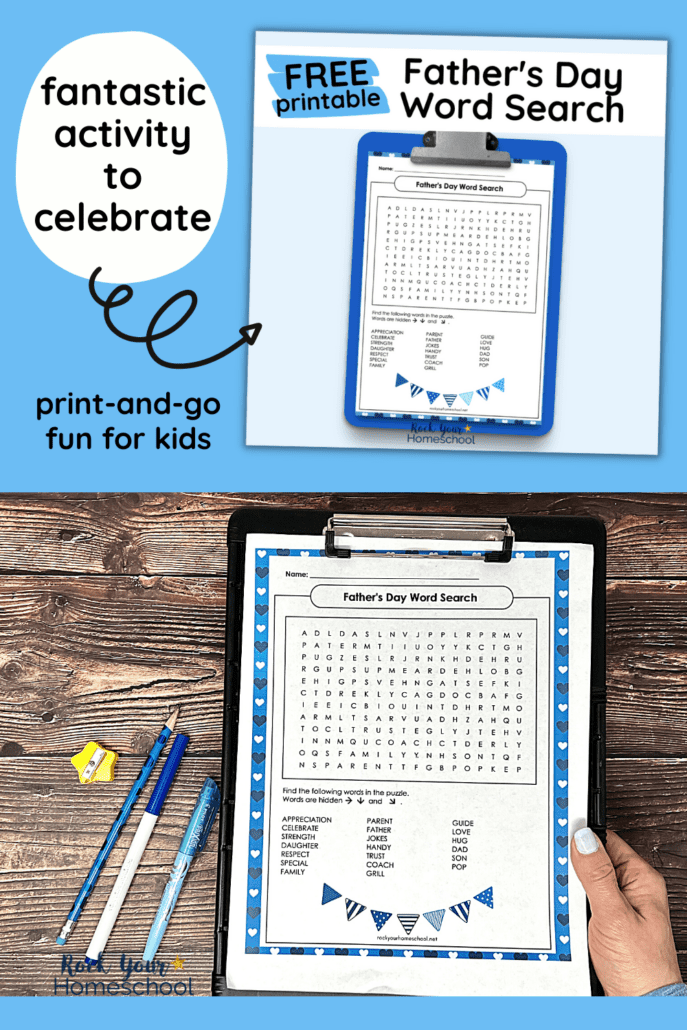 Cool Ideas for Boosting the Fun with This Word Search
Think word search activities seem boring? Well, no worries! You can take the learning fun of these activities to the next level with these ideas:
Provide a variety of fun writing tools for your kids to use to complete this Father's Day worksheet. Erasable pens, highlighters, and color pencils are huge hits in our home.
Enjoy some holiday-themed spelling fun! Use the 20 words as spelling words for the week.
In addition to all that spelling fun, your kids can use a dictionary and get in some vocabulary practice by writing down the definitions, too.
Flip over the word search and use the back of the printable page to write sentences, doodle, and other DIY challenges (like crack the code, trivia, and more).
You can also use the back of the paper to add different words that are part of Father's Day vocabulary.
Resources for Helping Your Kids Learn About Father's Day
A few simple resources, like books and videos, can make it much easier to explain the history of Father's Day to your kids.
You may want to use these resources before or after enjoying your word search. Do your kids like to have an activity to get them excited for more learning? Or do they prefer reading and watching a video before an activity? Not sure? No problem! Pick a way and just go for it 😉
Here are a few books that are amazing for learning about and enjoying Father's Day with kids:
Dr. Seuss's I Love Pop!: A Celebration of Dads (Dr. Seuss's Gift Books)
I Love Dad with The Very Hungry Caterpillar (The World of Eric Carle)
How to Catch a Daddysaurus
I Love You, Daddy: A Tale of Encouragement and Parental Love between a Father and his Child, Picture Book
Just Me and My Dad (Little Critter)
Get Your Free Printable Father's Day Word Search
Sweet! Your kids will have a blast this Father's Day fun activity!
This free fun Father's Day word search includes 3 pages (activity, answer key, and terms of use page) in PDF format.
You can print as many of these word searches as you need for your personal use, family, classroom use, homeschool co-op, or community event. If you have a friend or co-worker who might like to use this type of Father's Day activity with kids, I simply ask that you share this post with them. Thanks so much for your cooperation!
To get this free printable Father's Day word search puzzle, subscribe to Rock Your Homeschool with your email address.
You'll receive an email with a PDF file, along with a password to open the Subscriber's Library to all Rock Your Homeschool freebies.
Plus, you'll get emails with ideas, resources, and encouragement to make life and learning fun 🙂
(If you're a current RYHS member, you just need to access the Subscriber Freebies page and enter the password in your welcome email. If you have any problems or questions, please email Amy at rockyourhomeschool@gmail.com)
Get your FREE Father's Day Word Search by tapping HERE or on the image below.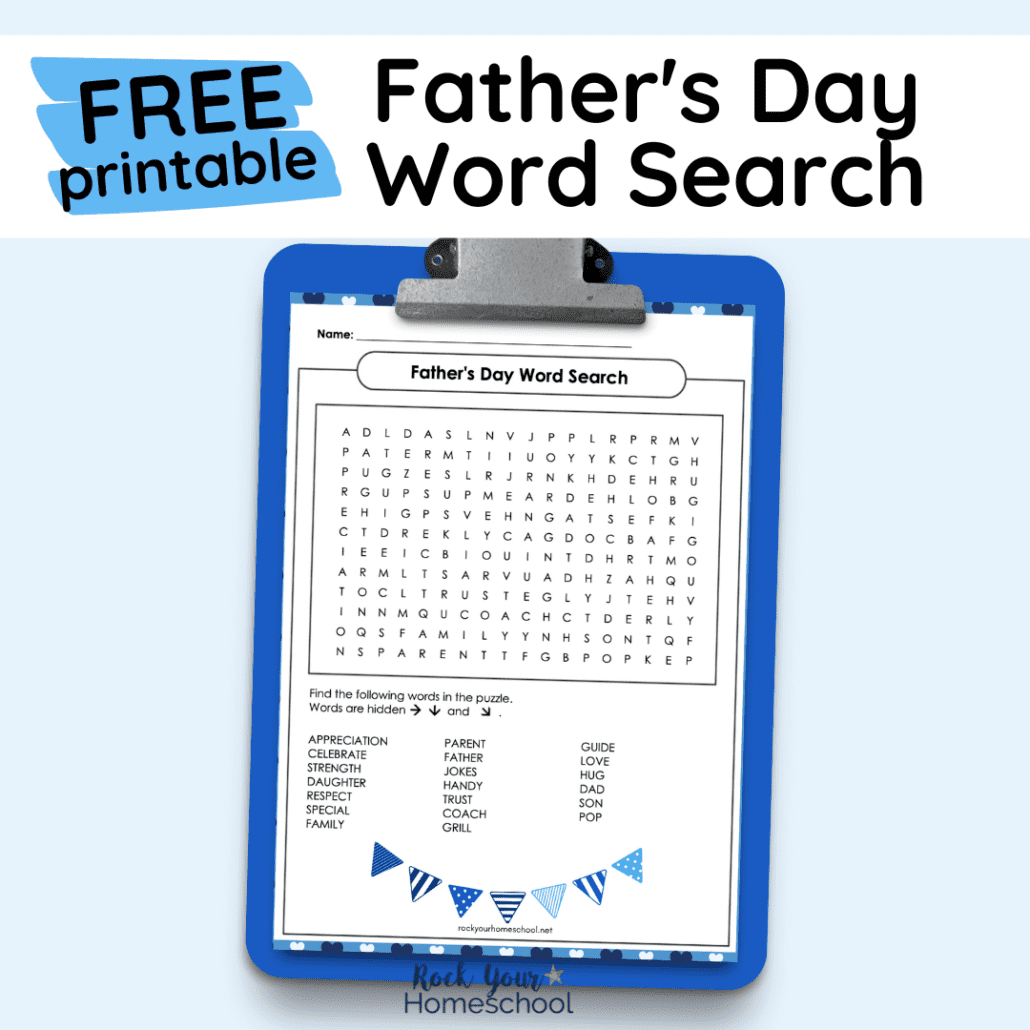 More Fun & Free Father's Day Activities for Kids