4 Free Multiplication Coloring Worksheets for Excellent Math Fun
Make math super fun with these 4 free multiplication coloring worksheets!
If your kids could use some extra practice with their multiplication facts, these coloring activities are perfect. With 4 cute themes, these Color by Product pages are awesome for creative ways to make multiplication fun.
Check out these free multiplication worksheets with coloring fun activities plus get your FREE set today!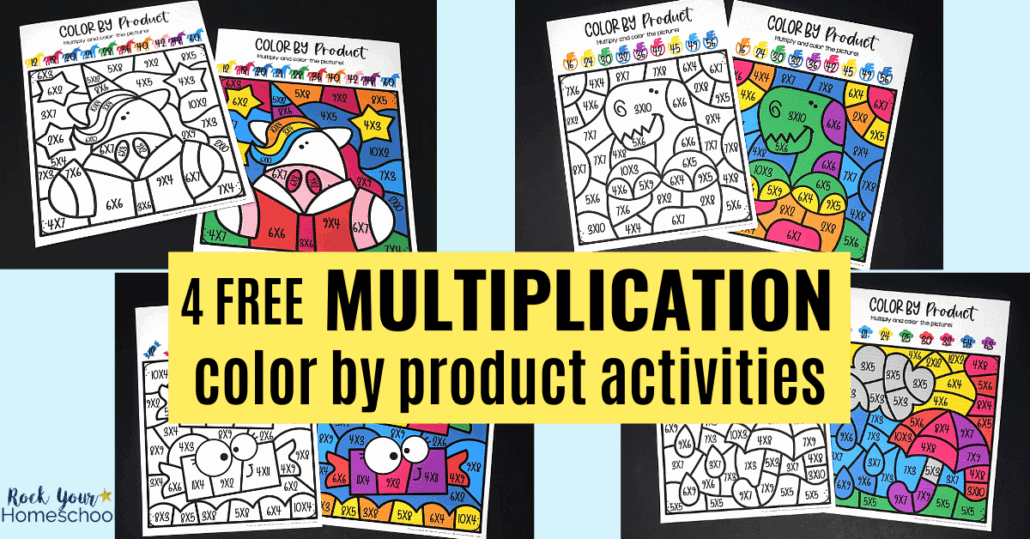 Add Some Color to Learning and Practicing Multiplication
Practicing math facts isn't usually one of the most exciting things in the world.
Or maybe you or your kids are like me, who as a child thought it was absolutely awesome! #mathnerd
Most kids would rather clean toilets or eat broccoli than practice multiplication facts. (Or is that just my boys?)
If your kids are like mine, you've got to come up with cool and creative ways to learn and practice math facts.
Unless you really enjoy those battles over math time with kids 😉
I would much rather make math time (or any learning experience, for that matter) positive and enjoyable, if at all possible.
So, I look for and create activities for math fun. Just like these multiplication coloring worksheets (Color by Product) with 4 awesome themes!
My boys prefer hands-on activities. I need easy-to-use, stress-free options.
The combination of math + art has been a huge hit with my boys (like this set of Mandala Multiplication pages).
These 4 multiplication coloring worksheets (Color by Product) build on that success 🙂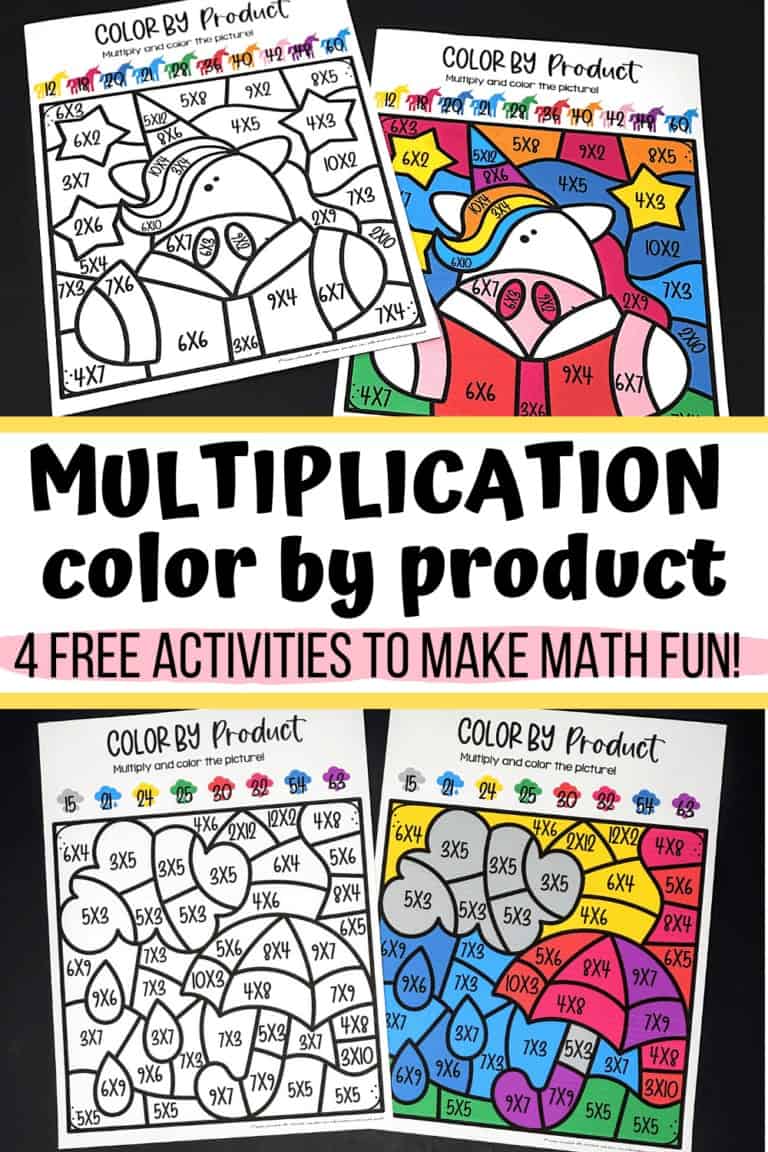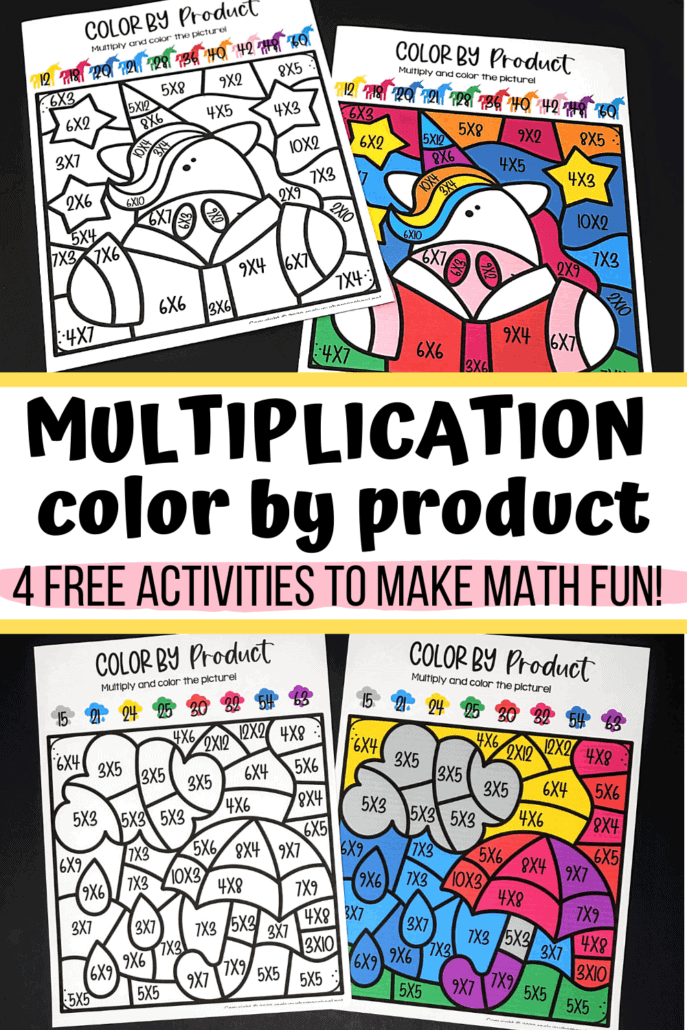 Cool Ways to Boost the Learning Fun with These Multiplication Coloring Worksheets
I share why coloring activities can help boost math fun over on that Mandala Multiplication post.
A few fun ways to make these math worksheets (Color by Product) rock are:
Have your kids arrange these themed multiplication coloring worksheets in order from most interesting to least interesting (or vice versa). Your kids can work on these pages in that order.
Provide your kids with a variety of coloring tools to complete these multiplication facts worksheets, like:

Crayons
Color pencils
Markers
Paints

After your kids have completed these coloring pages, they can jot down the multiplication problems and products on the back.
Your kids can create their own color key, if they prefer their final work to look a bit different.

Get Your FREE Set of Multiplication Coloring Worksheets
Math fun rocks! You're on your way to awesome math fun for your kids 🙂
This free printable (PDF) set includes 4 pages of Color by Product pages (+ 4 answer keys) with themes:
Unicorn reading a book
Cute dinosaur
Rainy day fun
Candy friends
**I tried to include themes that would work for boys, girls, and kids with all sorts of interests. Please let me know if there's a theme your kids would love and I'll work on getting it out A.S.A.P.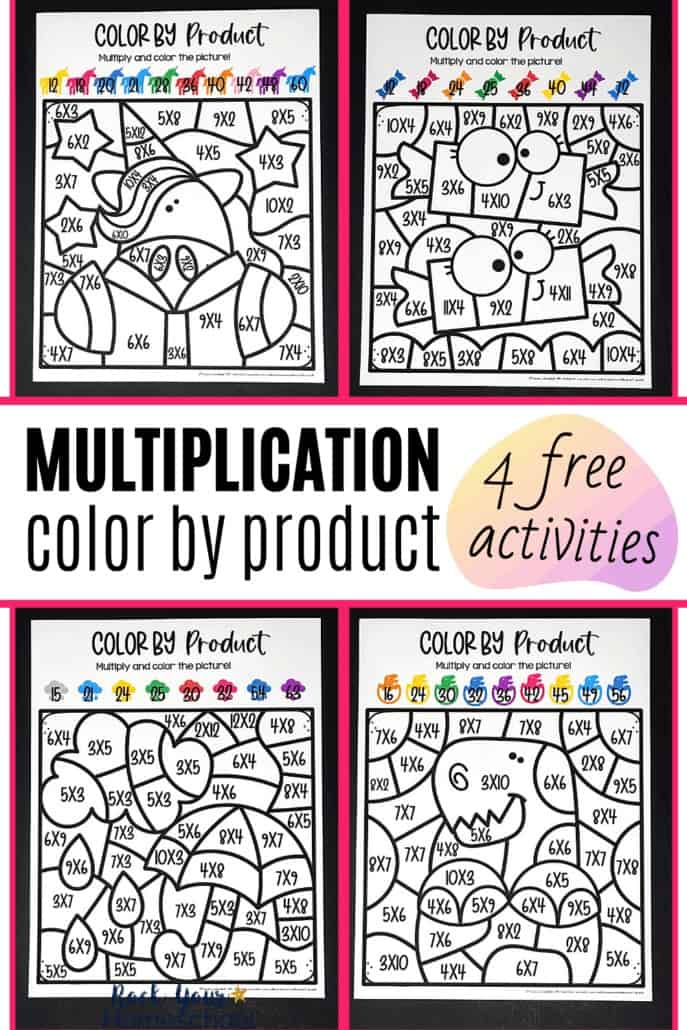 It would be absolutely fantastic if you'd share this activity with your friends, family, or co-workers. If you do, I ask that you please share the link to this post (and NOT to the download). Thanks so much or your cooperation and sharing!
To get this free set of Multiplication Coloring Worksheets (Color by Product), simply subscribe to Rock Your Homeschool.
You'll receive an email with a PDF download, along with a password to open the Subscriber's Library to all RYHS freebies.
Plus, you'll get emails with ideas, resources, and encouragement to make life and learning fun 🙂
(Psst!  Current RYHS members just need to access the Subscriber Freebies page and enter the password in your welcome email.  Or get the instant download in the email the week of this post.)
Get your 4 FREE Multiplication Coloring Worksheets (Color by Product) by clicking HERE or on the image below.