Free Thanksgiving Playdough Mats for Holidays with Kids
Give your kids some hands-on holiday fun with these Thanksgiving playdough mats.
This free set with Thanksgiving themes includes creative prompts for awesome hands-on activities.
Get cool ideas for using these free Thanksgiving printables for kids and find out how to get started today!
Terrific Hands-On Activities for Thanksgiving Fun for Kids
Be ready for a fun holiday celebration with your kids. Prepare a collection of simple Thanksgiving activities that your kids can enjoy.
With an arsenal of Thanksgiving fun resources, your kids will get excited about the holiday and you'll get time to do what you need to (or have a bit of time to relax!).
As a mom to five boys, I've learned that spending some time putting together simple activity packs for the holidays can make the whole experience much more enjoyable and fun for all.
Energy and excitement levels amp up when a holiday rolls around. It's a special time to look forward to and celebrate.
Channel all that enthusiasm into positive activities. Invite your kids to help with holiday preparations. Ask for their suggestions on side dishes or seating arrangements.
And when you need time to work on more complicated tasks (or just a chance to breathe), pull out some fun Thanksgiving activities for your kids to complete.
These free Thanksgiving Playdough Mats are excellent ways to give your kids hands-on fun. These mats can be used again and again (see my tips below). Add these printables to our other Thanksgiving Fun resources and you'll be ready for an amazing holiday with your kids 🙂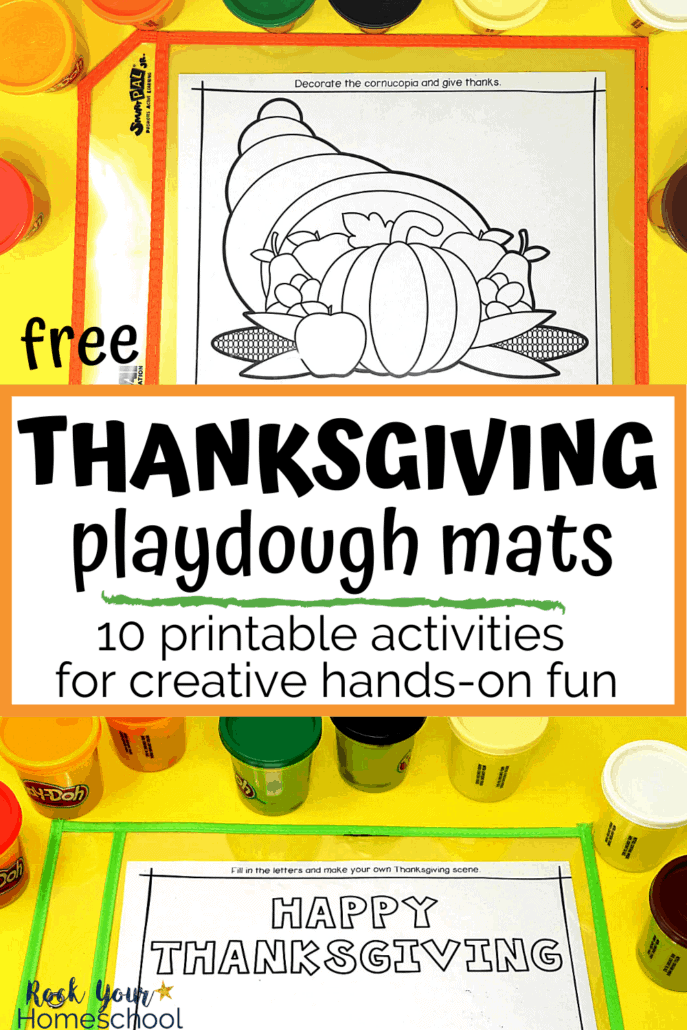 Cool Ways to Boost the Learning Fun with these Thanksgiving Playdough Mats
Playdough mats are fantastic ways to give your kids focused activities with special themes.
Here are a few tips to help you extend the learning fun with these Thanksgiving playdough mats:
Print this set on white cardstock. You can use regular printer paper but cardstock makes them more durable.
Laminate your playdough mats. OR use clear dry erase pocket sleeves as we do!
Make your own playdough or buy a set. Try to include holiday-themed colors, if possible.
Print out extra copies of these playdough mats for use as Thanksgiving coloring pages.
Encourage your kids to think outside the box. Sure, they can use traditional Thanksgiving colors (like brown, orange, yellow, and green). But, what would a pink turkey look like? Or a polka dot feathers?
Add fun extras, like buttons, building blocks, sequins, and feathers.
Neenah Exact Index, 110 lb, 8.5 x 11 Inches, 250 Sheets, White, 94 Brightness
Scotch Self-Sealing Laminating Pouches, 25 Sheets, 9.0 in x 11.5 in, Gloss Finish Letter Size (LS854-25G-WM) (LS854WC)
Clipco Dry Erase Pocket Sleeves Assorted Colors (12-Pack)
AmazonBasics Heavy Duty Dry Erase Ticket Holder Pockets 8.5
Play-Doh Modeling Compound 10 Pack Case of Colors, Non-Toxic, Assorted Colors, 2 Oz Cans, Ages 2 & Up, (Amazon Exclusive), Multicolor
Play-Doh Modeling Compound 24-Pack Case of Colors, Non-Toxic, Multi-Color, 3-Ounce Cans, Ages 2 and up, Multicolor (Amazon Exclusive)
Get Your Free Thanksgiving Playdough Mats
Ready to add these Thanksgiving playdough mats to your collection of fun holiday activities?
This free PDF (printable) set includes 10 Thanksgiving-themed layouts all in black and white. You'll find:
a turkey
feathers (for an Indian headdress)
a cornucopia
pumpkin (to decorate for a pretty centerpiece)
Pilgrim hat (to decorate and add a Pilgrim!)
dinner plate (to complete)
pumpkin pie slice
apple barrel
the letters H-A-P-P-Y T-H-A-N-K-S-G-I-V-I-N-G to fill in and create a scene
the letters I a-m t-h-a-n-k-f-u-l f-o-r to fill in and share what you're thankful for
Please print out as many copies of this Thanksgiving set as you need for your kids, homeschool co-op, classroom, or community event. If you have a friend or co-worker who'd enjoy using these playdough mats with their kids, please share the link to this post (not the download link). Thanks in advance for your cooperation and sharing 🙂
**If you have questions about using for distance learning, email Amy at [email protected]
To get this free set of Thanksgiving Playdough Mats, all you need to do is subscribe to Rock Your Homeschool. You'll receive an email with a PDF download, along with a password to open the Subscriber's Library to all RYHS freebies.
Plus, you'll get emails with ideas, resources, and encouragement to make life and learning fun.
(Psst! Current RYHS members just need to access the Subscriber Freebies page and enter the password in your welcome email. Or get the instant download in the email the week of this post.)
Get your FREE Thanksgiving Playdough Mats set by clicking HERE or on the image below.
Oh, please tag @rockyourhomeschool if you share pictures and your experiences with these playdough mats! My boys and I would love to see how other kids use them 🙂