Fun & Free Thanksgiving Coloring Pages & Mini-Book
If you're looking for a special way to get the kids involved (and keep them busy!) over the holidays, these Free Thanksgiving Coloring Pages & Mini-Book are perfect!
Find out how my boys will be using them to make our holiday shine and how you can get started with your free printable pack today 🙂
Enjoy Thanksgiving Activities with Your Kids
Thanksgiving has always been a wonderful holiday for our family. We love to look back on our year and count our blessings. The boys love to spend extra time with Daddy and help prepare for our feast.
Every year, our five boys have favorite activities that they like to do before or on Thanksgiving. In addition to Cool Thanksgiving Science activities and making decorations, the boys eagerly anticipate watching the Macy's Day Parade and going for a nature walk in our yard or on a trail.
Over the years, I've learned that it's extremely helpful to have specific crafts and activities at-the-ready to direct their energy into a positive channel. Holiday excitement tends to make my boys energy and activity level soar.
This year, I have a plan! I made these free Thanksgiving coloring activities to provide my boys with a fun activity they can create and use as decorations for our feast.
These coloring pages and mini-book are fabulous for:
Get Your Free Thanksgiving Coloring Printable Activities
This free printable pack of Thanksgiving Coloring Pages & Mini-Book contains a total of 9 pages.
4 Thanksgiving-themed coloring pages
5 Thanksgiving-themed mini-book pages (with 2 half-sheets per page. Your mini-book will have a total of 10 pages.)
When you join the Rock Your Homeschool community, you'll receive these printables in a PDF download in an email, along with a super secret password that opens the vault to all RYHS freebies. In addition to your freebies, you will be a weekly email with ways to rock your homeschool plus instant downloads to all new freebies.
(Psst! Current RYHS members just need to access the Subscriber Freebies page and enter the password in your welcome email. Or get the instant download in the email the week of this post)
Click HERE or on the image below to subscribe and get started with your Free Thanksgiving Coloring Pages & Mini-Book!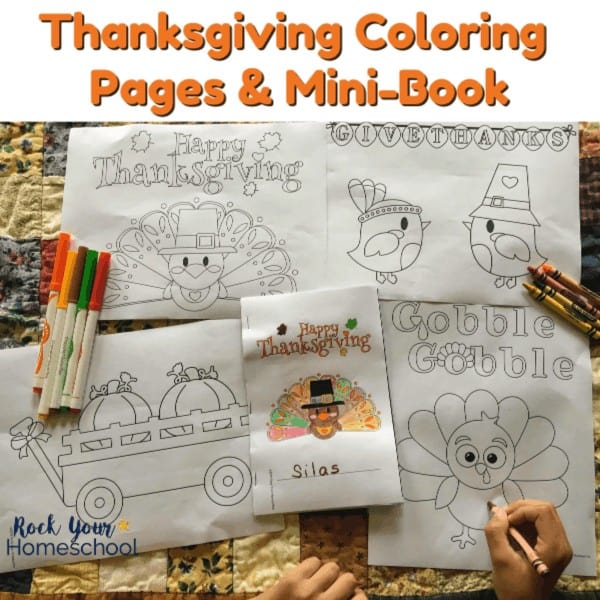 How will you use these free Thanksgiving coloring pages & mini-book?