Free Printable Thanksgiving Owls Activity Pack
This free printable Thanksgiving activity pack is a fantastic way to help your kids enjoy special holiday fun.
You'll find a variety of activities featuring cute Thanksgiving owls.
Find out more and get your free set for Thanksgiving fun today!
Make This Thanksgiving Extra Fun for Your Kids
Thanksgiving is often a time of year when families come together to celebrate their many blessings. Help the kids in your family keep busy with these fun activities and ways to prepare for the holiday.
My boys love to help us get ready for holiday fun. Activities geared towards the upcoming holiday help them channel their excitement and anticipation.
When we have crafts, projects, and activities about the upcoming holiday, it provides my boys with opportunities to express their thoughts and feelings. It also provides our home with wonderful DIY holiday decor!
Thanksgiving can be a busy time for us. There always seems so much to organize and make ready. Tasty treats for snacks, dinner, and desserts must be baked and cooked. Table settings and general cleaning are necessary.
How do you keep the kids out from underfoot during the holiday hustle and bustle?
One way that our family handles the cray-cray of the holidays is to include the kids. My husband usually has at least two boys helping him prepare a special dish. I take the other boys under my wing and direct them in chores and other preparatory activities. There are times, however, when I need to tackle a project on my own and need ways to keep little hands busy.
Free Printable Thanksgiving Owls Activity Pack
I created this free printable Thanksgiving Owls activity pack to give my boys fun ways to contribute to our holiday. I hope that it blesses your family, too!
This activity pack includes:
Place Cards:  two versions (one in color, one coloring page) with two place cards styles on each
Color By Number: three pages (Owl Pilgrim boy, Owl Pilgrim girl, Owl sitting on a pumpkin)
4 Coloring pages
Maze
Tracing lines (handwriting prep)
 When you subscribe to Rock Your Homeschool, you will receive a password to our Subscribers Only Freebies page. This password will allow you to access and print resources for family and learning fun.  (Please contact Amy at rockyourhomeschool@gmail.com if you have any questions..)
TAP HERE or Below to Subscribe & Get Your FREE Thanksgiving Owls Activity Pack!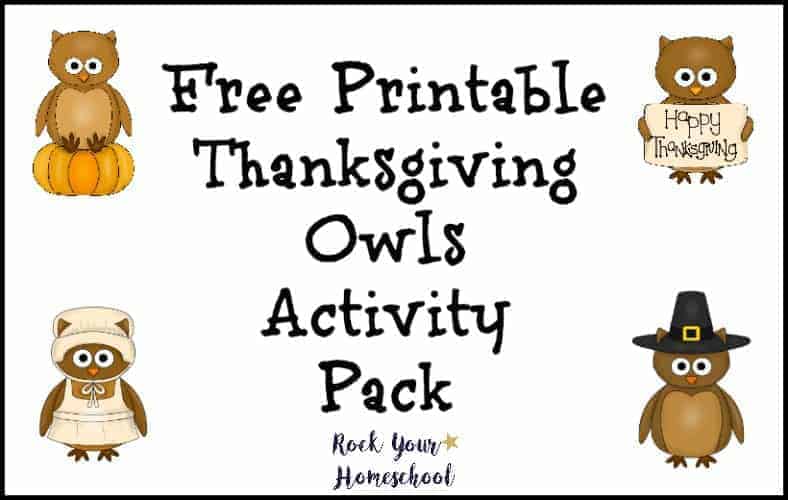 How will you use this free printable Thanksgiving Owls Activity Pack with your kids?
More Fun & Free Thanksgiving Activities for Kids