Education Perfect: Online Homeschool Enrichment You Can Feel Good About
Education Perfect is an outstanding way to help your kids enjoy online homeschool enrichment.
With over 40,000 lessons, experiments, and topics to pick and choose from, you'll love how easy it is to boost learning and help your kids explore new interests.
Find out how I'm using Education Perfect with my boys – and how you can get started with a FREE 30-DAY TRIAL!
Disclaimer: I received this product for free and was compensated for my time. As always, I'm sharing my honest opinions and was not required to provide a positive review.
Discover how Education Perfect is helping me rock our homeschool – and how it can help you do the same 😊
One of My Secrets to Feeling Like a Better Homeschool Mom
Do you ever feel like you can never do enough in your homeschool? Like, there are so many things to cover, lessons to review, and stuff to keep organized. And that's just for the core subjects!
Girl, I totally get it. As a homeschool mom of 5 boys, I have felt that overwhelm so deep. I used to wake up in the middle of the night, freaking out that I was failing my boys.
I'd worry about stuff like not using the right curriculum, gaps in their education, and wasting time by going too deep in some areas and too wide in others.
Maybe you can relate?
One of the most common fears that I hear homeschool mamas like us admit is that they're afraid of not doing enough.
And, when you think about it, it's an understandable feeling.
As homeschoolers, we do have a lot on our plates. And we do have lots of stuff to cover, lessons to review, and things to keep organized.
It's totally natural to feel like we're missing something, especially when you're homeschooling multiple kids.
⭐️ The good news: You CAN do something to make those feelings of failure, overwhelm, and stress go away – or at least ease up a great deal.
✨ Bonus: That something doesn't have to cost a ton of money or make extra work for you. In fact, I'm sharing a super cool way to do it that's easy, affordable, and fun!
What's this magical thing that helps you boost learning, essential skills, and makes you feel better about homeschool life?
Why Homeschool Enrichment Matters
When you want to improve your overall homeschool experience, enrichment opportunities (like classes, videos, and hands-on activities) are the way to go.
These type of opportunities are fantastic for all ages. Over the years, I've found that some of my boys' best learning has happened doing enrichment activities.
I think of homeschool enrichment as anything that you do outside of core subjects (math, language arts, social studies, and science) AND things that you do to enhance those core subjects (like fun ways to get in extra practice).
Homeschool enrichment rocks because it allows you to:
Explore interests
Break out of a homeschool rut
Expand learning opportunities that extend beyond core subjects
Encourage a growth mindset by providing challenges and new ways to look at information
Reinforce concepts
Make connections between different subjects and skills
Provide additional practice in areas that your student struggles
Show that life and learning can be FUN!
Plus, when you're using an online resource like Education Perfect, your kids get a boost in confidence and independent learning skills.
Bonus points for the fact that I don't have to sit there and guide them through the lessons. Frees up time for mama!
Tips for Successful Homeschool Enrichment
When I first heard about homeschool enrichment, I groaned. It sounded like something that would take a whole lot of time and effort on my part. And I could barely keep my head above water!
Now that my boys and I have enjoyed homeschool enrichment for several years, I've picked up a few tips and tricks that I'm excited to share with you. These ideas allow you to simplify the process and make it successful.
When you're getting started with and including enrichment opportunities in your homeschool, I encourage you to:
Keep it simple – more is not necessarily better
Quality over quantity – you don't need 553 different apps, games, and online sites
Include your kids in the selection process – invite their feedback and opinions
Talk with your kids about your expectations – chat about how much time and effort you want to see your kids put into the experiences
Think outside the box – consider classes and activities that you normally can't address during your homeschool hours (or in your area)
Stay within your homeschool budget – there's no need to spend a ton of money when there's affordable options (like Education Perfect)
Stick with it – encourage your kids to continue with a class or activity for an agreed upon amount of time, even if frustrated, to determine if it's just a temporary setback or struggle (build those growth mindset skills!)
Pick engaging options – use these opportunities to reinforce that learning can be fun!
Education Perfect: A Simple & Stress-Free Homeschool Enrichment Option
A new way that I've been able to take our homeschool enrichment to the next level is Education Perfect. This online resource has been a game changer!
Education Perfect (EP) has 40,000 lessons, experiments and topics your children can pick and choose. Everything is automatically marked giving kids instant feedback.
Categories of classes include:
Languages: There are currently 9 foreign languages available including:

French
Arabic
Chinese
German
Indonesian
Italian
Japanese
Spanish
Portugese
Russian

English & Literature
Math
Science
ESL
DigiTech
Music
History
Geography
More classes are getting added all the time! You can request classes (like Psychology which has been added to the Senior level) and Education Perfect puts it together for you.
Scroll down to the next section to see what classes my boys have been working on👇
There's a super cool games section called Dash where homeschool kids safely compete against each other from all around the world. My boys get such a kick out of these games!
I appreciate how Dash uses games to reinforce what students have learned PLUS provides practice for timed activities (helpful for standardized tests like my boys have to take in grades 3, 5, and 8 – and more recently when my Junior took the ACT).
Ooh, and Education Perfect hosts monthly homeschooling learning festivals or competitions where kids earn certificates and chances to win prize money based on their homeschooling effort each month 🏅
Every homeschooler gets an invite to a free homeschooling crash course (a live webinar on how to homeschool with EP).
AND every homeschooler can book a free 15-minute platform demo + registration and planning support. I highly encourage you to take advantage of this free live demonstration. Super helpful way to better understand all that Education Perfect has to offer and how you can best use it for your kids 😊
Our Experiences with Education Perfect
My boys and I have been using Education Perfect for a few weeks. Overall, we've had a positive experience.
Two of my boys (Smiley-13 and Bear-11) have been consistently logging on and enjoying their classes. (My youngest, Xman – 8, is glued to Bear's side and soaks up all the learning fun, too).
My Junior (soon to be Senior!) just wrapped up taking the ACT and is prepping for CLEP exams (American History I & II and Biology) plus started a landscaping job so hasn't had too much time to dive into Education Perfect yet. He's looking forward to working on Psychology, Accounting, and Civics & Citizenship.
The younger boys have been mostly working on French, Music, and Digital Technologies.
Smiley finds the interactive lessons helpful. He says the lessons "aren't too long so you don't get bored out of your mind". He likes the variety of ways the information is presented. Smiley says, "Like, you can read the lesson then watch videos and answer questions then do self-marked stuff so it makes it easier for me to remember."
Self-marked stuff = Self-marked answer (kids are presented with a question or activity and then grade how well they did compared to the example answer) That's me translating teen speak lol!
Bear LOVES the Dash games at the end of each lesson. When it comes to academics, he's a competitive kid. This type of online game that safely pairs him up with other homeschool kids is just the sort of challenge he thrives on.
He shares, "I really find it helps to play a game after a lesson because it makes my brain work harder – and I really want to win!"
Xman just likes being able to tag along and be a part of something his big bros do 😉
All of us appreciate the option to add and drop classes with no consequences. Initially, the boys were going to include Economics for homeschool enrichment. We decided that it was better to focus on a few classes at a time. With just a click of the mouse, we were able to deselect Economics and be able to pick it up later when the boys are ready for it.
I think it's so awesome when you find a resource that allows access for multiple kids for one price like Education Perfect does. It's such a blessing for large homeschool families like ours 🙂
From a homeschool mom perspective, I've loved knowing that I have a safe online place to let my boys explore their interests, build skills, and enjoying learning fun experiences.
An added perk is that my overwhelm level has gone way down. Instead of worrying that I'm not doing enough with my boys in our homeschool (plus trying to keep up with all the house stuff, errands, and online business tasks), I'm feeling good about homeschool life 💖
Bottom line: With Education Perfect for Homeschooling, I can safely and easily give my boys more – without me having to do more.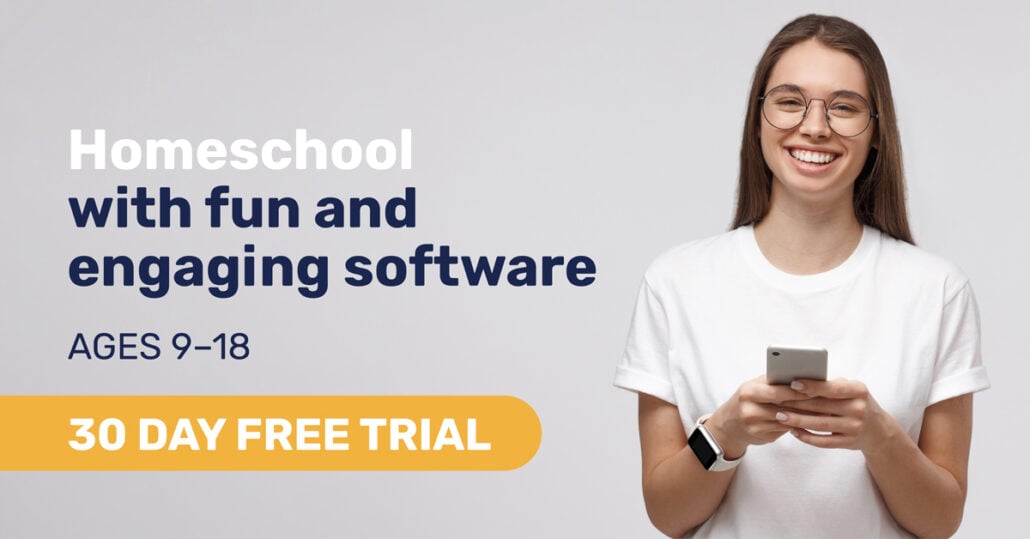 FAQs About Education Perfect
If you're like me, you skim homeschool curriculum reviews and want to know the juicy stuff. You can find out more about Education Perfect and all it has to offer (plus pricing) HERE.
Here are a few things that I'd like to know when checking EP out – and I'll add to this list as I get questions!
How do I know if Education Perfect is right for our homeschool?
The best way to figure out if EP will work for you is to give the FREE 30-day trial a test run.
Take advantage of that free homeschooling crash course for how to homeschool with EP.
And schedule a free demo to really dig into how you can get the most out of Education Perfect! In fact, you can schedule multiple demonstrations when you get started if you ever have any questions or need help. Their support team is phenomenal!
What if my kids and I don't like Education Perfect?
No worries! If the subscription is paid on a monthly basis, it can be cancelled at any time and will stop automatically from the beginning of the month following the cancellation. If a subscription is prepaid for the year, it is not refundable in the case the subscription is cancelled.
AND there are NO additional costs (like books or other resources) that you need to buy to use EP. So, you won't be out any money that way.
I'm seeing a lot of Australian/New Zealand references. I'm in the United States (or other country). Will this resource work for my family?
Yes it can!! Education Perfect is based in Australia but totally works for other areas. My boys haven't had any obstacles in the classes that they're doing.
Although Education Perfect got its start in New Zealand, it's now being used in over 50 countries around the world.
You said this online resource is great for large homeschool families. How many kids can I sign up? And will I have limitations?
Check this out – you can create up to 5 accounts for just 1 price! And there are no limitations. ALL of those students can access ALL of the classes!
What ages/grades is Education Perfect for?
Currently, classes and activities are geared towards ages 9-18. When I spoke with Tim during my free demo, he said that classes are being added all the time. AND you can request content!
You can find some classes for younger kids (even preK). Nice way to get more bang for your buck 😉
Can I print my child's work? How do I show progress?
You can go to individual lessons and get a report on how your student did. You'll see which questions were correct and what needs more work. Based on that information, you can assign tasks for your student to complete for more practice.
All reports are printable – from daily to yearly which is super helpful if you need to put together a homeschool portfolio! I like adding a bit extra, like enrichment activities, to show our evaluator some of the ways my boys use their free time.
Also, your students can take assessments (quizzes and tests). These assessments are flexible – you can set how many questions, if multiple attempts are allowed, and if you'd like a time limit. I appreciate this option because our state requires standardized testing in grades 3, 5, and 8. I like my boys to have some practice with timed tests prior to taking.
Easily Make Homeschool Enrichment Happen with Education Perfect!
Homeschool enrichment can be such an amazing way to boost learning and help you feel better.
I revealed that homeschool enrichment is one of my secrets to feeling like a better homeschool mom.
Well, the BEST way that I've done that is through outsourcing (a.k.a. finding quality and affordable resources to do the work for me).
Education Perfect is one of the ways I feel confident outsourcing in my homeschool 💪
Oh, and here are some fantastic ways to learn more about Education Perfect:
👉 Give Education Perfect a test run to see if it's a good fit for your family and boosting homeschool enrichment with this FREE 30-Day trial

👉 Then, grab a 20% discount using code save20
Got questions about homeschool enrichment and/or Education Perfect? Let me know in the comments area below!