Add a touch of magic to your learning fun with these free Harry Potter-Inspired Decoder Fun Printables!
With a super cool decoder ring and six mysterious codes to sort out, you'll be all set for some classroom, family, and homeschool activities.
Magical Fun with Harry Potter Decoding Activities
My boys and I love using all types of learning resources with Harry Potter themes.
After I created our Star Wars-Inspired Decoding Fun Printables, my boys asked me to make some with our favorite wizards and witches.
These decoder fun printables are absolutely brilliant for:
Birthday parties
Classroom use
Family fun
Imaginative play
Rainy day fun
These decoding activities are delightful challenges for your Potterheads (that's Harry Potter fans for all you Muggles 😉 )
You'll find select quotes from characters from the Harry Potter series. After assembling the special decoder ring, you'll have the opportunity to decode these quotes for magical learning fun.
Get Your Free Harry Potter-Inspired Decoder Fun Printables!
WooHoo! Let's have some Harry Potter decoding fun 🙂
This printable pack includes a total of three pages. The first page has the decoder ring with cover and cute characters.
I suggest that you print this page out on white cardstock. After cutting out both decoder and cover, use a brad paper fastener to secure the cover to the decoder.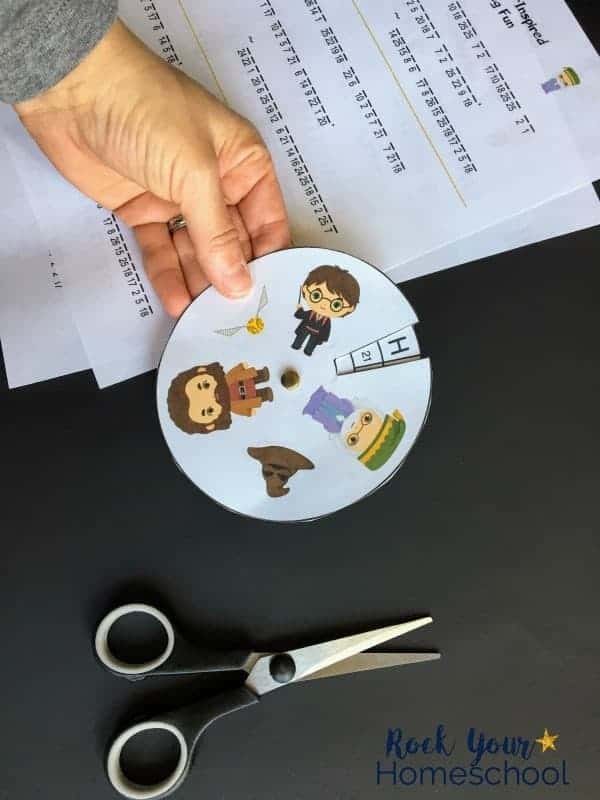 The other two pages contain six codes based on quotes from Harry Potter books and movies. Plus, the answers to all six codes are provided 🙂
To get your free printable pack of Harry Potter-Inspired Decoder Fun activities, simply subscribe to Rock Your Homeschool.  You will receive these printables in a PDF download in an email, along with a super-secret password that opens the vault to all RYHS freebies.
In addition to your freebies, you will be a weekly email with ways to make life and learning fun.
(Psst!  Current RYHS members just need to access the Subscriber Freebies page and enter the password in your welcome email.  Or get the instant download in the email the week of this post)
Click HERE or on the image below to subscribe and get started with Harry Potter-Inspired Decoder Fun Printables!
Want even MORE Harry Potter-inspired learning fun? My boys and I have been having a blast with Waldock's Wizards and Wands!