Free January Brain Breaks for Homeschool Fun
Trying to teach lessons in January can be a challenge. Make it fun and get a boost with brain breaks for kids.
Find out how I'm using these free printable cards for January brain breaks for homeschool fun with my five boys and how you can start using them today!
Why January Brain Breaks for Homeschool Fun?
January is often a time of transitioning back into homeschool. Some families take a holiday break and are ready to resume their homeschool year. Other families are in the process of starting a new year of learning fun and getting ready for back-to-homeschool.
Depending on where you live, the weather is colder in January. Cold temperatures and extreme weather conditions may limit or eliminate outdoor activities. When January hits our homeschool, my boys vacillate between bouncing off the walls and whining with the winter blues.
Brain breaks are fantastic ways to keep the learning fun going. You can use brain breaks to:
Motivate ("Let's finish this math worksheet and then we can pick a homeschool brain break!")
Energize ("Looks like we could all use a chance to get up & get moving.")
Calm ("I can see you getting frustrated with your writing. Let's pick a brain break and get out some of that anger.")
Transition ("Well, reading is all done! Let's do a homeschool brain break before we switch to science.")
Homeschool brain breaks are also awesome activities that you can do with your kids to build relationships. Share some giggles as you act out silly winter charades. Chat about life as a snowman as you attempt to build a mini-igloo.
My boys and I already have tons of fun with our homeschool brain breaks. I thought it would be fun to change things up and add a January theme.
And we now have a whole year of monthly brain breaks with seasonal and fun holiday themes to help us all boost our homeschool adventures!
Get Your Free Printable January Brain Breaks for Homeschool Fun
These free January Brain Breaks for Homeschool Fun have winter themes. There are 24 different cards with prompts for charades, hands-on learning, challenges, and indoor activities.
I adapt these homeschool brain breaks for all of my boys (ages preschool to high school) to participate if they desire. I never force a brain break but often find that even my oldest likes to get in on the fun.
To get your free printable pack of January Brain Breaks for Homeschool Fun, simply subscribe to Rock Your Homeschool. You will receive these printables in a PDF download in an email, along with a super secret password that opens the vault to all RYHS freebies. In addition to your freebies, you will be a weekly email with ways to rock your homeschool plus instant downloads to all new freebies.
(Psst! Current RYHS members just need to access the Subscriber Freebies page and enter the password in your welcome email. Or get the instant download in the email the week of this post)
Click HERE or on the image below to subscribe and get started on rockin' your homeschool with January Brain Breaks!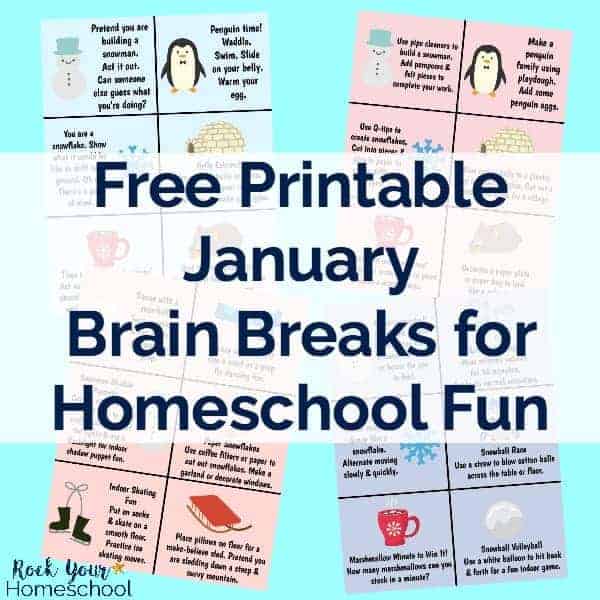 How will these January Brain Breaks help you easily add fun to your day?