How to Easily Organize Learning Fun Days for Kids
Want to enjoy learning fun days for kids but not sure where to get started? You'll discover that these homeschool fun days and activities boost learning at home and more.
I'm sharing my secrets for easily organizing and planning homeschool fun days for my 5 boys PLUS free simple Fun Days for Kids planning pages that you can customize for your family 🙂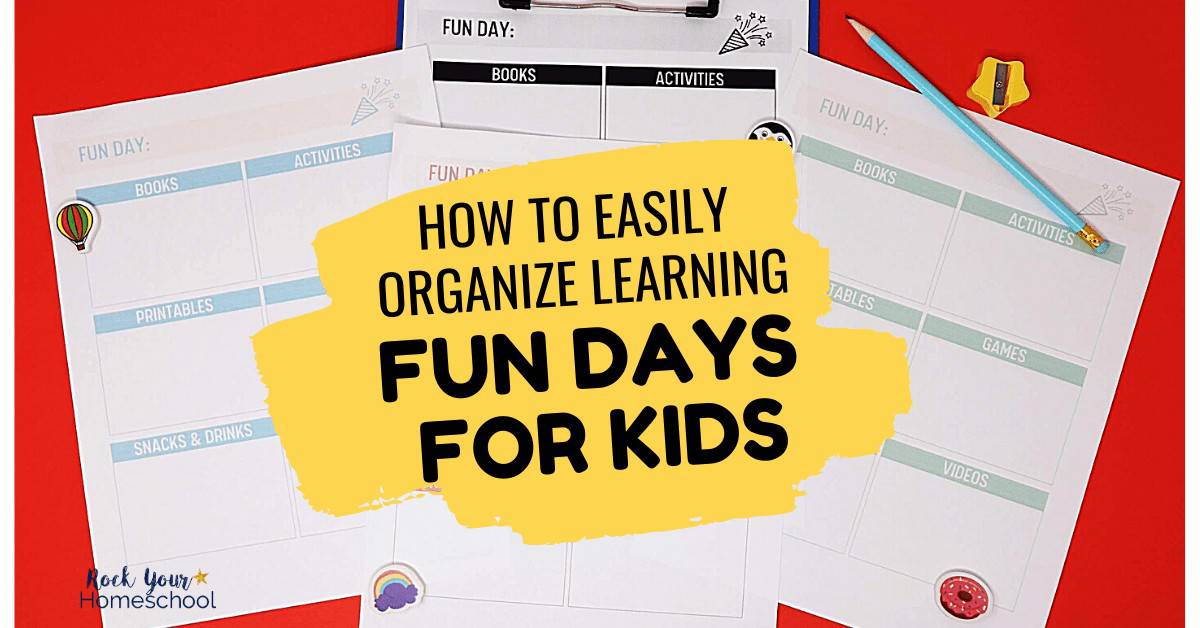 You CAN Enjoy Learning Fun Days for Kids
Does the idea of learning fun days for kids sound appealing but overwhelming? I totally understand!
You want to make sure that you're fulfilling your homeschool requirements and meeting your kids' needs.
With core subjects like math, language arts, history, and science, you feel fortunate if you can get to the awesome extras like art and music!
So, how in the world can you have time and energy to plan for learning fun days for kids?
You know that it's important that your kids enjoy learning and fun makes that so much easier. But, fun activities can feel chaotic, messy, and flaky.
The positively great news is that you can organize and plan for learning fun days for kids that are engaging, exciting, and educational!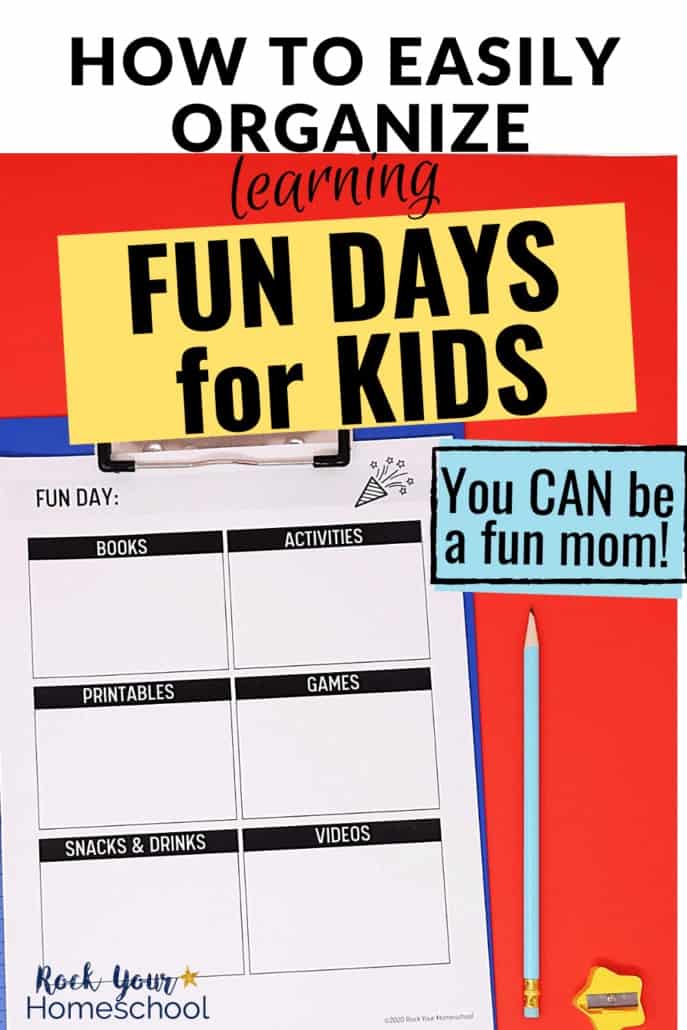 Why Learning Fun Days for Kids ROCK!
My boys and I have celebrated fun days before we even started homeschooling over 8 years ago. My mom is a retired Kindergarten teacher and she'd share these fun day ideas with me. I totally get my fun mom stuff from her!
When we began homeschooling, I realized that the fun and wacky holidays are perfect ways to add something special to our learn at-home experiences.
We'd read some books, do a craft, and play a game. The fun day conversation would carry over into dinner. And it was the facts and figures learned during our fun day chats that were often the most remembered 😉
Although all the boys are older (17, 15, 11, 9, 6), we continue our learning fun days for kids. I get creative in making these days appealing and age-appropriate.
After chatting with a dear friend (Jessica at The Waldock Way), I finally have a name for these learning fun days:  Fun Mini-Unit Studies!
We've discovered that learning fun days for kids benefit all (yup! even adults) with:
motivation (to get lessons and assignments done)
reward (for hard work)
chance to catch your breath
breaks up the monotony by changing things up and keeping the love of learning alive
helps you feel less robotic
you can relax and enjoy fun moments because your kids are still learning
can be interest-led or curiosity-driven (based on things your kids have learned-it's that chance to go down  rabbit holes without feeling like you're getting behind or lost)
enrichment (fun days help you include outside-the-box topics)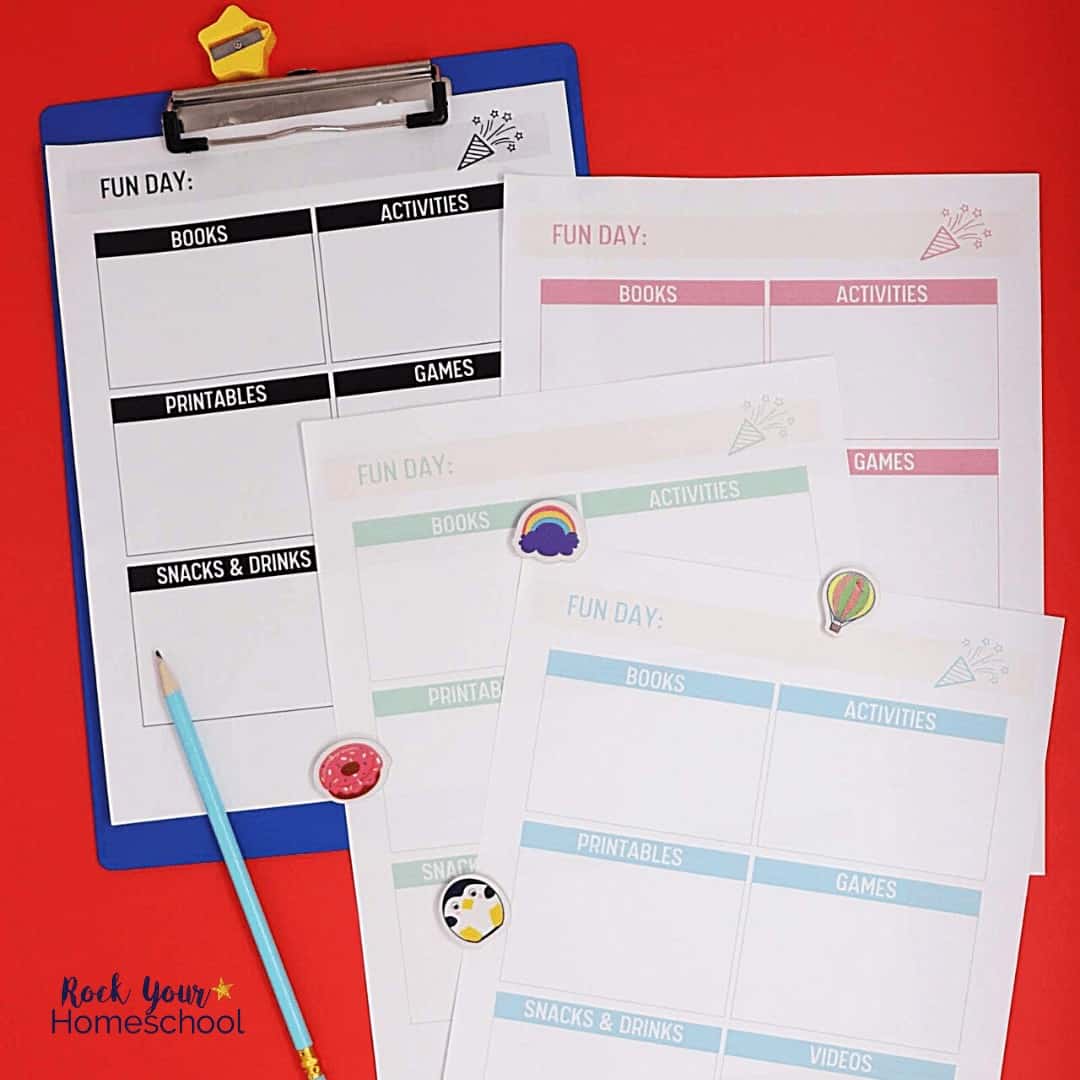 How We Fit Learning Fun Days Into Our Relaxed Homeschool Routine
Every homeschool and classroom is unique. You may have a particular schedule or routine that you must adhere to and follow. If that's the case, I encourage you to look at spaces in your day/week/month where a learning fun day may fit.
Sometimes, we get a bit crazy and enjoy a learning fun day for kids on the weekend or over the course of a few weekday nights.
Also, it's totally cool to stretch your learning fun plans to over a week by doing activities for an hour or two a day.
You get to decide how and when you celebrate! The key is to keep it stressfree and fun 🙂
Recently, my boys and I switched to a year-round homeschool approach to better accommodate our busy schedule with competitive sports AND to make sure we had time for homeschool fun activities. (Also, I prefer to avoid summer brain drain and we all function best with a bit of relaxed routine-more on that coming soon!).
Another way that we fit learning fun days for kids into our homeschool routine is by using a curriculum with 4-day options. Xman's BookShark Kindergarten science is a perfect example of how I make sure the boys are getting a solid education with plenty of time for learning fun.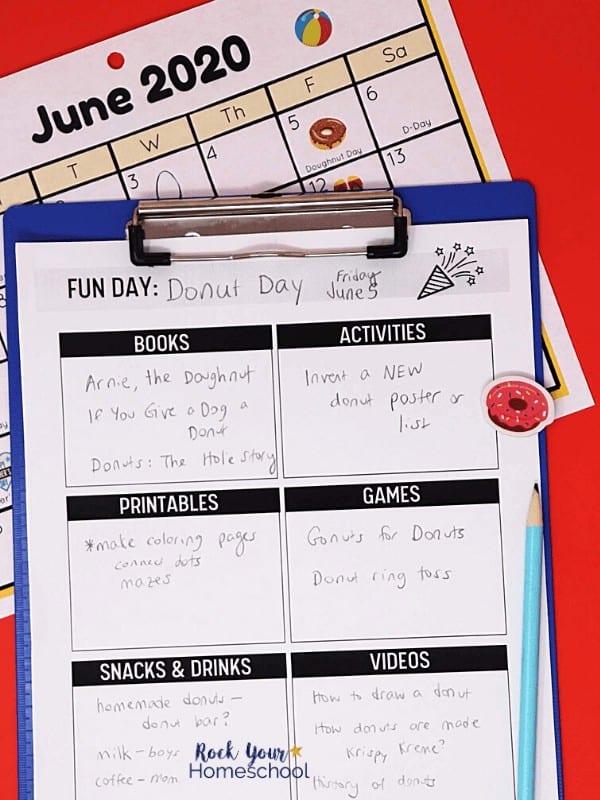 Easily Organize & Plan Your Fun Days for Kids
So, now that you're gung-ho about enjoying learning fun days for kids, you may be wondering how to get started and what to pick for your celebration.
My first recommendation is to chat with your kids about what they'd like to celebrate and learn about for your fun days.
Prepare yourself for some goofy or bizarre answers. For example, when I recently asked my boys what they'd want to have for our learning fun days, I got answers like:
Slime
Boogers
Ugly animals
Star Wars
Donuts
Video games
Galileo
Chess
Ah, the power of brainstorming! 😉
If you'd rather have a bit of structure to picking out your learning fun days, my next suggestion is to use our FREE Fun Days calendars and resources 🙂
Seasonal and wacky fun holidays are perfect ways to capture your kids' attention and make learning interesting. My boys and I carefully select fun holidays to celebrate special days, weeks, and months.
I have free printable calendars and 365 Fun Days & Activities (undated) to make it easy to remember, plan, and celebrate with your kids.
As you chat about what learning fun days for kids you'd like to do, take out a notebook or scrap paper and jot down your ideas.
Then, follow these steps to make the whole process easy:
Narrow those ideas down to about once a week (or two a month-whatever works best for your family).
Print out your Simple Fun Day for Kids planning pages. (get your free printable pack below!)
Decide what you want to do for your learning fun day. You can pick all 6 activities (books, activities, printables, games, snacks & drinks, videos) or just a few.
Gather your resources. My boys and I start to make a pile (or basket or box) of our Fun Day materials.
After collecting the resources you have, decide if you need to search for more. We always do an online search in our local public library system. Then, we look for free online resources. If something really catches our eye, we will buy a new game or book. I try to keep our learning fun days for kids as frugal as possible.
Select the top 1-3 resources for each category, depending on how much time you'll have available the day of your learning fun celebration.
Come up with a flexible plan. If you thrive with details, write down everything you need to prepare and do. If you're more like I am and details become paralyzing, make bullet points of the resources and possible ideas for using them.
To deter chaos and mess, go over your Fun Rules and Expectations with your kids. This post and printable page can help you gather your thoughts so you're organized and ready for learning fun days for kids that best fits your family and your personality.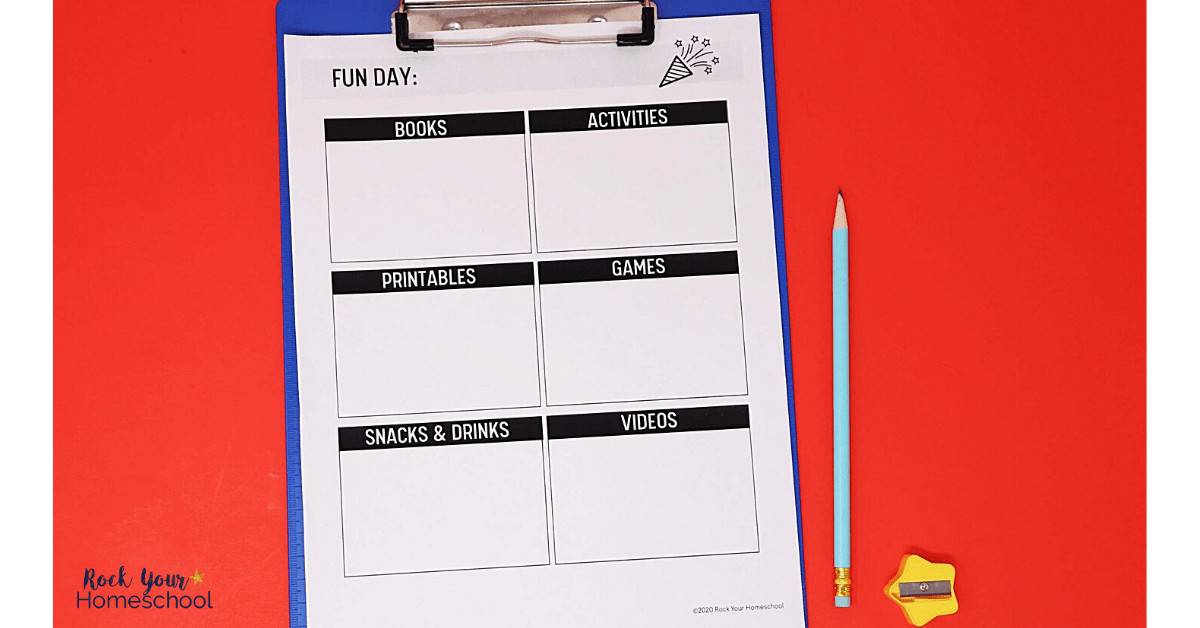 Get Your Free Fun Day for Kids Planning Pages Pack
I'm so excited that you'll be joining my boys and me for Learning Fun Days for Kids! You can get your FREE Fun Day for Kids planning pages by subscribing to Rock Your Homeschool.
This pack includes 4 pages (black and white, blue, pink, green) of this simple fun day planning page.
Please print out as many copies of these fun day planning pages as you need to organize and prepare for your celebrations. If you have a friend who may like to use these resources, please share the link to this post 🙂
To get this free printable set of Simple Fun Day Planning Pages, all you need to do is subscribe to Rock Your Homeschool. You'll receive an email with a PDF download, along with a password to open the Subscriber's Library to all RYHS freebies.
Plus, you'll get emails with ideas, resources, and encouragement to make life and learning fun.
(Psst! Current RYHS members just need to access the Subscriber Freebies page and enter the password in your welcome email. Or get the instant download in the email the week of this post.)
Get your FREE Fun Day for Kids Planning Pages pack by clicking HERE or on the image below.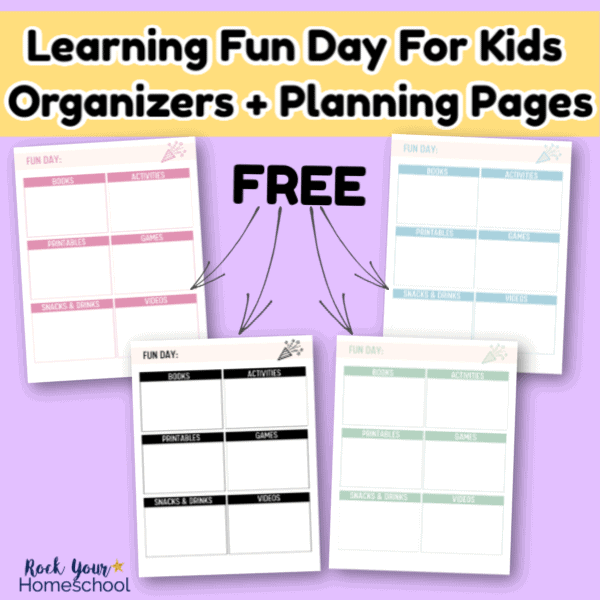 Ooh! I'm working on some NEW resources to make enjoying learning fun days for kids even easier! Get ready for some Fun Mini-Unit Studies on a variety of creative themes and wacky holidays. We're really going to be rockin' our homeschools 🙂
Could you use some help planning and organizing learning fun days for kids? What questions or concerns do you have? I'd love to make it as easy as possible for you to enjoy these special learning moments! So, let me know how I can help in the comment area below 🙂