Mud Kitchen Play Ideas: Fun Ways to Enjoy Plus Free Printable Scavenger Hunt
These mud kitchen play ideas (plus free printable scavenger hunt) are incredible ways to help your kids enjoy hands-on activities.
Your kids will have a blast as they get ideas for DIY mud kitchen fun and search for "ingredients" in nature. Such cool ways to boost creativity and more!
Find out more about these mud kitchen ideas and get your free printable mud kitchen scavenger hunt today.
Why I Think Mud Kitchen Fun Rocks!
A lot of moms stare at me in disbelief when I tell them that I've always encouraged my boys to engage in messy activities. In fact, I give my boys creative prompts for getting into all sorts of messy stuff!
Messy activities don't have to be scary. When you set realistic expectations and rules, these experiences can turn into wonderful learning opportunities that your kids will cherish for life.
Some of my best childhood memories are digging around in my backyard and getting as caked in dirt and mud. My brother and I would pretend to be paleontologists, searching for dinosaur bones and Native American relics. I grew up in South Jersey and always thought it would be so cool to make some important discoveries, like the Hadrosaurus foulkii – the first mostly complete dinosaur skeleton -in Haddonfield, NJ in 1858.
I'm so thankful that my mom let us have those experiences. She never fussed about our messiness – just plopped us in the shower (or hosed us off if it was warm enough). But, she did have a few rules that we had to stick to, like marking off our "dig sites", taking care of our tools, and wiping off before coming into the house.
Another activity that I loved to do as a young girl was make mud pies, cakes, and "drinks". Oh my stars! The creations and concoctions that I'd come up with!
Naturally, I shared these memories with my boys – and have happily watched them get creative in their outdoor kitchens 😊
DIY Mud Kitchen Fun
I love looking for new mud kitchen play ideas! We don't have an actual "mud kitchen". My boys just gather equipment and go. I've kept a big plastic bin in our garage with a variety of materials for them to pick from:
Old pots, pans, and bowls
Colander (so cool for sorting and sifting!)
Small shovels
Spoons
Old pie pans, cookie sheets, and cupcake trays
Disposable aluminum foil pie pans
Plastic containers that we can't recycle (perfect for storing "ingredients")
Buckets
Sand pails
Measuring cups
I've seen some amazing mud kitchen set-ups! We never seemed to have a great space for that in our yard. So, the boys would just have outdoor kitchen fun on our sidewalk, front steps, and deck area.
I think that what's so awesome about mud kitchen play ideas is that you can get creative and use what you have for fun outdoor activities for kids. It doesn't have to be fancy, expensive, or time-consuming unless you want it to be!
Mud Kitchen Play Ideas
I recommend that you go through your kitchen supplies and find tools that are older or you won't be using. Other places to find mud kitchen supplies are your garage, toy box, and shed. Also, ask friends and family members if they have any materials that would be great for mud kitchen play ideas.
Let your kids imaginations soar as they enjoy mud kitchen fun. If your children are new to this type of play, you could give them prompts, like making mud:
Cakes
Cupcakes
Cookies
Breads
Stews
Soups
Casseroles (My boys love this one! They find all sorts of cool things to layer.)
Challenge your kids to find work with and create different textures and colors, too.
Learn More About This Mud Kitchen Scavenger Hunt
Oh, and here's a super cool way to get your children started with these mud kitchen play ideas – a scavenger hunt for "ingredients"!
This free printable mud kitchen scavenger hunt is on one page (plus terms of use page).
Instructions are provided on the worksheet. Your kids will color in the mud kitchen ingredients as they find them.
This scavenger hunt for kids nature items to use for mud kitchen fun, including:
Small twigs
Leaves
Dandelions
Feathers
Pinecones
Buttercups (or other wild flowers)
Clover
Daisies
Tree bark
Pebbles
Moss
Berries
Acorns
Seeds
Grass
Shells (make sure there aren't any creatures living inside!)
Bonus Find! –> Look for a big stick to stir your creations.
Mud Kitchen Base Ingredients: Water, Soil, Sand
Equipment: Spoons, Pans & Bowls, Water Jug, Plates & Cups
Method: Experiment with different amounts of water, soil, and sand to create a base mixture. Add other ingredients from this list to make your own recipes!
Also, you'll find this important reminder on the bottom: Please be mindful of creatures in their natural environment. Only gather wild flowers/plants growing in abundance.
Tips & Tricks for Enjoying Mud Kitchen Play Ideas with Kids
As a mom of 5 boys, I've learned a few tips and tricks over the years that let kids enjoy messy fun without total chaos.
Respect others and their space: For example, don't smear mud on your brother's arm or clothes – or add ingredients to their creation without permission.
Respect your space.
Before changing activities or moving to a different area, clean up what you were doing.
Take care of your materials and tools. Return to appropriate storage area (if applicable).
Reserve a clean bucket of water to rinse off hands. Have a towel ready to dry.
Messy creations stay outside. You can even set them up for display in a specific area for observers to enjoy.
Wear older clothing and shoes (or boots). An apron or smock is a great idea!
If you're not sure, ask. It's better to be safe than sorry 😉
Get Your Free Printable Mud Kitchen Scavenger Hunt
High five! Your kids will have so much fun with these mud kitchen play ideas and scavenger hunt.
This free Mud Kitchen Scavenger Hunt is on one printable (PDF) page (plus terms of use page).
You can most certainly print as many of these scavenger hunts as you need for your personal use, family, class, homeschool co-op, or community event. If you have a friend or co-worker who'd enjoy to have this sort of outdoor fun, I ask that you please share this post with them. Thanks so much for your cooperation!
To get this free Mud Kitchen Scavenger Hunt, simply subscribe to Rock Your Homeschool.
You'll receive an email with a PDF file, along with a password to open the Subscriber's Library to all RYHS freebies.
Plus, you'll get emails with ideas, resources, and encouragement to make life and learning fun 🙂
(Psst! Current RYHS members just need to access the Subscriber Freebies page and enter the password in your welcome email. If you have any problems or questions, please email Amy at rockyourhomeschool@gmail.com)
Get your FREE Mud Kitchen Scavenger Hunt by tapping HERE or on the image below.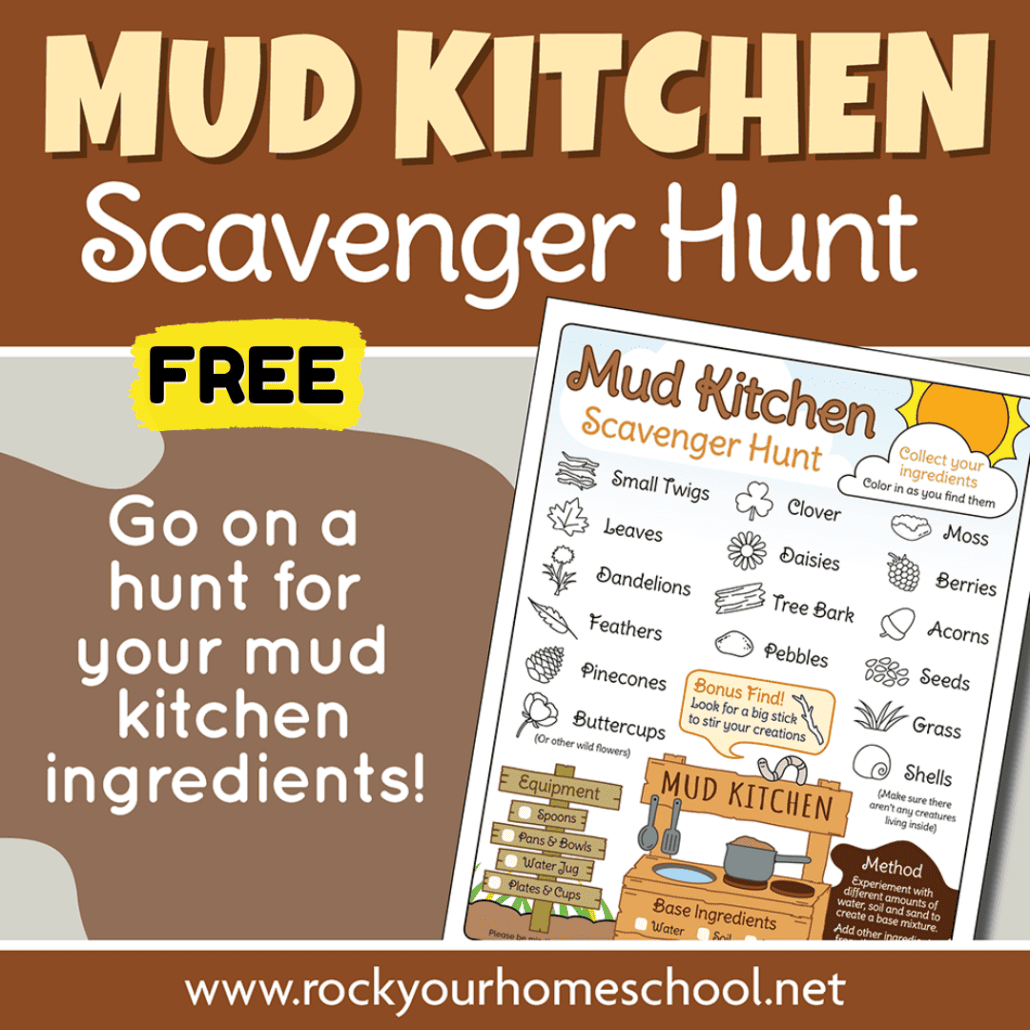 Got more mud kitchen play ideas? Please share in the comments area at the bottom of this post. I'd love to hear all about your outdoor fun activities!
More Fun & Free Ways to Spark Creativity in Kids