Boredom Busters: 7 Free Posters (Customizable & 50+ Creative Ideas)
Boredom busters are brilliant ways to keep your kids busy (and off screens).
This free printable set of posters has fantastic ideas plus styles that can be customized.
Find out more about these boredom busters for kids and how you can get started with your printable pack today!
Never Run Out of Ideas for Keeping Your Kids Busy
Well, never might be a bit of an overstatement 😉
If you get tired of hearing, "I'm bored!" and "I can't think of anything to do!", you're going to love this new free set printable posters full of ideas of boredom busters for kids.
I'm usually a pretty creative mama. I can think of clever ways to keep my boys engaged in an activity. And use things around our home to keep it frugal.
But, when I'm tired, distracted, or hangry, forget it. My creativity switch turns off – and the boys end up on screens more than I like.
With this self-knowledge, I try to be prepared with simple and fun activities for my kids, like brain breaks and fitness prompts.
And now I'm super excited to add these posters for fun boredom busters to our fun collection!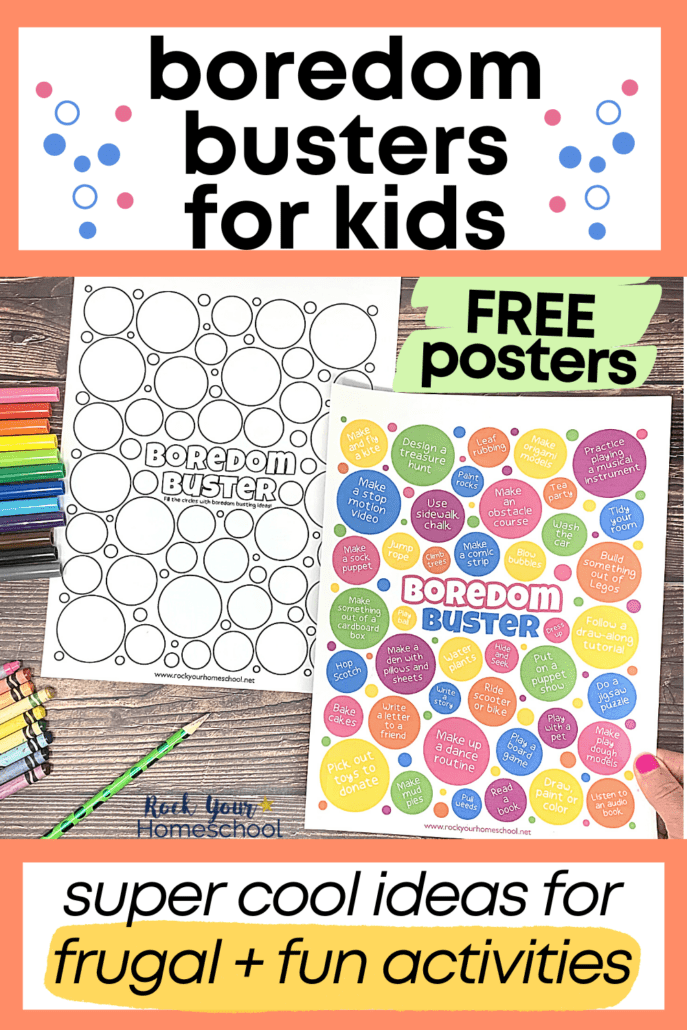 What You'll Find In This Free Pack of Posters for Boredom Busters
This free pack of posters featuring great boredom busters has 7 printable (PDF) pages:
Page 1 includes 42 boredom buster prompts in bright colors of green, yellow, orange, blue, purple, and pink
Page 2 is a blank template in those bright colors
Page 3 is another blank template in pastel version of those colors
Page 4 is also a blank template in greens and blues
Page 5 (a blank template) is in light pinks, blues, purples, and browns
Page 6 is a blank template in light pastels
Page 7 is a black-and-white template that your kids can color when prompts are complete (or even as a boredom buster!)
Your kids will have a blast with these prompts for frugal and fun activities.
On page one, you'll find 42 prompts, like:
Design a treasure hunt
Make something out of a cardboard box
Write a letter to a friend
Pick out toys to donate
Make a paper airplane
Make sock puppets
And MORE!
More Cools Ideas for Your Boredom Buster Posters
One of the best things about this free printable pack is that you can customize with your favorite boredom busters for your kids!
I suggest brainstorming some ideas and doing a bit of research (Pinterest is my favorite place for finding creative things to do with kids).
A few of the ideas that I've come up with to customize our boredom buster posters are:
Make a card
DIY board game
Sewing (or other handicraft)
Fun with Kwik Stix
Thumbprint art
Simple science activities
Card games
Dice games
Start a recipe book
Start a journal
Organize pictures into a photo album
Play hangman
Make paper bag puppets
Tips & Tricks for Success with Boredom Busters for Kids
Before you give your younger kids and older kids these posters, chat about the boredom busters (if you're using the completed version). If you're going with one of the customizable styles, make a list of ideas and talk about them.
Make sure you have the supplies your kids will need for these boredom busters. There's nothing worse than getting excited about an activity and then realizing you don't have what you need. (Like when I get a craving for my nana's brownies and realize that my little hobbits have eaten all our chocolate chips – grr!)
Some suggestions are:
Crayons
Pencils
Markers
Color pencils
Sidewalk chalk
Glue
Yarn
Buttons
Stickers
Popsicle sticks
Construction paper
Get clear on your expectations. Use my free printable set to help you set rules and expectations for fun activities with kids.
Be open to your kids' suggestions. They might have creative takes on how to do a boredom buster. As long as it's safe, go for it!
Customize! Make these boredom busters work for you. Tweak where you need to and learn as you go.
Get Your Free Printable Set of Boredom Buster Posters
YES! You're on your way to inspiring your kids to enjoy fantastic fun with boredom busters.
This free printable set of boredom buster posters includes 7 PDF pages.
You may print as many of these posters as you'd like for your personal use, family, class, homeschool co-op, or community event. If you have a friend or co-worker who'd like to encourage their kids to enjoy screen-free fun, I ask that you please share this post with them. Thanks so much for your cooperation!
To get this free printable pack of boredom buster posters, simply subscribe to Rock Your Homeschool.
You'll get an email with a PDF file, along with a password to open the Subscriber's Library to all RYHS freebies.
Plus, you'll receive emails with ideas, resources, and encouragement to make life and learning fun 🙂
(Oh my stars! Current RYHS members just need to access the Subscriber Freebies page and enter the password in your welcome email. If you have any problems or questions, please email Amy at rockyourhomeschool@gmail.com)
Get your FREE pack of Boredom Buster Posters by tapping HERE or on the image below.
Wishing you and your kids tons of screen-free fun with boredom busters!
More Fun (& Free) Activities for Kids to Enjoy