Free New Year's Eve Word Search for Easy Fun with Kids
This
New Year's Eve Word Search
activity will help your holiday celebration shine. Kids will have a blast with this fun and free printable.
You'll find creative ways to boost the fun of this activity and discover how to get your word search today!
Be Prepared for An Awesome New Year's Eve with Kids
Planning a New Year's Eve celebration with kids? You can make it an extra fun event with fun activities and games. Don't just let them get lost on screens. Make it interactive and memorable!
Check out and pick a few of these 50+ Epic Ways To Celebrate New Year's Eve With Kids.  You'll find a ton of wonderful ways to make the most of this special time. Then, add our free New Year's Eve printables to your fun list 😉
This year, I created and shared Bingo, Word Scramble, and Alphabet Game printables with New Year's Eve themes. And I'm also adding this fun word search activity!
My five boys have become obsessed with word puzzles-just like their mom. I've loved watching them enjoy learning fun and grow with these word games. There are so many fabulous benefits and reasons for kids to do word search activities, like:
Growth Mindset Practice:  These puzzles can be challenging in a fun way. Kids are more likely to persist and complete an activity like a puzzle or game. This type of growth mindset skill can transfer to other types of learning.
Screen-Free Fun:  In this modern world, I'm always looking for hands-on and interactive ways to engage my boys. Word searches are great ways to do just that!
Spelling Practice:  Sneak in a bit of learning while they're having fun. Win-win!
Quiet Activity:  A word search is a magnificent way to get kids to slow down and relax.
Brain Breaks:  When your kids need to hit the reset button or just chill from learning, a word search is an easy, open-and-go kind of activity.
Focus and Attention:  Your child needs to study the words and focus their attention on finding the correct letters in the correct order.
And, of course, a holiday-themed word search is just good ol' fun!
Incredible Ways to Enjoy This Word Search Activity for Holiday Fun
To bolster the fun of this New Year's Eve Word Search, you have several options. If you're using this with your classroom or homeschool co-op, simply place a copy of the word search in the take-home folders of your students (more on that below!).
Using this word search activity at your party or at home with your kids? Think about picking one or more of these creative ways to make it more fun:
Work in pairs.
Use a timer. Agree upon a specific amount of time (like five minutes) to solve. Or use a stopwatch to see how long it takes to complete.
Provide fun writing utensils. Gel pens, Frixion erasable pens, highlighters, markers, crayons, markers, and color pencils are excellent for this activity.
Add music! If you need to get the kids to quiet down, play soothing music. If you'd like more of a party atmosphere, play some upbeat tunes. Check out this New Year's Eve themed playlist for awesome song selections.
Continue the challenge. What other New Year's Eve words would you add to this word search? If you have time, make your own holiday-themed word search!
Haawooky Kid's Children Flexible Soft Pencil Magic Bend School Fun Equipment, 30 Piece
Color Changing Mood Pencil with Eraser, Set of 24, Assorted Colors
Gel Pens Set Colored Gel Art Markers Fine Point Pen with 40% More Ink for Adult Coloring Books Drawing Doodling Scrapbooking (24 Colors)
Paper Mate Gel Pens | InkJoy Pens, Medium Point, Assorted, 14 Count
PILOT FriXion Color Sticks Erasable Gel Pens 10-pack of Assorted Colors (32454) Black, Gray, Hunter Green, Blue, Purple, Magenta, Salmon Pink, Red, Orange, Navy, Erase Mistakes without White Out
Sharpie 1912769 Clear View Highlighters, Chisel Tip, Assorted Colors, 4-Count
Pilot FriXion Light Pastel Collection Erasable Highlighters Set of 5 Yellow Pink Green Purple Blue; Too Much, or The Wrong Color Highlighted? No Need To Stress with America's #1 Selling Pen Brand
Uigos 2 Pack Digital Kitchen Timer II 2.0 , Big Digits, Loud Alarm, Magnetic Backing, Stand, for Cooking Baking Sports Games Office (White) (2 Pack)
Teacher Created Resources Small Sand Timers Combo Pack (20663)
Get Your Free New Year's Eve Word Search
Celebrate New Year's Eve with kids with fun activities! Add this awesome word search to your arsenal of fun 🙂
I encourage you to print out as many copies of this word search that you need to make your celebration rock. If you have a friend, family member, or co-worker who you think would think this activity is groovy, please share the link to this post. Your sharing is appreciated!
When you join the Rock Your Homeschool community, you'll receive this printable activity in a PDF download via email, in addition to a password to unlock the library to all RYHS freebies.
You'll also get emails with creative and easy ways to make life and learning fun.
(Hey hey! Current RYHS members just need to access the Subscriber Freebies page and enter the password in your welcome email.  Or get the instant download in the email the week of this post.)
Click on the image below to subscribe and get your free printable New Year's Eve Word Search Activity!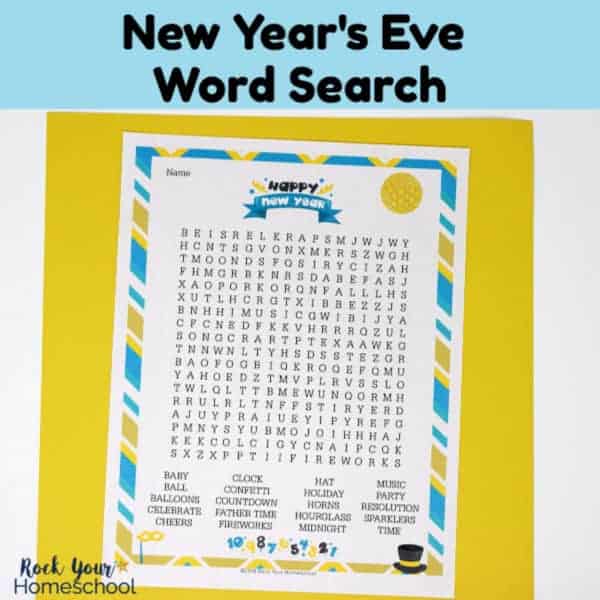 Dish about your New Year's Eve plans with kids in the comments area below!
I love to hear about different ways to celebrate 🙂