2 Free Printable Halloween Games for Interactive Holiday Fun for Kids
These 2 free printable Halloween games are super cool ways for kids to enjoy interactive holiday fun.
Your kids will have a blast with these unique challenges that can be played again and again.
Find out more about these two free Halloween games that makes logic and reasoning fun AND how to get them today!
Halloween CAN Be Fun for All Ages (Even Older Kids)
Looking for a simple Halloween activity that you can enjoy with your older kids?
These printable Halloween games is going to be a big hit!
Now that my boys are getting older, I'm thinking of new ways to make the holidays fun.
We still get out our Halloween playdough mats (I'm not sure if the boys are just trying to keep me happy because they know that I love playdough but I'll take it!) and some other Halloween fun activities.
But, we love adding new activities to our holiday printable collection. Especially ones that are interactive and challenging – such a great way to enjoy a fun Halloween game or two 😉
Easily add a fun Halloween twist with a great activity for simple spooky fun for all!
Halloween Printable Activities That Are Fun & Build Skills
These free Halloween printables (called Witches Dungeon Eyeball Hunt and Find the Spider at the Pumpkin Patch) are kind of like coordinate grid games. Except that each only has one quadrant and one side has letters 😉
These types of games are are an easy way to:
Interactive fun – players have to take turns asking questions and responding
Practice using grids (for example, finding D6)
Logic and reasoning
Strategy
Memory
When I've played these printable Halloween games with my boys, we found them to be similar to Battleship. And I've had a blast seeing how my younger kids could enjoy these in different ways with me.
I love that we can play these games again and again! It's great for building up to Halloween night and having extra fun with your kids.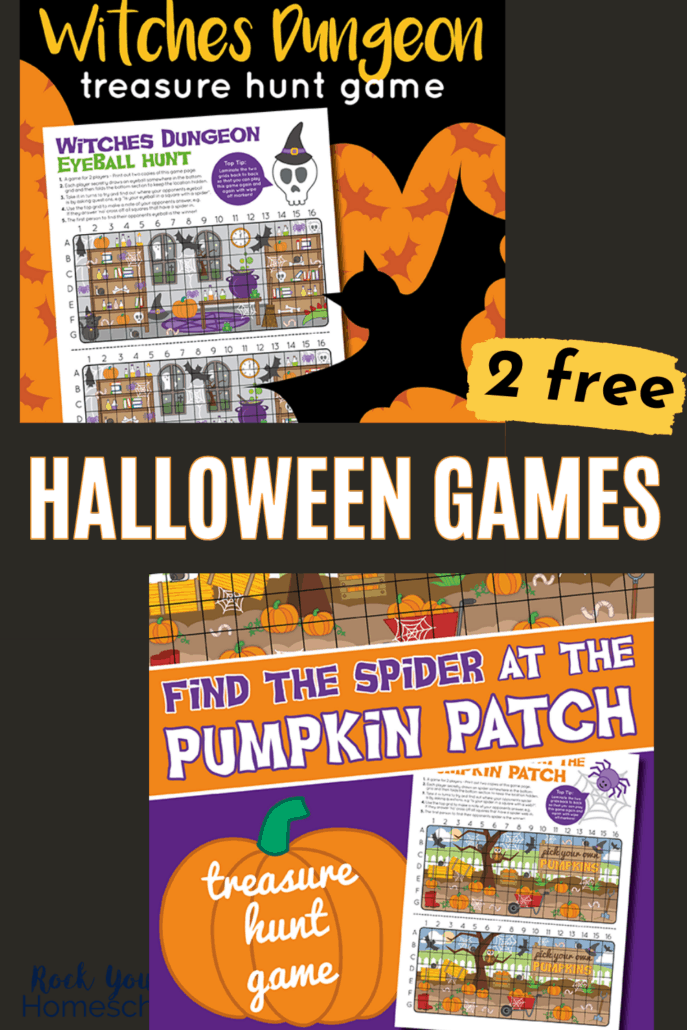 How Do You Play These Free Printable Halloween Games?
Both games are played the same.
I'll use the Witches Dungeon Eyeball Hunt as an example to walk you through the steps. Suggested instructions are included on the page but you can totally tweak.
It's suggested that this game is for 2 players. If you have more than that (playing with a small group or class), you could have 2 teams.
Print out 2 copies of the game page.
Each player picks a square and secretly draws an eyeball somewhere in the bottom of it. (The boys and I have also written down our choice on a small sticky note to keep track.)
Take turns asking questions to try to find out where your opponent's eyeball is located. (My boys like to play "rock, paper, scissors" to sort out who goes first.)
Use the other grid to make note of your opponent's answers. For example, if they answer no to "Does the square have any spiders?", you'd cross off all squares with spiders.
The first person to find their opponent's eyeball is the winner!
Creative Ideas for Using These 2 Free Halloween Games
A few ideas for places where you can use these printable Halloween games are:
Classroom Halloween party
Homeschool (brain breaks)
Boredom busters before the holiday
Halloween party
Library (other other community) event
I suggest that you laminate these simple games or put them in dry erase pocket sleeves. You can use dry erase markers to easily mark and wipe off your games (so you can use them again and again!).
You can take these games to the next level by having your kids write out their questions.
If learning a foreign language, practice vocabulary for lots of fun for the holiday. (You might have to look up these words in your foreign language dictionary prior to playing but it will be awesome practice!).
It can be so much fun to sit around the kitchen table and enjoy a fun game or two with the whole family or in small groups.
Get Your Free Printable Halloween Game
WooHoo! Get ready for some super cool Halloween fun with your kids!
These 2 free printable games set includes 2 pages ( 1 page of Witches Dungeon Eyeball Hunt and 1 page of Find a Spider at the Pumpkin Patch). Instructions are provided on the pages.
You can totally print as many copies of these Halloween activities as you need to enjoy with your kids, family, classroom, homeschool co-op, library, personal use, or other special event. If you have a friend or co-worker who might like using these games, please share!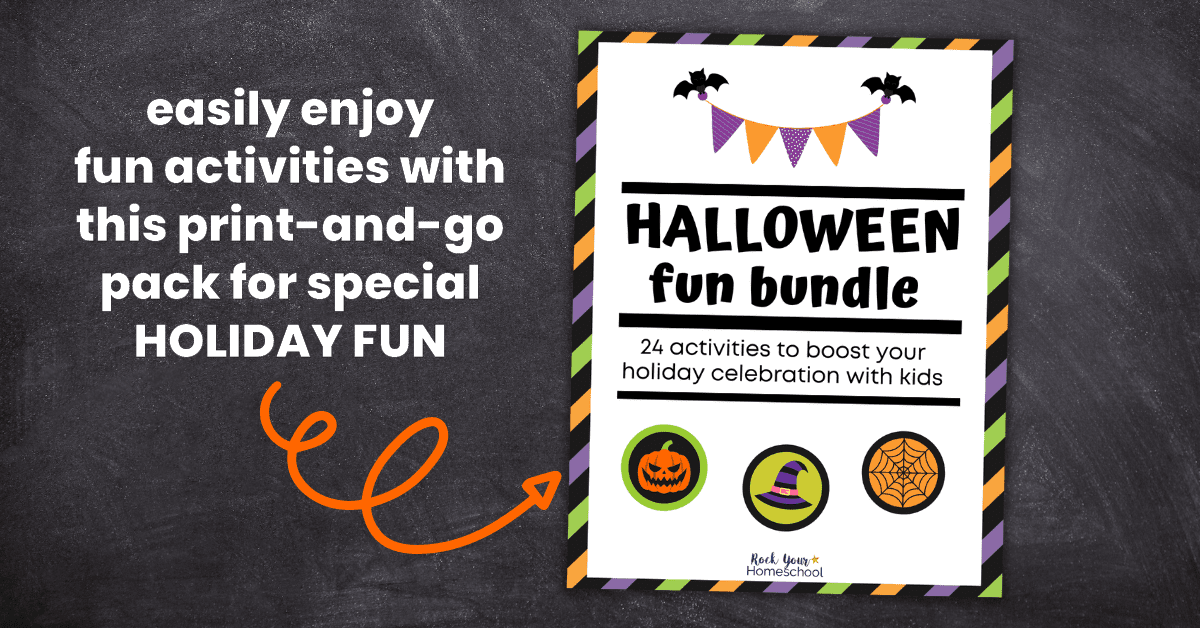 To get this fun free printable Halloween games set, simply subscribe to Rock Your Homeschool.
You'll receive an email with a PDF file for these printable Halloween activities, along with a password to open the Subscriber's Library to all RYHS freebies.
Plus, you'll get emails with ideas, resources, and encouragement to make life and learning fun 🙂
(Psst! Current RYHS members just need to access the Subscriber Freebies page and enter the password in your welcome email. If you have any problems or questions, please email Amy at rockyourhomeschool@gmail.com)
Get your 2 FREE printable Halloween Games (Witches Dungeon Eyeball Hunt and Find the Spider at the Pumpkin Patch) by tapping HERE or on the image below.
Wishing you tons of Halloween fun with these free printables!
I'd love to hear about your experiences with these awesome games (or if you have any questions). Add them to a family game night or for Halloween parties with kids. Please let me know in the comments area below 🙂
If you like these Halloween games, you've got to check out our other Halloween fun resources:
Halloween Memory Game (Free) (can be used as a Halloween matching game, too!)