Free Halloween Playdough Mats for Fantastic Holiday Fun
These Halloween playdough mats are amazing ways to enjoy hands-on holiday fun for kids.
You can use these free printable mats for a variety of activities.
Check out how my younger boys are using these playdough mats for Halloween fun and how to get your free set today!
Simple Hands-On Halloween Fun for Kids
There's something special about getting your hands moving and involved with different textures as you work on creativity and thinking outside the box. Kids of all ages can benefit from hands-on activities and projects.
When you pair this type of hands-on work with the holidays, it's like those special moments just multiply!
Playdough mats are examples of such fun ways to get kids excited about Halloween (and other holidays, too). Working with playdough is a great way to build fine motor skills, too.
You can find a variety of playdough mats, from simple layouts to detailed instructions.
My boys and I prefer the simple style of playdough mats. The boys like to brainstorm ways to complete their mats (and I like to save ink by using mostly black and white printing!).
To add to our collection of Halloween fun activities, I created these 13 free printable Halloween playdough mats. You'll find these Halloween themes and characters with creative prompts:
pumpkin (that your kids turn into a jack o' lantern)
moon and stars
potions (this mat does have colors-although you can opt to print in black and white)
Frankenstein
vampire
spider web
cauldron
candy corn
witch hat
ghosts
bats
H-A-P-P-Y H-A-L-L-O-W-E-E-N (in letters with prompt)
B-O-O-! (in letters with prompt)
*My younger boys are 6 and 9. They still have a blast with these playdough mats! And my older boys (11, 15, 17) even snuck in a bit of hands-on fun with these mats. Of course, mama had fun right along with them 😉
Tips for Using These Halloween Playdough Mats
Your first step to enjoying this Halloween Playdough Mat Set is to subscribe to Rock Your Homeschool (scroll down to end of this post to find out more) and get your free set plus access to our Subscriber's Library of freebies.
Next, print out these playdough mats on white paper or cardstock. (You can print on other colors-maybe yellow or orange-but I think the playdough colors stick out better on white. Do what works for you!)
If you like, you can give to your kids and let them create. I recommend laminating your Halloween playdough mats so the playdough doesn't stick and you can use them again and again.
OR you can do what I did and use dry erase pocket sleeves. So simple to use over and over again! When you're done with your playdough fun, you can just wipe clean and use it with dry-erase markers. I love these types of ideas to get more bang for my buck 😉
You may prefer to have no prompts on your playdough mats to allow your kids total creative freedom. That's cool! Just trim off the prompts and have fun.
I picked up a variety of playdough colors to use with our mats. (I went with this set + free shipping via Amazon Prime because I didn't feel like going for a playdough run.)
Whenever my boys get involved with playdough, I run through my expectations which include:
Finding an area at our table that's clear (and if it's not, get it cleaned up)
Keeping the playdough in a specific area (and not walking all over the house with it)
Breaking off a chunk of playdough if they want to mix it with other colors (so we don't have tears when a brother wants that color but it's turned into an odd shade of brown)
Agreeing to clean-up rules (if you want to play with it, you help clean it up)
You know your kids and home best. I encourage you to come up with your own playdough expectations so everyone can enjoy the experience 🙂
Creative Ideas for Enjoying These Free Halloween Printables
My boys love to think outside the box. Instead of traditional Halloween colors, they may choose pink for a pumpkin or yellow for Frankenstein.
You may decide to stick with traditional or you can encourage your kids to let loose with their playdough mats. Such a great idea for a cool sensory play experience!
If you opt to laminate your playdough mats, you could include stickers and washi tape in your decorating tools. Oh, and your little learners can use dry erase markers to get some extra fine motor practice!
We love to play music for the holiday. This YouTube playlist of Halloween songs for kids is cool. Or do your own search!
Another super simple idea is to print out extra copies and use as Halloween coloring pages.
Neenah Cardstock, 8.5
Scotch Self-Seal Laminating Pouches, 25 Pack, Letter Size (LS854-25G-WM)
Play-Doh Treat-Without-the-Sweet Halloween Bag, 15 1-Ounce Cans
Play-Doh Modeling Compound 10-Pack Case of Colors, Non-Toxic, Assorted, 2 oz. Cans, Ages 2 and up, Multicolor (Amazon Exclusive)
Halloween Stickers for Kids, Happy Cartoon Witch Spiders Pumpkin Ghost Stickers for Halloween Decorations Party Favors School Props Envelope Seals Paster Trick or Treat Goodie Bag (240 Pcs)
Halloween Holiday Washi Tape – Cute Orange Washi Tape Set with Cat, Pumpkin, Ghost, Star, Witch, Perfect for Bullet Journal, DIY Crafts, Planner, Scrapbook, Gift Packaging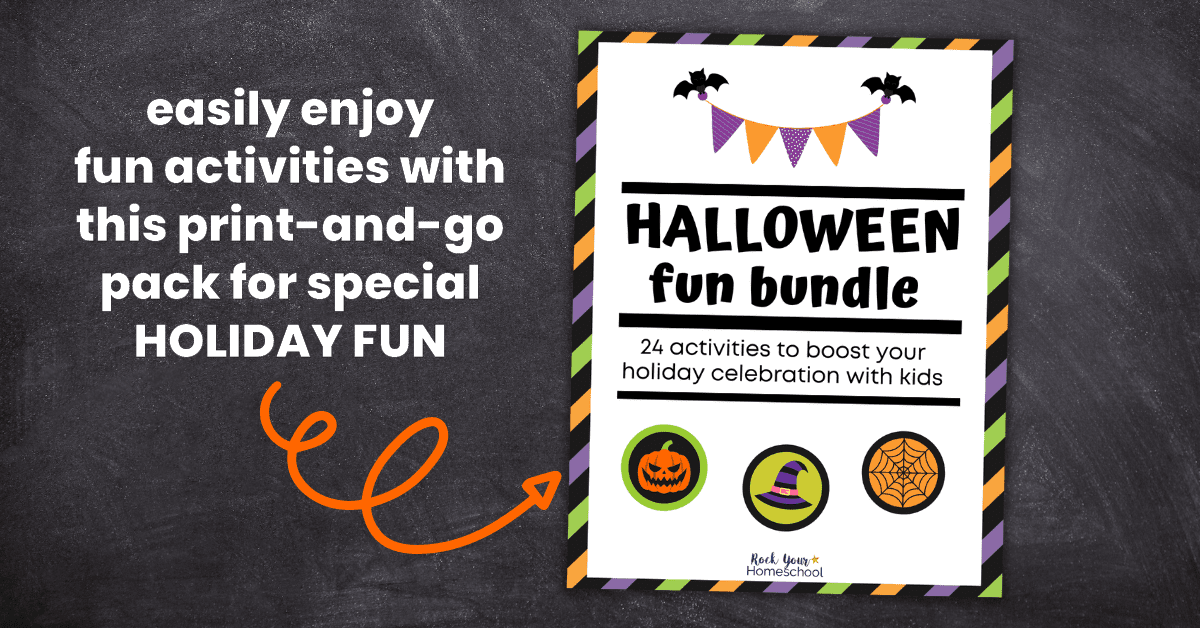 Get Your Free Halloween Playdough Mats
Easily enjoy hands-on Halloween fun activities with your kids using these playdough mats.
This free printable (PDF) set includes 13 pages of Halloween-themed playdough mats with creative prompts and terms of use page.
Please print out as many copies of these holiday fun playdough mats as you need for your family (for personal use), classroom use, homeschool co-op, and community event.
If you have a friend or co-worker who'd have a ton of fun with these Halloween activities, please share this post. Thanks in advance for your cooperation and sharing!
**If you have questions about using for distance learning, email Amy at rockyourhomeschool@gmail.com.
To get this free set of printable play dough mats with Halloween themes, subscribe to Rock Your Homeschool. You'll receive an email with a PDF file, along with a password to open the Subscriber's Library to all RYHS freebies.
Plus, you'll get emails with ideas, resources, and encouragement to make life and learning fun.
(Psst! Current RYHS members only need to access the Subscriber Freebies page and enter the password in your welcome email. Please email Amy at rockyourhomeschool@gmail.com with any questions!)
Get your set of printable playdough mats with Halloween themes by tapping HERE or on the image below.
Wishing you so much fun with these free Halloween play dough mats!