Fun & Free Halloween Word Search for Kids
Enjoy a special activity with your kids using this Halloween Fun Word Search!
This free printable is perfect for your party, library event, class, and family celebration.
If you're looking for Halloween word searches printables, you've got to check out this Halloween-themed word search and get ideas on how to make this activity extra fun!
Add This Halloween Fun Word Search to Your Celebration!
If you're looking for a fun way to enjoy a simple activity to use with kids this Halloween Day (October 31st), you'll love this Halloween word search (scroll to end of this post to get your set). Based on this holiday, your kids will have a blast searching and locating Halloween words. It's a great way to easily enjoy holiday fun activities with kids.
I've always loved word search puzzles. Well, really any word puzzle 😉
And I was recently thrilled to discover that my boys have started to enjoy this hobby. There are so many benefits from working on and enjoying word searches. (I share a few of my ideas on the benefits of word searches over at our Free Fall Fun Word Search.)
These word puzzles are excellent ways to provide kids with ways to improve spelling. Plus, these activities are wonderful brain breaks and boredom busters!
Since my boys have been bitten by the word puzzle bug, I thought it would be fun to add a Halloween-themed word search to our list of activities to celebrate the holiday.
Let's look at some super cool ways that you can use this free Halloween word search for this fun time of year!

Great Ideas for Using This Halloween Activity with Kids
Maybe you think a word search sounds a bit boring?
Sure, not everyone thinks a word search is fun. But, that doesn't mean you can't use a few ideas to make it more exciting with this great activity 😉
Let your kids use different types of writing utensils. Highlighters, markers, even Kwik Stix, are fabulous ways to make your Halloween Fun Word Search fun and colorful.
Give your child a timer to see how long it takes to complete the word search.
Work with your child to finish the word puzzle together.
Pair up participants to make it an interactive experience!
Encourage your child to spell the words out loud for fun spelling practice.
Provide a Halloween-themed sticker, stamp, pencil, eraser, or glow stick when the word search is done.
Challenge your kids to think of different words and add to the back of the paper
Extend the learning fun by using as vocabulary words (add definitions to back of paper)
Older kids can help younger kids find the first letter of these Halloween fun words. If your younger kids would prefer to independently work, you can go through with a highlighter and highlight first letters.
If you'd like to make it a fun activity for a group, take turns searching for and circling the hidden words.
Geddes Boo Buddies Pencil with Giant Eraser Assortment – Set of 36
Halloween Party Favor Bundle Pack – Crayons with Fun and Game Books
Crayola Mini Twistables Crayons, 24 Classic Crayola Colors Non-Toxic Art Tools for Kids & Toddlers 3 & Up, Great for Kids Classrooms or Preschools, Self-Sharpening No-Mess Twist-Up Crayons
Crayola Back To School Supplies, Grades 3-5, Ages 7, 8, 9, 10 (Amazon Exclusive)
Pencil Grip Kwikstix Thin Stix Solid Tempera Paint 24 Pack, Super Quick Drying, 12 Classic 6 Neon & 6 Metallix Colors, (TPG-620)
Juvale Halloween Stickers – 36-Sheet Halloween Party Stickers for Kids, Festive Stickers for Student Rewards, Party Supplies, Trick-or-Treat, Goodie Bags, 720 Total Pieces
Assorted Stamps 24 Pack for Kids Self-Ink Stamps for Holiday Party Favors, 24 Different Designs, 6 Assorted Colors
Get Your Free Halloween Fun Word Search
Ready to include easy learning fun to your Halloween celebration? Add this free printable word search to your collection of great Halloween activities.
Pull this one out of your Halloween printables when you need a quiet activity between Halloween party games.
This free printable set includes 1 page of Halloween Fun Word Search.
You'll find Halloween-themed words that will be a huge hit with your kids!
You can add it to your free printables for Halloween for classroom use, homeschool fun, holiday party, and library event. Also, you may certainly print out enough pages to everyone has their own copy.
If you have a co-worker, friend, or family member who might like to add this activity to their Halloween celebration with kids, please share the link to this post 🙂
When you join the Rock Your Homeschool community, you'll receive this printable page in a PDF download in an email, along with a super-secret password that opens the vault to all RYHS freebies. In addition to your freebies, you will be a weekly email with ways to rock your homeschool plus instant downloads to all new freebies.
(Psst! Current RYHS members just need to access the Subscriber Freebies page and enter the password in your welcome email. Or get the instant download in the email the week of this post.)
Click on the image below to subscribe and get your free printable Halloween Fun Word Search activity!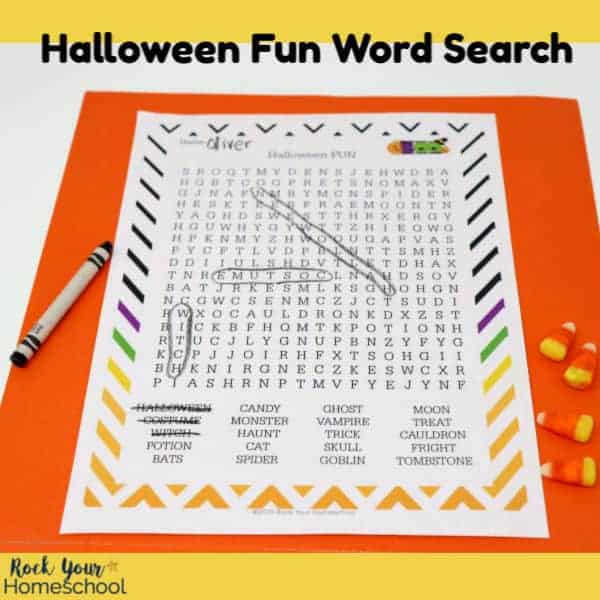 Do you have more ideas on how to make this Halloween Fun Word Search exciting for kids?
Please share your ideas in the comments area below 🙂
Wishing you a very Happy Halloween!
You can find more of our free word search printables for great activities for kids here:
Free Fall Fun Word Search for Easy Activity with Kids
Free Thanksgiving Word Search for Easy Holiday Fun for Kids
Free Christmas Word Search for Easy Holiday Fun
Fun Ways to Enjoy This Free Winter Word Search
Free New Year's Eve Word Search for Simple Holiday Fun
Free Valentine's Day Word Search for Kids
Free St. Patrick's Day Word Search for Simple Holiday Fun