25 Easy Ways to Enjoy Fall Learning Fun in Your Homeschool
Fall learning fun can be easy with kids!
Check out these 25 amazing ways to have Fall Learning Fun.
Fantastic ideas that will help you create an awesome Autumn of learning fun activities!
Get ready to enjoy some fantastic activities, crafts, art, and hands-on learning fun in your homeschool with your kids.
Fall is such a special time of year! Outstanding opportunities to weave in nature themes to your homeschool fun.
Prepare and plan for some awesome Fall learning fun in your homeschool with these 25 activities:
25 Ways to Have Fall Learning Fun in Your Homeschool
Chalk Pastels with Fall Themes
The chalk pastel art lessons from You Are An Artist! are simply delightful! This course contains step-by-step video tutorials for nine different Fall-themed art projects. You can sample a free lesson on drawing a pumpkin to get a taste for what to expect.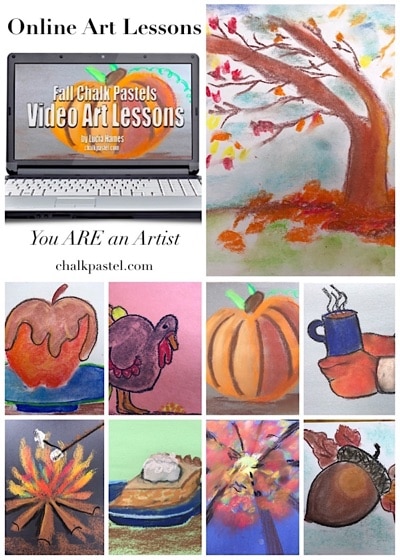 Do you have younger kids who would like to get started with chalk pastels? These four video art lessons help your preschoolers learn how to use chalk pastels and draw Fall-themed objects. Here's a free lesson for preschoolers on how to draw a chalk pastel apple.

Fall-Themed Printables
3. Pumpkins
Here's a Rock Your Homeschool exclusive! Free printable pack of pumpkin-themed coloring pages and more! Includes printable pages for tracing, handwriting practice, and an adorable craft with a song.
4. Fall Learning Fun with Spiders
Another Rock Your Homeschool exclusive! Have some learning fun with these smart spiders! Free printable pack includes activities for coloring, handwriting practice, maze, and more.
5. Fall-Themed Playdough Mats
Enjoy these free printable playdough mats. Includes six Fall themes that you can laminate and use with playdough or simply color!
6. Fall Scavenger Hunt
Go on a Fall scavenger hunt with this free printable list with visual prompts (great for all ages!).
Here are eight free printable pages for dot painting (bingo daubers) with Fall themes. Great for all ages!
This homeschool fall bucket list includes fabulous ideas for Fall family fun. One of our favorite activities is the Candy Corn Estimate.
Free printables for fun questions about fall (and lots of other topics) to chat about with your kids.
Crafts for Fall Learning Fun
Such a cute and easy craft to do with all ages! Younger kids can follow these directions. Older kids could include more details on an apple's anatomy.
11. STEAM Autumn Leaves
Teach your kids about absorption as they have Fall learning fun! This simple craft turns into a science lesson plus beautiful display.
12. Leaf Rubbing
For this craft, you need leaves, paper, and crayons. Simply put a leaf under the paper on a hard surface. Gently rub a crayon across the paper. Make a leaf rubbing collage! As you work on your leaf rubbing, identify the parts of a leaf.
13. Fall Learning Fun for Leaf Printing
You will need leaves, paper, paint, and a flat bowl or pan. Lightly dip on side of a leaf into the paint. Remove excess paint from the leaf with a paper towel. Gently press leaf onto paper like a stamp.
This Fall craft only requires construction paper, scissors, and glue. This project could be great for all ages. Keep it simple for younger kids and help when necessary. Encourage older kids to add more details to their cuts and apple tree design.
This Fall craft will require more prep work and help from mom or older siblings. If you don't have some of the materials (like liquid watercolors), use what you have! Create a beautiful leaf banner to adorn your homeschool area!
This art activity gets you up and exploring your surroundings before you even begin. You will go on a texture hunt to use to create different colored textures on a pumpkin you draw (or use one of these free pumpkin coloring pages).
17. Apple Prints for Fall Learning Fun
Cut an apple in half and dip into yellow, green, or red paint. Use as a stamp on paper for fun apple prints.
Autumn Activities for Kids
Awesome hands-on activity that uses only a few materials! Great way to encourage kids to develop fine motor skills as they work on this lacing exercise.
Super fun activity that only uses small plastic spiders and straws. Each child gets one straw and one plastic spider. Designate a start and finish line. Establish ground rules for their safety and your sanity. Ask questions like, "How hard do you have to blow on your straw to get the spider to move?" and "What position do you need to place your straw to effectively move the spider?". Give plenty of time for practice!
This ring toss game will get glowing reviews! Make sure to use a pumpkin with a tall stem. See how far back you can stand and still get a ringer!
21. Leaf Matching
Gather a variety of leaves. Spread out leaves to examine and sort. Match like leaves. Once you have completed the matching process, identify the leaves.
22. Homeschool Fun Calendars for Fall Learning Fun
Keep up-to-date on special holidays and events to celebrate in your homeschool for Fall learning fun. Use your free printable homeschool fun calendars with weekly materials checklists to help you plan for fun.
23. Preserve Fall Leaves
Take your kids step-by-step through preserving Fall leaves and make a cute craft!
Here are four easy to make playdough recipes with Fall themes. Create great smelling playdough and use to make Fall-themed items like pumpkins, apples, leaves, spiders, and more.
Use real or fake leaves for this fun hands-on math activity.
I hope these 25 Ways to Have Fall Learning Fun in Your Homeschool help you plan and prepare for some special moments with your kids this Autumn.
What are other ways that you like to add Fall learning fun to your homeschool?
Oh, and here are a few FREE learning fun packs with Fall themes:
Free Football Printables Pack Full of Coloring Pages and Fun Activities
Learning Fun with Pumpkins (Free)