A Homeschool Fall Bucket List can help you plan for and enjoy all those awesome Autumn activities that you want to do. Don't let a busy homeschool life get in the way of special seasonal fun with your kids!
Get tips and ideas for enjoying Fall Learning Fun with your kids plus grab your free instant download (click and print!) bucket list 🙂
Get Ready for Fabulous Fall Fun in Your Homeschool!
Do you want to have an awesome autumn in your homeschool but not sure what to do?
Or maybe you are super busy and just don't have time to think about it?
No worries! Use this Free Homeschool Fall Bucket List to get your family and homeschool ready for fun.
Homeschool fun is all about being prepared and well planned. How many times have you had the best intentions to include family and learning fun into your homeschool? And then your schedule got packed and time slipped away?
Now, you can use this bucket list for Fall learning fun to reference when you:
don't have time to think about Fall fun
take out your homeschool planner to make sure you are prepared
want to have a great reward or motivator for your kids to complete homeschool work
are looking forward to creating and sharing special memories with your kids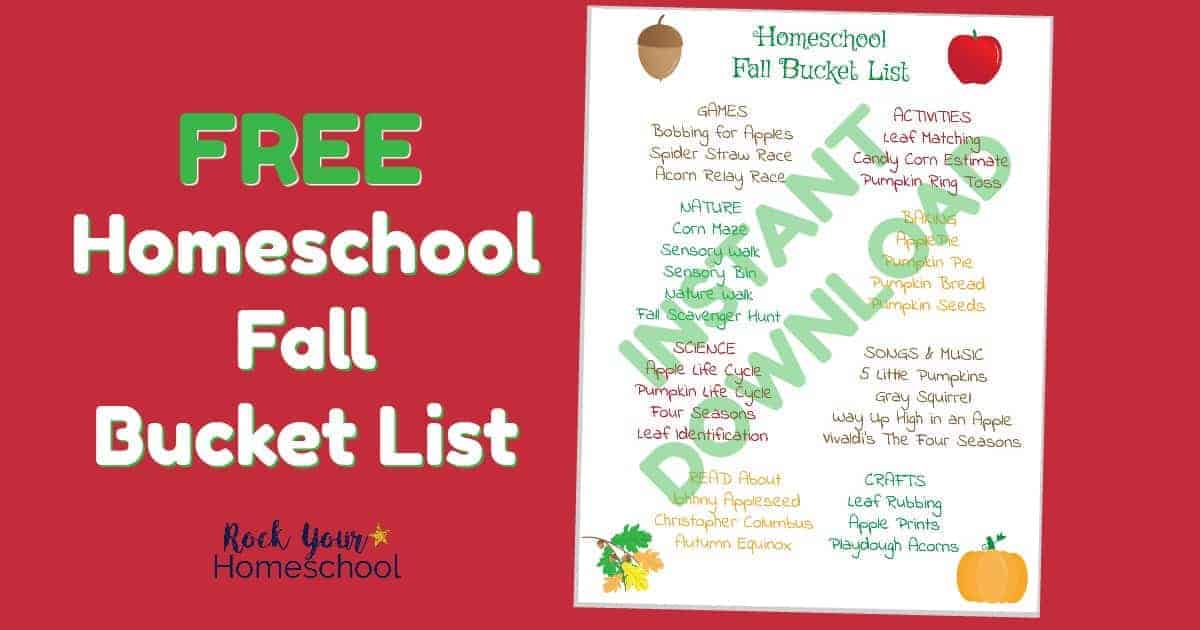 Free Homeschool Fall Bucket List for Family Fun
This free printable Homeschool Fall Bucket List was specifically created to incorporate Fall learning fun into your homeschool.
Many Fall bucket lists have wonderful ways to celebrate the change of season. Those regular bucket lists do not include, however, educational components (what some might refer to as "sneaky learning").
This Homeschool Fall Bucket List includes themes on:
games
activities
nature
baking
science
songs & music
reading
crafts
A great variety of hands-on activities, games, and more!
To access your free printable Bucket List for Fall Learning Fun in Your Homeschool, simply CLICK ON THE IMAGE BELOW! Just click, download, and print!
Here are a few details for some of these suggestions:
Spider Straw Race: You will need small plastic spiders and straws. Each person gets one spider and straw. Designate a start and finish line.
Candy Corn Estimate: Get a bag of candy corn. Take a couple handfuls and count how many candy corns are in the pile. Place candy corns in a clear bowl or jar. Encourage your kids to estimate how many candy corns are in the container. The winner receives the candy corn!
Wishing you the very best for a Fall filled with family and fun!
Which activity are you looking forward to the most?