Writing Fun Activities for Kids: Free Printable Movie Review Template (5 Pages)
This free printable movie review template is a fantastic way to make writing fun for kids, especially for reluctant writers.
These activities provide creative ways to describe and critique your movie of choice. You can use these printable templates again and again, too!
Get ideas and inspiration for enjoying this film review template pack and grab your free set today!
Fun & Easy Ways to Inspire a Love of Writing
Writing has been a thorn in my homeschool side for as long as I can remember.
Although I love to write, all 5 of my boys would rather clean our toilets – and that's saying something 😉
Over the years, I've tried SO many different ways to make writing fun in our homeschool. We use writing prompts, workbooks, websites, and apps.
All of those activities have helped. And while I won't say that my boys adore writing, at least they don't complain anymore!
So, I shall continue to add activities to our writing fun collection! Like this new free printable movie review template pack 🎬 🍿 ✍️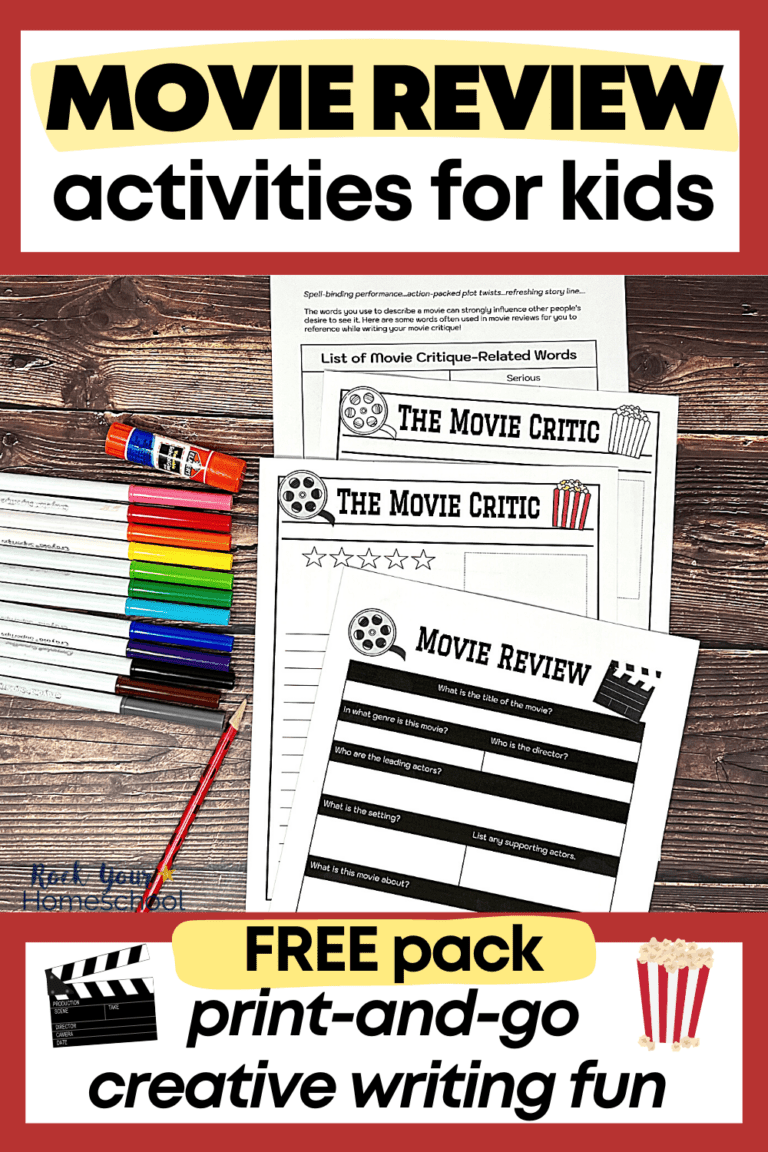 Learn More About This Free Printable Movie Review Template Pack
This free printable pack features movie review templates and a list of movie critique-related words. It includes a total of 7 pages with:
Cover describing and illustrating the activities
Terms of use page
Movie Review in black-and-white: This activity has 7 questions for your student to answer about the film and prompt to give a rating (out of 5 stars)
The Movie Critic example: This template includes instructions and ideas for using the blank template with your kids. You'll see where to-

write the date
write your name
provide a star rating
add the movie title
area to glue or draw a scene from the movie
lines to write your movie review (great place to add more detailed information)

The Movie Critic: blank template in color
The Movie Critic: blank template in black-and-white
List of Movie Critique-Related Words: Includes 50 descriptive words to help you take your film review to the next level
Creative Ideas for Boosting the Learning Fun with This Movie Review Template Set
Wondering how you can get your kids excited about these movie-themed writing fun activities? Here are a few ideas to get you started with these movie reviews:
Brainstorm a list of movies that you'd like to watch and critique. Choose a variety of genres (even ones that you don't typically watch – like short film and documentary films) that are age-appropriate. Share your favorite movies for that age range.
After you brainstorm, you can randomly choose which movies to watch first or prioritize them. You can base your selections on season, holiday, theme, or interest.
Make a plan! Use a printable calendar or planner page to schedule your movie viewing dates and times. Chat with your kids about the importance of being flexible with these plans, in case of emergency.
Go over the free printable movie review template pack with your kids prior to using and watching the film. This step will make it easier for your students to complete the activities.
Print extra copies in case your kids want to have a first draft worksheet.
Provide a notebook or loose-leaf paper on a clipboard for your kids to jot down notes or doodle during the movie.
Have a variety of writing tools available for use, like:
Use the highlighters (or color pencils or markers) to circle words on the movie critique-related list to be included in your review.
Talk about additional questions that could be part of a movie and include on the back of the activities.
Pick one of many books made into a movie to easily add reading fun, too.
Bonus activity: Make a movie poster or bulletin board display.
Get Your Free Printable Movie Review Template Pack
WooHoo! You're on your way to having a blast with these movie review template activities!
This free template printable set includes 7 pages (5 activities plus cover and terms of use).
You can print as many of these activities as you need for your personal use, family, class, homeschool co-op, or community event. If you have a friend or co-worker who'd enjoy this type of writing fun with kids, I ask that you please share this post with them. Thanks so much for your cooperation!
To get this free printable movie review template pack, simply subscribe to Rock Your Homeschool with your email address.
You'll receive an email with a PDF file, along with a password to open the Subscriber's Library to all RYHS freebies.
Plus, you'll get emails with ideas, resources, and encouragement to make life and learning fun 🙂
(If you are a current RYHS member, you just need to access the Subscriber Freebies page and enter the password in your welcome email. If you have any problems or questions, please email Amy at rockyourhomeschool@gmail.com)
Get your FREE Printable Movie Review Template Pack by tapping HERE or on the image below.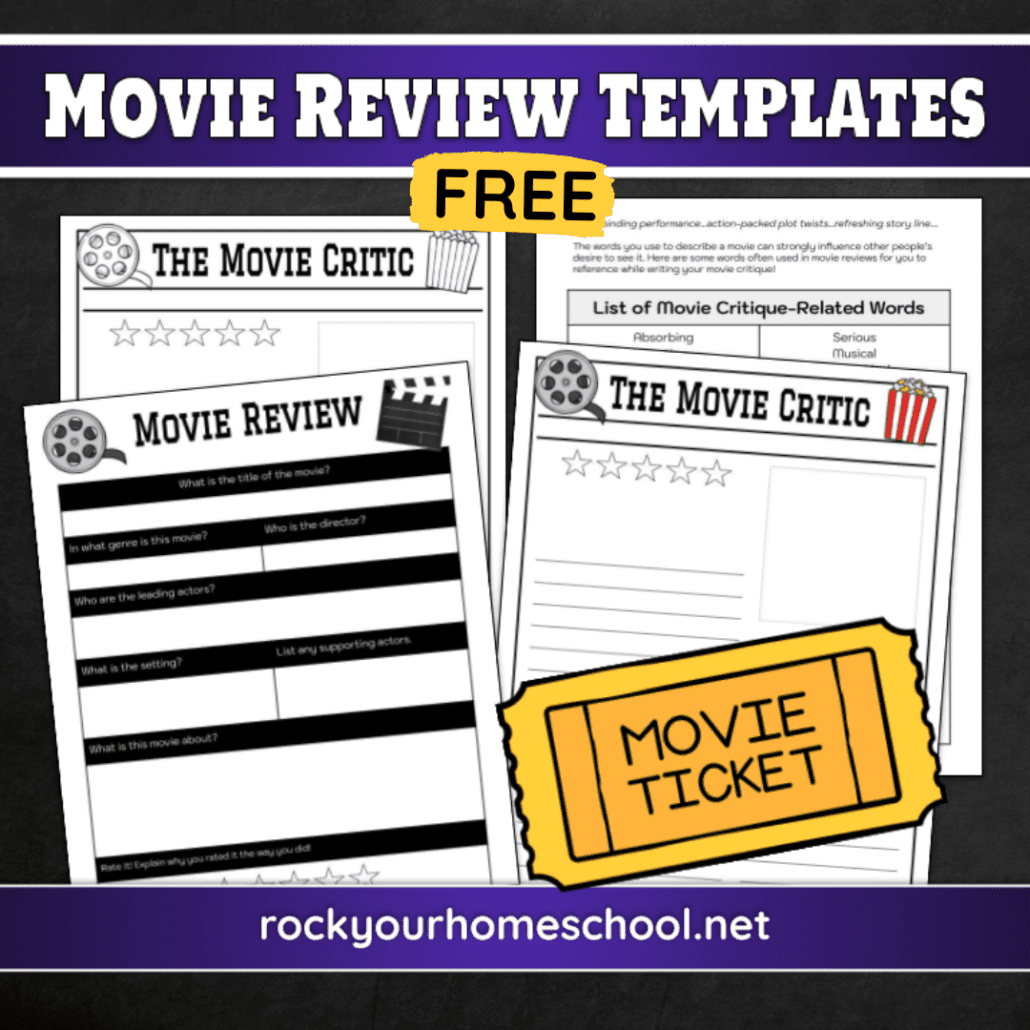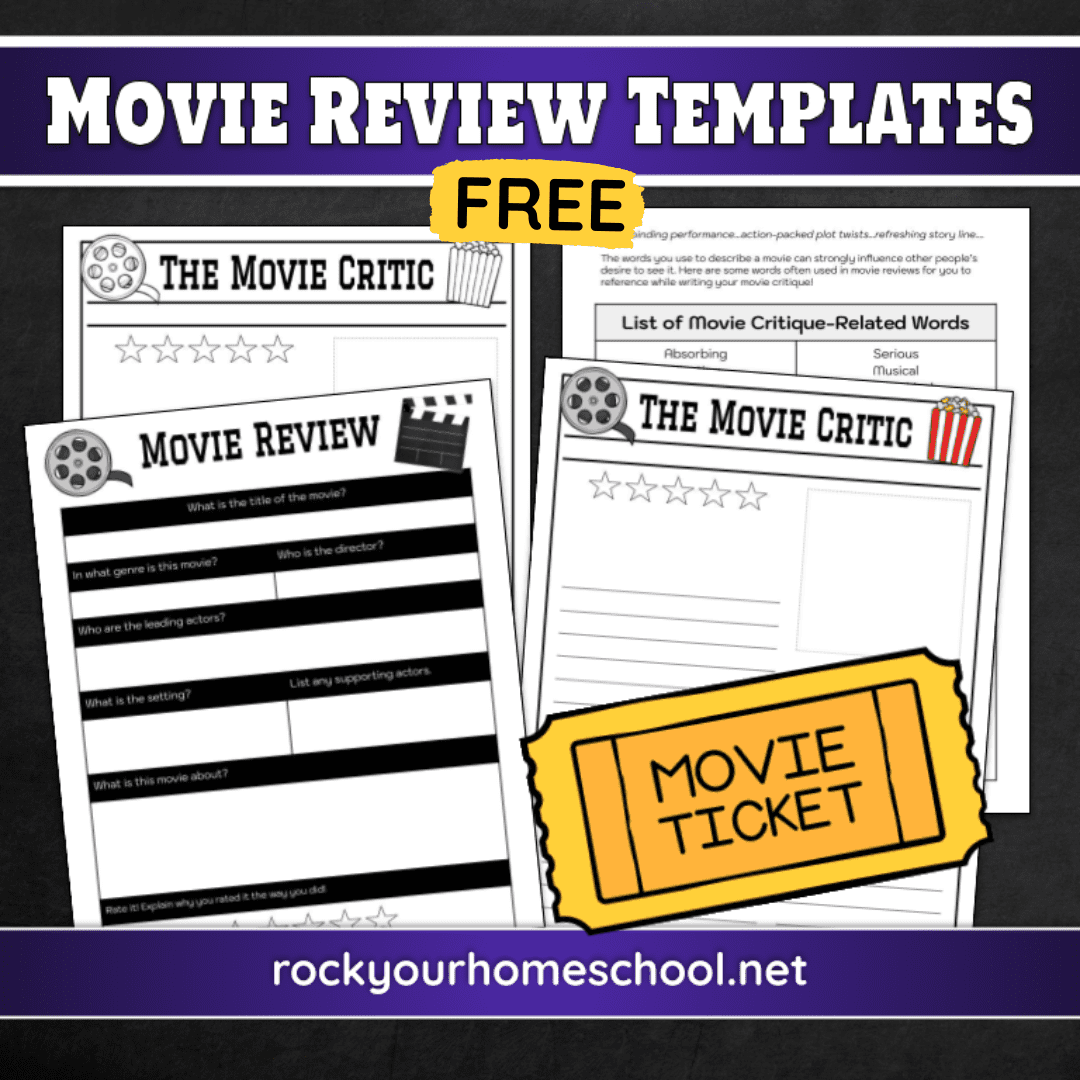 Wishing you tons of movie and creative writing fun with your kids!
More Fun & Free Writing Activities for Kids