Halloween Perler Bead Patterns: How to Make a Fun Haunted House (Free)
This Halloween perler bead patterns pack is brilliant way to celebrate the holiday with your kids.
Your children will have so much fun making this super cute haunted house scene. It's a fantastic screen-free activity that can be enjoyed at home and shared with loved ones.
Find out more about this free printable Halloween haunted house perler bead craft and get your set today!
Perler Beads Craft + Halloween = Hands-On Holiday Fun
Looking for simple yet special ways to celebrate Halloween with your kids? Try this perler bead craft!
Halloween has been such a fun time of year to enjoy with my boys and I – especially in our homeschool. (In fact, find all of our Halloween Fun on this page.) We've read books, enjoyed hands-on activities, played games, watched videos, and had a blast with our Halloween Unit Study AND Fun Activities Bundle.
And I love to find new and easy ways to celebrate holidays with my boys. New activities make our celebration so much more exciting.
Since my boys have been enjoy perler bead activities (also known as Hama beads and fuse beads) so much, I decided that it was time for a Halloween-themed craft like this one.
I can't wait to surprise my boys with this free printable Halloween perler bead patterns that we can use for decor and more. Some different ways to use these hands-on Halloween crafts are:
celebrate Halloween (October 31)
Halloween party (and pair with our Halloween party poppers!)
rainy day fun
library craft
frugal gifts
just because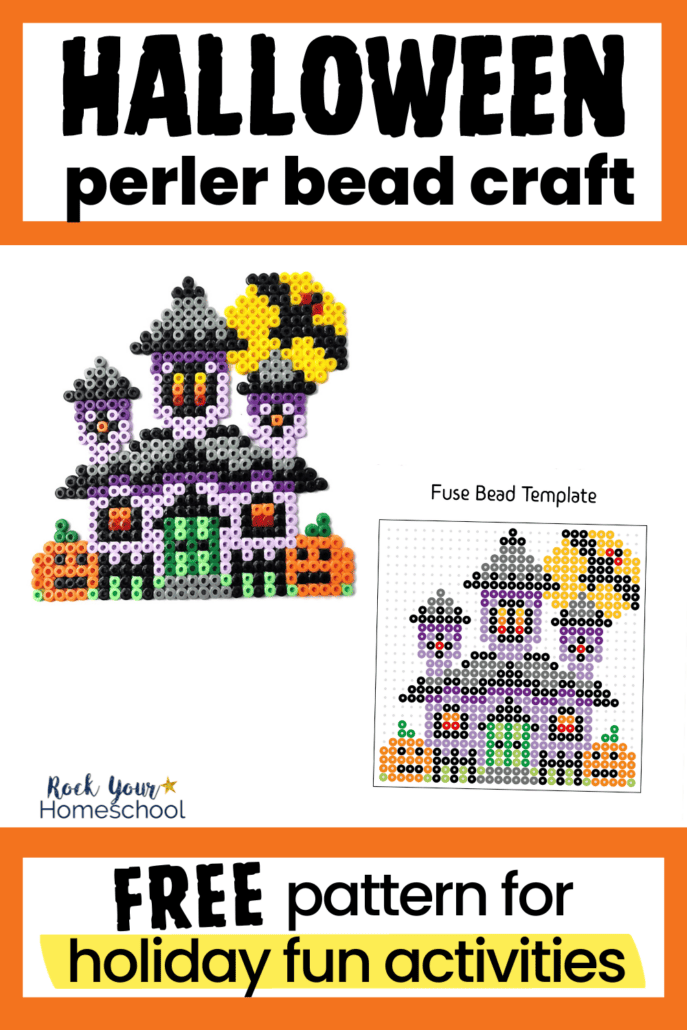 Learn More About This Free Printable Halloween Perler Beads Patterns Pack
This free printable pack of Halloween perler bead patterns features a Haunted House scene. There is one pattern on one page.
You can totally make each part of the house separately for about four different symbols to get into the Halloween spirit.
This cute Haunted House scene includes a spooky house with towers, windows, and door. Also, there are two jack o'lanterns, as well as a bat in front of the moon.
How to Make This Halloween Perler Bead Patterns Set
These tips and tricks (plus simple instructions) can help you enjoy your perler bead creations with kids. You'll find that it's so much easier to create these crafts.
I recommend that you have ALL of your perler bead supplies ready and organized prior to starting your perler bead craft.
I purchased a big tub of perler beads (also known as melty beads) and perler bead pegboards that attach (which you'll probably need for a large symbol like this Haunted House). And I got a plastic craft organizer so the boys would be able to sort the perler beads by colors.
Some kids like to use perler beads tweezer tools. These types of tools are optional – my boys prefer to use their fingers.
When your perler bead creation (on the pegboard) is complete, place it on a flat surface.
The set of perler bead pegboards that I bought comes with reusable ironing paper. I've found that you can also use parchment paper or waxed paper. This paper is placed upon your completed creation.
You'll need an iron to fuse your perler beads. I set the temperature of my iron to a medium heat. When your iron is warm, press firmly on the ironing paper and slowly move around. Check the perler bead creation about every 30 seconds to see how well the beads are melting together.
If you don't have the exact colors, please don't worry. Use what colors you have and make your Halloween Haunted House unique 😀 And you can make your own designs, too!
Creative Ideas for Enjoying This Holiday Perler Beads Craft
Chat with your kids about their ideas for these perler bead art activities. Brainstorm ways to enjoy and share your Halloween perler bead crafts, too.
You may want to start a collection of perler bead crafts. It's such a fun way to highlight creativity and more.
My boys like to put their crafts in their bedrooms, as well as decorate our shelves and bookcases with them.
Consider using your Haunted House perler bead craft to decorate a large party gift bag and decor for your Halloween party.
Enjoy as a fun activity during your party. OR send kids home with a DIY kit with the free printable pattern and pieces to make their own!
And add our free printable cute ghost pattern of perler beads, too!
Some fun ways to get into the Halloween spirit and use these fun Halloween perler bead patterns include:
Cupcake topper (so fun for a Halloween party!)
Gift tag (or trick-or-treat bag)
Halloween decoration
Easy Halloween craft
Get Your Free Halloween Perler Beads Patterns Pack (Haunted House)
WooHoo! You're so close to enjoying lots of fun holiday activities with these Halloween crafts for kids!
This free printable pack of Halloween perler bead patterns includes one page. It's an excellent way to enjoy a super fun craft activity this Halloween.
And you may certainly print as many copies of these perler bead patterns as you need to enjoy with your homeschool, classroom, or co-op. If you have co-workers or friends who'd enjoy these free printables, please share this post. Thank you for sharing – I appreciate your cooperation!
To get this FREE printable pattern for making a haunted house, all you need to do is subscribe to Rock Your Homeschool.
⭐️ You'll receive an email with a PDF file plus a password to open the VIP Resource Library to all RYHS freebies. Email Amy at rockyourhomeschool@gmail.com if you have any problems!
Oh, and you'll also get emails with ideas, resources, and encouragement to make life and learning fun 🙂
(Hey hey! Current RYHS members just need to access the VIP Resource Library page and enter the password in your welcome email.)
Get your Free Halloween Perler Beads Patterns Pack to make a fun Haunted House by tapping here or on the image below.
Are you going to customize your haunted house? What ideas do you have to enjoy spooky perler bead fun?? Please share in the comment area at the bottom of this post!
Wishing you and your kids a super fun Halloween!
More Fun and Free Halloween Activities for Kids