Halloween Scavenger Hunt for a Fun Holiday Activity for Kids (Free)
This Halloween scavenger hunt is a simple yet special way to enjoy a fun holiday activity with your kids.
You'll have a blast searching high and low for these Halloween-themed objects. When you find one of the prompts, you get to color it in on this printable page.
Find out more about this Halloween scavenger hunt for kids and get your free printable activity today!
A Super Cool Way to Celebrate the Holiday with Your Kids
Halloween is such an amazing holiday to enjoy with your kids. My 5 boys and I have so many happy memories from our special times shared together.
A variety of costumes and decor make it interesting to check out all the creativity and enthusiasm for the holiday. So many cool things to observe!
Since our other printable holiday scavenger hunts (like Valentine's Day, St. Patrick's Day, Christmas Lights, Christmas Tree) were so much fun with my boys, I decided that we needed a Halloween version, too.
You can totally use this simple scavenger hunt on Halloween night or to build excitement in the days ahead of the holiday. It's the perfect addition to your celebration!
Learn All About This Halloween Scavenger Hunt
This free printable Halloween scavenger hunt is on one page.
Instructions are provided on the worksheet. Your kids will color in the Halloween objects as they see or find them. It's a great activity for the whole family.
This scavenger hunt for kids features Halloween themes, including:
Black cat
Broomstick
Haunted house
Cauldron
Tombstone
Pumpkin pie
Full moon
Monster
Witch
Bat
Skull
Spider Web
Ghost
You'll also find a bonus drawing prompt to draw the best Jack-O'-Lantern carving that you've seen.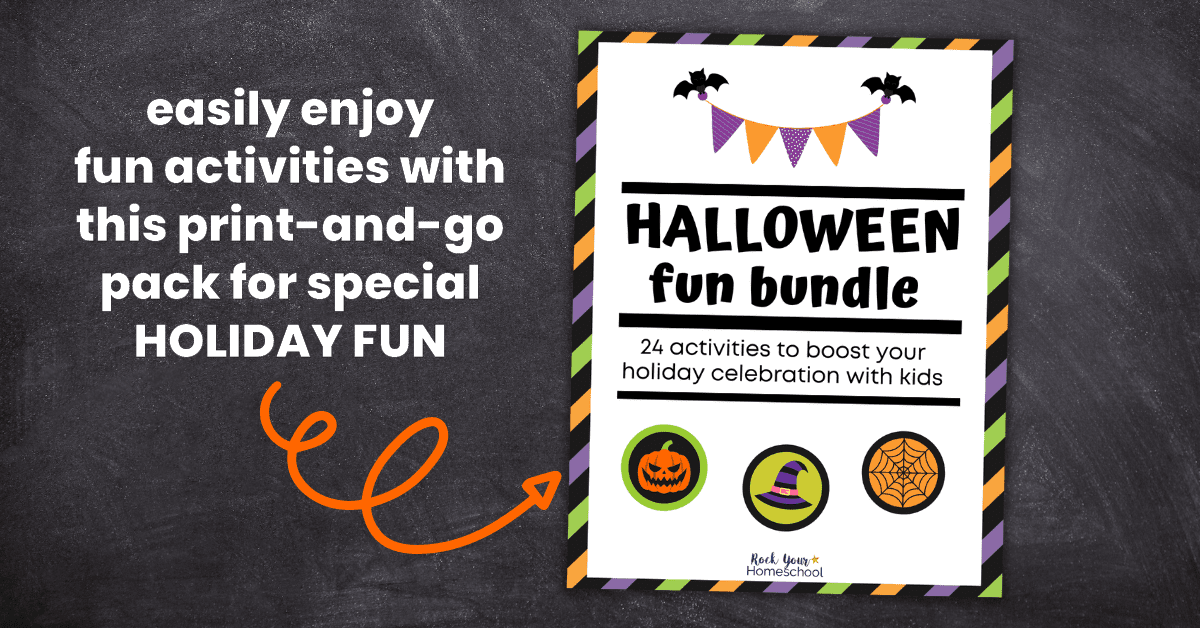 Plus, there's another section (Spooky Costume Spot) to check off:
Werewolf
Mummy
Vampire
Zombie
Skeleton
Ghost
Witch
Creative Ways to Enjoy This Halloween Scavenger Hunt for Kids
Your kids will color in the objects when seen or found with this printable (PDF) scavenger hunt with Halloween themes.
You can use this fun activity to boost your Halloween party with kids of all ages. A few other fun ideas for enjoying this great scavenger hunt are for family fun and to get into the Halloween spirit with young kids.
To boost creativity and make it easy for your kids to enjoy, I suggest having a variety of coloring tools to pick from, like crayons, color pencils, and fine-tip markers.
My boys and I find this type of clipboard with storage area that opens on the side (not the bottom because your coloring materials can fall out too easily that way!) works well when we're having fun or learning on-the-go.
If it would be too hard or frustrating to when you're out-and-about, no worries! Simply make a pencil mark next to the object and color in later 😉
Also, I suggest printing this Halloween scavenger hunt on white cardstock. Regular printer paper will work fine. My boys, however, get excited when doing this type of activity and have a tendency to accidentally rip the paper. Maybe your kids are the same way?
If you'd like to use this printable scavenger hunt again and again, you can laminate it or place in a dry erase sleeve and use dry erase markers.
Consider making it a party game and having a grand prize for whoever finds the most scavenger hunt clues. At the end of the hunt, you can challenge older kids to write down their favorite part or different Halloween items that they found.
Oh, and if the weather forecast is full of rainy days, you can always enjoy an indoor Halloween scavenger hunt with a bit of prep work. You can place pictures of the items around your home or classroom party area. Add a Halloween treat or two to make it special.
Crayola Silly Scents Twistables Crayons, Sweet Scented Crayons, 24 Count (Package may vary)
Deli 36 Pack Colored Pencils with Built-in Sharpener in Tube Cap, Vibrant Color Presharpened Pencils for School Kids Teachers, Soft Core Art Drawing Pencils for Coloring, Sketching, and Painting
Crayola Super Tips Marker Set, Washable Art Markers For School, Back To School Supplies For Kids, 100 Count
Sooez Clipboard with Storage, High Capacity Nursing Clipboards with Pen Holder, Heavy Duty Plastic Storage Clipboard with Low Profile Clip, Clipboard Folder Side-Opening, Smooth Writing for Office
Neenah Paper Exact Index, 110-Pounds, 8.5 x 11 Inches, 250 Sheets, White, 94 Brightness (WAU40411)
Scotch Self-Seal Laminating Pouches, 25 Pack, Letter Size (LS854-25G-WM)
Magnetic Dry Erase Markers Fine Point Tip, 12 Colors White Board Markers Dry Erase Marker with Eraser Cap, Low Odor Whiteboard Markers Thin Dry Erase Markers for Kids Teachers Office School Supplies
Tips & Tricks for Having Fun with This Type of Scavenger Hunt
When enjoying this type of outdoor scavenger hunt for a fun Halloween activity, you'll find it helpful to keep these things in mind:
Be prepared: Have those coloring tools ready to go to make it easy to mark off your finds.
Keep it simple: Please don't feel like you have to find each prompt in one go. Extend your Halloween fun to different dates and times for activities to look forward to spending together.
Make the most of this special time: Even if you're not really into Halloween, try to get into it for your kids.
Think outside the box: Stuck inside (weather, illness, or other yuckiness)? No worries! You can still enjoy this Halloween scavenger hunt by enjoying it with books, home decor, and videos.
Add your own prompts: Before you head out on your Halloween scavenger hunt, talk about the prompts. Include any extra Halloween scavenger hunt ideas that your kids have on the back. They can even create doodles as you go along.
*If you're using this Halloween scavenger hunt with younger kids (or anyone who gets spooked by the holiday), I suggest doing it in your home with age-appropriate decor and resources. Great way to avoid spooky decorations or disturbing Halloween decorations.
How to Catch a Witch
The Night Before Halloween
Room on the Broom
How to Catch a Monster: A Halloween Picture Book for Kids About Conquering Fears!
Get Your Free Halloween Scavenger Hunt
WooHoo! You'll be having SO much fun with this Halloween activity with your kids!
This free Halloween Scavenger Hunt is on 1 printable (PDF) page.
Please print as many of these scavenger hunts as you need for your personal use, family, class, homeschool co-op, or community event. If you have a friend or co-worker who'd like to have this sort of fall fun, I ask that you please share this post with them. Thanks so much for your cooperation!
To get this free Halloween Scavenger Hunt, simply subscribe with your email address to Rock Your Homeschool.
You'll get an email with a PDF file, along with a password to open the Subscriber's Library to all RYHS freebies.
Plus, you'll receive emails with ideas, resources, and encouragement to make life and learning fun 🙂
(Ooh! Current RYHS members just need to access the Subscriber Freebies page and enter the password in your welcome email. If you have any problems or questions, please email Amy at rockyourhomeschool@gmail.com)
Get your FREE Halloween Scavenger Hunt by tapping HERE or on the image below.
What Halloween-themed prompts would you add to this printable scavenger hunt? Share your ideas in the comments area below.
Wishing you and your kids a Happy Halloween with tons of fun!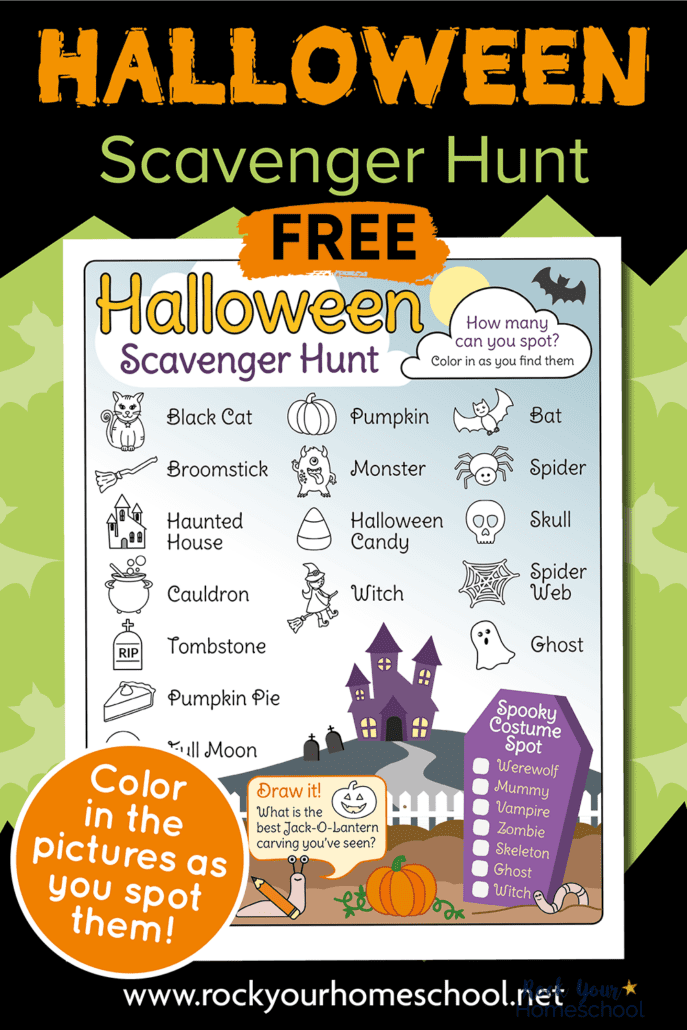 More Fun (& Free) Halloween Activities for Kids