Perler Bead Calendar for Kids: Creative Way to Make This Year Fun (2024)
This perler bead calendar for kids is a brilliant way to celebrate each month this year.
With 12 perler bead patterns with monthly themes, your kids will have so much fun with these creative activities.
Find out more about this free printable calendar featuring perler bead crafts for kids and get your set today!
A Creative and Fun Way to Celebrate Each Month
If you're looking for hands-on ways to enjoy crafts and more with your kids each month, this printable perler bead calendar for kids is perfect!
Over the years, I've discovered a few things that really help boost our homeschool and family life. In no particular order, those things are:
Celebrating fun days
Taking a relaxed approach to our homeschool
Focusing on growth mindset and relationship building
Crafts and other hands-on activities
And that's why I'm so excited to include this free printable perler bead calendar in our collection of homeschool fun activities for 2024 – and to share it with you!
Learn More About This Free Printable Perler Bead Calendar
This free perler bead calendar is on one printable page. This version features 2024 (with plans to share new styles each year!).
You'll find these perler bead patterns in 9×9 size for each month:
January – snowman
February – heart
March – egg
April – bee
May – butterfly
June – flower
July – popsicle
August – sandcastle
September – leaf
October – cute ghost
November – pumpkin
December – gift
I recommend printing this perler bead calendar on white cardstock. You may want to laminate as well to increase durability.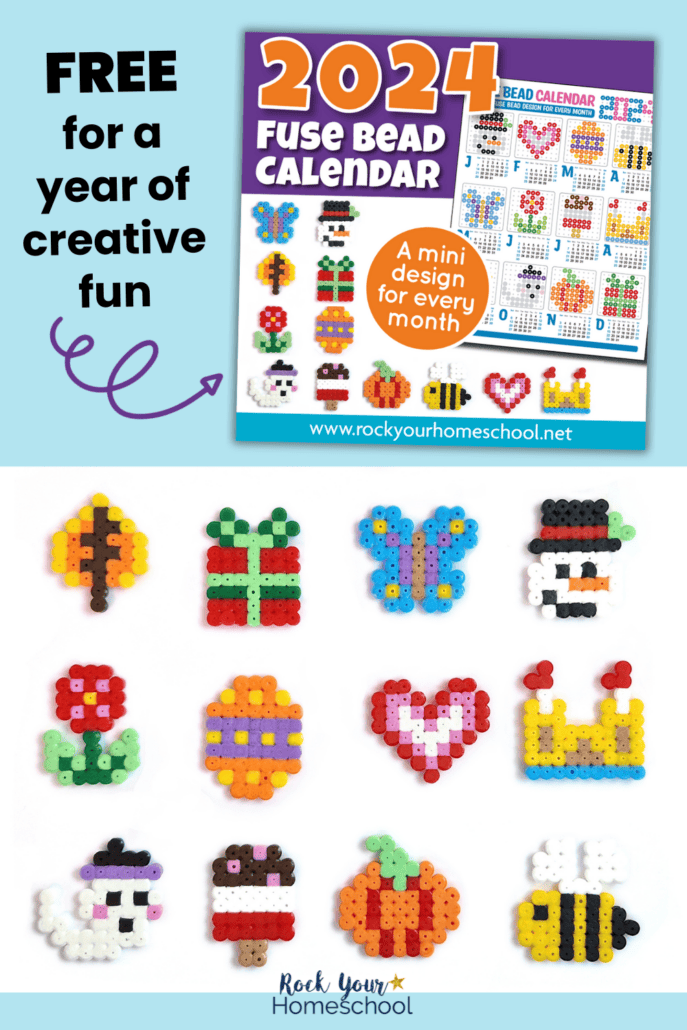 How to Make These Monthly Perler Bead Crafts
Perler bead craft time with your children can be extra fun when you use these tips and tricks (plus easy instructions). It makes it so much easier to create all of these cool crafts.
My top tip is to have ALL of your materials prepared and organized before you get to work.
We have a large canister of perler beads and perler bead peg boards. And I purchased a plastic craft organizer to sort the perler beads by colors to make it easier to find the ones we want when working. This perler beads kit looks awesome and comes with everything you need!
Many kids like to use perler beads tweezer tools. My boys prefer to work with their fingers.
After your perler bead craft is completed on the pegboard, put it on a flat surface.
Place reusable ironing paper or parchment paper or waxed paper on top of the craft.
You need an iron to fuse your perler beads. I set the temperature of the iron to a medium heat. When your iron is warm enough, press firmly on the ironing paper and slowly move around. I take a look at the perler bead creation about every 30 seconds to see how well the beads are melting together.
If you don't have the exact colors as shown in the patterns, don't worry. That's the beauty of a perler bead craft – you can customize it with colors you have.
Cool Ideas for Enjoying This Calendar with Kids
As with any craft or activity with your kids, I encourage you to chat with them about the process. Ask them to share their ideas for making and enjoying.
You may want to make each month's perler bead craft at the start of the month. This approach can be an awesome way to spark conversations about upcoming events and holidays.
OR you may want to make all of the monthly themes at once. It's totally up to you!
Another idea is to attach your perler bead crafts to the calendar. OR you can keep separate as part of a collection.
Add our other free perler bead printable patterns to your monthly craft fun. Here are some suggestions (but our perler bead templates are fantastic for any time of year!):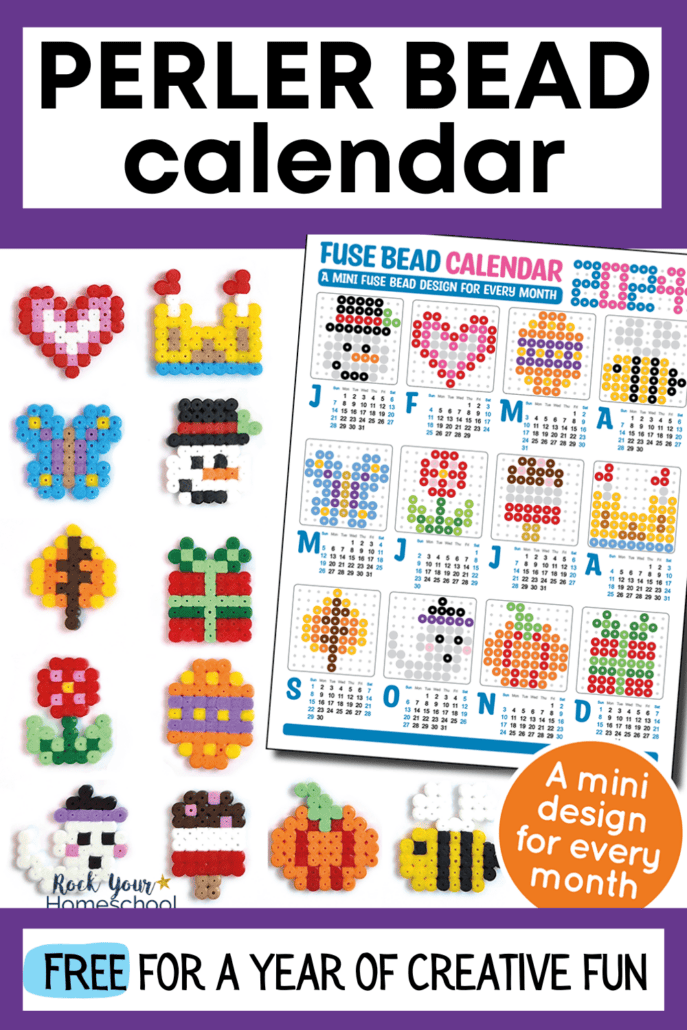 Get Your Free Perler Bead Calendar
Hurray! You're going to have so much fun with these creative perler bead crafts!
This free printable perler bead calendar includes one page (plus terms of use page).
You may print as many copies of this calendar as you need for your homeschool, classroom, or co-op. If you have co-workers or friends who'd enjoy these free printables, please share this post. Thank you so much for sharing – I appreciate your cooperation!
To get this FREE printable perler bead calendar, all you need to do is subscribe to Rock Your Homeschool.
⭐️ You'll receive an email with a PDF file plus a password to open the VIP Resource Library to all RYHS freebies. Email Amy at rockyourhomeschool@gmail.com if you have any problems!
AND you'll receive emails with ideas, resources, and encouragement to make life and learning fun 🙂
(Hey hey! Current RYHS members just need to access the VIP Resource Library page and enter the password in your welcome email.)
Get your Free Perler Bead Calendar Set by tapping here or on the image below.
I'd love to hear your ideas for making and enjoying these perler bead crafts! Please share in the comments area at the bottom of this post 😊
More Fun & Free Printable Perler Bead Patterns